TUMfest12 - PERFORMERS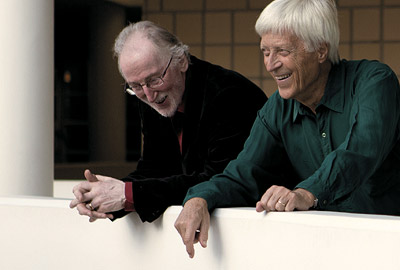 JUHANI AALTONEN & HEIKKI SARMANTO
Friday, February 17, Savoy Theatre

Juhani Aaltonen
tenor saxophone
Heikki Sarmanto piano
Juhani Aaltonen
and
Heikki Sarmanto
first played together in 1964 and at this point they know each other so well that words have become unnecessary in their musical communication. Today, the focus in their duo performances is on spontaneous but still strongly melodic, at times even romantic, improvisation that these two master musicians have both increasingly returned to during this latest stage in their careers. In December 2011, Aaltonen and Sarmanto released a new recording (Conversations, TUM CD 024-2) devoted exclusively to tenor saxophone/piano duets that are either freely improvised or use Sarmanto´s compositions and two standards as a launching pad for an open musical dialogue.
Juhani Aaltonen (b.1935) is a key member of the first generation of Finnish jazz musicians who established Finnish modern jazz as having its own, distinctive voice. Rather than just copying American jazz musicians, these players brought something new and particularly Finnish into their own musical expression.
In 1961, Aaltonen began his studies at the Sibelius Academy in Helsinki with the flute as his major but, after one year, dropped out to begin his professional career as a full-time free-lance musician. Beginning in 1966, he focused on his career of 35 years as a highly sought-after studio musician while otherwise devoting his time to more creative music.
Already in the early- to mid-1960s, Aaltonen began his long-standing co-operation with three key figures in Finnish modern jazz: trumpeter Henrik Otto Donner, pianist Heikki Sarmanto and drummer Edward Vesala. Like many of his contemporaries, Aaltonen also participated in groups crossing the boundaries of jazz and the increasingly experimental rock music. For example, Aaltonen was one of the founding members of Soulset and the progressive rock group Tasavallan Presidentti.
In the fall of 1970, Aaltonen attended the Berklee College of Music in Boston, where he studied with Herb Pomeroy and others, but had to abandon his studies after only one term. Following his return to Finland, Aaltonen continued to collaborate with Donner, Sarmanto and Vesala, among others. Increasing international co-operation was also typical of this time and, during the 1970s, Aaltonen was a member of the Nordic All Stars that included prominent jazz musicians from all Nordic countries. During a three-year period in the late 1970s, Aaltonen was also a member of the Arild Andersen Quartet, touring extensively and recording two well-received albums with the group (Shimri in 1977 and Green Shading Into Blue in 1978).
Aaltonen was one of the founding members of the Uuden Musiikin Orkesteri (UMO) (now known as the UMO Jazz Orchestra) in 1975 and participated in a number of recordings by the big band. After leaving UMO in 1986, Aaltonen led his own quartets and trios but these groups performed infrequently and went unrecorded. During the 1980s, Aaltonen also continued to collaborate with Donner, Sarmanto and Vesala as well as pianist Jukka Linkola and vocalist Maija Hapuoja, among others. In addition to smaller groups, Aaltonen performed as a soloist of a number of larger works, including several of Heikki Sarmanto´s orchestral compositions, Jukka Linkola´s "Crossings in 1983, Edward Vesala´s "Kullervo" in 1985 and Henrik Otto Donner´s "Dalens ande" in 1991.
During the 1990s, Aaltonen continued to enjoy a particularly close co-operation with Heikki Sarmanto, comprising a number of concert tours and recordings of extended works. Aaltonen has also been the principal jazz soloist of many of Sarmanto´s large orchestral and choral compositions beginning with the New York premier of "New Hope Jazz Mass" in 1978 and continuing with the "Suomi Symphony" in 1983, "Kalevala Fantasy" in 1986, "Hearts" in 1994, "Perfect Harmony" in 1996 and the "Winter War Requiem" in 2009. In total, Aaltonen has recorded 30 or so albums with Sarmanto playing a central role as a soloist in virtually all of them.
Juhani Aaltonen´s output as a leader was, until the past decade, relatively limited. His recordings as a leader consisted of three recordings produced by Edward Vesala in the 1970s and early 1980s (Etiquette in 1974, Springbird in 1979 and Prana in 1981) as well as various projects with Henrik Otto Donner (Strings in 1976) and Heikki Sarmanto (Pan Fantasy and Distant Dreams in 1990, Silver Spell in 1996, Déjà Vu in 2000 and Rise in 2001).
During the 1980s, Aaltonen experienced a spiritual awakening that led to a new phase in his career. Aaltonen increasingly began to perform in churches and religious events - often as a solo artist. He also began publishing religious recordings, containing both hymn-based improvisations and free improvisation. As a result, for much of the late 1980s and the 1990s, Juhani Aaltonen rarely performed outside of the religious circles other than for his various projects with Heikki Sarmanto.
This changed in 2001 when he founded the Juhani Aaltonen Trio with bassist Ulf Krokfors and drummer Tom Nekljudow. The Juhani Aaltonen Trio quickly established its position as one the most important modern jazz groups to come out of Finland and performed at a number of European jazz festivals. Both of its recordings (Mother Tongue, TUM CD 002, in 2002 and Illusion Of A Ballad, TUM CD 013, in 2004/5) were well received by critics and audiences alike.
In 2007, Juhani Aaltonen began collaborating with pianist/harpist Iro Haarla, Ulf Krokfors and Reino Laine in a new quartet that mostly performs compositions by its members. This quartet and its first recording (Conclusions, TUM CD 021) have also received considerable critical acclaim. Aaltonen has also in recent years performed in a trio with two great masters of modern jazz, bassist Reggie Workman and drummer Andrew Cyrille (Reflections, TUM CD 007 in 2002; also with Henrik Otto Donner and Avanti! Chamber Orchestra, Strings Revisited, TUM CD 003, in 2002). A third regular performing vehicle for Aaltonen in the past decade has been Nordic Trinity.
Heikki Sarmanto (b.1939) has been a leading figure in Finnish jazz as a pianist and bandleader since the mid-1960s and has been internationally acclaimed for his symphonic, orchestral and jazz ensemble works as a composer.
While studying at the Sibelius Academy in Helsinki in the early 1960s, Sarmanto began to make a name for himself on the Helsinki jazz scene. In 1961, he became a member of the Esa Pethman Quartet that was soon joined by Carola Standertskjöld as its vocalist. In the mid-1960s, he also participated in two of the most important early recordings of Finnish modern jazz, Christian Schwindt´s For Friends And Relatives and Esa Pethman´s The Modern Sound Of Finland. Soon after these sessions, Sarmanto decided to devote himself fully to contemporary jazz.
Sarmanto was the first Finnish jazz musician to receive a scholarship to Berklee College of Music in Boston, which he attended in 1968-72. At Berklee, he studied composition with Herb Pomeroy and Charlie Mariano, among others, and privately piano with Margaret Chaloff.
In 1969, Sarmanto released his first album as a leader (Flowers In The Water). Back in Boston, Sarmanto established the Serious Music Ensemble that recorded Sarmanto´s following two albums in Finland (Counterbalance and Like A Fragonard both in 1971; also Boston Date in 1970/2008). These recordings established Sarmanto´s reputation both as an original jazz pianist and a highly individualistic composer incorporating elements of improvised jazz, folk and even rock music into his compositions.
Like A Fragonard also included some of Sarmanto´s first compositions featuring modern poetry and launched a series of highly successful recordings with vocalist Maija Hapuoja. Other vocalists performing and recording Sarmanto´s compositions to modern poetry have included Jeannine Otis, Taina Lehto, Tapani Kansa, Helen Merrill, Essi Wuorela, Karen Parks, Claudya de Oliveira and Pamela Kilpeläinen. Poetry has always been a major source of inspiration both for Sarmanto´s songs and for his larger orchestral and choral compositions. Over the years, Sarmanto has used in his music poems by several of his favorite Finnish poets as well as a number of American poets.
Following Like A Fragonard, Sarmanto recorded his first album with a big band (Everything Is It, with the Heikki Sarmanto Big Band featuring opera singer Taru Valjakka as vocalist, in 1972). Since then, Sarmanto has composed a number of large orchestral works that often combine an improvising jazz group with an orchestra, strings, vocalists and sometimes also a choir, including "New Hope Jazz Mass", "Suomi (A Symphonic Poem For Orchestra)", "Hearts", "Perfect Harmony", "Manon" and "Talvisota - Requiem for the Fallen of the Winter War".
Despite his many large orchestral works, Sarmanto´s true passion continues to be free improvisation. Throughout the years, he has continued to record with smaller groups, including his duo recordings with Juhani Aaltonen (Pan Fantasy and Distant Dreams in 1990, Silver Spell in 1996, Rise in 2001, Live At Steiner School in 2009 and Conversations in 2010), a duo recording with his brother Pekka Sarmanto (Song For My Brother in 1982), a small group recording with Aaltonen and flugelhornist Art Farmer (Déjà vu in 1987) and a number of other small group recordings since then (including Felix The Great in 1988, The Traveler in 1990, Tales Of Max in 1991, Surreal Romance in 2006 and Moonflower in 2007).
Sarmanto was one of the founders of the New Music Orchestra (UMO) in 1975 and, although he was a member of the big band only briefly, has often composed music for UMO´s recordings (Our Latin Friends in 1975, Kalevala Fantasy in 1986 and Transit People in 2001). In 1998-2000, Sarmanto returned to UMO as its artistic director.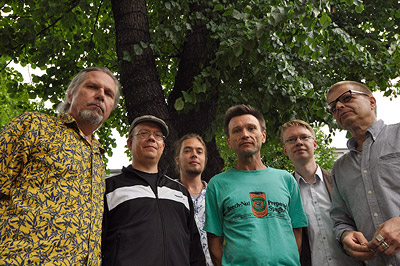 HALME PROSPEKT
Friday, February 17, Savoy Theatre

Hepa Halme
tenor and baritone saxophones, flutes
Matti Riikonen
trumpet

Ilmari Pohjola
trombone
Esa Onttonen
electric guitar
Arttu Tolonen
baritone guitar
Affe Forsman drums
Halme Prospekt was initially formed by saxophonist/flutist Hepa Halme as a vehicle for presenting his own compositions. The origins of the group go back to the Living Room Ambient sessions performed at the Soup and Mother restaurants in Helsinki in 1999. Halme Prospekt became a regularly performing group and assumed its current line-up soon after the release of Hepa Halme´s second album as leader, Prospektor, in 2008, which already had most of the members of Halme Prospekt among the featured musicians.
Halme Prospekt has performed, for example, at the Tampere Jazz Happening and the Rytmihäiriöklubi in Helsinki but received its most extensive run of performances in 2009/10 with the monthly Prospektor Club at Helsinki´s Club Liberté, where the group also featured visiting artists, such as Asa, Pentti Dassum, Seppo Kantonen, Pekko Käppi, Olavi Louhivuori, Jarmo Saari and Roi Vaara. Halme Prospect is currently in the process of completing its first recording as a group.
Halme Prospekt combines the carefully designed structure of Hepa Halme´s compositions with the unexpected bursts of improvisation by its members. This gives the group its distinctive sound enriched by the very different musical backgrounds of its members.

Hepa Halme (b. 1955) has had a musical career of more than three decades that has been characterized by his indifference to musical styles or categories. He became familiar with the traditions of the European classical music during his flute studies whereas his musicology studies opened the doors to the worlds of modern classical and experimental electronic music.
Halme´s earliest sources for musical inspirations ranged from Finnish popular music to Jean Sibelius but his own music has, from the outset, been firmly rooted in the traditions of rock, blues and jazz. Gradually, the pallet available for his musical expression has expanded through various projects involving improvisation, performance art, dance and theatre.

Halme began performing and recording with various Finnish artists already in the 1970s. However, he became more broadly known particularly on the Helsinki scene through two groups, The Bullworkers and The Cool Sheiks, that performed and recorded in the 1980s and the early 1990s returning jazz-based music to the dance floors of Helsinki clubs. Around the turn of the millennium, Halme also performed in the duo Aivoaula with percussionist Teho Majamäki.
Over the years, Halme has increasingly focused on his work as a composer that began gradually through various smaller theatrical and film projects. Halme´s first recording as a leader, Nine Steps In Line Of Beauty, comprised nine "variations, improvisations or meditations" inspired by Ornette Coleman composition "Beauty Is A Rare Thing" and received considerable critical acclaim both in Finland and internationally. It was followed by Prospektor that consisted of seven compositions by Halme himself. During the past decade, Hepa Halme also recorded as a member of a number of co-operative ensembles. These have included Torvikollektiivi, a large ensemble of improvising musicians with diverse backgrounds (Torvikollektiivi in 2004); Fat Beat Sound System, a group with DJ Bunuel, Jarmo Saari, Jukka Kiviniemi and Abdissa Assefa as well as visiting vocalists Hosni Boudali, Paleface and Tommy Lindgren, that combines Jamaican influences and African dance music (Quality in 2001, Beba Sheriff and Fala Fala in 2005, Late Downtown in 2006 and Feed The Vocalist in 2007); Bad Ass Brass Band, a 14-member marching band (The Bad Ass Brass Band in 2010); and HIK, a trio of Hepa Halme and Mikko Innanen on various saxophones, flutes and other instruments as well as Teemu Korpipää on live electronics (Piknik in 2011).

Matti Riikonen (b. 1953) studied trumpet at the Sibelius Academy in 1976-80. He also studied privately with trumpeter Tomasz Stanko, among others. In the late 1970s, Riikonen became active on the Helsinki scene for improvised music, often performing with tenor saxophonist Tapio "Tuuppi" Tuominen in various groups, including Systems in the late 1980s (also with Ulf Krokfors, Esko Rosnell et.al. and, on one Finnish tour, South African drummer Louis Moholo-Moholo). In addition, he was a member of the Make Lievonen Quartet, Helsinki kollektiivi (with Raoul Björkenheim, Tapio Tuominen, Toni Edelmann, Ari Valtonen et.al.), IMU Workshop (with Pekka Pöyry, Seppo Paakkunainen, Tapio Tuominen, Pepa Päivinen, Mike Koskinen, Mircea Stan, Jukka Hauru, Teppo Hauta-aho, Tapani Tamminen, Jukka-Pekka Wasama et.al.) and various other groups. During the 1980s, Riikonen participated in workshops organized by Edward Vesala and became a member of Vesala´s Sound and Fury ensemble from 1987 until Vesala´s death in 1999, recording a number of highly acclaimed albums (Ode to the Death of Jazz in 1990, Invisible Storm in 1992 and Nordic Gallery in 1994) and touring internationally with Sound and Fury. During this period, Riikonen also performed with Suhkan Uhka led by bassist Antti Hytti and saxophonist Jone Takamäki and with saxophonist Jorma Tapio´s Hugry Tribal Marching Band that recorded the album Hullu Puutarhuri in 1992 and music for the film Hotel VooDoo in 1997 with Tuomari Nurmio. More recently, Riikonen has performed with the New Sound and Fury dedicated to the music of Edward Vesala.

Ilmari Pohjola (b. 1979) first became known in the 1990s as a member of the horn section of the pop group Ultra Bra, which released several Top 10 albums before disbanding in 2001. He has also been member of several groups performing improvised music, including Gourmet, that is co-led by Esa Onttonen and Mikko Innanen (Glamour & Decadence in 2001, Six Acres of Broken Hearts in 2004 and Cosmopolitan Sideshow in 2011), and Oddarrang, that is led by drummer Olavi Louhivuori (Music Illustrated in 2006 and Cathedral in 2011). In addition, he has performed as the lead singer of the post-rock group Silvio, with his brother Verneri playing the drums, and with a diverse group of other musicians, including Asa, Kerkko Koskinen, Pekka Pohjola, Tuomo Prättälä and Laura Sippola, as well as the group´s Quintessence and Dashing Waves. In 2009, Pohjola released his debut album as a singer under the name Pohjolan Ilmari (Enkä mä rakasta ketään).

Esa Onttonen (b. 1975) is a versatile artist who has worked both as a guitarist, composer and arranger in addition to being a music pedagog and record producer. As a guitarist, his main groups have been Gnomus (with keyboardist Kari Ikonen and drummer Mika Kallio) and Gourmet. In addition, he has performed with groups led by guitarist Jukka Orma and vocalists Jenny Robson and Mirja Mäkelä. His compositions for larger ensembles have been performed by the UMO Jazz Orchestra and Jyväskylä Big Band, among others. He has also arranged music for various big bands and symphony and chamber orchestras, including for performances by soloists such as Juhani Aaltonen, Jukka Gustavsson, Mikko Innanen, Jukka Perko and Tomasz Stanko.

Arttu Tolonen (b. 1971) is a musical chameleon who has for two decades combined careers of a free lance musician, music journalist and copywriter. He is best known for his membership in Giant Robot, a group that combines electronics and acoustic instruments on original compositions influenced by hip hop, dub and funk. In addition, he has performed with Fat Beat Sound System, Black Audio and Them Bird Things. Tolonen has also written and arranged music for various other artists and produced a number of recordings.

Alf Forsman (b. 1952) is one of the best-known drummers in Finnish rock music. Having performed in several ground-breaking groups, such as Kalevala, Rock 'n´ Roll Band, Jimbo, Pen Lee and Problems?, Forsman became best known to the broader audience as a member of Sielun Veljet (with Ismo Alanko, Jukka Orma and Jouko Hohko) that recently made a well-received tour and its first new recording since the long hiatus that followed the group´s active period from 1982 until 1991. However, Alf Forsman has also been known for his interest in improvised music, having performed and recorded as a member of guitarist Ralf Björkenheim´s Krakatau, Hugry Tribal Marching Band, Otto Donner Free for All (Live At Five Corners, TUM Box 001) and many other experimental groups.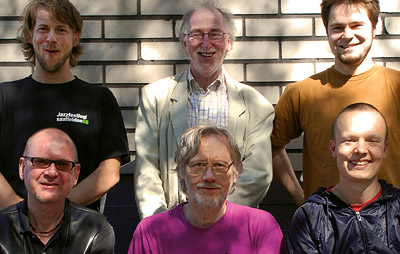 OLAVI TRIO & FRIENDS
Friday, February 17, Savoy Theatre

Jari Olavi Hongisto trombone
Teppo Olavi Hauta-aho double bass
Niilo Olavi Louhivuori drums
with guests
Verneri Pohjola trumpet
Juhani Aaltonen tenor saxophone
Kalle Kalima electric guitar
Teppo Olavi Hauta-aho (bass), Jari Olavi Hongisto (trombone) and Niilo Olavi Louhivuori (drums) are all household names on the Finnish jazz scene. They not only share the same middle name but also a passion for free improvisation. Both Hongisto and Louhivuori credit Hauta-aho with having led them from more traditional jazz expression to the path towards free improvisation that is not bound by the conventions of any particular style or manner of playing. Together, they are on the hunt to capture the pure essence of free improvisation. In 2011, Olavi Trio published its first recording (Triologia, TUM CD 026), with the help of a few of their best friends also being featured as their guests at TUMfest12, namely, trumpeter Verneri Pohjola, tenor saxophonist Juhani Aaltonen and guitarist Kalle Kalima, all undisputed masters of their respective instruments.
Jari Hongisto (b. 1960) began his trombone studies in Finland in the mid-1970s but has also studied in Germany and the United States with the likes of Conrad Bauer and George Lewis. Although Hongisto has played in both symphony orchestras and jazz big bands, he has always been drawn towards more experimental expression often combining the worlds of modern classical, electronic and/or freely improvised music.
In the 1980s, Hongisto played with Edward Vesala in his Sound and Fury ensemble as well as in various smaller groups involving Vesala. Hongisto also participated in Vesala´s Kullervo recording in 1984/85 and was one of the founding members of the original Krakatau, with Vesala and guitarist Raoul Björkenheim.
After Vesala, Teppo Hauta-aho became an important collaborator of Hongisto and the two have both recorded and toured together as members of Quintet Moderne (with soprano saxophonist Harri Sjöström, violinist Philipp Wachsman and drummer Paul Lovens) in the 1980s and Sound Kitchen (with guitarist Hasse Poulsen) beginning in the late 1990s as well as various other groups. Hongisto´s other important collaborators have included saxophonists Jorma Tapio and Esa Pethman, trumpeters Henrik Otto Donner (Free for All, TUM Box 001) and Jarmo Sermilä, pianists Eero Ojanen and Heikki Sarmanto and percussionist Jouni Kesti. Currently, Hongisto is a member of the Olavi Trio, the Iro Haarla Sextet and the Jari Hongisto/Veli Kujala Duo, among other groups.
In addition to smaller groups, Hongisto has been much in demand as a big band player. In particular, Hongisto has had a long tenure with the UMO Jazz Orchestra (beginning in 1991) and has participated in a number of recordings by UMO (e.g., The Sky Is Ruby, TUM CD 017, Agatha and Primal Mind). Hongisto has also played with the EBU Big Band, the Eero Koivistoinen Big Band, TOMO Big Band, Kvarken Big Band, Espoo Big Band and a number of other orchestras. In addition, Hongisto has been involved in several projects by more adventurous representatives of rock music, such as Tuomari Nurmio and Ismo Alanko.
Teppo Hauta-aho (b. 1941) first began playing the double bass by ear without any formal musical education. After learning the basics of prima vista, he was admitted to the Sibelius Academy in 1963 and studied with the legendary teacher Oiva Nummelin, receiving his diploma in 1970. He also studied double bass with Professor František Pošta in Prague during the late 1960s and the early 1970s. Between 1965 and 1972, Hauta-aho was a member of the Helsinki Philharmonic Orchestra and, from 1975 until his retirement in 1999, a member of the Finnish National Opera Orchestra.
Hauta-aho has received a number of grants and awards over the years for his work as a classical composer and double bass soloist. As a composer, his oeuvre includes orchestral and chamber compositions as well as several works for solo instruments, including a large body of works featuring the double bass.
Throughout his career, Hauta-aho has continued to play improvised music alongside with his career as a classical musician and composer. During the 1960s and 1970s, Hauta-aho was a member of a number of important Finnish jazz groups, including the Juhani Vilkki Sextet and Quartet, the Pekka Pöyry Quartet, Kalmisto Klang, the Tuohi Quartet, the Mircea Stan Sextet and the Kalmisto Quartet. Hauta-aho´s collaboration with singer, guitarist and composer Carita Holmström began in 1977 and has continued to this day, including the Carita & Kalmisto Duo (Two Faces and DUO!), Carita Holmström & Players Unlimited (Time of Growing) and various other projects.
More recently, Hauta-aho has been a member of Duo Nueva Finlandia (Short Stories, TUM CD 012), Trio Nueva Finlandia (Ha! What´s Going On?), Sound Kitchen (Pass Me the Wine, Please), the Töölö Bass Trio and Quintet Moderne (Ikkunan Takaa and WellSpring Suite). In addition, Hauta-aho has performed and/or recorded as a member of the George Russell Big Band, the Mal Waldron Quartet, the Anthony Braxton Ensemble, Braxtonia II, the Evan Parker, Philipp Wachsmann & Teppo Hauta-aho Trio (The Needless), the Philipp Wachsmann & Teppo Hauta-aho Duo (August Steps), the Cecil Taylor Quartet and the Cecil Taylor Quintet. He has also performed with trumpeter Jarmo Sermilä (February Conversations), pianist Alexander von Schlippenbach and bassist Barre Phillips, among many others. Currently, Hauta-aho is a member of Kalle Kalima & K-18 (Some Kubricks of Blood, TUM CD 022) and performs with Kalle Kalima in the Kalima-Kalmisto Duo.
Olavi Louhivuori (b.1981) Louhivuori began playing with local musicians and participating in the famous jam sessions at the now defunct Jazz Bar while still living in his hometown Jyväskylä.
Louhivuori first became known to a broader audience through the Joona Toivanen Trio that has issued four recordings and Ilmiliekki Quartet that has issued two recordings of its own (March of the Alpha Males, TUM CD 005 and Take It with Me, TUM CD 020) and also an album with vocalist Emma Salokoski (Vi Sålde Våra Hemman).
In addition, Louhivuori leads his own group Oddarrang, a quintet that was awarded the Jazz Emma for its first recording in 2006 (Music Illustrated) in 2006 and released its second album (Cathedral) in 2011. He is also a member of the Alexi Tuomarila Trio and Sun Trio and performs as a solo drummer (Inhale-Exhale).
Louhivuori has frequently performed with Polish trumpeter Tomasz Stanko in various combinations and, since 2009, has been a member of the Tomasz Stanko Quintet that has released a well-received album (Dark Eyes). He has also performed with the UMO Jazz Orchestra and with such well-established musicians as saxophonists Anthony Braxton, Joe McPhee, Jukka Perko and Sakari Kukko, pianists Marilyn Crispell and Samuli Mikkonen and vocalists Susanne Abbuehl and M.A. Numminen.
For information about Verneri Pohjola, see below under Helsinki Summit.
For information about Juhani Aaltonen, see above under Juhani Aaltonen & Heikki Sarmanto.
Kalle Kalima (b. 1973) began his musical studies on the piano at the age of six but switched over to the guitar some five years later. Kalima studied at the Sibelius Academy (1995-2003) in Helsinki and at the Hanns Eiler Conservatory in Berlin under the guidance of Raoul Björkenheim and John Schröder, respectively, among many others. After taking up residence in Berlin with his family in 2000, Kalima has continuously broadened his musical expression and has performed with a number of leading proponents of free improvisation both in Finland and internationally, including Tomasz Stanko, Juhani Aaltonen, Heikki Sarmanto, bassists Sirone, Teppo Hauta-aho, Carlos Bica and Ed Schuller, guitarist Marc Ducret, composer Simon Stockhausen and vocalist Linda Sharrock. He also frequently performs with Jimi Tenor in the realm of alternative pop/rock music. In addition to Europe, Kalima has performed in Africa, Asia and the United States.
Kalima regularly performs with a number of groups representing distinctly different approaches to improvised music and has released more than 10 albums as a leader or co-leader. His groups include the jazz improvisation of two guitar trios, Johnny La Marama (with bassist Chris Dahlgren and drummer Eric Schaeffer) and Klima Kalima (with bassist Oliver Potratz and drummer Oliver Steidle), the freely pulsating improvisation of Momentum Impakto (with saxophonist Daniel Erdmann and drummer John Schröder), the melodically rich, folk-influenced lieds of Soi Ensemble (with lyricist Essi Kalima, vocalists Johanna Iivananinen, Eeppi Ursin and Merzi Rajala, cellist Riikka Lampinen, organist Mikko Helevä and percussionist Mongo Aaltonen) as well as the free improvisation and avant-garde influences of Kalle Kalima & K-18 (saxophonist Mikko Innanen, accordionist Veli Kujala and Teppo Hauta-aho; Some Kubricks of Blood, TUM CD 022) and the Kalima-Kalmisto Duo (with Teppo Hauta-aho). Kalima has also performed and recorded in a duo setting with guitarist Marc Ducret and flutist Kari Heinilä as well as a solo artist (Pendulum), using different effects and preparations in addition to his guitars. In addition, he has been featured as a soloist with larger ensembles, including the UMO Jazz Orchestra.

ESA HELASVUO SOLO
Saturday, February 18, Savoy Theatre

Esa Helasvuo piano
Esa Helasvuo (b. 1945) belongs to the first generation of Finnish improvising musicians with the likes of Juhani Aaltonen, Eero Koivistoinen, Seppo Paakkunainen and Edward Vesala with whom he also frequently performed in the late 1960s and early 1970s. However, Helasvuo´s career as a musician already began in 1964 when he was invited to join one of the earliest Finnish pop groups, The Sounds, that had become hugely popular already in 1963 after releasing its first single "Emma". Helasvuo joined the group under the pseudonym of Dave Sinner and performed and recorded with The Sounds until it disbanded in 1965 when lead singer Johnny Liebkind left to pursue a solo career.

Having already studied at the Youth Department of the Sibelius Academy in 1952-66, Helasvuo continued his studies at the Sibelius Academy as a piano major in during 1965-69. During this period, he also became increasingly involved in the Helsinki scene for jazz and improvised music performing with his contemporaries in various constellations. In 1972, Helasvuo released his first recording as a leader (Think Tank Funk), which featured musicians both from the worlds of jazz and rock as well as classical music, including Veli-Pekka Bister, Henrik Otto Donner, Teppo Hauta-aho, Esa Helasvuo, Pekka Helasvuo, Pirjo Helasvuo, Eero Koivistoinen, Yrjö Lasonpalo, Seppo Paakkunainen, Ylermi Poijärvi, Seppo Rannikko, Christian Schwindt, Edward Vesala and Hasse Walli.
During this period, Helasvuo frequently worked with Edward Vesala, both performing in his groups (such as a quartet with Juhani Aaltonen, Teppo Hauta-aho and Vesala) and arranging music for Vesala´s larger ensembles (Rodina in 1977). Vesala also performed on Helasvuo´s highly acclaimed 1976 recording (Q), which included improvised duos by Helasvuo and Vesala together with a string ensemble arranged afterwards by Helasvuo. In addition to Think Tank Funk and Q, Helasvuo also released two other recordings during the 1970s (Omat Hommat in 1974 and Onnimanni in 1976).

During 1969-75, Helasvuo worked as a music dramaturgist for the theatrical department of the Finnish Broadcasting Company (YLE), which enabled him to compose and arrange music for a diverse range of theatrical settings. Around this time, Helasvuo also began to work as composer and arranger for various popular music projects, including recordings by The Delta Rhythm Boys (By Request in 1971), Vesa-Matti Loiri (Vesku Suomesta in 1972) and Ritva Oksanen (Voiko naista näin käsitellä in 1972).
After his tenure at the Finnish Broadcasting Company, Helasvuo joined the faculty of the Sibelius Academy, where he worked in various positions until his retirement in 2008. Although Helasvuo served both as a lecturer and in administrative positions, his main contribution during this period is undoubtedly teaching improvisation to a vast number of musicians and music teachers who studied at Sibelius Academy during these three decades and left to pursue their own careers with an improved understanding of this area of music that was largely neglected at this august institution until the founding of its Jazz Department.
Throughout his years at the Sibelius Academy, Helasvuo also continued to perform, often as an improvising solo pianist, and released two additional recordings: Huomenna sinä tulet in 1985, which included his songs performed by Susanna Haavisto, and Singing Grand in 1990, which included both solo piano improvisations and his composition "Singing Grand" performed with the Kokkola Chamber Orchestra. Helasvuo developed a particularly close relationship with vocalists Susanna Haavisto and Eija Ahvo, composing and arranging music for a number of their musical revues and recordings (Sydänviiniä, Varjon Puolella and Postia Maailmalta) in addition to performing with them in various live settings. He has also composed or arranged music for a number of other vocalists, including Bo Andersson, Pentti Hietanen, Jonna Järnefelt, Viktor Klimenko, Kaija Kärkinen, Lasse Mårtenson, Mari Palo, Sami Saari, Matti Salminen and Aki Sirkesalo. Currently, Helasvuo performs with Susanna Haavisto in her show "Pakko saada laulaa" featuring the music of Edith Piaf.
Helasvuo has composed a large number of orchestral, choral and theatrical works as well as music for approximately 30 films or TV movies and more than 60 radio plays. His compositions include an opera (Alice in Wonderland) as well as operettas and a number of musical revues.

Since his retirement from Sibelius Academy in 2008, Helasvuo has again increasingly focused on improvised music and has begun to perform more frequently within this genre. In January 2012, he recorded an album of improvised solo piano music that is scheduled for release later this year.
HELSINKI SUMMIT
Saturday, February 18, Savoy Theatre
Verneri Pohjola trumpet
Fredrik Ljungqvist tenor saxophone and clarinet
Mikko Innanen alto and baritone saxophones
Seppo Kantonen piano
John Lindberg double bass
Stefan Pasborg drums
Helsinki Summit is a co-operative ensemble formed solely for the purpose of performing at TUMfest12. Like similar festival workshops of the past, it is intended to provide its members with an opportunity to rehearse and perform together compositions brought to the sessions by each of its members. While some of the musicians in the group have already performed together in the past (like Innanen, Ljungkvist and Kantonen in Innkvisitio and Innanen and Pasborg in Delirium and Triot), Helsinki Summit also provides an opportunity for new encounters with fresh and unexpected results.
Verneri Pohjola (b. 1977) first became better known through Ilmiliekki Quartet. In addition, he has been active in a number of other groups, including Quintessence, Q-Continuum, Suhkan Uhka (Suhka, TUM CD 001) and the post-rock group Silvio, in which he played drums. He has also performed in various groups led by pianists Giovanni Guidi, Iro Haarla, Seppo Kantonen, Aki Rissanen and Alexi Tuomarila and by bassists Pekka Pohjola and Ulf Krokfors. In addition, Pohjola has performed as a soloist with the UMO Jazz Orchestra (Agatha) and Orkestrova and with such well-established artists as saxophonist Anthony Braxton, bassist Anders Jormin and drummer Gerry Hemingway. During 2010 and 2011, Pohjola also performed in a trio with pianist Aki Rissanen and drummer Joonas Riippa as part of the Finnish National Theater´s production of Paul Auster´s play Mr. Vertigo (Music from the Play Mr. Vertigo).
Currently, Pohjola leads his own ever-changing ensemble Aurora, that for its first recording (Aurora) received the Jazz Emma as the best Finnish jazz recording of the year 2009, and his own quartet. In January 2012, Pohjola´s new quartet (with Aki Rissanen, Antti Lötjönen and Joonas Riippa) released the first recording (Ancient History) and has recently been touring in support of this album release.
Mikko Innanen (b.1978) has in the past decade established himself as one of the most innovative saxophonists and composers on the Finnish and the Nordic scene for improvised music. More recently, he has also spent an increasing amount of time in New York City, where he now leads a trio with bassist Joe Fonda and drummer Lou Grassi, both seminal figures on the New York jazz scene, and has also made a yet-to-be-released recording with bassist William Parker and drummer Andrew Cyrille.
To date, Innanen has published some 20 recordings as a leader or co-leader and more than 10 as a sideman. These include Paa-da-pap (TUM CD 019) and Clustrophy (TUM CD 025) by Mikko Innanen & Innkvisitio, Spring Odyssey by the Mikko Innanen-Jaak Sooäär-Han Bennink Trio (TUM CD 015), Eclexistence by Delirium (TUM CD 010) and Sudden Happiness by Triot with John Tchicai (TUM CD 008).
Apart from Innkvisitio, Innanen is known for his participation as a leader, co-leader, featured soloist and/or composer in various collaborative groups, such as Delirium, Gourmet, HIK, PLOP, the Mikko Triot, Innanen-Jaak Sooäär-Han Bennink Trio and the Mikko Innanen-Mika Kallio Duo. In addition, he is currently active with Kalle Kalima & K-18, Pekka Tuppurainen Röd/Blå, Wade Mikkola´s Contrasts and the Charles Mingus repertoire band Tonight At Noon.
Innanen has also performed with various other groups, including Iro Haarla-Ulf Krokfors Loco Motife (Penguin Beguine, TUM CD 011), Teddy Rok 7, Ibrahim Electric, Odessa 5, Zanussi 5, Fredator, Itchy, Triade, Mr Fonebone, Nuijamiehet, the UMO Jazz Orchestra and the Espoo Big Band.
Fredrik Ljungkvist (b.1969) is considered one of Sweden´s most talented and exiting saxophone players on the scene right now. In addition to various saxophones, he also has exceptional command over the clarinet. His expressive and sensitive playing has impressed both audiences and the press all over the world. With different constellations he has played in the Nordic countries, Canada, France, Morocco, Portugal, Russia, South Africa, the United Kingdom and the United States, among others.
Brought up in a musical home (his father is a saxophone player as well), Ljungkvist chose the path to music early on. He moved to Stockholm in 1989 to study at the Royal Academy of Music and played and recorded with some of the leading bands in Stockholm at the time, including those of Fredrik Norén, Lina Nyberg and Per "Texas" Johansson. In 1993, he formed his own group, the Fredrik Ljungkvist Quartet, that released two recordings (Falling Papers in 1995 and Sonic Space in 1997). Currently, Ljungkvist leads Yun Kan 5, Yun Kan 10 and Mineralogy.
Ljungkvist has participated in more than 40 recordings and played and/or recorded with a number of other innovative musicians, including Marc Ducret, Alex Dörner, Mats Gustafsson, Jimmy Heath, Anders Jormin, Roland Kejser, Joakim Milder, Bobo Stensson, Raymond Stridh, John Taylor and Petur Island Östlund, among others. In addition to his own groups, he currently also performs with Mikko Innanen´s Innkvisitio, Ken Vandermark´s Territory Band, LSB Fire House, Parish and Atomic.
Seppo Kantonen (b. 1963) has performed actively since 1982. Early mentors included trumpeter Henrik Otto Donner and saxophonist Eero Koivistoinen, with the latter´s quartet being the group where Kantonen first became known to the broader audience. Whether on acoustic piano or on other keyboards, Kantonen has an approach that is as energetic as it is effective and always all of his own.
Among the groups led by Kantonen, most important are two piano trios known for their distinctive sound and creative interplay: Klang (with Ulf Krokfors and Markku Ounaskari) that released its only album (Klang) in 1999 to considerable critical acclaim and Tokka (with Ville Herrala and Mikko Hassinen) that defined Kantonen´s piano mastery and compositional profile even further on its album (Tokka) in 2009. In addition to Tokka and Innkvisitio, Kantonen is currently co-leading Kahden Miehen Galaksi, his organ-drums duo with Joonas Riippa.
Kantonen is featured on over 150 recordings ranging from jazz and rock to pop and classical music. In addition to the groups led or co-led by him, he has played and recorded with numerous other notable ensembles including the Eero Koivistoinen Quartet, Otto Donner Free for All (Live At Five Corners, TUM Box 001), the Pekka Pohjola Group, Antero Priha´s BreadMachine, the Manual Dunkel Quartet, Suhkan Uhka (Suhka, TUM CD 001) and Avanti!. Kantonen has also held - on and off - the piano chair of the UMO Jazz Orchestra for two decades and participated in a number of recordings by UMO.
John Lindberg (b. 1959) dropped out of high school to allow for total immersion into his work as a performer/composer, subsequently being mentored by the late, great bassist David Izenzon. After studying at the University of Michigan-Ann Arbor, Lindberg moved to New York City in 1977. There he played with the Human Arts Ensemble alongside trombonist Joseph Bowie and drummer Charles "Bobo" Shaw. He was also a member of various ensembles led by Anthony Braxton from 1978 to 1985.
In 1977, along with guitarist James Emery and violinist Billy Bang, Lindberg co-founded the String Trio of New York, which continues to perform today despite a number of substitutions on the violin chair. In 1980, he formed a trio with saxophonist Jimmy Lyons and drummer Sunny Murray. From 1980 to 1983, he lived in Paris, playing both solo and in a trio with Sunny Murray and John Tchicai. Lindberg has also played with Steve Lacy, Tony Coe, Eric Watson, Albert Mangelsdorff, George Lewis, Martin Mayes, Theo Jörgensmann, Barry Altschul, Ed Thigpen, Karl Berger, Susie Ibarra, Baikida Carroll, Wadada Leo Smith, Andrew Cyrille and Larry Ochs, among many others.
For the last three decades, Lindberg has traveled the globe performing thousands of concerts of creative music. His extended works for chamber ensembles, both large and small, have been widely commissioned, including works for The Pittsburgh New Music Ensemble, New York Chamber Ensemble, and Neues Kolner Streichquartett.

In addition to recording almost 20 albums with the String Trio of New York as well as with various groups led by Anthony Braxton, Wadada Leo Smith and others, Lindberg has recorded more than 20 albums as a leader. These have ranged from solo bass, duos and trios to other small group sessions and large ensembles performing his compositions.
Stefan Pasborg (b. 1974) is known on the Scandinavian jazz scene as a highly personal drummer as well as an innovative composer and bandleader. He is especially well known for his work within the more creative improvised music. In the last few years, he has performed and recorded with a number of internationally renowned musicians, including saxophonists Lotte Anker, Tim Berne, Ellery Eskelin, John Tchicai and Jesper Zeuthen, trumpeter Tomasz Stanko, trombonist Ray Anderson, guitarist Marc Ducret as well as bassists Palle Danielsson, Michael Formanek, Anders Jormin and Miroslav Vitous. At the present time, he plays regularly with Ibrahim Electric, Toxikum (co-led with saxophonist Liudas Mockunas), Delirium, Triot and a number of other bands.
Pasborg is one of the founders of the record label and musical collective ILK Music. His recordings include Triplepoint by his own large ensemble, X-tra Large and Pasborg´s Odessa 5 by Pasborg´s Odessa 5, Royal Air Maroc, Brothers of Utopia, Absinth, Ibrahim Electric and Meets Ray Anderson by Ibrahim Electric, Live by Ictus, Il Bastardo with Anders Vesterdal, Rasmus Kjaerdsgaard and Jeppe Skovbakke, Red Planet with Jakob Riis and Mockunas, Toxikum with Mockunas (also Marc Ducret, John Tchicai et.al.), Live & studio recordings by Endorfin and Project by the Mockunas/Pasborg 6tet in addition to recordings with Delirium and Triot, among others.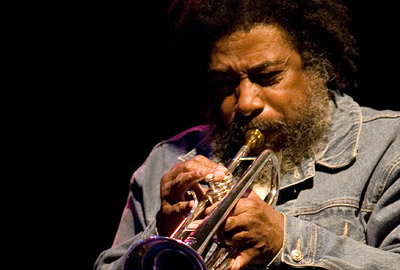 WADADA LEO SMITH & TUMO
Saturday, February 18, Savoy Theatre
Wadada Leo Smith compositions, conductor, trumpet and fluegel horn
Verneri Pohjola trumpet and fluegel horn
Jari Hongisto trombone
Kalle Hassinen horn
Kenneth Ojutkangas tuba
Juhani Aaltonen tenor saxophone, flutes
Fredrik Ljungqvist tenor and sopranino saxophones, clarinet and bass clarinet
Mikko Innanen alto, soprano and baritone saxophones
Seppo Kantonen piano
Iro Haarla harp
Mikko Iivanainen electric guitar
Kalle Kalima electric guitar
Veli Kujala quarter-tone accordion
Niels Thorkild Levinsen violin
Terhi Pylkkänen violin
Barbora Hilpo viola
Iida Laine cello
Ulf Krokfors double bass
John Lindberg double bass
Mika Kallio drums
Stefan Pasborg drums
Janne Tuomi drums, marimba and percussion
TUMO, or Todella Uuden Musiikin Orkesteri, is a new large ensemble that performs for the first time at TUMfest12. TUMO is not intended to become an institutionalized orchestra. Instead, it is a loose aggregation of musicians with an interest in creative improvised music. In many cases, but not necessarily, they also have had a prior affiliation with TUM Records through various other projects. The idea behind TUMO goes back to the big band workshops of the late 1960s and early 1970s that were organized particularly in Baden-Baden, Berlin, Donaueschingen and other European jazz festivals and featured both European and American musicians playing new music together. Perhaps, part of the thinking behind TUMO also comes from The Jazz Composers Orchestra that in the 1960s and 1970s in New York City offered contemporary composers an opportunity to compose and perform creative music with a large ensemble.
At its premier at TUMfest12, TUMO is performing under the leadership of Leo Wadada Smith who has also composed the music being performed. In many ways, one could not have a more appropriate choice inasmuch as Smith was already involved in many of the jazz ensembles of the past that serve as inspiration for TUMO starting with the large ensembles organized by Chicago´s Association for the Advancement of Creative Musicians (AACM) in the 1960s under the leadership of Muhal Richard Abrams. When in Europe in the late 1960s and early 1970s, Smith participated in some of the most legendary meetings between American and European creative musicians (including early Company sessions in the United Kingdom). He also played and recorded with The Jazz Composers Orchestra (The Gardens Of Harlem with Clifford Thornton and For Players Only with Leroy Jenkins) and was a key member of Anthony Braxton´s Creative Music Orchestra. In the 1970s, Smith established the first of his own large ensembles (Leo Smith Creative Orchestra in 1979 and Leo Smith & The Creative Improviser Orchestra in 1981) and has continued to lead large ensembles ever since, including Wadada Leo Smith´s Silver Orchestra that is active today. In December 2012, the Silver Orchestra premiered Smith´s composition "Occupy the World for Life, Liberty and Justice" as part of his 70th Anniversary celebration at New York´s Roulette Theater. A new expanded version of the composition will be heard at TUMfest12, among others.

The musicians performing in this first incarnation of TUMO come from different generations, different backgrounds and even different countries but are all brought together by their interest in creative improvised music. Saxophonist and flutist Juhani Aaltonen is a contemporary of Wadada Leo Smith and represents the first generation of European improvising musicians. He was already involved in some of the early international collaborations of the late 1960s and the early 1970s, including in particular his membership in the Nordic All Stars in the 1970s. Saxophonist Fredrik Ljungkvist, trombonist Jari Hongisto, pianist Seppo Kantonen, harpist Iro Haarla, guitarist Raoul Björkenheim and bassists Ulf Krokfors and John Lindberg can, in turn, be seen as representatives of the next generation of modern improvising musicians who emerged in the 1970s or the 1980s and have already been leaders on their own respective instruments for two decades or more. And, finally, the rest of TUMO is comprised of younger musicians, some with a background in jazz and improvised music, such as trumpeter Verneri Pohjola, saxophonist Mikko Innanen, guitarist Kalle Kalima and drummers Mika Kallio and Stephan Pasborg, others with a background in classical music but an interest in improvisation, such as horn player Kalle Hassinen, tubist Kenneth Ojutkangas, violinists Terhi Pylkänen and Barbora Hilpo and cellist Iida Laine, and yet others frequently crossing over this increasingly meaningless divide, such as violinist Mikko-Ville Luolajan-Mikkola, accordionist Veli Kujala and percussionist Janne Tuomi. Altogether, TUMO at TUMfest12 is a unique, one-time-only meeting of a diverse group of high calibre musicians.
Wadada Leo Smith (b.1941) has been active in creative contemporary music as a trumpeter and multi-instrumentalist, composer and improviser for over four decades. Smith received his initial musical education from his stepfather, Alex "Little Bill" Wallace, who was one of the first Delta blues singers to begin playing the electric guitar. As a trumpeter, Smith considers himself a descendant of Louis Armstrong, although Miles Davis, Booker Little and Clifford Brown and, a bit later, Don Cherry had the strongest impact on his own playing as a young musician.
After high school, Smith travelled for about a year with various blues, rhythm 'n´ blues and soul groups before entering the U.S. Army. In addition to attending the U.S. Army School of Music, Smith played for a total of about five years in six different army bands, touring not only in the Southern United States but also in France and Italy. In 1967, Smith left the army and moved to Chicago to work with saxophonist Anthony Braxton and other members of the AACM, the Chicago creative music collective that combined the music´s African roots with an improvisational approach. Soon after Smith´s arrival in Chicago, he met Braxton and violinist Leroy Jenkins for an impromptu practice session and, as a result, the three founded the Creative Construction Company, a collaborative group that became one of the key early ensembles of the AACM. Other collaborators of Smith´s in the pioneering work of the AACM included saxophonists Joseph Jarman, Roscoe Mitchell and Kalaparusha Maurice McIntyre, trumpeter Lester Bowie, trombonist George Lewis and pianist Muhal Richard Abrams. Smith´s first recordings were also made in Chicago during this period under the leadership of Braxton, McIntyre and Abrams.
In 1969, Smith moved to Paris together with Anthony Braxton and Leroy Jenkins as well as a few other key members of the AACM. During his year in Paris, Smith took part in two important quartet recordings by Braxton and also recorded with saxophonist Marion Brown. After returning from Paris, Smith continued to work with Braxton throughout the 1970s, including in Braxton´s quartet with Smith, bassist Dave Holland and drummer Phillip Wilson and other small groups as well as on Braxton´s classic big band recordings, Creative Orchestra Music 1976 and Creative Orchestra (Koln) 1978.
Soon after his return to the United States, Smith settled in New Haven, Connecticut, for a period of 10 years. In New Haven, he increasingly concentrated on his own music, leading his own groups as well as studying and teaching. Smith´s first recording as a leader was a solo album (Creative Music-1 in 1971), which was also the first album released on Kabell, the independent record label Smith had founded. After this first solo recording, Smith has continued to perform solo concerts and has recorded three additional solo albums (Solo Music/Ahkreanvention in 1979, Kulture Jazz in 1992 and Red Sulphur Sky in 2001).
Smith´s principal ensemble in New Haven, New Dalta Akhri, was comprised of his students and other young musicians based in the area and recorded a number of albums (Reflectativity, Song of Humanity, The Mass Of The World, Divine Love, Spirit Catcher and Go In Numbers). At various times, its members included saxophonists Dwight Andrews, Oliver Lake and Henry Threadgill, pianist Anthony Davis, vibraphonist Bobby Naughton, guitarist Michael Gregory Jackson, bassist Wes Brown and drummer Pheeroan akLaff, among others. Members of New Dalta Akhri were also part of the two large orchestras responsible for Smith´s first big band recordings, Leo Smith Creative Orchestra (Budding Of A Rose in 1979) and Leo Smith & The Creative Improviser Orchestra (The Sky Cries The Blues in 1981).
In the early 1980s, Smith converted to Rastafarianism and recorded a series of albums that reflected this new spirituality, including Human Rights, Procession Of The Great Ancestry and Rastafari. The music that Smith performed around this time sometimes featured lyrics inspired by Rastafarianism and introduced elements of fusion jazz, reggae, funk and the blues into the music. Smith also became increasingly interested in presenting multi-media performances incorporating song, dance and drama.
In 1993, Smith accepted a teaching position at the California Institute of the Arts and has made Southern California his home ever since. While teaching was a full-time occupation, Smith also continued to lead his own groups and recorded a number of highly acclaimed albums (Tao-Njia, Light Upon Light and Luminous Axis) as a leader. He also began performing with other improvising musicians based on the West Coast (e.g., Yo Miles!). In the mid-1990s, Smith had converted to Islam, which strengthened further, and made more apparent in his music of this period, his longstanding interest in the musical cultures of the East, including those of Japan and India.
Smith currently leads four principal ensembles of his own: the Golden Quartet, an all-star group that originally included pianist Anthony Davis, bassist Malachi Favors Magoustous and drummer Jack DeJohnette (Golden Quartet, The Year of the Elephant and Tabligh); Mbira, a trio with pipa player Min Xiao-Fen and drummer Pheeroan akLaff (Dark Lady Of The Sonnets, TUM CD 023); Organic, a larger group with instrumentation consisting primarily of electric string instruments (Spiritual Dimensions and Heart´s Reflections); and the Silver Orchestra, a large orchestra that recorded its first album in 2004 (Lake Biwa).
Smith is a profilic composer with works ranging from compositions for solo piano to orchestral pieces. His music for large ensembles has been performed throughout the world since 1969, developing from early works for more traditional big bands to compositions for multi-ensembles. Smith has received a number of awards and commissions as a composer and his compositions have been performed by numerous contemporary music ensembles, including the AACM Orchestra, the Kronos Quartet, the Da Capo Chamber Players, the New Century Players, the San Francisco Contemporary Music Players, the Contemporary Chamber Players (University of Chicago), the S.E.M. Ensemble, the Southwest Chamber Music, the Del Sol String Quartet, the New York New Music Ensemble, ne(x)tworks, and the California E.A.R. Unit, among others.