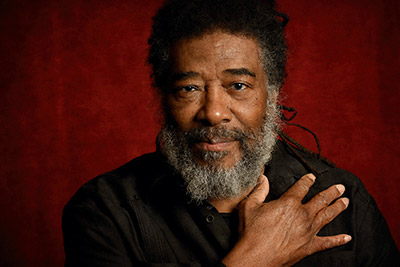 The idea of a symphony composed for a sextet was first presented by composer/performer Don Cherry in his classic recording Symphony For Improvisers in 1966. I have broadened this idea to include the social, political and psychological dynamic into the creative space.
My Chicago Symphonies are intended to illustrate and preserve the powerfully unique cultural contribution that the Midwesterners made in helping to shape the American society.
New Haven, Connecticut, August 19, 2021
Wadada Leo Smith
...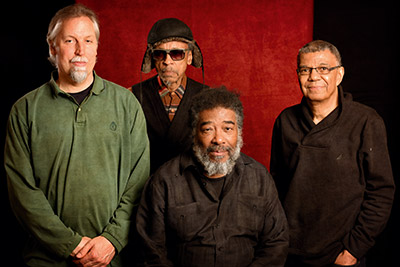 WADADA LEO SMITH´S GREAT LAKES QUARTET
Chicago, a city founded by an 18th-century African-Frenchman, was in the midst of revolutions in 1967. Most of all, of course, there was the grand inspiration of the civil rights movement and its struggle against Chicago racist social attitudes, politics and businesses. Along with it was a sustained explosion in African-American arts, as painters, sculptors, poets, authors, playwrights, dancers, actors began presenting original works in new galleries, publications, and on stages.
The most radical of these artists were the young musicians of the AACM, the Association for the Advancement of Creative Musicians, who were discovering ways of improvising and composing that were wholly new to the jazz tradition.
That creative intensity was what trumpeter Wadada Leo Smith, a young veteran of five years in U.S. Army bands, found when he moved to Chicago that year. "I had read about Roscoe Mitchell and Anthony Braxton in Down Beat and that the AACM had a unique kind of music," Smith said. His move followed in the footsteps of avant-garde heroes who´d made Chicago the center of the jazz world a hundred years ago: "Jelly Roll Morton, Lil Hardin, Louis Armstrong, Joe Oliver, and all these people were part of the great migration from the South - from the cradle in New Orleans to the cradle in Chicago. And then there were Sun Ra and Phil Cohran and Richard Abrams and all these radicals," who first made Chicago a hotbed of the new music in the 1960s.
The AACM included musicians who explored relationships of sound and space, and being among them helped inspire his own ideas. Kalaparusha Maurice McIntyre, Joseph Jarman and Muhal Richard Abrams all featured Smith in their concerts, and the Anthony Braxton (woodwinds) - Leroy Jenkins (violin) - Leo Smith trio´s explorations of totally free arhythmic and structural movement gave the widest scope for Smith´s own awakening. He composed the milestone 1969 works "Silence" and "The Bell," which the group recorded while still in Chicago: '"The Bell´ introduced my rhythm-unit language to me and the ensemble and the world."
By this time, these musicians were well aware that their discoveries were major events in the ongoing evolution of jazz, and that very few music lovers outside the Chicago area had ever heard them. "We (Braxton, Jenkins and Smith) had a meeting and the Art Ensemble had a meeting and we all came to the same conclusion: That if we didn´t get out of Chicago, our music would die there." So, in August 1969, Braxton, Jenkins and Smith moved to Europe, where free-spirited original musicians were also emerging, paralleling the AACM community.
Of course, it was after Smith left Chicago that his mastery and reputation grew, and his discoveries continued. Since that European year, he has lived on America´s East and West Coasts. The 21st century brought about the vastest expansion of his scope, in extensive solo, duet, small ensemble and fusion musics and especially in grand performances such as his Ten Freedom Summers, Occupy the World, The Great Lakes Suites, America´s National Parks, and now this beauty, The Chicago Symphonies.
Each movement of the "Gold," "Diamond" and "Pearl" symphonies is Smith´s response to the work of major Chicago artists: "I´m celebrating their contributions to American music. These are extended views of how they thought music should be." Some of them may be little known to today´s non-Chicagoans, such as, in the "Gold Symphony", third movement, singer Sherry Scott and Joseph Jarman´s partners in his 1966-67 quartet. The fourth movement honors two classic 1928 Louis Armstrong-Earl Hines recordings as well as pianist-composer Lil Hardin (Mrs. Armstrong back then) and drummer Baby Dodds, Armstrong´s co-stars in his Hot Seven and King Joe Oliver´s Creole Jazz Band. John Shenoy Jackson was a fiery lead trumpeter in AACM big bands and also the AACM´s first business manager. The fourth movement of the "Pearl Symphony" honors Chicago´s Black revolutionary 1960s culture, when beloved poet Gwendolyn Brooks was creating some of her most powerful work, dynamic poet Haki Madhubuti was founding the Third World Press to publish Black authors, and trumpeter-instrument inventor Kelan Phil Cohran opened his Affro-Arts Theater: "It was the most exciting thing you could have witnessed of African-American retention of African culture. He had this whole community who wore African clothing and ate African food and practiced African philosophy. His influence still goes on, particularly in the later AACM."
It is important to remember that what composing meant to Beethoven or Stravinsky is not what composing has meant to Duke Ellington, Lil Hardin Armstrong or Wadada Leo Smith. The Chicago Symphonies call for the four players to create their own parts in ways indicated by Smith´s extensive scores. Above all, they listen and create contrast or empathy with others; to solo, duet or play as a trio or quartet; to change rhythm, arhythm, momentum.
So, it´s important that the first three symphonies are by the super-quartet that created Smith´s Great Lakes Suites in 2012. What masterful and immensely sensitive musicians these are. Take, for example, one of the highlights of the "Gold Symphony." In the second movement, John Lindberg´s bass solo in itself could stand apart as a complete, extended conception. It sounds dangerously wild, too, as it evolves into dense passages full of notes and high detail. Lindberg´s sound is big and resonant, he loves his low registers, his notes are precise - compare the clumsy rumble of others´ bowed bass solos - and his attack is strong, vivid. The intensity of this creation is heightened by the aggressive interplay of percussionist Jack DeJohnette. Throughout these symphonies, notice how his drumming changes from section to section, here with mallets, there with drumsticks, on toms, snares, rims, big or small cymbals, on metal, wood or skin. Together and separately, Lindberg and DeJohnette provide these symphonies´ ongoing continuity.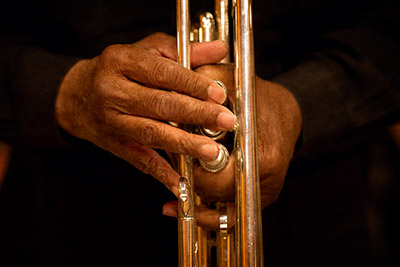 What a world of possibilities and of combinations and expression are open to just four exceptional musicians creating together. The third movement of the "Gold Symphony" is Smith´s portrayal of Joseph Jarman, "one of my secret duet partners. We did lots of performances outside Chicago that nobody knew about." The delicious second trumpet solo in the Jarman movement is in rubato, in very long tones that project ever so serene melody over the hyperactive drumming and a busy alto sax making mostly subtone grumbles and occasional high flares. The horns´ roles are reversed in the "Diamond Symphony," second movement, which opens with a beautiful alto solo, Threadgill seeming to mourn a lost love and Smith creating empathetic muted trumpet commentary - you can hear Smith´s kinship with Ellington in composing these role plays.
Hear the great freedom of Smith in the fourth movement of the "Diamond Symphony." Every bright, bold phrase contrasts with surrounding phrases, so his improvisation is a veritable kaleidoscope of fast, slow, busy and long-tone ideas, over the crucial duetting of DeJohnette. That piece has an especially beautiful alto solo that in its variety of phrasing and rhythmic energy sounds as if Henry Threadgill is translating Smith´s abstractions into concrete melody. Threadgill is really a highlight of this collection. While his alto sax lines are alive with his characteristic thorns and spikes; there are also graceful lyrical works that are very much responses to the bassist and drummer and to Smith´s scores. And in the "Pearl Symphony," second movement, after the great serenity of Smith´s solo, Threadgill, on bass flute, and bassist Lindberg together reveal a quiet tension that lurks behind this piece´s peaceful surface.
The "Sapphire Symphony" was the last to be recorded and includes a new voice, New York multi-saxophonist Jonathon Haffner. It is dedicated to two American presidents: "I put them in there because both of them were Illinois people. They had that energy for progressive thinking. If their ideas didn´t happen, we´d be in worse shape than we are in now." Abraham Lincoln was nominated for president at the 1860 Republican convention in Chicago, and 148 years later Barack Obama, a U.S. senator from Chicago, was elected the first African-American president. Alarm, sorrow are felt in the variants of a three-note fanfare that begin the themes of each movement; the second is especially ominous, with its insistent repeated five bass notes and the marching phrases in Smith and DeJohnette together. This symphony features some of Smith´s finest playing, including his great sense of sound-space interaction in the third and fourth movements - his active silences are the opposite of John Cage´s passive silences. Haffner´s free-floating, very together alto solo in the fourth movement is a response to the trumpeter´s own freedom of movement.
Obama´s Selma speech honored the American heroes who, in 1965, began the historic march for civil rights from Selma to the state capitol, Montgomery, despite attacks by official state of Alabama goons. The freedoms discovered in Chicago´s jazz over fifty years ago grew, expanded, became the principal line of the art form´s organic evolution. Let´s pray that the parallel freedoms in life that began to come true for all Americans will triumph too.
Chicago, August 20, 2021
John Litweiler