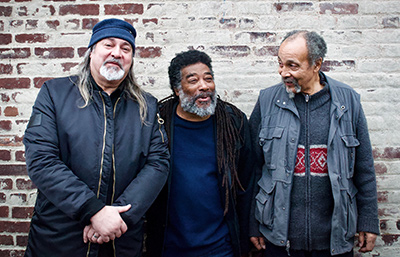 Wadada Leo Smith (b. 1941) was born in Leland, Mississippi. Smith´s early musical life began in the concert and marching bands of Lincoln High School in Leland, first on the mellophone, then moving on to the French horn and finally receiving his first trumpet at the age of 12. At the same age, he composed a work for three trumpets, his first composition.
Smith received his initial musical education from his stepfather, Alex "Little Bill" Wallace, who was one of the first Delta blues singers to begin playing the electric guitar. His family home in Leland was a meeting place for musicians where blues artists such as Elmore James, B.B. King and Little Minton were frequent guests, often performing in the family´s living room. Accordingly, Smith has said that: "The Blues was my first language and it never went away." As a trumpeter, Smith considers himself a descendant of Louis Armstrong, although Miles Davis, Booker Little, Clifford Brown and, a bit later, Don Cherry had the strongest impact on his own playing as a young musician.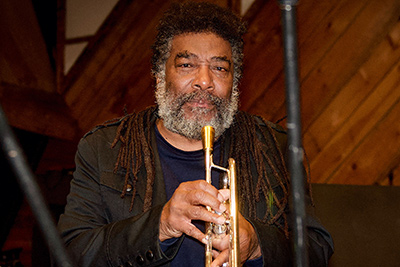 Smith´s formal music studies began with Oneal Jones and Henderson Howard, who were his school bandmasters at Lincoln High, with the latter also being his first trumpet teacher. Smith later studied in the U.S. Army Music Program at Fort Leonard Wood in Missouri (1963), the Sherwood School of Music in Chicago, Illinois (1967-69), and the Wesleyan University in Middlewood, Connecticut (1975-76).
Following high school, Smith travelled for about a year with various blues, rhythm ´n´ blues and soul groups before entering the U.S. Army. After attending the U.S. Army Music Program, Smith played for a total of about five years in six different army bands, touring not only in the Southern United States, but also in France and Italy. He also continued to broaden his musical horizons and was leading his own Ornette Coleman-inspired trio while still in the military. In 1967, Smith left the army and moved to Chicago to work with saxophonist Anthony Braxton and other members of the Association for the Advancement of Creative Musicians (AACM), the groundbreaking creative music collective that combined the music´s African roots with an improvisational approach.
Soon after arriving in Chicago, Smith met Anthony Braxton and violinist Leroy Jenkins for an impromptu session and, as a result, the three founded a collaborative group (later expanded into a quartet with the addition of drummer Steve McCall and named Creative Construction Company although they never actually performed live either as a trio or as a quartet under that name). Braxton, Jenkins and Smith became one of the key early ensembles of the AACM. Smith´s other collaborators in the pioneering work of the AACM also included saxophonists Joseph Jarman, Roscoe Mitchell and Kalaparusha Maurice McIntyre, trumpeter Lester Bowie, trombonist George Lewis and pianist Muhal Richard Abrams. Smith´s first recordings were made in Chicago during this period with Braxton, McIntyre and Abrams. Braxton´s 3 compositions of new jazz in 1968 and Silence in 1969 also included Smith´s first recorded compositions, "The Bell" and "Silence," respectively. These two compositions already used the rhythm-units concept, a framework for improvisation that Smith developed more fully in the 1970s.
Smith´s own Ankhrasmation Symbol Languagehas been significant in his development as an artist and educator. Smith published his music philosophy in the early 1970s in notes (8 pieces), source a new world music: creative music (Kiom Press, 1973). Notes (8 pieces) has been translated into Japanese (1976), Italian (1981) and Icelandic (2018). An expanded edition of the work in English was published in 2015.
As part of his music theory, Smith developed the two basic systems of music that he has utilized in his compositions ever since: the system of rhythm-units and the notation system he termed "ahkreanvention," which literally means to create and invent musical ideas simultaneously, utilizing the fundamental laws of improvisation and composition. With the rhythm-unit concept, each single sound or rhythm, or a series of sounds or rhythms, is accepted as a complete piece of music. Each performer, in turn, is considered as a complete unit with each having his or her own center from which each performs independently of any other, whether performing in a small group or in an orchestral context. The independence of each sound-rhythm and the independence of each performer contributes to the liberation from time as a period of development and to its employment as an element of space instead.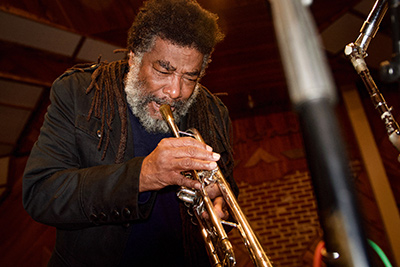 Like many other AACM members, Smith supported himself in Chicago by playing in the horn sections of various rhythm 'n´ blues and soul bands, including Little Milton Campbell´s group. In 1969, Smith turned down Little Milton´s offer to become the straw-boss of his road band and moved to Paris along with Anthony Braxton and Leroy Jenkins as well as a few other key members of the AACM. During his year in Paris, Smith took part in two important recordings by Braxton and continued to perform and record with Braxton throughout the 1970s. Since that time, Braxton and Smith have continued to play together from time to time.
After returning from Paris, Smith led his own group, Integral, with saxophonist Henry Threadgill, trombonist Lester Lashley and drummer Thurman Baker, for a few months in Chicago before settling in New Haven, Connecticut, during the summer of 1970 for a period of ten years. In New Haven, Smith concentrated on his own music as well as studying and teaching rather than touring and recording all over the world like many of his compatriots. In addition to leading his own groups and teaching at the University of New Haven, he studied ethnomusicology at the Wesleyan University, focusing on West African, Japanese, Indonesian and Native American music cultures. Soon after arriving in New Haven, Smith organized the Creative Improvisation Ensemble with saxophonist Marion Brown and they also recorded a duo album in December 1970 in New York City (Creative Improvisation Ensemble/Duets).
Smith´s first recording as a leader was a solo album (Creative Music-1: Six Solo Improvisations in 1971), which was also the first album released on Kabell, the independent record label he founded. After this first solo recording, Smith has continued to perform solo concerts and has released several additional solo albums (Red Chrysanthemus Solos in1977, Solo Music/Ahkreanvention in 1979, Kulture Jazz in 1992 and Red Sulphur Sky in 2001). Smith´s latest solo recording features his solo trumpet on four classic Thelonious Monk compositions and four new compositions by Smith inspired by Monk (Solo: Reflections And Meditations On Monk, TUM CD 053, in 2015).
Smith´s principal ensemble in New Haven, New Dalta Akhri, was comprised of his students and other young musicians based in the area and recorded a number of albums (Reflectativity in 1974, Song Of Humanity in 1976, The Mass Of The World in 1978, Divine Love in 1978, Spirit Catcher in 1979and Go In Numbers in 1980). At various times, its members included saxophonists Dwight Andrews, Oliver Lake and Henry Threadgill, pianist Anthony Davis, vibraphonist Bobby Naughton, guitarist Michael Gregory Jackson, bassist Wes Brown and drummer Pheeroan akLaff. Members of New Dalta Akhri were also part of the two large orchestras responsible for Smith´s first big band recordings, Leo Smith Creative Orchestra (Budding Of A Rose in 1979) and Leo Smith & The Creative Improviser Orchestra (The Sky Cries The Blues in 1981).
In the early 1980s, Smith recorded a series of albums that reflected the spirituality of Rastafarianism, including Procession Of The Great Ancestry and Rastafari in 1983. The music that Smith performed around this time sometimes featured lyrics inspired by Rastafarianism and introduced elements of fusion jazz, reggae, funk and the blues into the music. Smith also became increasingly interested in presenting multimedia performances incorporating song, dance and drama.
In 1986, Smith began a series of releases with trumpet/drums duos by recording a live concert with drummer Ed Blackwell (The Blue Mountain´s Sun Drummer,released on Smith´s Kabell label in 2010). This series also includes duo recordings with Adam Rudolph (Compassion in 2002), Günter "Baby" Sommer (Wisdom In Time in 2006), Jack DeJohnette (America in 2008) and Louis Moholo-Moholo (Ancestors, TUM CD 029, in 2011). Smith has also made a number of other duo recordings, including those with Anthony Braxton (Organic Resonance and Saturn, Conjunct The Grand Canyon In A Sweet Embrace, both in 2003), bassist John Lindberg (Celestial Weather, TUM CD 046, in 2012) and pianist Vijay Iyer (A Cosmic Rhythm With Each Stroke in 2015), among others.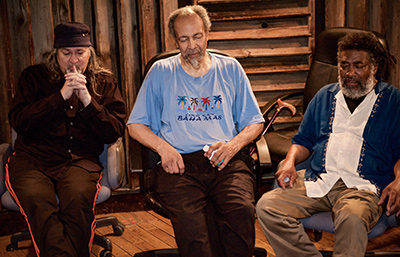 In 1992, Smith accepted a teaching position at the California Institute of the Arts (CalArts) and made Southern California his home. Alongside teaching, Smith continued to lead his own groups, in particular N´Da Kulture, and recorded a number of highly acclaimed albums as a leader (e.g., Tao-Njia in 1995, Golden Hearts Remembrance in 1997, Light Upon Light in 1998, Reflectativity in 2000 and Luminous Axis in 2002). In the mid-1990s, Smith converted to Islam, which further strengthened and made more apparent his longstanding interest in the musical cultures of the East, including those of Japan and India.
After moving to California, Smith began performing and recording more with musicians based on the West Coast, including guitarist Henry Kaiser in Yo Miles!, a group co-led by Kaiser and Smith and dedicated to the music of Miles Davis´ electric period (Yo Miles! in 1998 as well as Upriver and Sky Garden in 2001), among many others. He also continued his occasional collaborations with his old comrades from the AACM, including Anthony Braxton, Douglas Ewart (visionfest - visionlive in 2002 and Velvet Fire in 2009) and Roscoe Mitchell (The Bad Guys in 2000), as well as many others, including saxophonist John Zorn (with Zorn, Smith and Susie Ibarra, Birthday Series 50/8 in 2003 and, with Zorn, Smith and George Lewis, Sonic Rivers in 2013) and bassist John Lindberg (The Catbird Sings in 1999 and A Tree Frog Tonality in 2000).
After retiring from CalArts in 2013, Smith again settled in New Haven and has focused on composing and performing more than ever before during his career. He has also reconnected with many of the New York-based musicians he has worked with in the past, including two weeklong residences with multiple ensembles at the Stone. In April 2017, Smith organized the CREATE Festival in New Haven, which featured a total of eight ensembles over two days, ranging from a solo performance by Smith to the reunited New Dalta Akhri, the Mbira trio and the Golden Quintet as well as the RedKoral Quartet and the Chrystal Sextet performing Smith´s works for strings. This was followed by a two-day festival in San Francisco in December 2017 and the second and third annual festival in New Haven in April 2018 and April 2019.
In recent years, Smith has led five principal ensembles of his own: the Golden Quartet, an all-star group that originally included pianist Anthony Davis, bassist Malachi Favors Maghostut and drummer Jack DeJohnette and, in later editions, pianist Anthony Davis, Vijay Iyer or Angelica Sanchez, bassist John Lindberg and drummer Pheeroan akLaff or Ronald Shannon Jackson (Golden Quartet in 2000, The Year Of The Elephant in 2002, Tabligh in 2005 and, expanded into the Golden Quintet with drummer Don Moye, Spiritual Dimensions - CD1 in 2008, or with cellist Ashley Walters, America´s National Parks in 2016); the Great Lakes Quartet, another all-star group with Henry Threadgill, John Lindberg and Jack DeJohnette (The Great Lakes Suites, TUM CD 041-2, in 2012); Mbira, a trio with pipa player Min Xiao-Fen and Pheeroan akLaff (Dark Lady Of The Sonnets, TUM CD 023, in 2007); Organic, a larger group with instrumentation consisting primarily of electric string instruments (Spiritual Dimensions - CD2 in 2009 and Heart´s Reflections in 2010); and the Silver Orchestra, a large orchestra that recorded its first album in 2004 (Lake Biwa).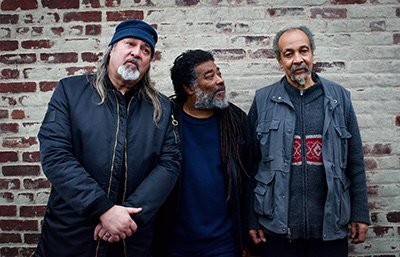 Smith has been a prolific composer throughout his career with works ranging from solo piano pieces to compositions for multiple orchestras. Already while in the military in the 1960s, Smith arranged both popular and classical music for the various military bands in which he played and increasingly also began composing his own music both for jazz groups and for other ensembles. By the time Smith moved to Chicago in 1967, he had already composed several works for a string quartet or larger orchestras. When working with other members of the AACM, and in the large ensembles led by Muhal Richard Abrams and others in particular, Smith began to combine his compositional skills and the improvisational spirit of the early AACM ensembles in search of his own approach to orchestral music.
Smith´s music for large ensembles has been performed throughout the world since 1969, developing from early works for more traditional big bands to compositions for multi-ensembles. Smith has received a number of awards and commissions as a composer and his compositions have been performed by numerous contemporary music ensembles, including the AACM Orchestra, the Kronos Quartet, the Da Capo Chamber Players, the New Century Players, the San Francisco Contemporary Music Players, the Contemporary Chamber Players (University of Chicago), the S.E.M. Ensemble, the Southwest Chamber Music, the Del Sol String Quartet, the New York New Music Ensemble, ne(x)tworks,theCalifornia E.A.R. Unit,the Oxford Improvisers Orchestra and Orkiestra Symfoniczna NFM (Wroclaw), among others.
For over two decades, Smith has been creating music for multiple ensembles. Some of these works take several days to perform. "Ten Freedom Summers" was premiered by the Golden Quartet and the Southwest Chamber Music at the Roy and Edna Disney/CalArts Theater (REDCAT) in Los Angeles over three nights in October 2011. "Tabligh" for double-ensemble was performed by the Golden Quartet and the Classical Persian Ensemble at Merkin Concert Hall in New York City in 2006 and by the Golden Quartet and Suleyman Erguner´s Classical Turkish Ensemble at Akbank Music Festival in Istanbul in 2007. Smith´s largest work to date, "Odwira" for 12 multi-ensembles (a total of 52 instrumentalists), was premiered at the California Institute of the Arts in March 1995.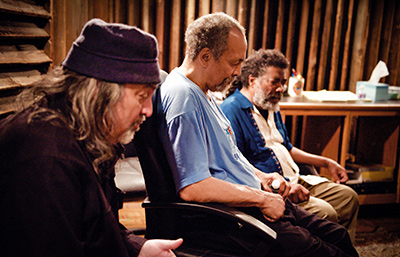 In 2012, Smith released his most extensive recording to date, Ten Freedom Summers, a four-CD collection of a total of 19 works composed over a period of 34 years and inspired by the civil rights movement in the United States. Ten Freedom Summers was recorded by the Golden Quartet(Smith, Anthony Davis, John Lindberg and Pheeroan akLaff) and the Golden Quintet (add drummer Susie Ibarra) together with the Southwest Chamber Music and was a finalist for the Pulitzer Prize in Music.
In 2013, Smith released another important recording of works for a large ensemble, Occupy The World (TUM CD 037-2), a two-CD collection comprised of six extended compositions performed by Smith with TUMO, a 22-member orchestra.
In 2016, Smith released America´s National Parks, a two-CD recording by the Golden Quintet that features six extended compositions celebrating America´s national parks and its culture and, in 2017, Najwa (TUM CD 049) that features four compositions in tribute to past masters of creative music, Ornette Coleman, John Coltrane, Ronald Shannon Jackson and Billie Holiday, as well as the title composition, all performed by a group that includes Smith´s trumpet with four electric guitars, electric bass, drums and percussion.
In 2018, Smith released a recording of an extended composition dedicated to the civil rights icon Rosa Parks, "Rosa Parks: Pure Love. An Oratorio of Seven Songs," which features three vocalists, a string quartet, a trumpet quartet, electronics and a drummer as well as pre-recorded musical excerpts (TUM CD 057). An early version of "Rosa Parks: Pure Love" was premiered in 2016 at The New School in New York City as part of the program for the Festival of New Trumpet Music and the full version was performed four times over three successive days in April 2019 at The Kitchen in New York City, featuring also video in live performance and a butoh dancer.
Smith has been on the faculty of the University of New Haven (1975-76), The Creative Music Studio in Woodstock, New York (1975-78), and Bard College in Annandale-on-Hudson, New York (1987-92). In 1992-2013, he served as the director of the African-American Improvisational Music Program at The Herb Alpert School of Music at CalArts.
In 2016, Smith received the Doris Duke Artist Award and an honorary Doctorate of Arts degree from CalArts, where he was celebrated as Faculty Emeritus. In 2016, Smith received the Mohn Award for Career Achievement honoring brilliance and resilience from the Hammer Museum at the University of California, Los Angeles (UCLA). In November 2019, Smith received the UCLA Medal, the campus´s highest honor, and, in February 2021, he was named one of the 2021 USA Fellows by the United States Artists.
Wadada Leo Smith´s Ankhrasmation Symbol Language Art Scores have been exhibited at several major American museums. In October 2015, The Renaissance Society at The University of Chicago presented the first comprehensive exhibition of the Ankhrasmation Symbol Language Art Scores. In 2016, a number of the scores were featured in the Hammer Museum´s "Made in L. A." exhibition in Los Angeles. Smith´s scores have also been shown at the Kalamazoo Institute of Arts in Michigan in 2016-17 and the Kadist Art Foundation in San Francisco, California, in 2016-17.
...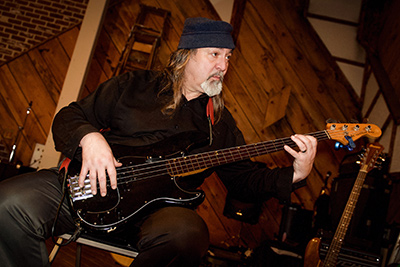 Bill Laswell (b.1955) was born in Salem, Illinois, where he spent his early childhood until his family moved to Albion, Michigan, close to Detroit. Laswell initially played the baritone saxophone and drums in school, but switched first to the guitar and then to the electric bass.
By the age of fifteen, Laswell was performing with local rhythm´n´ blues groups, joining them on tours of Michigan as well as the South and the lower Midwest. During this time, the musical climate around Detroit offered a rich range of influences, including everything from early hard rock bands like MC5 and the Stooges to the soulful sounds of Motown and the funky grooves of Parliament/Funkadelic. Laswell´s other musical interests ranged from modern jazz masters like Albert Ayler, Ornette Coleman, John Coltrane and Miles Davis to European avant-rock bands like Henry Cow, Gongand Magma. These early influences laid a foundation for the versatility that has been characteristic of Laswell´s entire career.
In the late 1970s, Laswell moved to New York City, where he soon became a part of the so-called Downtown scene centered in the East Village. Soon, Laswell began collaborating with synthesizer player and electronic musician Michael Beinhorn, and together they formed The Zu Band, which also featured guitarist Cliff Culteri and drummer Fred Maher (with Daevid Allen, New York Gong: About Time in 1979).
Laswell, Beinhorn and Maher then formed Material (Temporary Music in 1979, Memory Serves in 1981 and One Downin 1982), which combined rock influences with electronic experimentation and improvisation and often featured guests, such as saxophonists Archie Shepp and Henry Threadgill, guitarists Fred Frith, Sonny Sharrock and Nicky Skopelitis and a number of singers including Nona Hendryx, B.J. Nelson, R. Bernard Fowler and even Whitney Houston on her first recording as a lead singer. After Beinhorn left Material in the mid-1980s, Laswell continued to use the name for various projects that often included Nicky Skopelitis, keyboardist Bernie Worrell and bassist Bootsy Collins from Funkadelic as well as drummer Sly Dunbar and bassist Robbie Shakespeare from Jamaica. Material´s later recordings featured an eclectic group of collaborators ranging from beat poet William S. Burroughs and saxophonist Wayne Shorter to Indian and Middle Eastern musicians and rap artists (Seven Souls in 1989, Third Power in 1991, Live In Japan in 1992, Hallucination Engine in 1993 and Intonarumori in 1999).
Through his work with Material, Laswell came into contact with pianist Herbie Hancock, with whom he collaborated on the Grammy-award winning single "Rockit," which was included on Hancock´s album Future Shock in 1983. In the 1980s, Laswell also produced two other albums by Hancock (Sound-System in 1984 and Perfect Machine in 1988; also, Future 2 Future in 2001) and Hancock in turn has participated in various projects by Laswell and Material.
Laswell also began to work with popular artists and groups, including Laurie Anderson (Mister Heartbreak), Ginger Baker (Horses & Trees and Middle Passage), Brian Eno (On Land), Mick Jagger (She´s The Boss), Buddy Miles (Hell And Back), Yoko Ono (Starpeace), Iggy Pop (Instinct), the Last Poets (Oh My People and Holy Terror), Motörhead(Orgasmatron), Public Image Ltd (Album), the Ramones (Brain Drain), and Sly and Robbie (Language Barrier, Rhythm Killers and Make 'em Move), among numerous others.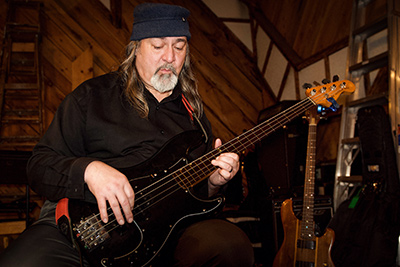 Laswell has participated in a number of experimental bands throughout the 1980s and beyond, including Massacre (with Fred Frith and Fred Maher, Killing Time in 1981 and, with Frith and drummer Charles Hayward, Funny Valentine in 1998, Meltdown in 2001, Lonely Heart in 2007, Love Me Tender in 2013 and, with The Master Musicians of Jajouka, Apocalypse Live in 2015), the Golden Palominos (initially with Fred Frith, saxophonist John Zorn, singer-guitarist Arto Lindsay and drummer Anton Fier, and later also singer Syd Straw, Nicky Skopelitis et.al.; The Golden Palominos in 1983, Visions of Excess in 1985, Blast Of Silence in 1986, A Dead Horse in 1989, Drunk With Passion in 1991, This Is How It Feels in 1993, Pure in 1994 and Dead Inside in 1996) and Curlew (with saxophonist George Cartwright, cellist Tom Cora and Nicky Skopelitis; Curlew in 1980).
In 1983, Laswell released the first album under his own name, Baselines, which featured Michael Beinhorn, Fred Frith, saxophonist Ralph Carney, trombonist George Lewis and percussionists/drummers Ronald Shannon Jackson, Phillip Wilson, Martin Bisi, Daniel Ponce and David Moss.
In 1986, Laswell formed the group Last Exit with guitarist Sonny Sharrock, saxophonist Peter Brötzmann and drummer Ronald Shannon Jackson (Last Exit in 1986, Koln in 1986, The Noise of Trouble in 1986, Cassette Recordings '87 in 1987, Iron Path in 1988 and Headfirst Into The Flames in 1989). The group toured extensively and was especially popular outside of the United States.
As a producer, Laswell has frequently pursued his interest in African and other world musics. He has travelled extensively and has produced albums by many African performers, beginning with albums by the Senegalese group Touré Kunda(Natalia in 1985), Nigerian vocalist/saxophonist Fela Anikulapo Kuti (Army Arrangement in 1985) and Cameroonian saxophonist Manu Dibango (Electric Africa in 1985). He has also produced albums featuring the Gnawa musicians of Morocco (Night Spirit Masters in 1989), the Mandinka and Fulani musicians of the Gambia (Ancient Heart in 1990), The Master Musicians of Jajouka (Apocalypse Across The Sky in 1992 and Apocalypse Live in 2015) and the Griots of West Africa (Jali Kunda in 1996) as well as by artists from Brazil, China, Egypt, Palestine and Turkey, among others. More recently, Laswell has often collaborated with the Ethiopian singer Ejigayehu "Gigi" Shibabaw (Gigi in 2001, Illuminated Audio in 2003, Zion Roots, with Abyssinia Infinite, in 2003, Gold & Wax in 2006 and Mesgana Ethiopia, with Material, in 2009).
In the realm of modern jazz, Laswell has produced a number of important recordings by the likes of Ronald Shannon Jackson, Toshinori Kondo, Pharoah Sanders, Sonny Sharrock, Henry Treadgill and James "Blood" Ulmer, among others, particularly for the Axiom label in the 1990s and for various other labels he has been associated with since that time.
In 1988, Laswell released the second album under his own name, Hear No Evil, which juxtaposed Eastern musical practices with Western concepts of tonality in a modern fusion of genres. The recording featured Nicky Skopelitis, violinist L. Shankar, tabla player Zakir Hussain and percussionists Daniel Ponce and Ayib Dieung.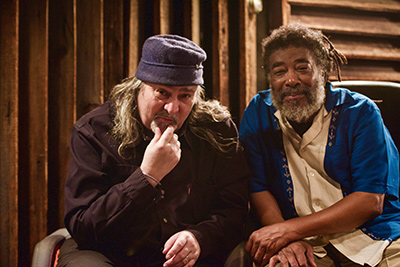 In 1991, Laswell released Third Power, which featured singer Shabba Ranks, the Jungle Brothers, Sly and Robbie and trombonist Fred Wesley. In 1992, he formed the group Praxis, which featured Bernie Worrell, guitarist Buckethead, Bootsy Collins, drummer Brain and AF Next Man Flip on turntables (Transmutation (Mutatis Mutandis) in 1992, Sacrifistin 1994, Warszawa in 1996 and Profanation in 2007).
By 1993, Laswell had began producing music at his own studio in Greenpoint, Brooklyn, including both his own recordings and projects with a wide range of other musicians. In 1994, he released Hallucination Engine by Material, which featured Wayne Shorter, Nicky Skopelitis, Bootsy Collins, Bernie Worrell, L. Shankar, William S. Burroughs and singer Liu Sola, among many others.
In 1998, Laswell remixed recordings by Miles Davis during his electric period from 1969 to 1974, with the resulting album, Panthalassa, receiving considerable critical and popular success. He also remixed Bob Marley´s music with the Wailers (Dreams Of Freedom), among many other remixing projects.
During the 1990s, Laswell was a member of two important collaborative groups: Painkiller with John Zorn and drummer Mick Harris (Guts Of A Virgin, Buried Secrets and Rituals: Live In Japan, all in 1991, Execution Ground in 1993 and Talisman: Live In Nagoya in 1994) and Arcana with guitarist Derek Bailey and drummer Tony Williams (The Last Wavein 1995 and, with Tony Williams, saxophonists Pharaoh Sanders and Byard Lancaster, cornetist Graham Haynes and guitarists Nicky Skopelitis and Buckethead, Arc Of The Testimony in 1996). He also began a series of recordings for yoga meditation that have featured many of the same musicians as his other projects as well as additional Indian singers and musicians (Asana: Soul Practice in 1997, Asana 2: Moving Meditation in 2000, Asana 3: Peaceful Heart in 2003 and Asana 4: OHM Shanti in 2006).
In the late 1990s, Laswell moved his studio to its current location in West Orange, New Jersey, where he continues to work on a broad range of projects with more than a thousand recordings to his credit by now. In 2007, the album Inamorata paired drum 'n´ bass sounds with many of his frequent collaborators, including Herbie Hancock, Graham Haynes, Byard Lancaster, Nils Petter Molvaer, Pharoah Sanders, Bernie Worrell, John Zorn, Buckethead and Dr. Israel, under the name Method of Defiance. Method of Defiance also developed into a performing band with Bernie Worrell, Guy Licata, Toshinori Kondo, DJ Krush, Dr. Israel, et.al. (Nihon in 2009, Jahbulon and Inculabula in 2010, Dub Arcanum Arcandrum in 2011 and Nahariama 4th Column in 2013).
Despite his increasing focus on producing and remixing, Laswell has continued to perform and record improvised music, including projects with Pharoah Sanders and Graham Haynes (With A Heartbeat in 2002), John Zorn (The Stone in 2005), Peter Brötzmann (Long Story Short in 2011), trumpeters Steve Bernstein (MTO Plays Sly in 2011) and Dave Douglas (Uplift! in 2017), the group Blixt (Blixt, with guitarist Raoul Björkenheim and drummer Morgan Ågren, in 2010), guitarists Robert Musso (Active Resonance in 1992 and Innermedium in 1999) and James "Blood" Ulmer (Blue Blood in 2000), percussionist Mark Nausef (All In All In All in 2001 and No Matter in 2008) and drummer Simon Barker (Mudang Rock in 2017), among others.
Prior to Sacred Ceremonies, Laswell occasionally performed with both Wadada Leo Smith and Milford Graves. He recorded two duo albums with Graves (Space / Time ・ Redemption, TUM CD 040, in 2012 and The Stone in 2014) and has recorded with Smith as a member of a group that featured Smith with four guitarists, electric bass, drums and percussion (Najwa, TUM CD 049, in 2014) and also in a duo setting (The Stone in 2014).
Laswell has released two solo bass recordings (Invisible Design in 1999 and Invisible Design II in 2009). In 2019, he released a recording with four different drummers (Against Empire, with Chad Smith, Hideo Yamaki, Jerry Marotta and Satoyasu Shomura) and, in 2020, a trio album with guitarist Mike Sopko and drummer Tyshawn Sorey (On Common Ground).
...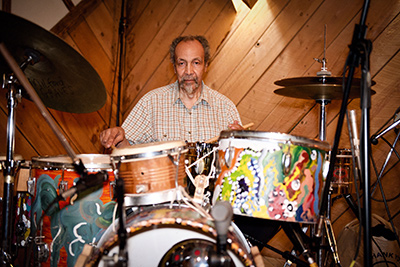 Milford Graves (1941 - 2021) was a pioneering drummer and percussionist, visual artist and sculptor, acupuncturist, herbalist, martial artist, inventor, programmer and teacher. Graves was born and raised in the Borough of Queens in New York City, where he lived until his passing in early 2021 of amyloid cardiomyopathy first diagnosed in 2018, in the home that formerly belonged to his grandmother. Graves began playing on a drum set in his home as a small child. He was introduced to the congas when he was eight years old, and concentrated on Latin percussion until he was about 20. He also studied timbales and African hand drumming at an early age. By the early 1960s, he was leading dance bands and playing in Latin/Afro-Cuban ensembles. His group, the Milford Graves Latino Quintet, included saxophonist Pete Yellin, pianist Chick Corea, bassist Lisle Atkinson and conga player Bill Fitch.
Around 1962, Graves saw Elvin Jones perform with John Coltrane, and thereafter devoted himself to jazz and playing the drums. Since that time, Graves became universally recognized as one of the most innovative drummers performing improvised music.
Besides music, Graves pursued a number of other interests throughout his life. In the 1960s, he earned an associate medical degree and ran a veterinarian laboratory. In 1972, he developed Yara, a martial art based on the Lindy Hop, ritual African dances and the movements of the praying mantis.
Graves also worked as an acupuncturist, and researched the connection between music and the human body´s natural rhythms, developing what he called "biological music." Graves believed that exposing the body to certain frequencies could have healing properties helping sync up the irregular heartbeat with a steady beat. After winning the Guggenheim fellowship, he used the money to buy laboratory equipment in order to continue his heartbeat research in his basement in South Jamaica, Queens, and in 2017, he co-invented a process that can repair stem cells using heartbeat vibrations, for which he was awarded a patent.
Graves recorded for the first time in 1964 on percussionist Montego Joe´s Arriba!, a date that also included trumpeter Leonard Goines, tenor saxophonist Al Gibbons, Chick Corea, bassist Eddie Gomez and percussionist Robert Crowder. He recorded again with Montego Joe in 1965 (Wild & Warm) and also recorded with South African singer Miriam Makeba (Makeba Sings!) that same year. Although Graves was offered opportunities to perform with high-profile names ranging from Miles Davis to Miriam Makeba, he turned them down in order to pursue his own musical vision.
Graves became deeply involved with New York´s avant-garde or free jazz scene of the early 1960s and, from that time on, he worked almost exclusively within this idiom. In 1964, Graves participated in the October Revolution in Jazz organized by trumpeter Bill Dixon and recorded with the Jazz Composer's Orchestra. He also briefly joined saxophonist Albert Ayler´s trio (with bassist Gary Peacock and drummer Sunny Murray) as its second drummer and joined saxophonist Giuseppi Logan´s quartet participating in one of the earliest sessions for the ESP-Disk record label with Logan (The Giuseppi Logan Quartet,with pianist Don Pullen and Eddie Gomez, in 1964). Graves went on to record for ESP-Disk with pianist Paul Bley (Barrage, with saxophonist Marshall Allen, trumpeter Dewey Johnson and Eddie Gomez, in 1964), with pianist Lowell Davidson (Lowell Davidson Trio, also Gary Peacock, in 1965) and on another album with the Giuseppi Logan Quartet (More in 1965). In 1965, Graves recorded his only album as a leader for ESP-Disk in a duo setting with percussionist Sunny Morgan under the group name Milford Graves Percussion Ensemble (You Never Heard Such Sounds In Your Life).
Also around this time, Graves replaced drummer J.C. Moses in the New York Art Quartet, which included saxophonist John Tchicai, trombonist Roswell Rudd, various alternating bassists, including Don Moore, Lewis Worrell, Eddie Gomez and Reggie Workman, as well as poet Amiri Baraka (then known as LeRoi Jones) (New York Art Quartet in 1964 and Mohawk in 1965). Members of the New York Art Quartet also participated in the Jazz Composer´s Orchestra(Communication in 1964). The New York Art Quartet disbanded in 1966, but reunited in 1999 for a celebration of its 35th anniversary (35th Reunion, with Tchicai, Rudd, Workman and Baraka).
In 1966, Graves performed at Yale University in a duo with pianist Don Pullen. This concert yielded two highly acclaimed albums: At Yale University and Nommo. Graves also began performing with saxophonist Albert Ayler again and appeared on two of Ayler´s later recordings (Holy Ghost in 1967 and Love Cry in 1968). In 1969, Graves appeared on guitarist Sonny Sharrock´s Black Woman album.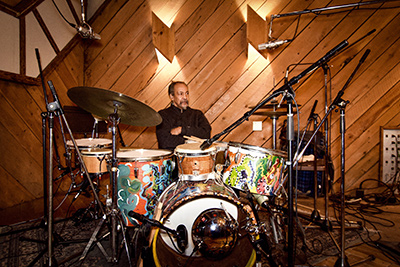 In the mid-1970s, Graves collaborated with drummers Andrew Cyrille and Rashied Ali on a series of concerts entitled "Dialogue of the Drums." Graves and Cyrille also recorded an album as a duo under that title (Dialogue Of The Drumsin 1974). Graves´ collaborations with fellow drummers also included touring and recording in a percussion quartet with fellow drummers Kenny Clarke, Andrew Cyrille and Famoudou Don Moye (Pieces Of Time in 1983). During his career, Graves recorded two solo drum albums (Grand Unification in 1998 and Stories in 2000).
In 1973, Graves joined the Black Music Division at Bennington College in Bennington, Vermont, and taught there for 39 years (1973 - 2012), becoming a Professor Emeritus of Music upon his retirement. After joining the faculty at Bennington College, he performed and recorded only sparingly, preferring to teach music healing and percussion at the college and researching the rhythms of the human heart at his home in South Jamaica, Queens. However, Graves occasionally continued to lead his own groups, two of which were captured on live recordings (Bäbi, with saxophonists Arthur Doyle and Hugh Glover, in 1976 and Meditation Among Us, with trumpeter Toshinori Kondo, saxophonists Kaoru Abe and Mototeru Takagi, and drummer Toshiyuki Tsuchitori, in 1977).
In more recent years, Graves recorded and performed with saxophonists David Murray (Real Deal in 1991), John Zorn (Birthday Series 50/2 in 2003) and Anthony Braxton (Beyond Quantum, also bassist William Parker, in 2008), among others. Graves also performed with Sun Ra (Untitled Recordings) and, in 2008 and 2012, with Lou Reed. In 2015, he participated in a recording with saxophonists Marshall Allen, Roscoe Mitchell and Scott Robinson (Flow States) and, in 2017, folk musician Sam Amidon released an album with one extended performance featuring Graves (The Following Mountain).
Prior to Sacred Ceremonies, Graves occasionally performed with Bill Laswell and recorded two duo albums with him (Space / Time ・ Redemption, TUM CD 040, in 2012 and The Stone in 2014).
Graves is the subject of a critically acclaimed, feature-length documentary, Milford Graves Full Mantis (2018), which includes his performances from around the world alongside explorations of his musical philosophy.
In June 2013, the Vision Festival in New York City celebrated Graves for his Life-Time of Achievement with an evening featuring three groups led by Graves that each highlighted a different aspect of his career: Afro/Cuban Roots (with saxophonist Roman Filik, pianist David Virelles, bassist John Benitez and percussionist Roman Díaz), Milford GravesTransition TRIO (with saxophonist Kidd Jordan and pianist D.D. Jackson) and Milford Graves NY HeART Ensemble(with Roswell Rudd, saxophonist Charles Gayle, William Parker and Amiri Baraka).
Graves was also an accomplished visual artist, and his work has been exhibited in various galleries and museums, including a 50-year retrospective Milford Graves: A Mind-Body Deal that was presented by Ars Nova Workshop at the Institute of Contemporary Art in Philadelphia from September 2020 to January 2021.
Graves was awarded a Guggenheim Fellowship in Music Composition in 2000 and received the Impact Award of the Doris Duke Foundation in 2015.