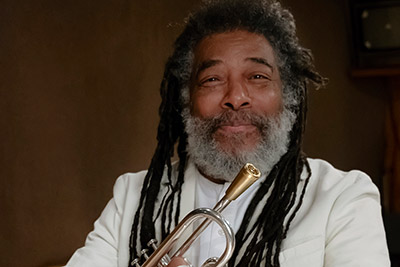 INSPIRATION, A UNIQUE SOLITARY MOMENT
"the creative musician delivers an expression or musical thought at the very instant that the idea is [inspired] conceived. the artist must have the ability to instantaneously organize sound, silence and rhythm into structure and form with the whole of his or [and] her creative intelligence."
"the total life experience is drawn from including the faculties of right reasoning and the make-up of the artist´s psychological and physiological profile."
"all of these factors will determine what is actually being expressed at the moment of [inspiration]conception/and creating."
From notes (8 pieces): source a new world music: creative music, 1973, New Haven, CT.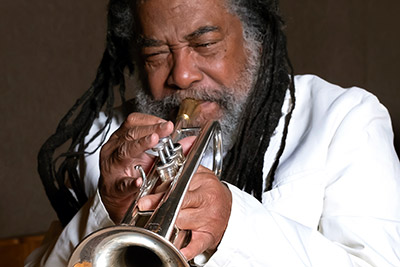 Inspiration is the event of authenticity, which brings an influx of new information and creates new memory. It is a solitary moment that exists prior to creating a musical work or an art-object. It occurs before the artist begins to think about or reflect on the essential elements of a new work.
It´s a moment that is a quiet fire, filled with an energetic spark that lights up a ritualistic space that might be imaged as a thin layer of particles touching the core of creation where within a split second the artist experiences a fresh acquisition of new information which must be transferred into an art-object.
Inspirational energy carries no weight nor reveals any resistant motion.
Before the artist is inspired that moment is already present inside of him and her and it is felt and known. Otherwise, there can be no artist or art.
What is that and where does it come from?
It´s the untraceable unseen inspiration recognized as coming from everywhere and from within everything that is known and unknown.
It´s the seed and sight of pure awareness experienced and realized without interference.
Inspiration is close to light in nature but different, the former being the "object" discovered and the latter being the light that exposes the "object."
It´s a pure seed, a splendor of awareness experienced and realized directly and only witnessed by the person in the present moment.
In creative art making and other performative art activities, the Inspirational moment is unique. It brings a code of new information, and a dream/discovery energy at play.
The artist engraves with that inspired material which is essential to the art-object and its vitality as a work of art.
Next, transferring that energy into a creative form.
And the practice and shaping of the information into an art-object.
Afterwards conditioning the score for public exhibition through preparation, an individual act, rehearsal, the re-hearing and putting into place the musical properties as conceived; and the performance and recording.
These stages are defined as reflection, meditation, research-based and realization.
Think of the art-object and ensemble as performance.
All art practices are performative.
Writing, painting, oratory, dancing, composing/performing and listening.
New Haven, Connecticut, March 21, 2022
Wadada Leo Smith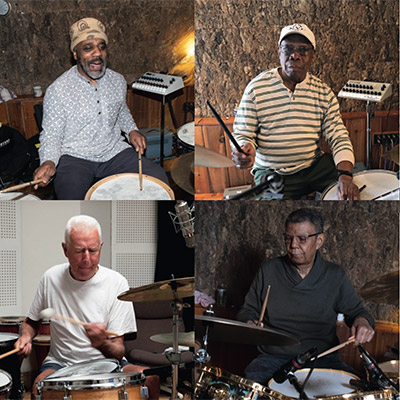 THE EMERALD DUETS: THE ART OF THE TRUMPETER AND DRUMMERS
On this recording, drummers DeJohnette, Cyrille, Bennink and akLaff and their drum-sets become a team unified as one, forming uncommon music-making ideas. Their philosophy of drumming elevates the melodic and rhythmical elements of their instruments.
They create thundering sounds and beautifully articulated melodic textures, constructing a permeating resonant range, stacking complex sonic waves layered from top to bottom, wave by wave, depending on the type of cymbals and drums in their ensemble kits.
The trumpeter´s affinity for the constructed environment of overtones (sound particles) which so greatly enhances the shared space of the instruments contributes to the uniqueness of the sounds the trumpet and drum-set hear while creating the duet music. The experience of the drum-set is completely different than any other instrument, similar only to the piano, also a percussive instrument, but not quite the same.
At the outset, I did not think this recording project with four different drummer/composers would become so large.
Han Bennink was the first musician with whom I recorded. Shortly afterwards, I realized that I wanted to make it a larger project, and continued my recording process with Cyrille, akLaff and DeJohnette.
I would like to offer context for the choice to record "The Patriot Act" with each of Cyrille, akLaff and DeJohnette. Mainly, I wanted to see how I would respond in each situation with a new drumming philosophy. While I played the same music with each drummer, for each of them the music was fresh and new. My approach, rather than using a variation form, was to see each new performance as an expansion into creativity, to see what the composition might become with different drum languages. Listening to each of the three performances back-to-back will offer the listener the best opportunity to experience what I envisioned, and what I mean by expansion.
Pheeroan akLaff was the surprise event of this collection. Maybe, surprise is not the correct word, but it certainly is the feeling I get when I listen to our performance.
What am I surprised about?
The creative mystery inside music performance.
We have been musically connected since Pheeroan was about twenty; that´s more than a forty-year journey.
With these artists, I believe I have created a magnificent collection of music, with some unusual moments offering a feeling like nothing I have ever achieved before in a recording. I hope this large project can contribute something unique and make a lasting impact in the literature of duet music.
My own favorite duet music of all time is Louis Armstrong and Earl Hines performing "Weather Bird," and Parts 1 and 2 of "Mu" by Donald Cherry and Edward Blackwell.
New Haven, March 21, 2022
Wadada Leo Smith
...
WADADA LEO SMITH - THE EMERALD DUETS
A creative musician, as defined by Wadada Leo Smith, is someone whose musical presence is such that if you replace them in the ensemble, the music changes. Their unique "spiritual signature" (to use Andrew Cyrille´s phrase) affects the music´s unfolding, leaving an indelible sonic imprint. The corollary is that when such a replacement is made, the one who remains is also remade.
Drummers are total musicians. Their art is a distillation of pure movement. As you rove through this collection, radical variations on the duo format generated by a series of such "replacements," you can hear each drummer´s toolkit: a precious, carefully assembled arsenal of suspended metal plates and membranes stretched over wooden barrels, each with its particular resonances and timbres. But most of all you hear each drummer´s stance, their qualities of movement, their hexis - posture, bearing, comportment, attitude.
It is wrong to compare artists. But perhaps these five volumes enable us to make fine distinctions, highlighting what is great about each of them. If Pheeroan akLaff´s drumming lurches and pulsates in electrified waves of discrete quantum funk, then Andrew Cyrille´s playing touches and nudges, breathes and tumbles in transparent ripples. If Han Bennink stages exhilarating rituals from cycling vamps and gestural extremes, then Jack DeJohnette composes vast textural landscapes full of thunder and tenderness, heat and heart.
Smith really hears drummers. He is deeply attuned to what is unique about each one, and he relates to them all quite differently. In our decades active together in music, I have been blessed to join forces with Smith alongside many different percussionists; the list includes Ronald Shannon Jackson, Nasheet Waits, Tyshawn Sorey, Justin Brown, Famoudou Don Moye, Anthony Brown, Zakir Hussain, Nitin Mitta, as well as akLaff, Cyrille, and DeJohnette. Recently, Smith offered the most thorough and accurate description of Milford Graves that I have ever heard; another time I heard him speak eloquently and with admiring specificity about Marcus Gilmore. The innumerable, mysterious details of drumming and drummers are profoundly present to him.
More to the point, Smith´s listening capacities are unparalleled; I can say that I have learned a lot about how to listen by listening to how he listens. What does Wadada Leo Smith´s listening sound like? Where is it located in what we hear? To my ear, it shows up in the staggering variety of music offered in this tremendous compendium, in how he glides, steps, runs, and flies, how he moves, merges, and builds anew with each duo partner, how he finds a new world of possibilities in each encounter. As a close collaborator and friend of Smith´s, I can attest to his ability to spin meaning and structure out of every sound offered to him; he makes every moment matter.
I also can confirm that Smith is a serious student of history, and is deeply attuned to current events, social and political crises, and the great challenges to humanity in our time. His composition titles and choices of subject matter express his system of ethical and spiritual relations, and they offer his collaborators opportunities for study, focus, and breakthrough. This method of co-creation — not merely facing each other, but facing a problem together — brings out something new and rare from every participant.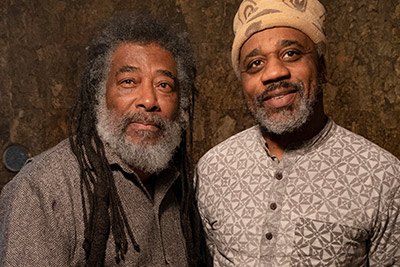 Pheeroan akLaff is uniquely able to find tempo everywhere. I was astonished to hear him do it in the context of Cecil Taylor´s trio some years ago. With akLaff in the group, pulsation wasn´t imposed on Taylor´s music - it was simply revealed as already present in the pianist´s gestural quanta, the temporal atoms that formed every sound he made. Mr. akLaff locked onto those rhythm units like a breakdancer, sympathetic pulsations surging through his embodied circuitry and out through the drum kit. One feels that same orientation in akLaff´s work with Smith. Throughout Disc 1, there is always a sense of the processional. Smith´s prayerful utterances on trumpet and piano are thereby infused with the ritualistic joy and glory of dance.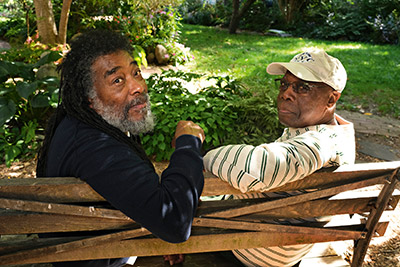 Andrew Cyrille is the eldest of those assembled here, and the most unhurried. Patient, gentle, and incredibly sensitive, he listens, breathes, whispers, and most of all coexists with Smith on Disc 2. In this sovereignty of quiet, an interior world opens out to us, subtle and elemental, sonifying every conceivable human movement — even the smallest shifts and tremors. The emergent organizing method is less pulsation and more respiration; the inner column of air that supports Smith´s tones expands and contracts in elegant tandem with Cyrille´s tactile eddies and whorls. Limbs are not forced to operate in synchrony, but rather allowed to sound an emergent, immeasurable counterpoint. Any metric current that appears, whether a churning sprint or a blues walk, feels freshly forged from its subatomic units. I am reminded of Teju Cole´s line: "Darkness is not empty; it is information at rest." Indeed this music is vast but not at all dark; it seems bathed in ultraviolet light. Together, Smith and Cyrille bring us to the brink of what we understand music to be.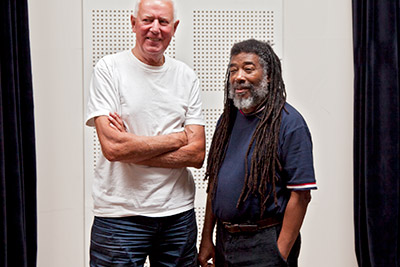 Han Bennink comes out of the gate with a blistering battery of rhythms. For all his notorious whimsy, he is a powerful timekeeper, and Disc 3 is at times a dance record. It is also a fiery display of technique and creativity from both artists, an extroverted, high-energy encounter full of unpredictable turns and striking contrasts. Shapeshifting, rapid-fire call-and-response episodes give way to slabs of groove, with Bennink landing momentarily on patterned four-on-the-floor excitations across which Smith strides brightly: two spiritual cut-ups serving up deep storytelling and hype beats, a kaleidoscopic collection of song-and-dance.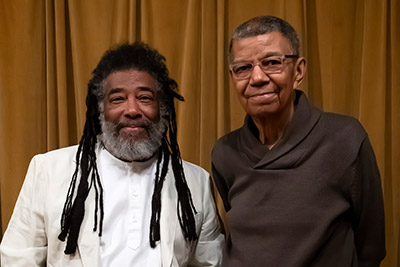 Jack DeJohnette shows up here first as a composer-pianist, setting forth a yearning aura on the piano, beside which Smith´s trumpet soars. An instant later, the same piano, now declamatory under Smith´s hand, summons DeJohnette the drummer-composer, a roiling sea of polyphonic action, wave after wave of kinetic energy. This soon gives way to a piano-electric piano duet, a meditative sorrow song. Later, they exchange an extended series of quiet soliloquies on trumpet and drums. In this way Discs 4 and 5 showcase limitless co-construction, full of drama, intrigue, structural intensity, and awe, each artist featured in spacious splendor and continual, unbridled creative invention.
Every sound we hear across this entire collection results from a dense network of choices. All five of these artists are virtuoso deciders; they have spent their lives making decisions in real time and acting on them, thinking and doing as one unified process, always with great foresight. Five long lifetimes of deciding have etched intricate canyons of structure into their neural pathways: decades of personal history are now fully embodied in every gesture and nuance.
Music-makers of this level display a crystalline quality: hard-won and authentic luminosity, poise, composure, conviction, and in Smith´s phrase, "maximum sincerity." Each of these five beings has entered that phase of creative life known to some as "late style," in which everything they do is magical. These five discs are wondrous monuments to the art of living.
New York City, March 5, 2022
Vijay Iyer
DISC 1
Wadada Leo Smith & Pheeroan akLaff
LITANIES, PRAYERS AND MEDITATIONS
The Prayer (For Keith Jarrett) (Wadada Leo Smith)
First Meditation from the Heart: the Beauty, the Beloved (Wadada Leo Smith)
The Uyghur in Xinjiang, China (Wadada Leo Smith)
Rumi´s Masnavi: A Sonic Expression (Wadada Leo Smith)
Part I
Part II
Part III
Part IV
A Sonic Litany on Peace (Wadada Leo Smith)
The Patriot Act, Unconstitutional and a Force that Destroys Democracy (Wadada Leo Smith)
A Sonic Litany on Justice (Wadada Leo Smith & Pheeroan akLaff)
Second Meditation from the Heart: the Beloved, the Beauty (Wadada Leo Smith)
DISC 2
Wadada Leo Smith & Andrew Cyrille
HAVANA, CUBA
The Patriot Act, Unconstitutional and a Force that Destroys Democracy (Wadada Leo Smith)
Havana, the Maghrib Prayer and Reflections (Wadada Leo Smith)
United States Representative Ilhan Omar (Wadada Leo Smith)
Jeanne Lee: In a Jupiter Mood (Wadada Leo Smith)
Donald Ayler: The Master of the Sound and Energy Forms (Wadada Leo Smith)
A Rainbow Sonic Ark for Tomasz Ludwik Stańko (1942-2018) (Wadada Leo Smith)
Haiti, an Independent Nation in 1804 but Not Recognized by Britain, France, Germany, the United States and Others: A Designed Tragedy! (Wadada Leo Smith)
Mongezi Feza (Wadada Leo Smith)
DISC 3
Wadada Leo Smith & Han Bennink
MYSTERIOUS SONIC FIELDS
Chrysanthemum Flowers on a Mountaintop (For Katherine Johnson, Dorothy Vaughan and Mary Jackson) (Wadada Leo Smith & Han Bennink)
Largo: A Mysterious Love Sonic (For Shana, Robeson and Sarah) (Wadada Leo Smith)
Louis Armstrong in New York City and Accra, Ghana (Wadada Leo Smith)
Albert Einstein: Particles of Light, a Study in Perception (Wadada Leo Smith & Han Bennink)
Ornette Coleman at the World´s Fair of Science and Art in Fort Worth, Texas (Wadada Leo Smith & Han Bennink)
The Call - A Duet between Joseph "King" Oliver and Jelly Roll Morton (Wadada Leo Smith & Han Bennink)
Light Garden in a Dream-Space, a Remembrance of Shaba of Ethiopia (Wadada Leo Smith & Han Bennink)
Han Bennink on Fifth Avenue, NYC (Wadada Leo Smith & Han Bennink)
Johnny Dyani, the Artist Who Imagined a New South Africa. A Celebration (Wadada Leo Smith)
DISC 4
Wadada Leo Smith & Jack DeJohnette
FREEDOM SUMMER, THE LEGACY
Sandalwood and Sage (Wadada Leo Smith & Jack DeJohnette)
Freedom Summer (Wadada Leo Smith)
Meditation: A Sonic Circle of Double Piano Resonances (Wadada Leo Smith & Jack DeJohnette)
The Patriot Act, Unconstitutional and a Force that Destroys Democracy (Wadada Leo Smith)
Silence, Quietness and Very Still (Wadada Leo Smith & Jack DeJohnette)
DISC 5
Wadada Leo Smith & Jack DeJohnette
PARADISE: THE GARDENS AND FOUNTAINS
Paradise: The Gardens and Fountains (Wadada Leo Smith)
Part I The River of Abundance
Part II The Fountain of Tasnim
Part III The Supreme Fountain
Part IV Exaltation and Musk
Part V Pomegranates and Herbal Teas