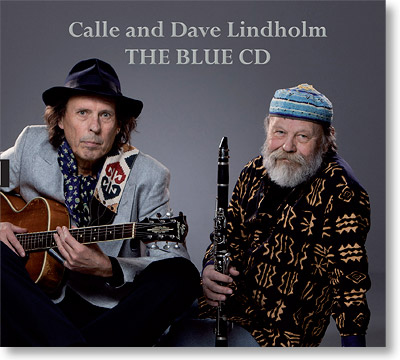 Rock My Soul 01:50 / Take The Suti And Do The Jump 01:41 / Sometimes Things Go Wrong 02:37 / Magnolia Blues 02:49 / Golden Man 02:39 / Don't Throw Your Love Away 03:24 / Summer Gone 01:57 / Rocks In My Bed 03:41 / Danger Zone 02:19 / Is This A Blues At All? 03:05 / Annie's Lover 02:21 / Stewball 04:00 // Total playing time 32:23
Music sample:

01-Rock-My-Soul.mp3

01, 11 and 12 arranged by Calle and Dave Lindholm
Calle Lindholm
alto saxophone, clarinet and vocals
Dave Lindholm guitar and vocals
02 - 10 and 12, also
Juha Kujanpää piano, Hammond organ and toy piano
Ulf Krokfors double bass
Heikki Sandrén drums

One of Finland's most beloved singer/songwriters, Dave Lindholm, and his older brother, Calle Lindholm, have finally made their first recording together. On The Blue CD, which took decades of ripening but then practically recorded itself, the Lindholm brothers perform the favorite music of their youth, namely, old American gospel ("Rock My Soul"), blues ("Stewball", "Magnolia Blues" and "Rocks In My Bed") and rhythm 'n' blues ("Danger Zone"), along with their own compositions in the spirit of these classics. They are joined by a trio of Finland's top musicians: Juha Kujanpää (keyboards), Ulf Krokfors (double bass) and Heikki Sandrén (drums).