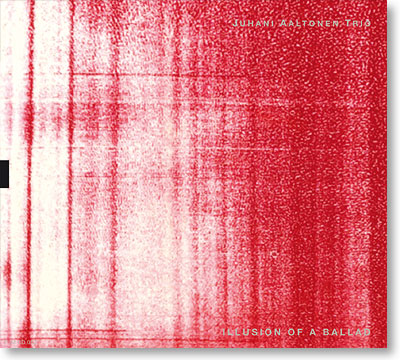 My Ship 6:39 / But Not For Me 5:16 / Broken Shadows 5:47 / Stella By Starlight 3:53 / You Don´t Know What Love Is 9:17 / Lonely Woman 6:44 / Come Sunday 5:57 / Nature Boy 4:31 / Lush Life 3:32 // Total playing time 52:00
Music sample

01 My Ship 6:39

Juhani Aaltonen tenor saxophone
Ulf Krokfors bass
Tom Nekljudow drums
Illusion of a Ballad is the second recording by Finnish saxophone legend Juhani Aaltonen with his trio that also includes bassist Ulf Krokfors and drummer Tom Nekljudow.
The album features nine well-remembered jazz standards by Duke Ellington, George Gershwin, Ornette Coleman and others. Yet, the Juhani Aaltonen Trio sets out to find new, unexplored sides to the material, making the classic compositions "simpler but also more complex" in the process. Even if emphasis is on the ballad, the music is still full-bodied, uncompromising free improvisation in the unique style of this trio.
This recording is another demonstration of why the Juhani Aaltonen Trio has become one of the pre-eminent Finnish modern jazz groups of the past decade and has also received considerable international acclaim.