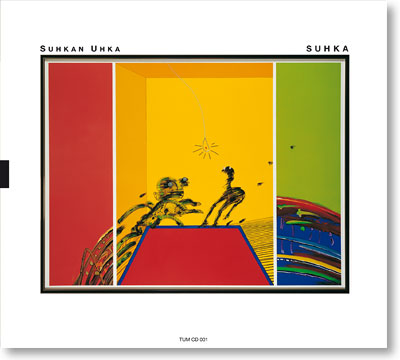 Kukunor 5:44 / The Great River 6:54 / Solveig´s Song 5:36 / Passage - Dance for the Horse 3:55 / Sunset 4:38 / Catch-Up 4:26 / Type 6:15 / Tuonen Tytti 3:25 / Suhka 10:13 // Total playing time 51:06

Music sample

01 Kukunor 5:44

Jone Takamäki tenor saxophone, bass clarinet and didgeridoo
Juhani Aaltonen tenor saxophone and flutes
Tane Kannisto tenor and soprano saxophones, alto clarinet, flutes and percussion
Verneri Pohjola trumpet and fluegel horn
Patrik Latvala trombone and tuba
Seppo Kantonen piano and Fender Rhodes
Jarmo Savolainen keyboards
Pekka Nylund guitar
Antti Hytti arco bass and conductor
Ulf Krokfors lead bass
Tom Nekljudow drums and percussion
Stefan Paavola
Suhka is the first recording by Suhkan Uhka, the "dream band" founded by Finnish bassist Antti Hytti and saxophonist Jone Takamäki in 2000 and featuring some of the most prominent contemporary Finnish jazz musicians.
Suhkan Uhka lays the foundation of its sound on a massive rhythm section of six musicians (double keybords, double basses and double drums/percussion) and a group of formidable soloists possessing an individual style and extraordinary musicianship.
The main part of the music on Suhka was composed by Antti Hytti and/or Jone Takamäki and comprises new arrangements of compositions originally created to accompany films, plays, and other visual presentations over a number of years. However, the emphasis on this recording is always on free-flowing interplay and improvisation.