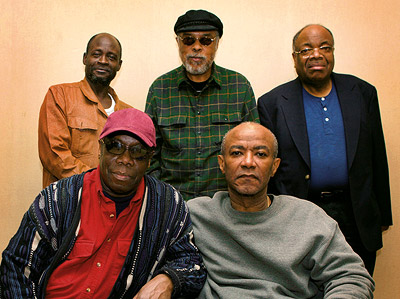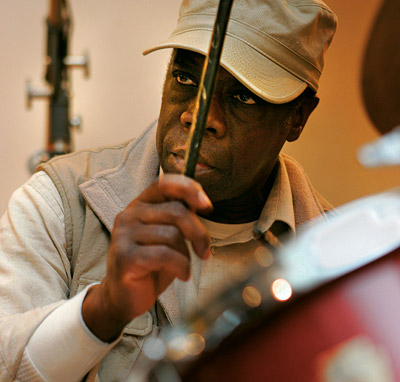 Andrew Cyrille (b.1939) was born in Brooklyn, New York, into a family with Haitian parents. After graduating from high school, he began studying at St. John´s University with science as his major. However, he was already playing jazz in the evenings and soon switched to the Juilliard School of Music. During his studies at Juilliard and the Hartnett School of Music (1961-64), Cyrille played both with a number of well-established jazz musicians, such as saxophonists Coleman Hawkins and Illinois Jacquet and pianist Mary Lou Williams, and with representatives of modern jazz like saxophonists Bill Barron and Rahsaan Roland Kirk, trumpeter Kenny Dorham and vibraphonist Walt Dickerson as well as with the Nigerian master drummer Babatunde Olatunji. Cyrille is considered one of the most creative and versatile percussionists in modern jazz, equally at home in a modern mainstream setting as with avant-garde music.
Cyrille first began making a name for himself with his 1961 recordings with Coleman Hawkins (The Hawk Relaxes, with guitarist Kenny Burrell, pianist Ronnell Bright and bassist Ron Carter), Walt Dickerson (This Is Walt Dickerson!, with pianist Austin Crowe and bassist Bob Lewis) and bassist Ahmed Abdul-Malik (The Music Of Ahmed Abdul-Malik, with trumpeter Tommy Turrentine, clarinetist Bilal Abdurrahman, tenor saxophonist Eric Dixon and cellist Calo Scott). His collaborations with Dickerson in particular continued into the 1980s, resulting in such other classic recordings as Relativity (with Austin Crowe and Ahmed Abdul-Malik) and To My Queen (with pianist Andrew Hill and bassist George Tucker) in 1962, Jazz Impressions Of "Lawrence Of Arabia" (with Austin Crowe and bassist Henry Grimes) in 1963, Unity (with pianist Walter Davis Jr., bassist George Tucker and drummer Edgar Bateman) in 1964, Tell Us Only The Beautiful Things (with bassist Wilbur Ware) and Peace (with bassist Lisle Atkinson) in 1975, and Dickerson´s final recording as a leader, Life Rays (with bassist Sirone), in 1982.
However, Cyrille may still be best known for his membership in the Cecil Taylor Unit that lasted for over a decade (1964-1975), during which he established his position as one of the leading percussionists in freely improvised jazz. Cyrille´s close to ten recordings with Cecil Taylor began with two legendary sessions (Unit Structures and Conquistador!, both in 1966) for Blue Note Records and also included Cecil Taylor´s recording with the Jazz Composer´s Orchestra ("Communications No. 11, Part 1 and Part 2", The Jazz Composers´ Orchestra) in 1968, Nuits De La Fondation Maeght, Volumes 1-3, in 1969 as well as Akisakila and Spring Of Two Blue-J´s in 1973.
Since the 1970s, Cyrille has led or co-led a number of ensembles, including Maono (with trumpeter Ted Daniel, saxophonist David S. Ware, pianist Donald Smith and bassist Nick DiGeronimo et. al.), The Group (with trumpeter Ahmed Abdullah, saxophonist Marion Brown, violinist Billy Bang and bassists Sirone and Fred Hopkins), the percussion quartet Pieces Of Time (with Kenny Clarke, Milford Graves and Famoudou Don Moye) and Trio 3 (with saxophonist Oliver Lake and bassist Reggie Workman). He has released more than 30 recordings as a leader or co-leader ranging from two solo recordings (What About? in 1969 and The Loop in 1978) and a number of duo recordings (beginning with his duo with fellow drummer Milford Graves, Dialogue Of The Drums, in 1974 and continuing with his duos with saxophonists Anthony Braxton, Peter Brötzmann, Jimmy Lyons and Greg Osby, pianist Irène Schweizer, synthesizer player Richard Teitelbaum, bassist Peter Kowald and drummers Michael Carvin and Vladimir Tarasov, among others) to recordings with larger ensembles. His first recordings as a group leader were with Maono, including Celebration (with Daniel, Ware, Smith, synthesizer player Romulus Franceschini, bassist Stafford James, percussionist Alphonse Cimber, vocalists Jeanne Lee and poet Elouise Loftin) in 1975, Junction (with Daniel, Ware and Lisle Atkinson) in 1976 and Metamusicians´ Stomp (with Daniel, Ware and DiGeronimo) in 1978. These were followed by Nuba (with Jimmy Lyons and Jeanne Lee) in 1979, Special People (with Daniel, Ware and DiGeronimo) in 1980, The Navigator (with Daniel, pianist Sonelius Smith and DiGeronimo) in 1982, My Friend Louis (with trumpeter Hannibal Marvin Peterson, Oliver Lake, pianist Adegoke Steve Colson and Reggie Workman) in 1991, X Man (with flutist James Newton, guitarist Alix "Tit" Pascal and bassist Anthony Cox) in 1993, Ode To The Living Tree (with Oliver Lake, David Murray, Adegoke Steve Colson, bassist Fred Hopkins and percussionist Mor Thiam) in 1994, and Good To Go, With A Tribute To Bu (with James Newton and Lisle Atkinson) in 1995.
During the 1980s, Cyrille recorded a particularly important series of albums with clarinetist John Carter (Castles Of Ghana, Dance Of The Love Ghosts, Fields and Shadows On A Wall) and several albums with pianist Muhal Richard Abrams (Mama And Daddy, Blues Forever, Rejoicing With The Light, Colors In Thirty-third and The Hearing Suite). In the past five decades, he has also recorded with Juhani Aaltonen (Strings Revisited, TUM CD 003, and Reflections, TUM CD 007), Geri Allen, Billy Bang, A. Spencer Barefield, Carla Bley, Charles Brackeen, Bobby Bradford, Marion Brown, Dave Burrell, Adegoke Steve Colson, Marilyn Crispell, Richard Davis, Charlie Haden, Kip Hanrahan, Sir Roland Hanna, Leroy Jenkins, Oliver Lake, John Lindberg, Jimmy Lyons, Graham Moncur, III, Lawrence "Butch" Morris, David Murray, Paul Plimley, Hugh Ragin, Roswell Rudd, Archie Shepp, Lonnie Liston Smith, Horace Tapscott, John Tchicai (Witch´s Scream, TUM CD 014), Mal Waldron and Reggie Workman, among others.
Currently, in addition to leading the Haitian Fascination ensemble, Cyrille is a member of Trio 3, the CDE Trio (with saxophonist Marty Ehrlich and bassist Mark Dresser), the Roswell Rudd/Archie Shepp Group, the Mary Lou Williams Collective, the Soren Kjaergaard, Ben Street & Andrew Cyrille Trio and a number of other ensembles. He also performs as a duo with Anthony Braxton and with Greg Osby (Low Blue Flame, TUM CD 016).
Cyrille has been involved in jazz education since the early 1970s and is currently a faculty member of the New School for Jazz and Contemporary Music operating as part of the New School University in New York City.
---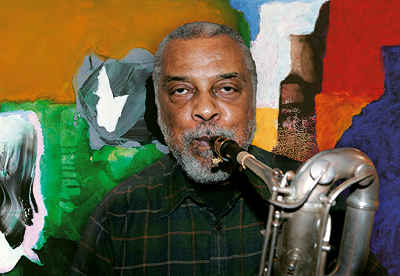 Hamiet Bluiett (b.1940) was born in a St. Louis hospital and raised in the Village of Brooklyn, Illinois (also known as Lovejoy), an underground railway stop just north of East St. Louis that was founded in 1829. As a child, Bluiett took music lessons from his aunt Mattie Chambers, a choral director of the A.M.E. Church, playing the piano and later the trumpet. By the time he was nine, he had had begun taking clarinet lessons from George Hudson, the leader of one of the most influential territory bands. Although already strongly attracted to the baritone saxophone from the age of ten, he did not start playing the instrument until in his late teens.
In late adolescence, Bluiett attended the Southern Illinois University Carbondale, where he studied the clarinet and some flute. He began his musical career by playing the clarinet for barrelhouse dances in Colp, Illinois, later adding the baritone saxophone. In 1961, he joined the U.S. Navy, where he studied in the Navy School of Music and played in a Navy band.

In the mid-1960s, Bluiett heard Harry Carney (the baritone player in the Duke Ellington Orchestra) play in a live concert in Boston, which made a strong impression on him, providing an example of a baritone saxophonist who played like an entire band, and as a soloist, rather than just as an accompanist. Bluiett himself is considered the finest baritone saxophonist of the 1970s and beyond, known for his huge, impressive sound, superb technique and mastery of his horn in every register. He is not only a first-rate free jazz player but also proficient on standards and the blues. In addition to jazz artists, Bluiett has also worked with Fontella Bass, Aretha Franklin and Marvin Gaye, among many others.

Following his time in the U.S. Navy, Bluiett returned to the St. Louis area in the mid-1960s. In the late 1960s, Bluiett co-founded the Black Artists´ Group (BAG) of St. Louis, Missouri, a collective dedicated to fostering creative work in theater, visual arts, dance, poetry, film and music, and performed with other key members of BAG, including saxophonists Julius Hemphill and Oliver Lake, trumpeter Baikida Carroll, trombonist Joseph Bowie and drummer Charles "Bobo" Shaw. He led the AIR-BAG Big Band during 1968 and 1969.
In the fall of 1969, Bluiett moved to New York City, where he soon joined the large ensemble of saxophonist Sam Rivers and also played with Babatunde Olatunji, in trumpeter Howard McGee´s big band and occasionally in Tito Puente´s Latin orchestra. In 1972, he joined the Charles Mingus Big Band and then two successive editions of the Charles Mingus Quintet (the latter of these being considered one of Mingus´ greatest bands of all time, with Mingus, Bluiett, tenor saxophonist George Adams, pianist Don Pullen and drummer Dannie Richmond) remaining with Mingus, on and off, until 1974. Around this time, Bluiett also performed and recorded with Anthony Braxton, Julius Hemphill, pianist Dollar Brand (Abdullah Ibrahim), drummers Roy Brooks, Beaver Harris and Charles "Bobo" Shaw and many others. He was an active participant in New York´s "loft jazz" movement of the mid-1970s and his first recording as a leader was a track ("Tranquill Beauty", with trumpeter Olu Dara, guitarists Butch Campbell and William "Spaceman" Patterson, bassist Juney Booth and drummers Famoudou Don Moye and Charles "Bobo" Shaw) included in Volume 4 of Wildflowers - The New York Loft Jazz Sessions, the five-album collection recorded at Sam Rivers´ Rivbea performance space that brought "loft jazz" to the broader audience´s consciousness.
In 1976, Bluiett co-founded the World Saxophone Quartet (along with two other BAG members, Julius Hemphill and Oliver Lake, as well as David Murray), which soon became jazz music´s most renowned saxophone quartet. The group kept its original line-up until the end of the 1980s and still continues to perform following some personnel changes.
Bluiett has remained a champion of the baritone saxophone, organizing large groups featuring several baritone saxophone players, including the Bluiett Baritone Nation (with fellow baritone saxophonists James Carter, Patience Higgins and Alex Harding as well as drummer Ronnie Burrage). In the 1980s, he also founded the Clarinet Family, a group of eight clarinetists playing clarinets of various sizes, ranging from E-flat soprano to contrabass, with the support of bass and drums.
In addition to his 20 or so recordings with the World Saxophone Quartet, as well
as recordings by the
Clarinet Family
, the
Bluiett Baritone Nation
and groups led by
various others (including Arthur Blythe, Lester Bowie, James Carter, Gil Evans, Beaver Harris, Craig Harris, Eddie Jefferson, Charles Mingus, Sam Rivers, John Stubblefield, Bobby Watson, Randy Weston and Larry Willis), Bluiett has recorded more than 20 albums as a leader, starting with Endangered Species (with Olu Dara, balafonist Jumma Santos, Juney Booth and drummer Phillip Wilson) in 1976 and Birthright (A Solo Blues Concert), S.O.S. (with Don Pullen, bassist Fred Hopkins and Famoudou Don Moye), Resolution (with Don Pullen, Fred Hopkins, Famoudou Don Moye and drummer Billy Hart) and Orchestra, Duo And Septet (with Olu Dara, trombonist Charles Stephens, tubist Bob Stewart, Don Pullen, balafonist Chief Bey, kora player Ladji Camara, oud player Ahmed Abdul-Malik, cellist Abdul Wadud, bassist Reggie Workman and drummer Michael Carvin), all in 1977.
Bluiett returned to his hometown of Brooklyn, Illinois in 2002. He continues to perform around the world and record both with his own groups and the World Saxophone Quartet as well as groups led by others, including saxophonist James Carter and percussionist Kahil El´Zabar.

---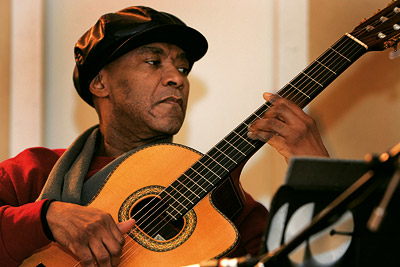 Alix Pascal (b.1947), who is commonly known as Tit Pascal, was born in the town of Petion-Ville in Haiti, where he grew up. He began playing music around the age of nine, first with the conga, then adding the piano, vibes, bass and the acoustic and electric guitar a few years later. Self-taught, Pascal settled on the acoustic guitar as his main instrument, also expanding his knowledge of harmony and orchestration and becoming a popular arranger as a result. Pascal´s favorite guitarists include jazz masters Charlie Christian and Wes Montgomery, Brazil´s legendary Laurindo Almeida and the world famous Haitian classical guitarist Frantz Casseus.
At the age of 15, Pascal was already leading his own sextet, Les Six As de Petion-Ville, earning him engagements in the music halls of Haiti. He later joined Ibo Lele, which, under his direction, became one of Haiti´s most popular musical groups in the mid-1960s, combining Haitian influences with jazz and pop music of the day. Around the same time, Pascal also worked with Haiti´s renowned pianist/vocalist/composer, Herby Widmaier, which greatly expanded his horizons, in particular regarding modern chord progressions.
In January 1967, struck by a bullet that left him paralyzed from the waist down, Pascal travelled to the United States to undergo surgery and physical therapy. Despite being bound to a wheelchair for life, he continued to pursue a career in music covering different styles ranging from bossa nova and jazz to classical music. Only weeks after his surgery, Pascal flew back to Haiti and, while working as an arranger for the newly-formed ensemble Tabou Combo, formed his new Jazz Quartet with saxophonist Lionel Volel, bassist Jeannot Montes and drummer Didier Petrus. In 1968, he joined the reassembled Ibo Lele for the recording of their first album under the new name of Ibo Combo (Ibo Combo). Later that same year, Pascal moved permanently to the United States.

In the United States, Pascal has worked not only with his compatriots based in the New York area, but also many of the leading figures in jazz music, including saxophonists George Coleman, Charles Davis, Pat Patrick, Cecil Payne and Mario Rivera, flutist James Newton, pianist Hilton Ruiz, bassists Lisle Atkinson, Antony Cox, Bob Cunningham, Fred Hopkins, Steve Neil, Buster Williams and Reggie Workman, and drummer Andrew Cyrille, among many others. In addition to a number of venues around New York, he has performed elsewhere in the United States and in Canada, Europe and, of course, Haiti.
Pascal issued a solo guitar recording of standards (Déterminations) in 1978. In 1982, he founded the groundbreaking group Ayizan that combined in a unique manner traditional Haitian music with modern jazz influences. With Ayizan, that issued its only recording (Dilijans) in 1984, Pascal served as the leader, vocalist, percussionist and keyboardist.
Pascal´s first recordings were with Ibo Combo (Ibo Combo) in 1968, vocalist/guitarist Emile Volel (Emile Volel) in 1971 and Haitian Bells (Haitian Bells) in 1973. As an arranger, he contributed to three recordings by Tabou Combo (Le 8th Sacrement in 1974, The Masters in 1975 and Indestructible in 1976), among others. In 1982, Pascal was responsible for the musical score of Voyage of Dreams, a documentary film by Haitian filmmakers Raymond Cajuste and Collin Davis. He first played with Andrew Cyrille around the mid-1970s and recorded with Cyrille in 1993 (X Man, with James Newton and Anthony Cox). Pascal was also featured as guitarist and arranger on Blues In Red (2004) by Haitian-born saxophonist Buyu Ambroise.
---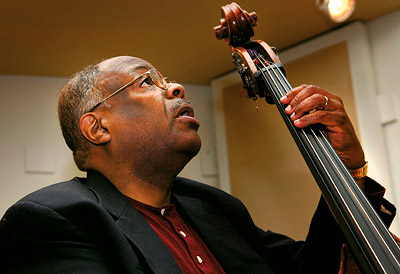 Lisle Atkinson (b.1940) began studying the violin at the age of four and gave his first concert at the age of six. Atkinson continued studying and playing the violin until he was introduced to the double bass at the age of 12. Shortly thereafter, Atkinson entered Music and Art High School in New York City, where he played in the school orchestra. Upon graduation, he entered the Manhattan Music Conservatory, where he received a degree in music.
Atkinson played his first professional engagement in 1959. In 1961, he joined vocalist and pianist Nina Simone with whom he performed for five years (After Hours, Broadway - Blues - Ballads, In Concert, Let It All Out, Pastel Blues and Wild Is The Wind). In 1969, he joined the group of vocalist Betty Carter that also included pianist Norman Simmons and drummer Al Harewood (Finally, Betty Carter/´Round Midnight and At The Village Vanguard).
Atkinson has also appeared and/or recorded with saxophonists Benny Carter, George Coleman, Junior Cook, Frank Strozier and Stanley Turrentine, trumpeters Dizzy Gillespie, Howard McGhee and Clark Terry, trombonist John Gordon, pianists Ray Bryant, Hank Jones, Wynton Kelly, Danny Mixon, Horace Parlan, Hilton Ruiz, Hazel Scott, Norman Simmons, Billy Taylor, Sir Charles Thompson, Mary Lou Williams and Richard Wyands, vibraphonist Walt Dickerson, guitarists Roni Ben-Hur, Joshua Breakstone and Kenny Burrell as well as vocalists Billy Eckstine, Jon Hendricks, Helen Humes, Jeanne Lee, Dakota Staton, Joe Williams and Nancy Wilson, among many others. He has also performed with the Thad Jones & Mel Lewis Big Band and the New York Jazz Quartet.
In 1969, Atkinson was one of the founding members of the New York Bass Violin Choir, which also included Ron Carter, Richard Davis, Michael Fleming, Milt Hinton and Sam Jones under the leadership of Bill Lee. He was featured on its eponymous recording (with tenor saxophonist George Coleman, pianist Harold Mabern and percussionist Sonny Brown) in 1969/70.
Atkinson´s first recording as a leader was Bass Contra Bass in 1978 (with pianist Richard Wyands, bassist Paul West, drummer Al Harewood and bassist/flutist Karen Atkinson). Atkinson is the lead bassist of the Neo-Bass Ensemble, an ensemble of five or six bass players and a rhythm section, which has recorded three albums since it was founded by him in 1983 (Bird Lives in 1988, Hit It in 1995 and Bebop Meets Bass in 2005).
---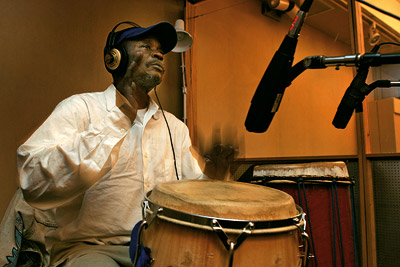 Frisner Augustin (b.1948) was born in Port-au-Prince, Haiti, where, inspired by his uncle who was a drummer and travelled professionally throughout the Caribbean region, he studied ritual drumming in the temples of Vodou, himself first playing the ogan (a simple metal instrument that is struck like a bell). After playing the ogan for a while, he moved on to the boula (ostinato drum) and then the segon (second drum). In a relatively short time, he was ready to advance to the maman, the master or lead drum in Vodou ceremonies. He was then only ten or 11, uncommonly young to play the lead drum. "They had to put me in a chair," Augustin has recalled, "and put a rope around the chair to hold me and the drum up". Although training to become a welder, Augustin turned to music as a fulltime occupation already in his teens.
In 1961, Augustin was invited to join a drum troupe traveling to Puerto Rico and began earning his living from drumming. He quickly gained a reputation as a drummer and was sought after by both folklore troupes and by Latin bands in Haiti. After several years of playing in theaters and tourist venues in Portau-Prince and throughout the Caribbean, he immigrated in 1972 to New York City, where he established himself as a master drummer in Vodou ceremonies, as a performer for Haitian community festivals and as a drum instructor.
In 1981, Augustin became the Artistic Director and Master Drummer of La Troupe Makandal, a music and dance company formed in 1973 by a group of young artists from Port-au-Prince. Named after a renowned 18th century revolutionary and mystic, the company created a repertoire that drew from Haiti´s revolutionary legacy and from the oral tradition that had developed around their namesake. La Troupe Makandal left Haiti in 1981 and regrouped in New York City, where it has attracted new artists, both Haitians and friends of Haiti, who are inspired by the company´s dedication to black history and culture.
Augustin´s recordings with La Troupe Makandal (A Trip to Vodou in 1982, Èzili in 1986, The Drums Of Vodou in 1992 and Prepare in 2004) feature his musical settings for traditional Afro-Haitian dances and sacred rituals. He has also recorded with producer Kip Hanrahan and his Conjure ensemble (Desire Develops An Edge in 1982/83, Vertical´s Currency in 1984 and Cab Calloway Stands In For the Moon in 1987/8) and for the soundtrack of the film Beloved in 1998.
In addition to performing in theaters, galleries, festivals and educational venues, Augustin teaches a workshop in Haitian drumming at Hunter College in New York City, the Krik! Krak! workshop for children at three sites in Brooklyn, and classes and lecture-demonstrations through the Brooklyn Arts Council and City Lore. He also works with the Haitian-American children´s dance company Tonel Lakay. Above all, his dynamic drumming continues to tempt the spirits to the Vodou houses of New York City. Keenly aware of the negative stereotyping of Vodou, Augustin uses his drum to recast the mystery of the religion from a positive perspective.
In 1999, the National Endowment for the Arts awarded Augustin a National Heritage Fellowship, the highest honor in the area of folk and national arts in the United States. He has also received a number of other awards.