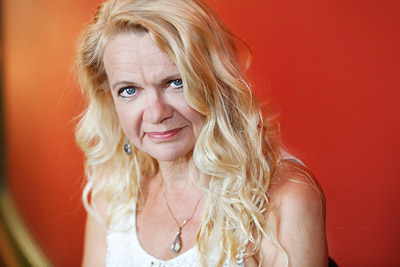 Initially, I founded the ensemble heard on Kolibri in order to have another group, a sextet, made up of top Finnish musicians, alongside my Finnish-Norwegian quintet. With this slightly larger group, I wanted to achieve a different sound and more rhythmic diversity for my compositions.
I feel that my sextet is somewhere between a small group and a large ensemble and offers similar opportunities for composing as a big band would - equally challenging and satisfying. Adding a trombonist alongside a saxophonist/flutist and a trumpet player provided the presence of all the main horn sections of a big band and expanded the possibilities for rhythmic and harmonic interplay.
The individualism and soloistic assurance of all members of my sextet provide the group with its own special sound. When I compose music, I always try to take the personal attributes of the musicians performing it into account so that I can write music that is as rewarding for them to play as possible and also gives them room to bring their own touch to the music, in particular, in the form of improvised solos.
Through cutting beauty, I try to awaken the most fundamental emotions in the listeners - almost as if issuing a challenge to them to give ever more love to each other and to help each other in receiving it.
I am extremely grateful to the members of my sextet for being able to fulfill this project. For me personally, every recording - to which I always dedicate myself with my entire soul - is like giving birth to a child. It is truly rewarding to now have this one out in the world.
Tervakoski, May 16, 2013
Iro Haarla
---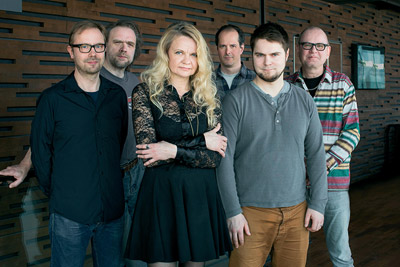 IRO HAARLA
With her sextet recording for Kolibri for the first time, the leader of the group, composer and pianist Iro Haarla, is out to make a point. Despite much evidence to the contrary over the years, she has often been pigeonholed as a composer and performer of tender, slow-moving ballads, which admittedly have always been a significant part of her musical identity. Whether as a solo pianist, in her duo with bassist Ulf Krokfors (Heart of a Bird, TUM CD 004) or with her Finnish-Norwegian quintet (Northbound and Vespers), much of Haarla´s recorded output has been comprised of ballads that have, to some extent, justified this characterization of her music.
However, even before this recording, the other side of Iro Haarla´s artistic personality has been prominently on display. Just listen to the recording by Loco Motife, the group she co-lead with Ulf Krokfors (Penguin Beguine, TUM CD 011), where her vintage synthesizers and other keyboards are essential for this large group´s strong, largely electric sound. Similarly, when recording and performing with the Juhani Aaltonen Quartet, Haarla has frequently shown her skill as a free improviser on material that has ranged from rubato ballads to strong collective free improvisation (Conclusions, TUM CD 021). There is also nothing particularly delicate about her powerful piano solos on guitarist Raoul Björkenheim´s recording featuring Aaltonen and Haarla as soloists with the UMO Jazz Orchestra (The Sky Is Ruby, TUM CD 017). Finally, her compositions for UMO over the past decade have shown considerable rhythmic and tonal diversity when she has utilized the possibilities offered by a jazz big band.
Still, the Iro Haarla Sextet provides Iro Haarla with possibilities that have not previously been available to her in a working band. Firstly, both her Finnish-Norwegian quintet and her earlier Finnish quintet had the traditional two-horn frontline of a trumpeter and a saxophonist, which has now been expanded to three horns. New tonal color on this recording is also provided on two compositions ("Nightjar" and "Spirit Bear") through Haarla´s use of a chen, a Taiwanese folk instrument that resembles the Japanese koto, in place of the harp that she normally plays alongside the piano.
Secondly, she was able to handpick the musicians whom she wanted to utilize for this sextet. Bassist Ulf Krokfors, Haarla´s long-time collaborator and also her spouse, was an obvious choice to anchor the sextet, as he has done for all of her ensembles in the past decade, but so were its other members with two of them, saxophonist Kari Heinilä and Verneri Pohjola, already having been members of the Iro Haarla Quintet (with Haarla, Krokfors and drummer Reino Laine), which toured North America in 2008 and also performed at the Padova Jazz Festival that same year.
Saxophonist/flutist Kari Heinilä already performed with Iro Haarla in the earliest incarnation of Edward Vesala´s Sound and Fury ensemble in the 1980s and has been a close collaborator with Haarla ever since, for example, conducting the UMO Jazz Orchestra on a number of occasions when UMO has performed Haarla´s compositions. Trombonist Jari Hongisto also shares common history with Iro Haarla in Edward Vesala´s Sound and Fury and other groups, and the two have also collaborated a number of times during the years since, both in Haarla´s and in Krokfors´ projects. Markku Ounaskari, in turn, belongs in the same generation as Haarla, Heinilä, Hongisto and Krokfors. He was a natural for the drum seat, being one of the most prominent Finnish jazz musicians of his generation and a frequent collaborator of Ulf Krokfors in a number of important groups over more than two decades, including two of the most highly acclaimed Finnish piano trios of all time, John´s Sons with Jarmo Savolainenand Klang with Seppo Kantonen. Haarla, Krokfors and Ounaskari have also played together in the past, for example, in saxophonist Esa Pietilä´s quartet. Together, Haarla, Heinilä, Hongisto, Krokfors and Ounaskari represent the finest of their generation and have consistently created improvised music of the highest order both leading their own ensembles and contributing to those of each other.
And then there is the "youngster" of the group, perhaps the brightest star in today´s creative improvised music in Finland, trumpeter Verneri Pohjola, who has played with the other members of the group in various connections after emerging as the new name to watch more than ten years ago in the Suhkan Uhka ensemble (Suhka, TUM CD 001, in 2002) and the co-operative Ilmiliekki Quartet (March of the Alpha Males, TUM CD 005, in 2003 and Take It With Me, TUM CD 020, in 2006). For Haarla, Pohjola has been a founding member of both her Finnish quintet and sextet and also a favored soloist when the UMO Jazz Orchestra has performed her compositions and for various other projects, such as a concert program based on Edward Vesala´s tangos at the Viapori Jazz Festival in 2005 and another featuring Edward Vesala´s songs at TUMfest06 in 2006.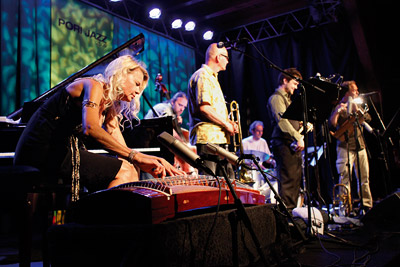 Promoter Charles Gil offered this new group its first opportunity to perform at the Ultra Music Nights of the Pori Jazz Festival in July 2009, with much of the music on this recording first composed for that event. Other performing opportunities included the sextet´s concert at TUMfest10 in Helsinki in April 2010 and at the JazzFest Berlin in September 2010.
With this new group of leading Finnish improvisers well known to her, who all share an open mind and effortless skill in executing Haarla´s vision, she has at her disposal a group that can easily adjust to her musical desires.
"I always choose musicians who understand the central importance of interpretation," says Haarla. "It is not enough to have the necessary technical skill, to be able to play the compositions 'correctly´ and to play a solo when requested. The musicians also have to find the interpretative depth and power as well as the correct rhythmic breath that each composition requires. In rehearsals, I often express myself through visual images, describing the inner meaning of my compositions, as the standard notational means, even at their most nuanced, cannot express everything. In particular in ballads, the success of interpretative responsiveness can be very subtle and depend on minor details - perhaps, that is one reason why musicians often have said that my compositions are challenging to play although I do not by any means try to compose 'difficult´ music."
"All musicians performing on Kolibri easily meet all of these criteria," Haarla continues. "In addition, they have real soloistic strength and their command of their instruments is of the highest order. Also, it is often not necessary - or would not even be helpful - to explain to them how a particular composition can take flight. Musicians will have to be willing to give their everything - all together. In this, it is also important to have a strong group spirit from which I can sense that every group member truly wants to give his best to the music. This is essential for a group leader as even one musician, acting like a reluctant outsider without the necessary willingness to contribute, can bring down the quality of everybody else´s playing as well."
In the best tradition of many other sextets in modern jazz, Haarla wanted to use this particular instrumentation in order to have a new vehicle for the performing of her more complex compositions. Her goal is to use the sextet to bring out more expressive harmonies and tonal colors as well as rhythmic diversity alongside the performance of her more lyrical ballad-like material. This is where the need to prove a point comes in. Haarla has long been irritated by the perception of her as a particularly fragile and feminine composer and wants to be given credit for all aspects of her artistic personality. Kolibri takes her a long way towards that goal. The material is more diverse than on her previous small group recordings and is likely to surprise many with its strength and fire.
Having said that, the more fragile and delicate aspects of Haarla´s music are also prominently on display on Kolibri. As with her previous recordings, Haarla has sought inspiration from the Finnish nature for many of the compositions on this recording. Although raised in Finland´s capital, Helsinki, Haarla has lived for a number of years in central Finland, literally, in a house in the country, surrounded by nature and her domestic animals. Perhaps, this has served to further emphasize her connection with the nature and its many manifestations. In fact, Haarla says that the preservation and respect of nature is one of the most important aspects of her life not only in Finland, but also on a global basis as is evidenced by her concern for the Kermode bears of Canada ("Spirit Bear"), and many past references in her composition titles to nature and wildlife around the world.
In particular, three of the seven compositions on this recording, "Nightjar," "Kolibri" and "Legend of Cranes," are inspired by birds and their life and struggles. This has been a recurring theme on Haarla´s recordings going back to Heart of a Bird in 2003. Haarla says that "the world of birds has always been close to my heart. It is not only because of the sound world that birds create, although that would be inspiration enough, but also their unbelievable ability to survive in the world despite their delicate appearance, that impresses me the most. To me, birds represent fortitude, perseverance, intelligence and beauty - they are almost like spirits from a world above us. They are also messengers and their daily observance gives me both joy and spiritual strength."
"For me personally, the purpose of music is always to draw out an emotional response in the listeners," says Haarla. "Music is one channel to untangle hidden emotions, to create pleasure and peacefulness in order to give strength, whether to the listener or to the performer."
"One of the challenges for a music maker is to give the listeners something that will live on and give them enjoyment. For this, mere technical delivery is not sufficient; rather, that special 'something´ that cannot be taught in text books, is needed. All members of my sextet have the ability to create that," she says.
"When I seek to create the most beautiful music that I possibly can, I always try to keep in mind that 'beauty´ alone does not suffice and, in the end, will not create true beauty without the inclusion of some dissonance and adversity as well. The meeting between these extremes is an essential aspect of life, whether in the nature around us or otherwise, and therefore, also important to my music."
Clearly, Haarla not only observes, but also identifies with, the triumphs and tribulations in the natural life that she sees around her. In this, she is joined by many of the finest Finnish composers who have drawn constant inspiration from the Finnish nature, from Jean Sibelius to Edward Vesala, not to mention the rune singers of the old age.
Helsinki, May 20, 2013
Petri Haussila
---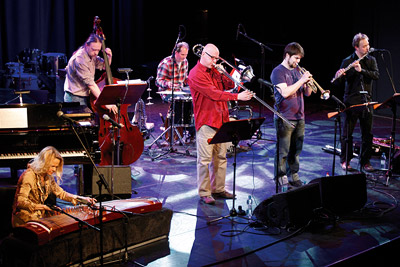 Nightjar (Yökehrääjä) (Iro Haarla)
is dedicated to this nocturnal bird whose nightly singing symbolizes the tender and light summer nights in the Finnish nature. Both in Finland and throughout the world, the nightjar has been the subject of many songs and poems with perhaps the best known in Finland being a poem named for the bird by Eino Leino in 1897 ("Istuin ma illalla yksinäni, kuulin ma hyrinän sydämestäni").
Procession (Iro Haarla)
is envisaged by Iro Haarla as a celebral procession that solemnly moves forward, carrying with it memories of the past - disappearing into the horizon when sadness has been overcome…
Kolibri (Iro Haarla)
is the Finnish language name for the hummingbird, a bird Iro Haarla particularly admires both for its agility and for its perseverance. Hummingbirds are among the smallest of birds - only a few centimeters in length and a few grams in weight - but they are wonderfully skillful flyers with their wings beating so frequently (up to 100 beats per second) that it is impossible for the human eye to observe. Hummingbirds are capable of hovering in mid-air, and even flying backwards, altogether flying thousands of kilometers during their lifetime; some species are even capable of crossing the Gulf of Mexico on a non-stop flight of some 800 kilometers.
Spirit Bear (Iro Haarla)
is named after the Native American name for the Kermode bear (ursus americanus kermodei), a subspecies of the American black bear that is known for its large proportion of individual bears with white or cream-colored fur and is only found in a remaining population of less than a thousand that live in the central and northern cost of British Colombia in Canada, in an area known as Great Bear. This coastal area represents the world´s last large, intact temperate rain forest and is the home to many endangered species. The Great Bear region has been the subject of a long-standing effort by WWF and other environmental organizations to preserve this valuable natural habitat. The Native tribes of British Colombia named the Kermode bears as the "spirit bears," believing them to be ghosts because of their white fur coat.
Sad But True (Iro Haarla)
represents, both in its title and in its musical expression, the composer´s reflection on life. Iro Haarla feels that: "Life is basically sad but, at the same time, so very valuable and unbelievably beautiful. We all have our own sorrows in life to bear, but the very thought of life´s beauty gives us the strength to survive. The only thing that matters in the end is what kind of mark we leave behind in this world."
Legend of Cranes (Iro Haarla)
was originally composed as a commission for the UMO Jazz Orchestra. In its original form it was an extended composition of approximately 20 minutes in length and was first performed by Haarla with UMO at the Tampere Jazz Happening in 2006, with Verneri Pohjola as the featured soloist.
Haarla says that "the composition describes the burdensome migration of the monogamous cranes, a bird that I greatly admire. The statement of the theme is followed by a dramatic section of collective improvisation - a storm over the sea where the order of the migrating birds is temporarily broken - but then the journey nevertheless ends happily. The cranes find their way to their destination - together."
Vesper (Iro Haarla)
is dedicated to Iro Haarla´s father, Saulo Haarla, who passed away in 1971. It was composed at the request of Iro Haarla´s brother, artist Teuri Haarla, for his video work with Ulu Braun, "Extreme sense of void." The video was filmed at their father´s family estate, by Lake Saimaa, where Iro and Teuri Haarla used to spend their summers as children during the brief time they shared with their father.
In the end, the original version of the composition, performed as a solo piano piece, was not used in the video, but Haarla wanted to preserve the composition in memory of her father and decided to orchestrate it. A quintet version of the composition was also included on a recording by the Iro Haarla Quintet in 2010 (Vespers).
The composer herself says that "Vesper" is "the last song of the evening, when the work is done and all is well. The soul can rest in peace.