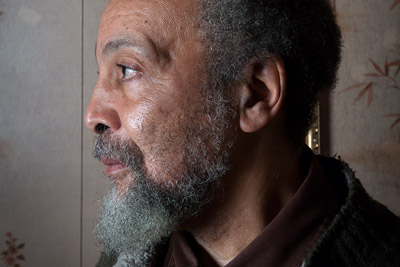 Milford Graves (b.1941) was born and raised in the Borough of Queens in New York City, where he continues to live. Graves began playing on a drum set in his home as a small child. He was introduced to the congas when he was eight years old, and concentrated on Latin percussion until he was about 20. Around 1962, Graves saw Elvin Jones perform with John Coltrane, and thereafter devoted himself to jazz and playing the drums. Since then, Graves has become universally recognized as one of the most innovative drummers performing improvised music.
Graves recorded for the first time in 1964 on percussionist Montego Joe´s Arriba!, a date that also included pianist Chick Corea. He recorded again with Montego Joe in 1965 (Wild & Warm) and also with South African singer Miriam Makeba the same year (Makeba Sings!). Although Graves was offered opportunities to perform with high-profile names ranging from Miles Davis to Miriam Makeba, he turned them down in order to pursue his own musical vision.
Graves became deeply involved with New York´s avant-garde or free jazz scene of the early 1960s and has since worked almost exclusively within this idiom. Around 1964, Graves joined saxophonist Giuseppi Logan´s quartet, and recorded one of the earliest sessions for the ESP label with Logan (The Giuseppi Logan Quartet, with pianist Don Pullen and bassist Eddie Gomez, in 1964). He also recorded for ESP with pianist Paul Bley (Barrage, with saxophonist Marshall Allen, trumpeter Dewey Johnson and Eddie Gomez, in 1964), with pianist Lowell Davidson (Lowell Davidson Trio, also bassist Gary Peacock, in 1965) and another album with the Giuseppi Logan Quartet (More in 1965). In 1965, Graves recorded his only date as a leader for ESP in a duo setting with percussionist Sunny Morgan (Percussion Ensemble: You Never Heard Such Sounds In Your Life).
Also around this time, Graves replaced drummer J.C. Moses in the New York Art Quartet, which included saxophonist John Tchicai, trombonist Roswell Rudd, various bassists and poet Amiri Baraka (then known as LeRoi Jones) (New York Art Quartet in 1964 and Mohawk in 1965). Members of the New York Art Quartet also participated in the Jazz Composer´s Orchestra (Communication in 1964). The New York Art Quartet disbanded in 1966, but reunited in 1999 for a celebration of its 35th anniversary (35th Reunion, with Tchicai, Rudd, bassist Reggie Workman and Baraka).
In 1966, Graves performed at Yale University in a duo with pianist Don Pullen. This concert yielded two highly-acclaimed albums: At Yale University and Nommo. Graves also began working with saxophonist Albert Ayler and appeared on two of Ayler´s later recordings (Holy Ghost in 1967 and Love Cry in 1968).
In 1969, Graves appeared on guitarist Sonny Sharrock´s Black Woman album, and performed in a duo with drummer Andrew Cyrille. Graves and Cyrille also recorded together in 1974 (Dialogue Of The Drums). Graves´ collaborations with fellow drummers also include a recording under the leadership of the legendary Kenny Clarke featuring Famoudou Don Moye, Andrew Cyrille and Graves (Pieces Of Time in 1983).
In 1973, Graves joined the music faculty at Bennington College in Bennington, Vermont. Since joining the faculty at Bennington, he has performed and recorded only sparingly, preferring to teach music healing and percussion at the college and researching the rhythms of the human heart at his home in South Jamaica, Queens. However, Graves has continued to occasionally lead his own groups, two of which were captured on live recordings (Bäbi Music, with saxophonists Arthur Doyle and Hugh Glover, in 1976 and Meditation Among Us, with trumpeter Toshinori Kondo, saxophonists Kaoru Abe and Mototeru Takagi, and drummer Toshiyuki Tsuchitori, in 1977).
In more recent years, Graves has performed with saxophonists David Murray (Real Deal in 1991), John Zorn (Birthday Series 50/2 in 2003) and Anthony Braxton (Beyond Quantum in 2008). He has also recorded two solo drum albums (Grand Unification in 1998 and Stories in 2000).
In June 2013, the Vision Festival in New York City celebrated Graves for his Life-Time of Achievement with an evening that featured three groups led by Graves that highlighted different aspects of his career: Afro/Cuban Roots (with saxophonist Roman Filik, pianist David Virelles, bassist John Benitez and percussionist Roman Díaz), Milford Graves Transition TRIO (with saxophonist Kidd Jordan and pianist D.D. Jackson) and Milford Graves NY HeART Ensemble (with Roswell Rudd, saxophonist Charles Gayle, bassist William Parker and Amiri Baraka).
...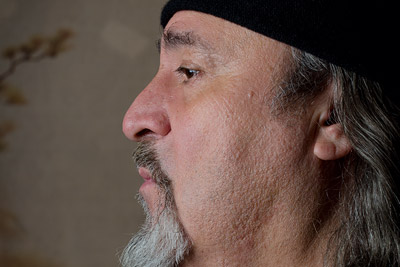 Bill Laswell (b.1955) was born in Salem, Illinois, where he spent his early childhood until his family moved to Albion, Michigan, close to Detroit. Laswell initially played the baritone saxophone and drums in school, but switched first to the guitar and then to the electric bass.
By the age of fifteen, Laswell was performing with local rhythm and blues groups joining them on tours of Michigan as well as the South and lower Midwest. During this time, the musical climate around Detroit offered a rich range of influences including everything from early hard rock bands like MC5 and the Stooges to the soulful sounds of Motown and the funky grooves of Parliament/Funkadelic. Laswell´s other musical interests ranged from jazz masters Albert Ayler, Ornette Coleman, John Coltrane and Miles Davis to European avant rock bands like Henry Cow, Gong and Magma. These early influences laid a foundation for the versatility that has been characteristic of Laswell´s entire career.
In the late 1970s, Laswell moved to New York City where he soon became a part of the so-called Downtown scene centered in the East Village. Soon, Laswell began collaborating with synthesizer and electronic musician Michael Beinhorn and, together, they formed The Zu Band, which also featured guitarist Cliff Culteri and drummer Fred Maher (with Daevid Allen, New York Gong: About Time in 1979).
Laswell, Beinhorn and Maher then formed Material (Temporary Music in 1979, Memory Serves in 1981 and One Down in 1982), which combined rock influences with electronic experimentation and improvisation and often featured guests, such as saxophonists Archie Shepp and Henry Threadgill, guitarists Fred Frith, Sonny Sharrock and Nicky Skopelitis and a number of singers including Nona Hendryx, B.J. Nelson, R. Bernard Fowler and even Whitney Houston on her first recording as a lead singer. After Beinhorn left Material in the mid-1980s, Laswell continued to use the name for various projects that often included Nicky Skopelitis, keyboardist Bernie Worrell and bassist Bootsy Collins from Funkadelic as well as drummer Sly Dunbar and bassist Robbie Shakespeare from Jamaica. Material´s later recordings featured an eclectic group of collaborators ranging from poet William S. Burroughs and saxophonist Wayne Shorter to Indian and Middle Eastern musicians and rap artists (Seven Souls in 1989, Third Power in 1991, Live In Japan in 1992, Hallucination Engine in 1993 and Intonarumori in 1999).
Through his work with Material, Laswell came into contact with pianist Herbie Hancock with whom he collaborated on the song "Rockit," which was included on Hancock´s album Future Shock. Laswell also produced two other albums by Hancock around this time (Sound-System in 1984 and Perfect Machine in 1988; also, Future 2 Future in 2001) and Hancock in turn has participated in various projects by Laswell and Material.
Laswell also began to work with popular artists and groups, including Laurie Anderson (Mister Heartbreak), Ginger Baker (Horses & Trees and Middle Passage), Brian Eno (On Land), Mick Jagger (She´s The Boss), Buddy Miles (Hell And Back), Yoko Ono (Starpeace), Iggy Pop (Instinct), the Last Poets (Oh My People and Holy Terror), Motörhead (Orgasmatron), Public Image Ltd (Album), the Ramones (Brain Drain), Sly and Robbie (Language Barrier, Rhythm Killers and Make 'em Move) and numerous others.
Laswell participated in a number of experimental bands throughout the 1980s and beyond, including Massacre (with Fred Frith and Fred Maher, Killing Time in 1981 and, with Frith and drummer Charles Hayward, Funny Valentine in 1998, Meltdown in 2001, Lonely Heart in 2007 and Love Me Tender in 2013), the Golden Palominos (initially with Fred Frith, saxophonist John Zorn, singer-guitarist Arto Lindsay and drummer Anton Fier, and later also singer Syd Straw, Nicky Skopelitis et.al.; The Golden Palominos in 1983, Visions of Excess in 1985, Blast Of Silence in 1986, A Dead Horse in 1989, Drunk With Passion in 1991, This Is How It Feels in 1993, Pure in 1994 and Dead Inside in 1996) and Curlew (with saxophonist George Cartwright, cellist Tom Cora and Nicky Skopelitis; Curlew in 1980).
In 1983, Laswell released the first album under his own name, Baselines, which featured Michael Beinhorn, Fred Frith, saxophonist Ralph Carney, trombonist Georg Lewis and percussionists/drummers Ronald Shannon Jackson, Phillip Wilson, Martin Bisi, Daniel Ponce and David Moss.
In 1986, Laswell formed the group Last Exit with guitarist Sonny Sharrock, saxophonist Peter Brötzmann and drummer Ronald Shannon Jackson (Last Exit in 1986, Koln in 1986, The Noise of Trouble in 1986, Cassette Recordings '87 in 1987, Iron Path in 1988 and Headfirst Into The Flames in 1989). The group toured extensively and was especially popular outside of the United States.
As a producer, Laswell has frequently pursued his interest in African and other world musics. He has travelled extensively and has produced albums by many African performers, beginning with albums by the Senegalese group Touré Kunda (Natalia), Nigerian vocalist/saxophonist Fela Anikulapo Kuti (Army Arrangement) and Cameroonian saxophonist Manu Dibango (Electric Africa). He has also produced albums featuring the Gnawa musicians of Morocco (Night Spirit Masters), the Mandinka and Fulani musicians of Gambia (Ancient Heart), the Master Musicians of Jajouka (Apocalypse Across The Sky) and the Griots of West Africa (Jali Kunda) as well as artists from Brazil, China, Egypt, Palestine and Turkey, among others. More recently, Laswell has often collaborated with his spouse, the Ethiopian singer Gigi (Gigi, Illuminated Audio, Gold & Wax and Mesgana Ethiopia).
In the realm of jazz, Laswell has produced a number of important recordings by the likes of Ronald Shannon Jackson, Toshinori Kondo, Pharoah Sanders, Sonny Sharrock, Henry Treadgill and James "Blood" Ulmer, among others, particularly for the Axiom label in the 1990s and for various other labels he has been associated with since then.
In 1988, Laswell released the second album under his own name, Hear No Evil, which juxtaposed Eastern musical practices with Western concepts of tonality in a modern fusion of genres. The recording featured Nicky Skopelitis, violinist L. Shankar, tabla player Zakir Hussain and percussionists Daniel Ponce and Ayib Dieung.
In 1991, Laswell released Third Power, which featured singer Shabba Ranks, the Jungle Brothers, Sly and Robbie and trombonist Fred Wesley. In 1992, he formed the group Praxis, which featured keyboardist Bernie Worrell, guitarist Buckethead, bassist Bootsy Collins, drummer Brain and AF Next Man Flip on turntables (Transmutation (Mutatis Mutandis) in 1992, Sacrifist in 1994, Warszawa in 1996 and Profanation in 2007).
By 1993, Laswell started producing music at his own studio in Greenpoint, Brooklyn, including both his own recordings and projects with a wide range of other musicians. In 1994, he released Hallucination Engine, which featured Bernie Worrell, L. Shankar, beat poet William S. Burroughs and singer Liu Sola.
In 1998, Laswell released Panthalassa, a remix of compositions by Miles Davis during his electric period from 1969 to 1974 that received considerable critical and popular success. He also remixed Bob Marley´s music with the Wailers (Dreams Of Freedom).
During the 1990s, Laswell was a member of two important collaborative groups: Painkiller with John Zorn and drummer Mick Harris (Guts Of A Virgin, Buried Secrets and Rituals: Live In Japan, all in 1991, Execution Ground in 1993 and Talisman: Live In Nagoya in 1994) and Arcana with guitarist Derek Bailey and drummer Tony Williams (The Last Wave in 1995 and, with Tony Williams, saxophonists Pharaoh Sanders and Byard Lancaster, cornetist Graham Haynes and guitarists Nicky Skopelitis and Buckethead, Arc Of The Testimony in 1996). He also began a series of recordings for yoga meditation that have featured many of the same musicians as his other projects as well as additional Indian singers and musicians (Asana: Soul Practice in 1997, Asana 2: Moving Meditation in 2000, Asana 3: Peaceful Heart in 2003 and Asana 4: OHM Shanti in 2006).
In the late 1990s, Laswell moved his studio to its current location in West Orange, New Jersey, where he continues to work on a broad range of projects with close to a thousand recordings to his credit by now. In 2007, the album Inamorata paired drum 'n´ bass sounds with many of his frequent collaborators, including Herbie Hancock, Graham Haynes, Byard Lancaster, Nils Petter Molvaer, Pharoah Sanders, Bernie Worrell, John Zorn, Buckethead and Dr. Israel, under the name Method of Defiance. Method of Defiance also developed into a performing band with Bernie Worrell, Guy Licata, Toshinori Kondo, DJ Krush, Dr. Israel, et.al. (Nihon in 2009, Jahbulon and Inculabula in 2010, Dub Arcanum Arcandrum in 2011 and Nahariama 4th Column in 2013).
Despite his current focus on producing, Laswell continues to perform improvised music, including recent recordings with John Zorn, Peter Brötzmann, trumpeter Steve Bernstein, the group Blixt (with guitarist Raoul Björkenheim and drummer Morgan Ågren), guitarist Robert Musso, percussionist Mark Nausef and many others. Laswell has also released two solo bass albums (Invisible Design in 1999 and Invisible Design II in 2009).