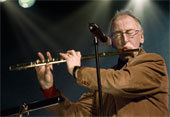 Juhani Aaltonen (b. 1935) first performed in public in 1957 and began his professional career as a free-lance musician in 1961. At that time, he also began his studies at the Sibelius Academy in Helsinki but, after one year, dropped out and became a full-time musician. During the 1960s, he performed extensively with saxophonist Esa Pethman, trumpeter Henrik Otto Donner, pianist Heikki Sarmanto, drummer Edward Vesala and many others. In addition, Aaltonen was one of the founding members of the progressive rock group Tasavallan Presidentti and started a successful career as a studio musician. However, free improvisation has always been the preferred area of music for Juhani Aaltonen, his "mother tongue".
In the early 1970s, Aaltonen studied briefly at the Berklee College of Music in Boston and continued to collaborate with Donner, Vesala, Sarmanto and others after his return to Finland. During a three-year period towards the end of the decade, Aaltonen was a member of the Norwegian bassist Arild Andersen´s quartet and recorded two albums (Shimri and Green Shading Into Blue) with him for ECM Records. Aaltonen was also one of the founding members of UMO Jazz Orchestra in 1975 and continued with the orchestra until 1986 when he left after receiving a 15-year artist´s grant from the Finnish State.
Internationally, Juhani Aaltonen became best known for his cooperation with Edward Vesala that began in the mid-1960s and continued intensely for two decades. During that time, Aaltonen participated as a key soloist in recordings and concerts by a number of ensembles organized by Edward Vesala beginning with the small groups of the 1960s and reaching a high point with the larger ensembles of the late 1970s and early 1980s.
During the 1980s, Aaltonen continued to collaborate with, among others, Donner, Vesala and Sarmanto, but also pianist Jukka Linkola and vocalist Maija Hapuoja. As part of this collaboration, Aaltonen performed as a soloist in a number of larger orchestral works, including Henrik Otto Donner´s orchestral suite The Spirit of the Valley, Jukka Linkola´s Crossings and Heikki Sarmanto´s Suomi Symphony.
During the 1990s, Aaltonen enjoyed a particularly close cooperation with Heikki Sarmanto, comprising a number of concert tours and recordings of extended works, such as an eight-part suite for flute called Pan Fantasy and a composition for flute and piano called Silver Spell. Since the late 1980s, Aaltonen has also often performed and recorded religious music.
Although Juhani Aaltonen´s role in various projects by Donner, Vesala, Sarmanto and others has been essential and Aaltonen has been one of the central figures in Finnish modern jazz for almost five decades, his output as a leader was, until the past decade, relatively limited. His recordings as a leader consisted of three recordings produced by Edward Vesala in the 1970s and early 1980s (Etiquette in 1974, Springbird in 1979 and Prana in 1981) and various projects with Henrik Otto Donner (Strings in 1976 and Strings Revisited in 2002) and Heikki Sarmanto (Pan Fantasy and Distant Dreams in 1990, Silver Spell in 1996, Déja Vu in 2000 and Rise in 2002).

Prior to the founding of the Juhani Aaltonen Quartet, Juhani Aaltonen has, in recent years, principally performed with three trios led or co-led by him. The Juhani Aaltonen Trio, established in 2001, with Ulf Krokfors and drummer Tom Nekljudow, became one of the leading Finnish modern jazz groups of all time and performed at a number of jazz festivals in Europe, with its recordings (Mother Tongue, TUM CD 002) and Illusion of a Ballad, TUM CD 013) receiving both awards and international acclaim. Parallel to the Finnish trio, Aaltonen has also performed in a trio with two great masters of modern jazz, bassist Reggie Workman and drummer Andrew Cyrille. This trio performed on its own recording (Reflections, TUM CD 007) and was also featured with Avanti! Chamber Orchestra on the recording of Henrik Otto Donner´s compositions (Strings Revisited, TUM CD 005). In addition to performances in Finland, the latter trio also performed at St. Peter´s Church in New York City during the Sculptured Sounds Music Festival organized by Reggie Workman in 2006 and 2007. A third regular performing vehicle for Aaltonen has been Nordic Trinity, a co-operative group with guitarist Mikko Iivanainen and drummer Klaus Suonsaari, which has released two albums (Wonders Never Cease and Eternal Echoes) and has toured periodically. In 2006, Aaltonen was featured as a soloist on guitarist Raoul Björkenheim´s recording with UMO (Sky Is Ruby, TUM CD 017).

Over the last five decades, Aaltonen has received a number of accolades for his career and music, including the Finnish Jazz Federation´s Yrjö Award as the jazz musician of the year already in 1968. In 1987, Aaltonen received the Vantaa Award for his artistic accomplishments and for his work on behalf of his hometown Vantaa. In 2009, the Finnish National Arts Council awarded Aaltonen the Finnish State Price for Music for his lifetime of achievement. Aaltonen was only the second jazz musician to receive this prestigious annual award.

Juhani Aaltonen´s recordings have also received considerable critical acclaim, with each of Etiquette (Juhani Aaltonen Quartet, 1974), Strings (with Henrik Otto Donner, 1976) and Mother Tongue (Juhani Aaltonen Trio, 2003) being chosen as the jazz record of the year in Finland.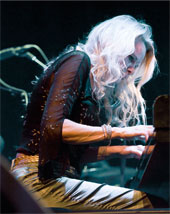 Iro Haarla (b. 1956) studied piano at the Sibelius Academy in Helsinki with Izumi Tateno and also studied piano and improvisation with Heikki Sarmanto and composition and arrangement with Einar Englund. In the late 1970s, Haarla began her collaboration with Edward Vesala that continued until his death in 1999. Haarla´s musical collaboration with Vesala included a membership in Vesala´s Sound and Fury ensemble and a number of smaller groups in addition to working on various other projects with Vesala, including music for several plays and movies. With Vesala, Haarla recorded a number of albums for ECM Records as well as Vesala´s own Leo Records playing piano, keyboards and harp.
In addition to working with Vesala, Haarla has, at various times, been a member of saxophonist Tapani Rinne´s RinneRadio, saxophonist Esa Pietilä´s 4 Streams, saxophonist Jorma Tapio´s Rolling Thunder, bassist Antti Hytti´s and saxophonist Jone Takamäki´s Otná Eahket quartet and various other groups. She has also performed with saxophonists Juhani Aaltonen, Trygve Seim and Tomasz Szukalski, trumpeter Tomasz Stanko, pianist Christian Wallumrød and percussionist Terje Isungset and many other leading European jazz musicians.
In the last few years, Haarla has increasingly performed her own compositions both as a solo pianist, with solo concerts in Japan and the Czech Republic in addition to Finland, and in smaller ensembles such as her duo with saxophonist Pepa Päivinen, which published the much-lauded album Yarra Yarra (November Music) in 2001. One of her compositions was also performed by UMO with Tomasz Stanko as the featured soloist in a concert broadcasted by EBU in 2002. At the Tampere Jazz Happening in 2006 and again in Helsinki in 2007, UMO dedicated an entire concert to her compositions, with the latter concert being broadcast by EBU. She was also a featured soloist on Raoul Björkenheim´s recording with UMO (Sky Is Ruby, TUM CD 017). Currently, Haarla leads a quintet with Trygve Seim, trumpeter Mathias Eick, Ulf Krokfors and drummer Jon Christensen that recorded an album for ECM Records in 2005 (Northbound) and has toured extensively both in North America and in Europe.
Perhaps most important for Haarla´s career in recent years has been her partnership with Ulf Krokfors. In addition to performing together in various groups led by others, Haarla and Krokfors have co-led a larger ensemble, Loco Motife, that received the Emma Award for the best Finnish jazz recording of the year 2005 for its debut album (Penguin Beguine, TUM CD 011), in addition to often performing as a duo (Heart of a Bird, TUM CD 004). Krokfors is also featured in Haarla´s new sextet that she introduced at the Pori Jazz Festival in 2009 (with saxophonist Sonny Heinilä, trumpeter Verneri Pohjola, trombonist Jari Hongisto and drummer Markku Ounaskari) and Haarla is a member of Ulf Krokfors Orkester that saw its first performance at the Tampere Jazz Happening in 2009. In 2006, Haarla received the Finnish Jazz Federation´s Yrjö Award as the jazz musician of the year.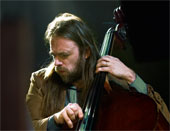 Ulf Krokfors (b. 1966) first began playing the bass with Henrik Otto Donner´s quintet in the mid-1980s. Krokfors quickly made his mark as a member of Edward Vesala´s Sound and Fury (1988-1990) and guitarist Raoul Björkenheim´s Krakatau (1988-1999), recording with both for ECM Records.

After those early engagements, Krokfors has become the most in-demand bass player in Finland and his resume reads like a Who´s Who of the current Finnish jazz scene. Most importantly, in addition to the Juhani Aaltonen Trio and Quartet, Krokfors cooperates extensively with Iro Haarla and has played and recorded with the quartet of saxophonist/ flutist Sakari Kukko, various projects of Henrik Otto Donner, including the Free for All ensemble, and the 12-member Suhkan Uhka (Suhka, TUM CD 001). Other frequent collaborators have included pianists Samuli Mikkonen, Seppo Kantonen and Jarmo Savolainen, organist Jukka Gustavson and Raoul Björkenheim.

In recent years, Krokfors has increasingly focused on his own groups and compositions, which have been featured both on Krokfors´ own recordings and recordings by Suhkan Uhka (Suhka, TUM CD 001) and the Juhani Aaltonen Trio (Mother Tongue, TUM CD 002) as well as a number of others. Ulf Krokfors´ cooperation with Iro Haarla has been documented both in a duo (Heart of a Bird, TUM CD 004) and large group (Penguin Beguine, TUM CD 011) setting, and he is also featured on Haarla´s debut recording for ECM Records (Northbound). In 2008, Krokfors published his first solo bass recording (The Incense of All Our Prayers) and, in 2009, he introduced his latest group, Ulf Krokfors Orkester (with Haarla, trombonist Jari Hongisto, guitarist Jukka Orma and drummer Markku Ounaskari), at the Tampere Jazz Happening.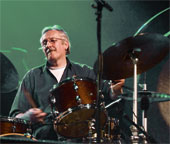 Reino "Reiska" Laine (b. 1946) began his career as a professional musician in Helsinki in the mid-1960s performing in various jazz groups with his contemporaries but also paying his dues by touring the country extensively as a member of the orchestras of two masters of the Finnish tango, Olavi Virta and Taisto Tammi.

Laine´s principal early influences were Elvin Jones, who visited Helsinki with the John Coltrane Quartet in the early 1960s and made a strong impression on the budding drummer, and Tony Williams. Having already established himself as one of the leading drummers on the Helsinki scene, Laine spent a year in New York (1970-71) and, upon his return, continued to perform in the groups of saxophonists Juhani Aaltonen, Eero Koivistoinen, Seppo "Baron" Paakkunainen and Pekka Pöyry and many others in addition to many visiting jazz greats, such as saxophonists Dexter Gordon, Clifford Jordan and Charlie Mariano and trumpeter Ted Curson, a frequent collaborator of Laine at the Pori Jazz Festival throughout the years.

In 1969, Laine was a member of Eero Koivistoinen´s award-winning group at the Montreaux Jazz Festival and continued to play in Koivistoinen´s various groups for a number of years, including the Eero Koivistoinen Quartet (also featuring pianist Vladimir Shafranov and bassist Pekka Sarmanto) that was one of the most important Finnish jazz groups of the 1970s. In addition, Laine has performed with a broad range of other Finnish musicians, including guitarist Jukka Tolonen, bassist Pekka Pohjola, singer Vesa-Matti Loiri and pianist Claes Andersson and, occasionally, leads his own groups. Laine has also branched out to the field of theatre and film both as a musician and a sometime performer.

In 1981, Laine received the Finnish Jazz Federation´s Yrjö Award as the jazz musician of the year. In more recent years, Laine has also become known as a community organizer and politician focusing on cultural affairs, and he has been a member of the Finnish Parliament (1996-1998) and the Helsinki City Council (1997-2004).