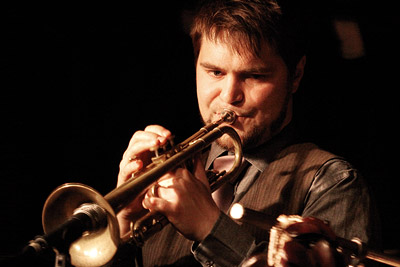 Verneri Pohjola (b.1977) comes from one of Finland´s most renowned musical families. After having studied trumpet both privately and at the Pop and Jazz Conservatory in Helsinki, Finland, and at the Örebro Music School in Sweden, Pohjola was admitted to the Jazz Department of the Sibelius Academy in 1999 and received his Master of Music degree in 2012. At the Sibelius Academy, his teachers included some of Finland´s leading jazz musicians as well as visiting clinicians from the United States and other countries.
Pohjola first became better known through Ilmiliekki Quartet (with pianist Tuomo Prättälä, bassist Antti Lötjönen and drummer Olavi Louhivuori), which has issued two albums of its own (March of the Alpha Males, TUM CD 005, in 2003 and Take It With Me, TUM CD 020, in 2006) as well as an album with vocalist Emma Salokoski (Vi Sålde Våra Hemman in 2009). In addition, he has been active in a number of other groups, including Quintessence, a popular nu-soul ensemble; Q-Continuum, an offshoot of Quintessence; Suhkan Uhka, a 12-member ensemble (Suhka, TUM CD 001); and the post-rock group Silvio, in which he played drums. He has also performed in various groups led by saxophonist Jukka Perko, pianists Giovanni Guidi, Iro Haarla, Seppo Kantonen, Aki Rissanen, Jens Thomas and Alexi Tuomarila, organist Jukka Gustavson and bassists Pekka Pohjola and Ulf Krokfors, among others.
Pohjola has performed as a soloist with the UMO Jazz Orchestra (Agatha in 2007) and Orkestrova and with such well-established international artists as saxophonist Anthony Braxton, trumpeter Wadada Leo Smith, bassist Anders Jormin and drummer Gerry Hemingway. Currently, Pohjola leads his own quartet with pianist Aki Rissanen, bassist Antti Lötjönen and drummer Joonas Riippa (Ancient History in 2012), the everchanging Aurora ensemble (Aurora in 2009) and Michelin Star with Joonas Riippa. In 2010, he also released an album by the Finno-Chinese Verneri Pohjola Quartet (Hot Pot Place Around the Corner). During 2010-2012, Pohjola has performed, with a trio also including Aki Rissanen and Joonas Riippa, as part of the Finnish National Theater´s production of Paul Auster´s play Mr. Vertigo, with the trio´s music for the play also having been recorded (Music from the Play Mr. Vertigo in 2011).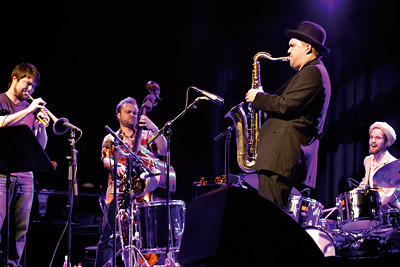 Black Motor was founded in Tampere in 2005 as an improvising trio of saxophonist Sami Sippola, bassist Ville Rauhala and drummer Simo Laihonen. From the beginning, the group was devoted to free jazz in the tradition of Rashied Ali, Albert Ayler and Peter Brötzmann and soon began an active performance schedule both in Tampere and elsewhere. Beginning in 2005, Black Motor has been largely responsible for the program of the Fly-Rite Festival club in Tampere organizing approximately ten events per year featuring various guest performers. During 2008 and 2009, Black Motor organized a monthly Hertta Jazz Monday club, also in Tampere. During the past few years, Black Motor has also begun to receive increasing national attention and has organized club events outside of Tampere as well. In 2009, Black Motor began organizing music workshops at various elementary and high schools around the Tampere region, an activity that still continues today with children of different ages. In 2011 and 2012, Black Motor performed school concerts under the rubric "Jazz Before And Now" around of Finland as well as organizing club events at the Telakka Restaurant in Tampere.
Almost from the outset, Black Motor began featuring various guest artists in their performances. One of the very first was guitarist Jukka Orma soon followed by trumpeters Mike Koskinen and Verneri Pohjola, saxophonists Juhani Aaltonen, Mikko Innanen and Jorma Tapio, guitarist Raoul Björkenheim, bassist Teppo Hauta-aho, pianist Samuli Mikkonen, guitarist/singer/songwriter P.K. Keränen and many others. They have also performed with circus acts, dancers, poets, rap artists and DJs in addition to fellow improvisers. In July 2012, Black Motor even performed with one of their early heroes, saxophonist Peter Brötzmann, at Häiriöjatsit, a mini-festival organized in Tampere.
Black Motor released its first two recordings in 2007 (On Duty and Black Motor). Five additional recordings have followed (Club El Toro in 2008, Vaarat Vastukset in 2008, Never Out Of Fashion−Live In Amsterdam in 2010, Hoojaa in 2011 and Jumehniemi in 2012). Members of Black Motor have also been featured on a recording by Hannibal & Joku Roti Mafia (Viimiseen Hengenvetoon in 2011) and their music has been featured on a documentary film by Visa Knuuttila (Mundus Absurdus − Portrait Of A Freakshow in 2007) and animation film by Maria Björklund (Helsingin Kesä − Summer In Helsinki in 2011).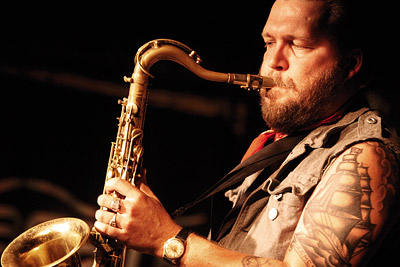 Sami Sippola (b.1971) first began playing the alto saxophone in 1984 and studied classical saxophone with Juha Unkila at the Pori Conservatory during 1984-1988. Almost immediately, he also began performing with various local rock groups in Pori. When entering senior high school, he began increasingly playing jazz music with other young local musicians, mostly in the realm of hard bop. He also played the alto saxophone in a military band during his compulsory military service in 1990-1991.
Sippola moved to Tampere in 1998, becoming a professional musician active on the local popular music scene and also starting his affiliation with bassist Ville Rauhala, with the two being regular performers at the Flat Note Jazz Club that was active until 2000. During the following few years, Sippola and Rauhala, often together, continued to perform actively in Tampere with the music ranging from bossa nova to rock and from modern folk to free jazz. Notable groups from this period featuring both Sippola and Rauhala included trombonist/accordionist Kusti Vuorinen´s Suurin Onni, which both recorded and performed at the Tampere Jazz Happening in 2004, saxophonist Masa Orpana´s various groups and the World Peace Orchestra, a larger group in the spirit of Charlie Haden´s Liberation Music Orchestra that was led by Rauhala and performed at the Tampere Jazz Happening in 2005.
Around the time Sippola combined forces with Ville Rauhala and Simo Laihonen to form Black Motor in 2005, he also switched to the tenor saxophone as his main instrument. Sippola also performs as a duo with both Rauhala and Laihonen. In addition to Black Motor, Sippola continues to perform with numerous other groups. Besides seven albums with Black Motor, he has recorded a total of more than 20 albums with various other groups. Sippola has also composed and performed music with theater, dance and circus performances as well as for films.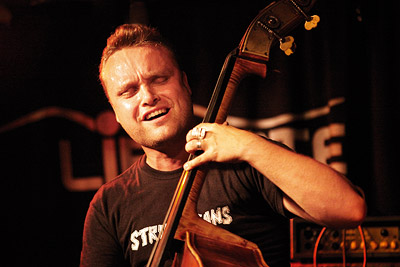 Ville Rauhala (b.1976) began playing the bass already in his teens and has performed professionally since the year 1994, with his first groups including blues and jazz influenced Groovy Eyes and Hot Pants as well as the roots rock group Stringbeans. Rauhala studied the double bass with Pauli Tammiaho from the Tampere Philharmonic Orchestra during 1995-2007. In addition, he has studied ethnomusicology at the Tampere University during 1995-1998.

Besides Black Motor, Rauhala has performed and recorded with various other artists and groups focusing on improvised music, including saxophonist Masa Orpana (Honky Tonk Man in 2005 and Brothers - The Music of Rauhala, TikanmÄki & Vuorinen in 2008), saxophonist Petri Nieminen (Night Walk in 2007), trombonist/accordionist Kusti Vuorinen (Hoojaa! in 2011), Rakka (Soutu in 2012), Olmarin Unioni (Original Finnish Jazz in 2003 and Peaceful Means in 2005) and many others. Rauhala also frequently performs as a theatre musician in Tampere and as a studio musician in the field of popular music, having recorded with vocalists Ville Leinonen, Pate Mustajärvi and M. A. Numminen, among others. He has also collaborated with singer/songwriter Janne Laurila (Kultaisia PisteitaÅN in 2009) and guitarist/vocalist Pauli Hanhiniemi. In 2006, Rauhala joined Hehkumo, a popular group in the field of modern folk music featuring Hanhiniemi as its vocalist and has recorded two albums (Muistoja tulevaisuudesta in 2006 and Aukkoja tarinassa in 2008) with the group. He also performs with Hehkumo in the musical Anna Liisa (Minna Canth) that had its first night in 2011.
In 2010, Rauhala published his first solo bass recording, Freedom − 8 Episodes, and is currently in the process of releasing his second solo recording. Rauhala has also recorded with Grillin´ Willie And The Vegetarians, Juurikadun orkesteri and Hannibal & Joku Roti Mafia, among others. In 2012, Ville Rauhala and Sami Sippola published a duo recording under the name Muscle Kings of Mexico (Fear no man!) that continues their collaborations that go back to the late 1990s.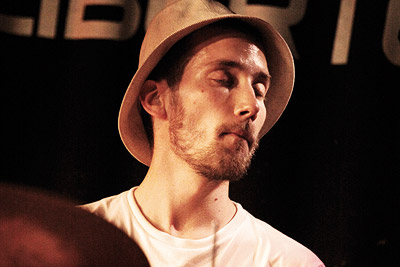 Simo Laihonen (b.1982) comes from Muurame near the town of Jyväskylä, where he began studying the drums in 1993. Laihonen began performing actively in 1999 and continued to study the drums, including with drummer Tom Nekljudow during 2002- 2003. Laihonen also participated in the Ylänne music camp in 2002, with his teachers including Iro Haarla, Antti Hytti, Tane Kannisto, Ulf Krokfors, Jimi Sumén and Jorma Tapio. Laihonen began to teach drum playing at the Do-Re-Mi Music School in Jyväskylä during 2002-2004.
In addition to jazz and improvised music, Laihonen has also performed rock, modern folk and various traditional forms of music as well as playing with dance, theater and other multidisciplinary projects. Following a move to Tampere in 2004, Laihonen quickly became active on the local scene both as a musician, as a teacher and as a concert organizer.
In addition to Black Motor, Laihonen currently performs with a number of other groups that include Jorma Tapio & Kaski, Rasa Lila with Sami Sippola and organist Jouni Joronen), Sabotanic Garden (performance group with dancer-choreographer Pasi Mäkelä), Grillin´ Willie And The Vegetarians, DXXXA D. & The Boys and Petri Nieminen Ensemble (with opera singer Anu Komsi, pianist Arto Piispanen and Ville Rauhala). He also regularly performs with other musicians in Finland and elsewhere who are active in the field of improvised music, either as a member of Black Motor or in other ever shifting constellations. In addition to seven albums with Black Motor, Laihonen has participated in approximately 20 recordings with some of the above-mentioned groups as well as with Kusti Vuorinen, Masa Opana, Faarao Pirttikangas & Kuhmalahden Nuubialaiset and Hannibal & Joku Roti Mafia.