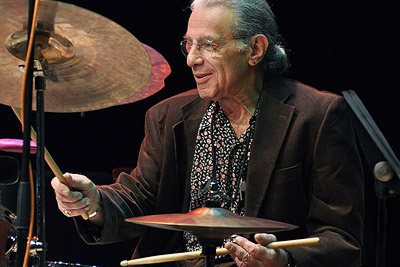 Barry Altschul (b.1943) grew up in the South Bronx in New York City. He began playing the drums at the age of 11 after having earlier played the piano and the clarinet. As a teenager, Altschul was also a member of a doo-wop group, first called the Students and then the Diplomats, that had a minor East Coast hit and toured opposite some of the top acts of the time, including Little Anthony and Frankie Lymon, even performing on some popular TV dance shows of the time like the Dick Clark Show. However, under pressure to commit to a long-term contract, Altschul chose to focus on the drums instead. In the late 1950s and the early 1960s, he was involved in the local hard bop scene playing in jam sessions in the Bronx and other New York City boroughs with his contemporaries, including saxophonists Dave Liebman and Frank Mitchell, pianists George Cables and Jimmy Hunter and many others. He studied drums with Charli Persip and Sam Ulano and composition with Lee Konitz.

One of Altschul´s first public performances as a drummer was with pianist Larry Willis and bassist Walter Booker in a neighborhood lounge. However, his first "proper" gig was with the Paul Bley Trio (with bassist David Izenson) in what was the inauguration of Slugs´, the (in)famous East Village bar, as a jazz club in 1964. This one-off gig resulted in Altschul working regularly with pianist Paul Bley for the remainder of the 1960s and sporadically also during the next three decades. Other than for his participation in the first recording of the Jazz Composer´s Orchestra (Communication) in April 1965, Altschul´s earliest recordings were also with Bley. These included Touching (with bassist Kent Carter) and Closer (with bassist Steve Swallow) in 1965, Ramblin´, Blood and In Haarlem (all with bassist Mark Levinson) in 1966, Ballads (with bassist Mark Levinson) and Virtuosi (with bassist Gary Peacock) in 1967 as well as a number of others that followed since. Altschul´s work with Paul Bley drew the attention of others active on New York´s bourgeoning free jazz scene of the 1960s and resulted in tours and/or recordings with such notables as saxophonist Steve Lacy, trombonist Roswell Rudd as well as bassists Gary Peacock, Alan Silva and Steve Swallow. His familiarity with the tradition also led to performances with the likes of saxophonists Sonny Criss, Johnny Griffin, Lee Konitz, Art Pepper and Tony Scott, pianist Hampton Hawes and vocalist Babs Gonzalez, among many others.

At the very end of the 1960s and beginning of the 1970s, Altschul was a member of pianist Chick Corea´s trio with bassist Dave Holland as its third member and then participated in the important cooperative group Circle after saxophonist Anthony Braxton joined Corea, Holland and Altschul. He also soon joined saxophonist Sam Rivers, with whom he had already performed in New York City during the October Revolution in Jazz in 1964, in a new trio with Dave Holland and the Anthony Braxton Quartet (with trumpeter Kenny Wheeler or trombonist George Lewis and Holland). These three ground-breaking groups solidified his reputation as one of the most creative drummers on the contemporary scene.

During this period, Altschul also participated in some of the most important modern jazz recordings of the 1970s, including The Song of Singing (1970) and A.R.C. (1971) by Chick Corea, Dave Holland and Altschul; Circulus (1970), Circling In (1970) and Paris Concert (1971) by Circle; Conference of the Birds (1972) by the Dave Holland Quartet (with Holland, Braxton and Rivers); Hues (1973), The Quest (1976) and Paragon (1977) by the Sam Rivers Trio; Sizzle (1975) by the Sam Rivers Quintet; Complete Braxton (1971), Five Pieces 1975 and The Montreux/Berlin Concerts (1975) by the Anthony Braxton Quartet; Creative Orchestra Music 1976 by Anthony Braxton´s large ensemble; Scorpio (1972) and Japan Suite (1976) by the Paul Bley Trio; Drum Ode (1974) by Dave Liebman; Flexible Flyer (1975) by Roswell Rudd; Coon Bid´ness (1975) by saxophonist Julius Hemphill and Spiral (1975) by pianist Andrew Hill.
In addition, Altschul led his own freebop groups, with such luminaries as pianists Muhal Richard Abrams and Anthony Davis, trombonists Ray Anderson and George Lewis as well as bassist Mark Helias, to name a few. Altschul also began recording as a leader, with his first two recordings for Muse Records, You Can´t Name Your Own Tune (with Rivers, Lewis, Abrams and Holland) from 1977 and Another Time/Another Place (with saxophonist Arthur Blythe, Ray Anderson, Anthony Davis, cellist Abdul Wadud and bassist Brian Smith) from 1978, being among the key modern jazz recordings of the late 1970s. These were followed by Somewhere Else in 1979 and Brahma in 1980 by the Barry Altschul Trio (with Ray Anderson and Mark Helias), For Stu (with Ray Anderson, Anthony Davis and bassist Rick Rozie) in 1979, Irina (with trumpeter Enrico Rava, saxophonist John Surman and Mark Helias) in 1983 and That´s Nice (with saxophonist Sean Bergin, trombonist Glenn Ferris, pianist Mike Melillo and bassist Andy McKee) in 1985. During a 10-year sojourn in Paris, France, in the late 1980s and early 1990s, Altschul was chosen to be the first foreign Artistic Director of Orchestre Regional De Jazz De Lorraine, a 20-piece French regional big band based in Nancy that, during this time, performed music written by Altschul and arranged by Coleridge-Taylor Perkinson. During this period, Altschul also toured Africa, the Middle East and Eastern Europe as a cultural ambassador for the USIS and recorded for a number of European record labels, including sessions led by saxophonists Claudio Fasoli, André Jaume and Dave Liebman, pianists Paul Bley, Kenny Drew, Franco D´Andrea, Denis Levaillant and Simon Nabotov, bassists John Lindberg and Niels-Henning Ørsted-Pedersen and vocalist Tiziana Ghiglioni. Overall, Altschul has participated in more than 160 recordings during his career.

Returning to the United States in 1993, Altschul took a teaching position at the Sarah Lawrence College for a period of ten years and, although he soon began to perform in a few clubs where he also curated the music program, was largely invisible to the broader jazz audience. In 2003, bassist Adam Lane invited Altschul to participate in a recording (Fo(u)r Being(s)) that also featured trumpeter Paul Smoker and saxophonist John Tchicai and led to a small tour that served to get Altschul again more interested in live performance. Around this time, Altschul also joined forces with violinist Billy Bang and bassist Joe Fonda to form the FAB Trio, a collective group that became his first regular performing vehicle in the United States after a break of two decades and went on to tour worldwide and record five highly acclaimed albums (Transforming the Space in 2003; Live At the Iron Works, Vancouver in 2004; History Of Jazz In Reverse, TUM CD 028, in 2005; Live In Amsterdam in 2008 and Live At the Sunset - A Night In Paris in 2008). In the past decade, Altschul has also been a part of Roswell Rudd´s Trombone Tribe (with trombonists Roswell Rudd, Deborah Weisz and Steve Swell as well as tubist Bob
Stewart and bassist Henry Grimes) and The Swell-Ullman 4 (with Steve Swell, saxophonist Gebhard Ullman and bassist Hilliard Greene) and has led several groups of his own that have included the likes of Uri Caine, Dave Douglas, Hilliard Greene, Hayes Greenfield, Mark Helias, Roswell Rudd, John Tchicai and many others. In 2007, he reunited with Sam Rivers and Dave Holland for a recorded performance by the Sam Rivers Trio (Reunion: Live In New York). Altschul first performed with saxophonist Jon Irabagon on their 2010 recording with bassist Peter Bendler (Foxy). Since that time, they have also performed together in a trio with Joe Fonda and in another trio with Mark Helias.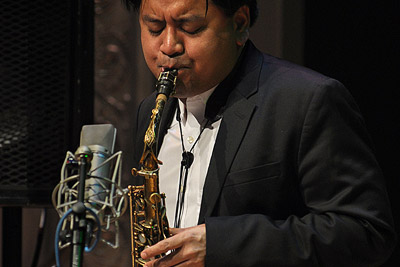 Jon Irabagon (b.1978) first began playing the alto saxophone in 4th grade and the piano soon thereafter, but did not become serious about music until high school, where he learned about music from teachers Tom Beckwith and Greg Fishman. He then began performing in Chicago, and eventually went to DePaul University to major in music business and minor in journalism. During his studies, Irabagon performed in clubs nightly, gaining experience in the many different styles of music that Chicago had to offer.

During this period, Irabagon performed with jazz masters John Abercrombie, Tom Harrell and Dick Oatts and the then up-and-coming crooner Michael Bublé. Irabagon also played with many of Chicago´s finest musicians, including Neal Alger, Jerry Coleman, Tom Hipskind, Larry Kohut, Ron Kolber, John McLean, Eric Montzka and Ryan Shultz, while studying formally with Greg Fishman, Mark Colby and Bob Palmieri.

In the fall of 2001, Irabagon relocated to New York City to attend the Manhattan School of Music and study with Dick Oatts. Irabagon also studied with Dave Liebman, Dave Binney, Jason Moran and Billy Drewes during this time, and received a Master´s Degree in 2003. He then studied in the newly-formed jazz program at the Juilliard School, under the tutelage of Victor Goines, receiving an Artist Diploma in 2005.
During this period, Irabagon began making a name for himself in New York and has performed, recorded and/or toured with a broad range of artists, including Barry Altschul, Darcy James Argue, Kenny Barron, Louie Bellson, Michael Bublé, Tony Buck, James Carter, Eugene Chadbourne, Joey DeFrancesco, Tobias Delius, Dave Douglas, Paul Dunmall, John Edwards, Johannes Fink, Charles Gayle, Deborah Gibson, Wycliffe Gordon, Mary Halvorson, Herbie Hancock, John Hebert, Mark Helias, Dave Holland, Tommy Igoe, Billy Joel, Frank Kimbrough, Victor Lewis, Dave Liebman, Wynton Marsalis, Tony Marsh, TS Monk, Adam Nussbaum, Conor Oberst, Evan Parker, William Parker, Nicholas Payton, Jeremy Pelt, Lou Reed, Rufus Reid, Ron Sexsmith, Brad Shepik, Craig Taborn, John Taylor, Kenny Washington, Kenny Wheeler and Warren Wolf, among others.
Irabagon also increasingly began playing in various groups with his contemporaries on the New York scene, including perhaps the best known of them, Mostly Other People Do the Killing, which also includes trumpeter Peter Evans, bassist Moppa Elliott and drummer Kevin Shea (Shamokin!!! in 2008, This is Our Moosic in 2009, Forty Fort in 2010 and The Coimbra Concert in 2011) as well as Jon Lundbom´s Big Five Chord, the Mary Halvorson Quintet, Mike Pride´s From Bacteria to Boys and Bryan and the Haggards.

Irabagon´s first recording as a leader, Outright!, featured Russ Johnson, Kris Davis, Eivind Opsvik and Jeff Davis, among others, and was released in 2008. His second album, I Don´t Hear Nothin´ But the Blues, is a saxophone and drum duet with Mike Pride and was released in 2009.

In 2008, Irabagon won the Thelonious Monk Saxophone Competition in Los Angeles, California, following in the footsteps of previous Thelonious Monk Saxophone Competition winners Joshua Redman, Jon Gordon and Seamus Blake. The resulting recording, The Observer, came out in October 2009 and featured pianist Kenny Barron, bassist Rufus Reid and drummer Victor Lewis on seven of Irabagon´s own compositions alongside under-recorded classics by Gigi Gryce, Tom McIntosh and Elmo Hope, with guest spots by trumpeter Nicholas Payton and a duet with pianist Bertha Hope.
In 2010, Irabagon released Foxy, which features special guest Barry Altschul as well as bassist Peter Bendler.
In 2012, Irabagon launched his own record label Irabbagast Records with two simultaneous releases, both follow-ups to previous albums: I Don´t Hear Nothin´ but the Blues Volume 2: Appalachian Haze adds guitarist Mick Barr to the mix of Irabagon and Mike Pride and Outright!´s second album, Unhinged, features Ralph Alessi, Jacob Sacks, John Hebert and Tom Rainey along with several guests.
Today, Irabagon continues to lead his own groups as well as being busy as a sideman. In addition to his own recordings, he is featured on recent records by the Dave Douglas Quintet, Mostly Other People Do the Killing, the Mary Halvorson Quintet and Septet, Mike Pride´s From Bacteria to Boys and Bryan and the Haggards. Altogether, Irabagon has participated in almost 80 recordings.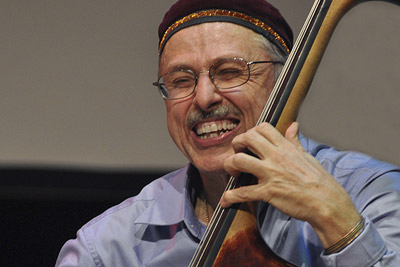 Joe Fonda (b.1954) was born in Amsterdam, upstate New York, and played guitar and bass guitar in his youth. At Berklee College of Music (1973-75), he studied composition and arranging while also focusing on the double bass as his main instrument.

After Berklee, Fonda was based in the New Haven, Connecticut area. An important influence during this period was trumpeter Wadada Leo Smith, with whom Fonda played from 1978 until he moved to New York City in 1985. Fonda participated in two important recordings under Smith´s leadership, Procession of the Great Ancestry by a small group including saxophonist John Powell, vibraphonist Bobby Naughton, guitarist Louis Myers, bassist Mchaka Uba and percussionist Kahil El´Zabar in 1981 and The Sky Cries the Blues by the Creative Improvisors Orchestra in 1983. During this period, Fonda also recorded his first album as a leader (Looking for the Lake, with saxophonists Cliff White and Tim Moran and drummer Claire Arenius, in 1980).
In addition to music, Fonda has had a long-standing involvement in dance projects and cross-cultural performances. From 1982 to 1986, Fonda was the bassist and dancer with the Sonomama Dance Company. He was also the bassist of the American Tap Dance Orchestra in New York City, directed by world renowned tap dancer Brenda Bufalino. An independent producer since 1978, Fonda is the founding director of Kaleidoscope Arts, an interdisciplinary performance ensemble.
Soon after moving to New York, Fonda participated in the collaborative group Mosaic Sextet (with trumpeter Dave Douglas, violinist Mark Feldman, bassoonist Michael Rabinowitz, pianist Michael Jefry Stevens and drummer Harvey Sorgen) that both increased his prominence on the New York scene and also served as a basis for some key relationships that still continue today. The group´s album, Today, This Moment, from three sessions in 1988-90 (reissued as part of a two-CD collection Mosaic Sextet) is still considered one of the major releases of its time.

Fonda is particularly well known for his collaboration with Anthony Braxton between 1993 and 2003 and was Braxton´s bassist of choice during the period. Among other projects, he was a member of the Anthony Braxton Quartet, Sextet, Octet, Ninetet and Tentet. Fonda´s recordings with Braxton range from a duo collaboration (10 Compositions (Duet) 1995) to participation in large orchestral works. His tenure with Braxton resulted in a total of more than 20 recordings starting with the Charlie Parker Project (with saxophonist Ari Brown, trumpeter Paul Smoker, pianist Misha Mengelberg and drummers Han Bennink and Pheeroan akLaff) and the Piano Quartet (with saxophonist Marty Ehrlich, drummer Pheeroan akLaff and Braxton himself on the piano). In addition to those and various other small groups, he performed with the 38-piece Tri-Centric Orchestra under the direction of Braxton, and was the bassist for the premiere performance in 1996 of Braxton´s opera, Trillium R: Shala Fears for the Poor. In 1996, Braxton also appeared on Fonda´s From the Source recording (with trumpeter Herb Robertson, tap dancer Brenda Bufalino, vocalist Vickie Dodd and percussionist Grisha Alexiev) that served as a blueprint for the group From the Source that Fonda continues to lead.

In 1992, Fonda co-founded the Fonda/Stevens Group with Michael Jefry Stevens (also
Herb Robertson and Harvey Sorgen). The group has already released 11 recordings, toured extensively and performed at major international jazz festivals. In addition, Fonda has recorded and toured with the FAB Trio, From the Source, The NU Band (with saxophonist Mark Whitecage, trumpeter Roy Campbell and drummer Lou Grassi), Bottoms Out (with tubist Joe Daley, saxophonists Claire Daly and Gebhard Ullmann, Michael Rabinowitz and drummer Gerry Hemingway) and Conference Call (Gebhard Ullman, Michael Jefry Stevens and drummer George Schuller) as well as a number of other collaborative groups.
Fonda´s most recent projects include Off Road Quartet, which is comprised of four musicians from four different countries (guzheng player Xu Fengia from Beijing, China; violinist Carlos Zingaro from Lisbon, Portugal; drummer Lucas Niggle from Zurich, Switzerland; and Fonda himself from the United States), Trio GENERATIONS (with Michael Jefry Stevens and drummer Emil Gross) and Eastern Boundary Quartet (with saxophonist Mihaly Borbely and drummer Balazs Babyi from Hungary as well as Michael Jefry Stevens).
In the past three decades, Fonda has also performed and/or recorded with such other world renowned artists as trumpeter Bill Dixon, trombonists Curtis Fuller and Slide Hampton, saxophonists Bill Barron, Marion Brown, Lou Donaldson, Ken McIntyre and Archie Shepp, clarinetist Perry Robinson, pianists Kenny Barron, Carla Bley and Randy Weston, vibraphonist Teddy Charles and drummer Chico Hamilton, among many others.