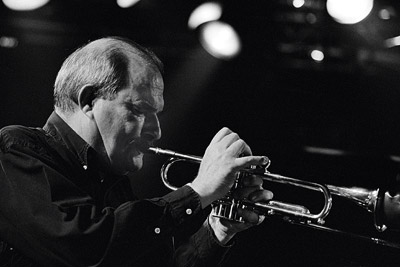 Henrik Otto Donner (1939-2013) grew up in Tampere, an old industrial town in the heart of Finland, where he began playing jazz music in the 1950s with friends from school. His father, engineer Hans Otto Donner (1903-82), was hoping for his son to also take up engineering studies, but his pianist mother, Clara Margaretha Donner (née Wallin, 1910-88), provided a role model for the world of music.
During 1958-62, Donner studied trumpet and composition at the Sibelius Academy in Helsinki under composers Nils-Eric Fougstedt and Joonas Kokkonen, among others, but found this environment too restrictive and decided to pursue private studies outside of Finland. During 1963-64, he studied in Munich at the Siemens Electronic Music Studios, in Bilthoven under composer Gottfried Michael Koenig and in Vienna under composer György Ligeti. During 1963-65, Donner collaborated with composer Terry Riley, participating in various "happenings" with Riley and American director and performance artist Ken Dewey, for example, in Paris. In 1963, the three of them organized "Street Piece", the first "happening" to take place in Finland, in Helsinki´s Esplanade Park.
While studying at the Sibelius Academy, Donner was a member of the Ossi Aalto Quintet (1958-60), which was among the leading Finnish dance bands in its time, and the Esa Katajavuori Quintet (1960-63), which was principally made up of young jazz musicians (including, in addition to pianist Katajavuori and Donner, tenor saxophonist Rainer Björk, bassist Tapani Tamminen and drummer Christian Schwindt). In 1964 and 1965, Donner led his own septet that already included saxophonist and flutist Juhani Aaltonen, who would become Donner´s life-long musical partner. Donner was also the trumpet player and co-leader of the Christian Schwindt - Henrik Otto Donner Quintet (also including saxophonist Erik Dannholm, Tapani Tamminen and pianist Heikki Sarmanto), which recorded one of the first examples of Finnish modern jazz (For Friends and Relatives, RCA, 1965).
In Donner´s personality as an artist, two worlds collided for over fifty years in a manner that resulted in a creative chaos yielding most unpredictable results. In the early 1960s, Donner was considered the great new hope of modern classical music in Finland, but soon became its enfant terrible raising more than a few eyebrows by first embracing jazz as a musician and composer and then rock music and the political song movement as a record producer rather than staying on the course mapped out for him by others.
Donner´s ability to cross boundaries and make a contribution to seemingly irreconcilable cultural environments was characteristic of his entire career. He was not only a brilliant jazz composer and a fine trumpet player, but also a versatile composer of movie, theater and classical music. Without any difficulty, Donner could go straight from a May Day demonstration - albeit after a quick change of clothing - to conduct the male choir Akademiska Sångföreningen in its praise of spring in front of the Finnish-Swedish society. He was a true renaissance man whom one could not even imagine restricting himself to just doing the same thing over and over again. Donner´s oeuvre as a composer ranged from classical orchestra works to political songs and from film music to jazz big band compositions. He composed music for a total of 21 movies as well as for numerous television films and theatrical plays. Donner also composed more than 1,000 songs, several orchestral works, chamber music, choral music, a lied cycle and a musical.
Throughout his career, Donner had a close relationship with poetry. Early examples of this include songs composed for cabaret performances and for the musical Gilbert at Lilla Teatern in Helsinki during the 1960s. Even as a composer of songs, Donner demonstrated his broad-mindedness in that the poems he used came both from the finest Finnish-language (Pentti Saarikoski, Pentti Saaritsa, Matti Rossi, Aulikki Oksanen, etc.) and Swedish-language (Bengt Ahlfors, Johan Bargum, Bo Carpelan, Tommy Taberman, etc.) modernists in bilingual Finland. Donner also composed music to poems by Emily Dickinson, Elmer Diktonius, Ezra Pound and Edith Södergran, among many others.
Beginning with the first Pori Jazz Festival in 1966, performances by Donner´s groups, the 12-member Otto Donner Orchestra in 1966 and various incarnations of The Otto Donner Treatment in 1967, 1968, 1969 and 1970, were among the most highly anticipated by the audiences, who knew to expect the unexpected. For example, the music on his first album as a leader (En soisi sen päättyvän, Love Records, 1970), which was composed to poems by Pentti Saarikoski, was first performed at the Pori Jazz Festival in 1969 by The Otto Donner Treatment, with vocalists Arja Saijonmaa, Tarleena Sammalkorpi, Jim Pembroke and Pepe Willberg, bringing together performers from the worlds of rock and jazz in a way that was new in Finland. The album instantly became a classic of Finnish contemporary music and also included Donner´s first recorded collaboration with Juhani Aaltonen, who was a key soloist in the jazz sextet performing with the singers.
Through their long association, Donner and Aaltonen developed an appreciation and understanding of each other´s music that is rare for any two artists. In fact, Donner himself said that if he were to play the tenor saxophone, he would wish to play it just like Aaltonen. Aaltonen was Donner´s alter ego on the tenor saxophone. A conservatory-trained composer and a largely self-taught intuitive improviser came together to forge a unique, long-term musical alliance. The collaboration between Donner and Aaltonen produced such classic recording as Strings (Love Records, 1976), Dalens ande (The Spirit of the Valley) (Beta Records, 1991) with the UMO Jazz Orchestra and Strings Revisited (TUM CD 003, 2002) with bassist Reggie Workman, drummer Andrew Cyrille and the Avanti! Chamber Orchestra.
Donner was one of the few Finnish jazz musicians who, already in the 1960s, enjoyed considerable renown even outside of Finland - particularly in Sweden where, during 1964-70, he became known as a member of Swedish pianist Lars Werner´s group, Lars Werner och hans vänner, with both Werner and the group´s alto saxophonist, Christer Boustedt, having a lasting impact on Donner. Lars Werner och hans vänner performed frequently both in Finland and in Sweden and, in 1967, recorded only the second album (with Werner, Boustedt, Donner, then 18-year old tenor saxophonist Dave Liebman in his first recorded performance, tenor saxophonist Göran Östling, bassist Sven Hessle and drummer Jan Carlsson) to be released on the newly-formed Love Records, which Donner and Schwindt had founded together with Atte Blom in 1966. Throughout his career, Donner was an important promoter of cultural cooperation among the Nordic countries.
Donner continued to lead The Otto Donner Treatment until the early 1980s, but it performed only sporadically and with decreasing frequency towards the end. The last performance by The Otto Donner Treatment at the Pori Jazz Festival was in 1981 following the release of its album Kuinka myöhään valvoo blues? (Ponsi, 1980), which featured vocalist Eija Ahvo performing pianist Jukka Linkola´s compositions to poems by Arto Melleri and others.
As a result of the expanding operations of Love Records (1966-79) and his positions at the Finnish Broadcasting Company (YLE) (1967-74), Donner increasingly focused on producing music and taking on various administrative duties in the music industry. However, he used these new distribution channels to advance the music of others rather than his own.
Donner became particularly renowned as a record producer, arranger and music publisher. He produced over 100 albums representing a broad range of music and his arrangements played a central role on a number of popular music and rock recordings. Just as Donner had been a key participant in the creation of the musical sound of the new wave of Finnish film, for example in the movies of Risto Jarva, Mikko Niskanen, Jaakko Pakkasvirta and Eino Ruutsalo, among others, during the 1960s and the 1970s, it would be difficult to even imagine Finnish popular music of the 1970s and the 1980s without his contribution. Good examples of this are not only certain key recordings by rock singers, such as Dave Lindholm and Jim Pembroke, and various rock groups, such as Blues Section, Wigwam and Tasavallan Presidentti, but also by popular singers, such as Maarit and Pepe Willberg, and even actor Tauno Palo. In 2010, Donner collaborated again with Dave Lindholm on a blues and jazz influenced recording, More Than 1-2-3 (TUM-A CD 001), and, at the time of his passing, he was in the process of finalizing his first new project with Jim Pembroke in more than three decades.
Like other true masters, Donner´s work as a composer and arranger was instantly recognizable. For example, when strings arranged by him blossomed to their full sound behind a vocalist, the listener knew from the very first notes who had been responsible for them.
One unfortunate consequence of Donner´s broad range of activities was that less and less was heard from him as a band leader and a musician. While Donner continued to compose prolifically, there seemed to be little time left for performing. As a result, there are only a few recordings or other documents of Otto Donner the trumpet player and jazz composer from the late 1970s, the 1980s or the 1990s. Therefore, his decision to establish Free For All in 1997 was particularly welcome for the many fans of Donner´s own music and his trumpet playing.
For the first three years, Free For All operated with the basic line-up of Donner, saxophonist Rasmus Korsström, pianist Seppo Kantonen, guitarist Jukka Orma, bassist Ulf Krokfors, drummers Affe Forsman and Markku Ounaskari, tama player Yamar Thiam and vocalist Johanna Iivanainen (then still known by her maiden name, Johanna Niemelä). This group was also featured on Free For All´s first album (Free For All - Live, Beta Records,1999). Later, Markku Veijonsuo´s trombone and Pepa Päivinen´s baritone saxophone were added, following their involvement in the documentary film Tomorrow, Again (Imorgon, Igen), which presented Free For All in the midst of its creative process. By the time the group started bi-weekly performances at Helsinki´s JUMO Jazz Club in 2001, Ville Huolman had become its principal bassist and Tom Nekljudow its drummer. In early 2002, Donner began recording the performances of Free For All at the JUMO Jazz Club and, in 2010, some of these recordings were released as a 6-CD package (Live at Five Corners, TUM Box 001), which also includes a DVD-version of Tomorrow, Again. On these recordings, Donner could be heard as a trumpet player to full effect for the last time.
One key member of Free For All was Johanna Iivanainen, who became the last important female vocalist in Donner´s music. Donner loved the human voice as an instrument over all others and also collaborated over the years with Arja Saijonmaa, Maarit, Anneli Saaristo, Eija Ahvo, Irina Milan and Liisa Tavi, among others. Donner himself was also a masterful interpreter of both his own songs and of jazz standards, and could occasionally be heard as a vocalist with Free For All.
Donner was an influential figure in the Finnish music industry for over four decades. He served as the head of Finnish Radio´s entertainment department, Chairman of the Finnish State´s Music Council (Säveltaidetoimikunta), Chairman of the Association for the Advancement of Live Music (ELMU), Chairman of the Finnish copyright association Teosto and in numerous other positions of trust within the music industry. From 2002 until 2007, Donner served as the Emeritus Professor of Arts at the Jazz Department of the Sibelius Academy and, from 2000 until 2009, as the President of the European Music Office. For the last 15 years, Donner also presided over DER (Digital Editing Room), his mixing and mastering studio.