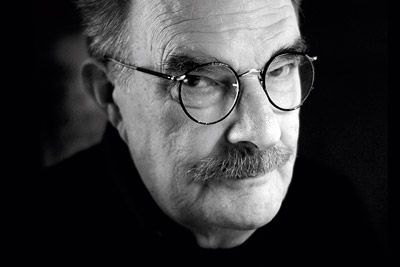 HENRIK OTTO DONNER (1939-2013)
As Henrik Otto Donner and I collaborated closely for almost five decades, there is not any one thing that rises above others when I think about him now, only a few months after his passing. Rather, it is the person as a whole - both the man and the musician and composer.
When we first met in the early 1960s, I was still finding my way as a young musician with an almost total lack of confidence in my own skills. Otto on the other hand - although a few years younger than I - was already a rather well-known figure in Finnish music circles. In a way, we could not have been more different. I had been forced by circumstances to drop out of school in my teens and to work as a common laborer before turning to music in my early twenties, whereas Otto came from one of the best known cultural families in Finland with a family tree filled with industrialists, doctors, writers, professors, scholars and senators. Still, our cooperation somehow worked from the very beginning until its premature end, with this recording being the final chapter.
Above all, Otto gave me the courage to be myself. Whatever I played seemed good enough for him although, almost without me knowing it, he always continued to push me further. Otto was a liberator for me - both as an individual and as a musician - always searching for something new. His approach was not to tell you what to do or what not to do, but to find a way to give you subtle guidance nevertheless.
Otto gave me countless new opportunities to develop as a musician by featuring me as a soloist in a series of very different musical environments. By being so fearless and ceaselessly creative himself, Otto also gave me the courage to follow his example. For me, it was always intuitively easy to understand what Otto was looking for, which gave me confidence to pursue new approaches with him.
As a composer, Otto was unique in that he combined modern jazz expression deeply rooted in bebop with his understanding of contemporary classical music. Above all, he would always surprise you. Otto´s compositions never followed the obvious or the conventional route and you never knew exactly what was waiting for you around the corner. Instead, often using just a few notes and a surprising chord selection, he would open up new directions and unique possibilities for the soloist to follow. He gave the soloist true liberty, if only you were willing to take advantage of it. For example, with its shifting moods, the title composition of this recording, "And It Happened…", opens up endless possibilities for the soloist intent on exploring them, but could end up in utter failure if you were just looking for answers on the note paper.
One thing that Otto and I shared was a strong sense of drama, a willingness to vary the moods, together with a certain lack of patience, a refusal to keep repeating the same thing. In this, we were truly kindred spirits. Even if we used one of his compositions repeatedly over the years, such as "Sax Ballad" (composed in 1966 and included both on Strings in 1976 and Strings Revisited in 2002), which in its seeming but deceitful simplicity has always been one of my favorites, it was always different when performed anew. Doing something the same way as the last time was simply not an option with Otto.
As a melodist, Otto was without equal. To me, Otto was like Pablo Picasso among painters. He had the ability to look at a melody from different perspectives and to take you by surprise, just like Picasso might in one of his paintings present half the face of his model in profile and the other half looking straight at you. You did not expect it, but once you got used to it, it made perfect sense. It was the same with Otto´s compositions.
Although there is sometimes a Scandinavian flavour to Otto´s songs in particular, I feel that his music is first and foremost truly Finnish, rooted in the Finnish soil, showing a willingness to dig deeper, to get your hands dirty, rather than just skating on the surface. Similarly, although Otto came from a deeply cultured background, I always felt that there was a man of the street in him as well and that this could be heard in his music.
Having said all that, one feeling dominates: a sense of loss and longing. Missing the man I knew for so long.
Helsinki, October 15, 2013
Juhani Aaltonen
...
AND IT HAPPENED…
The first ten years in the history of TUM Records are closely tied to Henrik Otto Donner, whom I befriended in the 1970s when we were both active in various nonprofit organizations for the advancement of jazz music and other good causes. Although we lost touch over the years, particularly when I lived abroad, we renewed our friendship after I returned to Finland in 1992.
In 2002, I was planning a concert in Helsinki featuring tenor saxophonist Juhani Aaltonen with bassist Reggie Workman and drummer Andrew Cyrille. Having long been a fan of the Strings album from 1976, which had Aaltonen playing Donner´s compositions with a jazz group and a small string section, I suggested that Otto write some string arrangements for the upcoming concert. The concert program was also recorded and the resulting album, Strings Revisited (TUM CD 003), became the first production for TUM Records.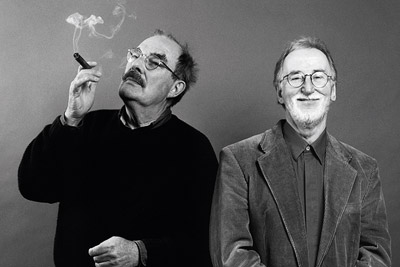 After this first project and the decision to establish TUM Records to release it, Otto became a mentor and a trusted advisor for TUM, always available to give advice and to help out. TUM Records also had the opportunity to release his 6-CD box with the Free For All ensemble (TUM Box 001) and his recording with Dave Lindholm, More Than 123 (TUM-A CD 001), among others. I do not know how many times I travelled to Otto´s hometown, Tammisaari, to visit his studio during the past ten years, but it must have been close to a hundred.
In 2012, ten years had passed from our first joint project for TUM and it was time to consider another one. I knew that Otto had wanted to revisit some of his compositions that had been performed at the "OD Overdose" concert in Porvoo in 2007, which featured Juhani Aaltonen and Johanna Iivanainen as the principal soloists of a 22-member big band, so I suggested a big band. Otto quickly agreed, outlining his preferred instrumentation, including an enlarged string section, which then became the second incarnation of TUMO. From the beginning, it was clear that Aaltonen and Iivanainen would again be the soloists.
For the concert and this recording, Otto chose two central compositions from the 2007 concert in Porvoo, "These Are The Days" and "And It Happened…". In addition, he chose two extended compositions for a tenor saxophonist and big band, "Junnudå?" and "Have Me, Hold Me", from a radio session he had done with the UMO Jazz Orchestra in 1991 as well as three short songs from the same radio session, "Close Your Eyes", Entreaty" and "The First Summer", which, although they were composed during three different decades, work well together almost as a mini-suite. Finally, Otto wanted to add one composition for the orchestra to play without the soloists and, for this, we agreed on "For Friends and Relatives", which had also been his first recorded composition almost 50 years earlier.
Although we had not originally intended the concert to be a career retrospective, it ended up being one. Of the eight compositions, two are from the 1960s, two are from the 1980s, two are from the 1990s and two are from the new millennium. It is not entirely coincidental that the 1970s are not represented as that decade was largely overtaken by Otto´s many responsibilities at Love Records and elsewhere rather than his own music-making.
After these selections were made, Otto set out to rearrange most of the compositions, including by writing new string arrangements for four of them. Unfortunately, due to Otto´s health - he had suffered from Parkinson´s disease for a number of years and, on top of that, had broken his back in a boating accident in May 2012 - it was not possible for him to compose any new music for the concert, but his health issues did not in any other way diminish his enthusiasm for the project. Preparations were in full swing by August 2012 and continued literally until the last minute.
Otto was a firm believer in the old adage that "a deadline is the greatest source of creativity" and, true to his old habits, he was working on his arrangements more or less day and night during the two weeks that preceded the concert. Drafts kept disappearing into Otto´s rather outdated computer, printers kept refusing to print and final arrangements were copied at Finlandia Hall only right before the soundcheck for the concert - but it all worked out beautifully in the end.
Otto was ever present during those days and also ended up conducting the strings during the recording that followed the concert as the strings were placed in a separate studio adjacent to the studio that housed the big band and were connected to the main studio only through a video and sound link. The recording was made "live in studio" with virtually no overdubs as the big band, the strings and the soloists all performed simultaneously.
After some preparatory work had been completed, the first mixing session was scheduled for July 1 and 2, 2013. My last conversation with Otto took place on June 26, when I called him on his boat in the harbor town of Pietarsaari on the west cost of Finland. Otto was preparing for the first sailing of the summer, with his crew scheduled to arrive in Pietarsaari the following day, and was in an extremely cheerful mood over the prospect of sailing from Pietarsaari to Hanko on the south coast of Finland. The recently released recording Occupy The World by Wadada Leo Smith and TUMO was playing on the loud speakers of his boat when Otto and I discussed the coming mixing sessions. We were both looking forward to again hearing the music recorded in October 2012 and going to work on its release.
Then disaster struck. The following day, we learned that soon after our phone conversation, Otto had apparently stumbled on the deck of his boat, struck his forehead and fallen into the sea where he was later found drowned.
Although with great sadness, we decided to keep the mixing dates and to proceed with the release of the music according to the schedule that had been agreed with Otto. Only what was to be a celebration of his music with him joining in now had become a memorial album instead.
No one recording can present an even remotely adequate summary of the music that Otto created during his 55 years as a composer and musician. Still, And It Happened… gives a glimpse of what we will be missing.
Finnish cultural life has lost a uniquely broad-minded and inspiring leader. Nobody can replace the Otto we will always remember: a funny, intelligent, civilized and, above all, deeply humanistic man of culture.
Helsinki, October 15, 2013
Petri Haussila
...
THE MUSIC
Junnudå? (Henrik Otto Donner; 1991) was originally composed in 1991, under the title "Sonido", for saxophonist Kari "Sonny" Heinilä and the UMO Jazz Orchestra. It was recorded for the Finnish Broadcasting Company (YLE) at the original JUMO Jazz Club located in a far corner of Asematunneli, an underground shopping mall adjacent to the Helsinki Railway Station. At the time, UMO used the club both as its rehearsal and its performance space, but this particular project was not performed before a live audience.
For its first public performance at Finlandia Hall in October 2012 and for this recording, Donner renamed the composition "Junnudå?" in dedication to its new soloist Juhani Aaltonen, whom everybody in the Finnish jazz circles knows as "Junnu". The title could be translated to mean "How about Junnu, then?" and the consensus was that Junnu did just fine.
Big band
Soloist: Juhani Aaltonen, tenor saxophone
Close Your Eyes (Slut ögonen)(Music: Henrik Otto Donner; Lyrics: Bo Carpelan; Translation: Ira Donner; 1963/1991/2012) was originally composed by Donner in 1963 to a text by poet Bo Carpelan and was included in the musical "Gilbert", which was performed at Lilla Teatern in Helsinki during the 1963-64 season. The musical was composed by Donner to a text by Tauno Yliruusi, but as was often the case, additional material was contributed by other writers as well. In the musical, "Slut ögonen" was performed by Laila Kinnunen, one of the most popular vocalists in Finland during the 1960s, who was also a talented jazz singer.
A big band arrangement of the composition was written by Donner in 1991 for the same radio session during which "Sonido" ("Junnudå?") was recorded. The English-language translation of "Slut ögonen" was written for the performance at Finlandia Hall in 2012 and for this recording.
Big band
Soloists: Johanna Iivanainen, vocals
Juhani Aaltonen, tenor saxophone
Entreaty (Bedjan) (Music: Henrik Otto Donner; Lyrics: Johan Bargum, Translation: Ira Donner; 1986/2012) was composed in 1986 as Movement 4 of the six-part orchestral suite, or Aerophony, by Donner called Dalens ande (The Spirit of the Valley). In 1991, the composition was recorded by the UMO Jazz Orchestra over two nights of live performances at the JUMO Jazz Club with Juhani Aaltonen as its principal soloist on the bass flute and the tenor saxophone, but for Movement 4, vocalist Liisa Tavi was the featured soloist.
Dalens ande was inspired by the Swedish author Rolf Edberg´s book by the same name (Norstedts, 1976), which was published in English under the title "The Dream of Kilimanjaro" (Pantheon, 1976). This book, a poetic and ecologically aware study of the birth of the human race in Kenya´s Great Rift Valley, had made such an impression on Donner that, uncharacteristically for him, he recommended the book to many of his friends. For Dalens ande, poet Pentti Saaritsa wrote the Finnish-language text titled "Oratorio" based on elements derived from the book. Around the same time, poet Johan Bargum wrote the Swedish-language version titled "Bedjan", but nobody seems to remember which came first.
For the performance at Finlandia Hall in 2012 and for this recording, the song was translated from the Swedish-language text into English. Donner also added strings to the original arrangement, which had featured a 28-piece big band.
Big band with strings
Soloist: Johanna Iivanainen, vocals
Featured: Martti Vesala, trumpet
The First Summer (Den första sommaren) (Music: Henrik Otto Donner; Lyrics: Bengt Ahlfors; Translation: Jonathan Lutz; 1991/2012) was first performed by the UMO Jazz Orchestra in 1991 during the same radio session as "Sonido" ("Junnudå?"), with vocalist Irina Milan as its soloist. Bengt Ahlfors wrote the original Swedish-language poem for his daughter Katja, and it was published in his first collection of poems (Sånger och visor, Söderströms, 1971) from which Donner, years later, selected the poem to compose.
The English-language translation of "Den förstasommaren" was written for the performance at Finlandia Hall in 2012 and for this recording.
Big band
Soloist: Johanna Iivanainen, vocals
Featured: Kasperi Sarikoski, trombone
Have Me, Hold Me (Henrik Otto Donner; 1985/2012) was composed in 1985. It was first recorded by the UMO Jazz Orchestra in 1991 during the same radio session as "Sonido" ("Junnudå?").
Although the composition most certainly reflects Donner´s background in jazz music, the ensemble parts also feature the side of his character as a composer that was closer to the world of modern classical music.
For the performance at Finlandia Hall in 2012 and for this recording, Donner added strings to the original big band arrangement.
Big band with strings
Soloist: Juhani Aaltonen, tenor saxophone
These Are The Days (Music: Henrik Otto Donner; Lyrics: Emily Dickinson; 2007/2012) was composed to a poem by Emily Dickinson for the "OD Overdose" concert at the Musica Futura Festival in Porvoo, Finland, in 2007.
The concert in Porvoo was organized to celebrate Donner´s 50 years as an artist as well as his then approaching 70th birthday. The 22-member orchestra in Porvoo was conducted by Donner himself and, for the most part, included musicians with whom Donner had extensively collaborated during his career. Nearly half of them were also members of this second incarnation of TUMO. The concert, held at Porvoo´s Grand Theatre, was filmed and is available as a 66-minute concert relay (Kroma Productions).
Just like on this recording, Johanna Iivanainen on vocals and Juhani Aaltonen on alto flute were featured as soloists for the composition´s premier in 2007. Strings were added to the arrangement by Donner for the performance at Finlandia Hall in 2012 and for this recording.
Big band with strings
Soloists: Johanna Iivanainen, vocals
Juhani Aaltonen, alto flute
Featured: Kasperi Sarikoski, trombone
And It Happened… (Henrik Otto Donner; 2007/2012) was composed for the "OD Overdose" concert at the Musica Futura Festival in 2007 and featured Juhani Aaltonen as the soloist on the tenor saxophone.
The composition is made up of 12 compositional units that are placed in sequence in such a manner that the orchestra can begin with, or return to, any of the units in a manner that can vary from performance to performance.
Prior to the concert at Finlandia Hall in 2012 and even in the recording studio, Donner was still working to further develop some of these compositional units, including writing a cadenza for the soloist that he added to one of the units as a reference point for improvisation. While the orchestral parts of the composition are largely written, with space left for collective improvisation, Juhani Aaltonen´s extended solo is improvised virtually in its entirety.
Big band
Soloist: Juhani Aaltonen, tenor saxophone
For Friends And Relatives (Henrik Otto Donner; 1963/2012) was originally composed in 1963 and first recorded by the Christian Schwindt - Otto Donner Quintet in 1965 for an album named after the composition and released under Schwindt´s name. It was Donner´s first recorded composition.
Donner wrote a new big band arrangement of "For Friends and Relatives" for the concert at Finlandia Hall in 2012 so that TUMO could play it as an opening number before the soloists were brought on stage. As was often the case with Donner, preparations continued until the very end and copies of the final arrangement were made at Finland Hall just in time for the soundcheck before the concert and the arrangement was fine-tuned further for the recording.
Initially, there was no intention to include the composition on this recording, but as the band had such a good time playing it, a decision was made to record it nevertheless. It also seemed appropriate to include "For Friends and Relatives" on this album, thus making it the closing number on both Donner´s first and his last recording.
Big band with strings
Featured: Kalevi Louhivuori, trumpet
Tero Saarti, trumpet