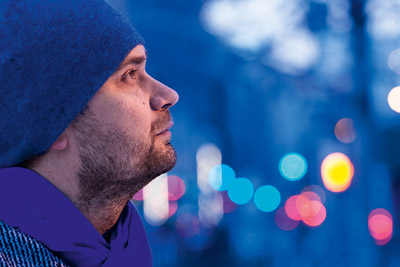 SONG FOR A NEW DECADE
(Mikko Innanen)

Song for a new decade
for this one
for the next one
a sweet song
a sad song
a song with the words unheard
looking ahead
reaching out for tomorrow
there´s always tomorrow.
...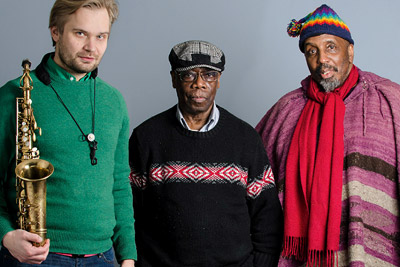 MIKKO INNANEN WITH WILLIAM PARKER AND ANDREW CYRILLE
I started playing the saxophone at the age of ten, very soon after falling for my father´s jazz record collection and beginning to listen to the likes of Charlie Parker, John Coltrane, Thelonious Monk, Duke Ellington and Ornette Coleman. I also read some jazz biographies like "Bird Lives" and "To Be Or Not To Bop," Downbeat Magazine and, of course, the back covers and booklets of the LPs and CDs I listened to. I was a teenage jazz buff in a small Finnish town where most of my friends were listening to Metallica, Guns N´ Roses and various Finnish rock groups like Klamydia and what have you.
Perhaps to escape the realities of Finnish small town life, I started having these fantasies about New York City and its jazz musicians. What is life like over there? How would it feel to play music on the same soil as most of my greatest musical heroes? Oddly, it was not until March 2008 that I started making regular "field trips" to New York, sometimes staying just for a few weeks and sometimes for several months. Although most of my childhood illusions were long gone by that point - I had just turned 30 - there seemed to be something about the place and the people in New York that made me feel like an over-excited teenager again, running around the city looking for music like it was something my life depended on it. And, come to think of it, maybe it did.
Life can be hard for jazz musicians in the big city. If you want to play improvised music, you have to create your own opportunities and, for the most part, very little money is involved. This applies not only to visiting musicians like myself but also to many of the local musicians known to the entire jazz world. So, during one of my stays in New York, in December 2009, I decided to approach William Parker and Andrew Cyrille about the possibility of spending a day in a studio making music together. Andrew and I had gotten to know each other a little bit in Helsinki, where we had both performed at TUMfest, and also in New York, but I only knew William through his music. However, after I approached the two gentlemen and also the Systems Two recording studio in Brooklyn, a date was quickly set for January 2010.
With the sounds of William and Andrew in mind, I composed most of the trio tunes on CD-1. Often, I am inspired to compose while I am away from my home in Helsinki. I don´t really know why, but that´s how it is for me. Five out of the eight tracks were composed at various locations in New York City specifically for this session. Of the remaining three, one was composed in Copenhagen during the previous summer, one in Antwerp in the spring and one was a spontaneous collective composition created live in the studio.
New music, new company. To put it mildly, I was excited and also a bit nervous before having my first musical meeting with these two masters. (Mind you, Andrew´s recording debut was with Coleman Hawkins in 1961 and William first recorded with Frank Lowe in 1973, if I´m not mistaken.) Who am I to play with these leading improvisers of their respective generations, creators of truly unique sounds on their instruments? Quite soon I realized, however, that with these kind and supportive men all I needed to do was to relax, be myself and enjoy the ride.
I had my own ideas about how I wanted my compositions to be played, but didn´t want to give too much instruction to William and Andrew. What they could do would be much more interesting than what I could possibly envisage. Some of the tunes are rather traditional in the sense that we are improvising over a set of chord changes or a form (one of them, "Blue In Nublu," even has lyrics). Yet, I hoped we could play them in a loose and spontaneous manner.
The title tune makes reference to the end of the first decade of this millennium and the beginning of the second. For some, years are just numbers. To me, both personally and musically, the change from 2009 to 2010 felt quite significant. Something was about to happen, something had to happen and you needed to make some room for it. Move ahead and "Leave it all behind ya!" as the great Louis Armstrong once said.
Listening to this music now is like reading an old diary. Music is an abstract art form, but the situations, people, locations and personal feelings that affect its creation can be very concrete. On every listening, I hear William and Andrew playing something different, something I did not hear before. And I wonder how they do that.
I´ve played most of the tunes on Song For A New Decade with many great musicians and groups since, but there´s something very fresh and unique about the way we play them here that can never be recreated. I like that. I don´t want to go too much into technical detail about the music because that´s not what it´s all about. It is what it sounds like. I was close to making a little overdub at a certain spot of one tune, "correcting" a note that to me sounded unintentionally off, but my fellow band members advised me not to do so. I believe they were right about that. Better to leave it like it is.
The music on CD-2 comes from my first duo performance with Andrew, recorded live in June 2012 at the first Mikko Innanen Intercontinental Extravaganza in Brooklyn´s Ibeam Music Studio. This two-day mini-festival featured some of my very favorite musicians: Sylvie Courvoisier, Andrew Cyrille, Ken Filiano, Lou Grassi, Thomas Heberer, Joe Hertenstein, Max Johnson and Steve Swell. A year later, I organized a sequel, featuring Michael Bates, Raoul Björkenheim, Courvoisier, Grassi, James Hurt, Johnson, Pascal Niggenkemper and Weasel Walter. Hopefully, a third Mikko Innanen Intercontinental Extravaganza will happen some time in the near future and feature more of my old and new friends from New York City and its surrounding areas.
As a duo, Andrew and I improvise freely - no compositions, rules or other preconceived plans are involved. It feels so easy and effortless to do so with him - we can visit any musical place and move to any direction we fancy. To me, that´s true freedom. We have continued playing duo concerts after the first one - visiting a string of musical places - but there is still a lot of new ground for us to discover.
Helsinki, November 10, 2014
Mikko Innanen
...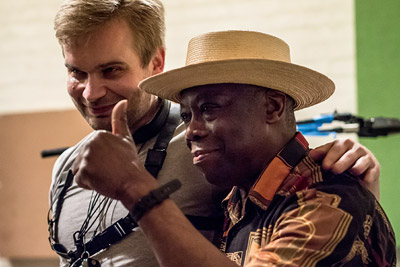 Song for a New Decade
(Mikko Innanen)
Staying all alone at Ryan Blotnick´s old place in
South East Williamsburg on
the last the day of 2009.
The eve of a new decade.
Feeling a bit confused.
Fooling around with Blotnick´s acoustic guitar.
Singing along.
Waiting for a new era to begin.
The End Is a Beginning
(Mikko Innanen)
The day after.
Contemplating.
Leaving it all behind.
Moving forward.
Speaking Lingala with Kim.
Learning the right steps.
Karl´s Castle
(Mikko Innanen)
Karl had a castle on South 1st Street.
Up in his tower he was
making paintings of the Williamsburg Bridge,
selling them to tourists,
before moving on to Paris to get more serious with his art.
Where are you now, Karl? What are you doing?
Look for the Red Door
(Mikko Innanen, William Parker and Andrew Cyrille)
Take a right on Ditmas Avenue.
Look for the red door.
Press the buzzer.
Go in.
-----
"I think it´s
dragging."
Well, at least something´s
happening!
A Morning, a Day, a Night
(Mikko Innanen)
At Søren Møller´s and Max Wild´s place on St. Nicholas Avenue in Harlem
in November 2009.
Since then they´ve closed down St. Nick´s Pub.
Remember "Bird at St. Nick´s"?
Don´t spend too much time online in Facebook®, E-bay, Craigslist etc. - it´s unhealthy.
Do something else.
Put the bluefish in the oven. (4.99/lb!)
Max is doing some serious practicing every morning.
What am I doing here?
See You at 103
(Mikko Innanen)
"We meet in 103" - the slogan of the Vibenhus Bodega located at Østerbrogade 103 in Copenhagen. I wrote this 13-bar tune there in my little black notebook on June 17, 2009 while sipping a pint of that good old Danish beer, I´m guessing Rød Tuborg. Dedicated to my friend, the great Danish trumpeter Kasper Tranberg.
Blue in Nublu
(Mikko Innanen)
She said "ask me" then she said "no"
the most amazing thing I ever saw -
in you.
Too bad you didn´t feel the same ´bout me.
No substitutes,
or: they didn´t go for it either.
Shit.
Text written in Nublu and the music on the Q-train, December 2009, New York City
Small and Big Steps
(Mikko Innanen)
The first warm and sunny spring day
sitting down at a table outside
a small café and writing down this little melody that
is a bit like that Jobim song, but then again not quite.
Antwerp, Belgium, spring 2009.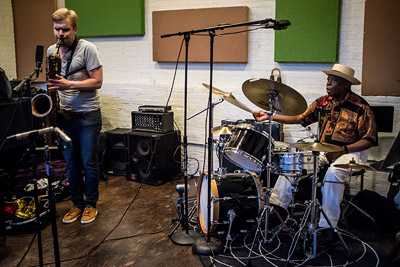 Songs for This Decade
(Mikko Innanen and Andrew Cyrille) is comprised of six duo improvisations by Innanen and Cyrille.
The music was performed and recorded live. To make it easier for listeners and radio station DJs (!) to digest, the continuous performance was split into six pieces for this release. No other artificial means to enhance the experience were used in the production.