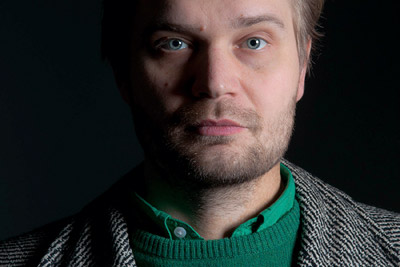 Mikko Innanen (b. 1978) began playing the alto saxophone at the age of ten. He graduated with a Master of Music degree from the Jazz Music Department of the Sibelius Academy in 2003. Innanen spent one year of his studies - fall 1998 and spring 1999 - in Copenhagen at the Rhythmic Music Conservatory, where he studied with and befriended a number of Danish and other students, leading to collaborations that still continue today.
In the past decade or so, Innanen has established his position as one of the most innovative saxophonists and composers hailing from the Nordic scene for jazz and improvised music. He has also spent a considerable amount of time in New York City performing with many of the leading improvisers on the local scene. To date, he has participated in close to 50 recordings as a leader, co-leader or featured member of an ensemble. In November 2008, Innanen received the Finnish Jazz Federation´s annual Yrjö Award as the Finnish jazz musician of the year.
Innanen currently works with his own groups ranging from Mikko Innanen & Innkvisitio (Paa-Da-Pap, TUM CD 019, and Clustrophy, TUM CD 025) and the 12-piece Mikko Innanen 10+ to his New York-based trios with bassist Joe Fonda and drummer Lou Grassi and with bassist William Parker and drummer Andrew Cyrille as well as his solo project, Mikko Innanen F60.8. He is also well known for his participation in various collaborative groups, such as PLOP (with bassist Ville Herrala and drummer Joonas Riippa), Delirium (with trumpeter Kasper Tranberg, bassist Jonas Westergaard and drummer Stefan Pasborg; Eclexistence, TUM CD 010), Gourmet (with trombonist Ilmari Pohjola, Veli Kujala, guitarist Esa Onttonen, tuba player Petri Keskitalo and drummer Mika Kallio), Treffpunkt (with violist Frantz Loriot, pianist Cedric Piromalli and bassist Christian Weber), The Curators (with bassist James Ilgenfritz and percussionist Joe Hertenstein), Triot (with bassist Nicolai Munch-Hansen and Stefan Pasborg; Triot with John Tchicai (Sudden Happiness, TUM CD 008), Mikko Innanen-Jaak Sooäär-Han Bennink Trio (Spring Odyssey, TUM CD 015), Innanen / Piromalli / Hauta-aho / Lovens Quartet and Mikko Innanen & Aki Rissanen Frozen Gainsbourg. He also performs with TUMO (with Wadada Leo Smith: Occupy the World, TUM CD 037-2, and with Henrik Otto Donner: And It Happened…, TUM CD 039), Stefan Pasborg´s Free Moby Dick, André Sumelius´ Tonight At Noon, Pekka Tuppurainen´s Röd/Blå, Teppo Mäkynen´s Serenity Ensemble, Per Zanussi´s Zanussi 13, Jori Huhtala 5 and Admiral Awesome. His past collaborations have included Iro Haarla-Ulf Krokfors Loco Motife (Penguin Beguine, TUM CD 011), Mr Fonebone, Nuijamiehet, Teddy Rok 7, Triade, Ibrahim Electric, the UMO Jazz Orchestra and the Espoo Big Band.
In addition, Innanen has performed and/or recorded with a number of other well-known international artists such as trumpeters Laurent Blondiau, Magnus Broo, Ted Curson, Thomas Heberer, Ingrid Jensen, Herb Robertson and Emil Strandberg, saxophonists Joachim Badenhorst, Jakob Dinesen, Daniel Erdmann, Frank Gratkowski, Fredrik Ljungkvist, Liudas Mockunas, Josh Sinton and Dayna Stephens, clarinetist Jean-Brice Godet, trombonists Yves Robert and Steve Swell, pianists Jacob Anderskov, Sylvie Courvoisier and Fred Van Hove, violist Mat Maneri, guitarists John Ehlis, Takayuki Kato and Hans Olding, vibraphonist Karl Berger, balafonist Aly Keita, bassists Ken Filiano, Barry Guy, Ingebrigt Håker Flaten, Max Johnson, John Lindberg and Pascal Niggenkemper, drummers Joe Hertenstein, Håkon Mjåset Johansen, Paal Nilssen-Love, Kresten Osgood, Tom Rainey and Weasel Walter, percussionist Adam Rudolph as well as virtually all of the musicians active in the Finnish jazz scene.

...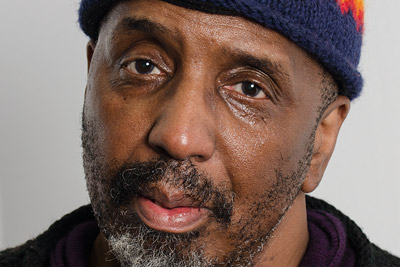 William Parker (b. 1952) is an improviser and composer born in the Bronx in New York City. He studied the double bass with Richard Davis, Jimmy Garrison, Wilbur Ware and Paul West and also plays the shakuhachi, double reeds, tuba, donso ngoni and gembri.
Parker entered the music scene during New York´s loft jazz era in the early 1970s, performing at Artist House, Studio Rivbea, Studio WE, Hilly´s on The Bowery, the Salt and Pepper club and The Baby Grand, among others. His particularly memorable early appearances include a performance with pianist Cecil Taylor´s big band at the Carnegie Hall in 1974 and with trumpeter Don Cherry at the Five Spot in 1975.
Parker quickly became a much sought-after bassist playing primarily with fellow avant-gardists, such as Rashied Ali, Donald Ayler, Roger Baird, Rashid Bakr, Billy Bang, Karl Berger, Charles Brackeen, Dave Burrell, Daniel Carter, Denis Charles, Ellen Christi, Marilyn Crispell, Bill Dixon, Zusaan Kali Fasteau, Milford Graves, Günter Hampel, Billy Higgins, Wayne Horvitz, Khan Jamal, Peter Kuhn, Jeanne Lee, Bill Lowe, Frank Lowe, Jimmy Lyons, Raphe Malik, Jemeel Moondoc, Lawrence "Butch" Morris, Sunny Murray, Alan Silva, Sonny Simmons, Charles Tyler, Henry Warner, Arthur Williams and Frank Wright, as well as with traditionalists, such as Walter Bishop, Sr. and Maxine Sullivan.
Parker´s early collaborations with the dancer and choreographer Patricia Nicholson created a large repertoire of composed music for ensembles ranging from solo works to big band projects. Some of this previously unreleased music by Parker´s early groups, such as the Music Ensemble, Centering Music/Dance Ensemble, Centering Big Band and The Aumie Orchestra, has recently been made available (Through Acceptance Of The Mystery Peace, recorded in 1974-76, and Centering - Unreleased Early Recordings 1976-1987). While continuing their artistic collaborations, Nicholson and Parker have also been central forces behind the annual New York Vision Festival, which began in 1996 as a successor to the Sound Unity Festival that Parker had initiated with fellow bassist Peter Kowald in 1984.
Parker first recorded with saxophonist Frank Lowe (Black Beings and The Lowoski in 1973 and Out Loud in 1974), thereby beginning a recording career that now includes some 400 releases.
Parker became internationally recognized when playing in the Cecil Taylor Unit from 1980 through 1991 (Calling It The Eight in 1981, Winged Serpent in 1984, Olu Iwa in 1986, Live In Bologna, Live In Vienna and Tzotzil Mummers Tzotzil in 1987, Alms-Tiergarten (Spree) in 1988, In Florescence in 1989 and 2 Ts For A Lovely T, Celebrated Blazons and Dance Project in 1990).
Parker´s key collaborators have included violinist Billy Bang (Black Man´s Blues and New York Collage in 1977, Changing Seasons in 1980, The Fire From Within in 1984 and Live At Carlos I in 1986), saxophonist Jemeel Moondoc (First Feeding in 1977, The Evening Of The Blue Men in 1979, New York Live!, The Intrepid/Live In Poland and Konstanze´s Delight in 1981, Nostalgia In Times Square in 1985, New World Pygmies in 1998, Live In Paris in 1999, New World Pygmies, Vol. 2 in 2000 and Live At Glenn Miller Café, Vol I in 2002), saxophonist David S. Ware (more than 20 recordings from Passage to India in 1988 to Planetary Unknown in 2010), pianist Matthew Shipp (about 20 recordings starting with Points in 1990), saxophonist Charles Gayle (Touchin´ On Trane in 1991, Raining Fire, Translations, Blue Shadows, More Live and Consecration in 1993, Kingdom Come in 1994 and Daily Bread in 1995), trumpeter Roy Campbell (New Kingdom in 1991, Communion in 1994, Ancestral Homeland in 1998, Ethnic Stew And Brew in 2000 and Tribute To Albert Ayler in 2008), saxophonist Rob Brown (Breath Rhyme in 1989, High Wire in 1993, Round The Bend in 2002, The Big Picture in 2004 and Crown Trunk Root Funk in 2008), guitarist Joe Morris (Illuminate in 1993, Elsewhere in 1996 and Invisible Weave in 1997) and drummer Hamid Drake, one of Parker´s most frequent collaborator in the past two decades (First Communion and Piercing The Veil in 2000, The Last Dances in 2002, Evolving Silence Vol.1 and Vol.2 in 2005 and Blissful in 2007), among many others.
Parker has participated in a number of collective groups, including the Melodic Art-Tet (with trumpeter Ahmed Abdullah, saxophonist Charles Brackeen, drummer Roger Blank and percussionist Tony Waters; Melodic Art-Tet in 1974), Trio Hurricane (with saxophonist Glenn Spearman and drummer Paul Murphy; Suite of Winds in 1986, Vision Volume One in 1997 and Live At Fire In The Valley in 1997), Collective 4tet (with trombonist Jeff Hoyer, pianist Mark Hennen and percussionist Heinz Geisser; The Ropedancer in 1994, Live At Crescent in 1997, Moving Along in 2002 and In Transition in 2008), Other Dimensions In Music (with trumpeter Roy Campbell, saxophonist Daniel Carter and drummer Rashid Bakr; Other Dimensions In Music in 1989, Now!, Vision Volume One and Time Is Of The Essence Is Beyond Time in 1997, Live At The Sunset in 2006 and Kaiso Stories in 2010) and Die Like a Dog Quartet (with trumpeter Toshinori Kondo, saxophonist Peter Brötzmann and drummer Hamid Drake; Die Like A Dog in 1993, Close Up in 1994, Little Birds Have Fast Hearts No. 1 and No. 2 in 1997, From Valley to Valley in 1998 and Aoyama Crows in 1999), among others.
Parker has also performed with a number of musicians and groups coming from the Association for the Advancement of Creative Musicians (AACM), including Muhal Richard Abrams, Fred Anderson, Anthony Braxton, Ernest Dawkins, Roscoe Mitchell, Henry Threadgill, Wadada Leo Smith, Phillip Wilson and the Art Ensemble of Chicago.
In addition to his work with artists in the United States, Parker has developed strong relationships with musicians active in the European improvised music scene, including in particular Peter Brötzmann and Peter Kowald as well as Derek Bailey, Conny Bauer, Hannes Bauer, Han Bennink, Raoul Björkenheim, Franz Hautzinger, Louis Moholo-Moholo, Tony Oxley, Evan Parker, Louis Sclavis, Tomasz Stanko and John Tchicai, among others.
In the early 1990s, Parker began leading two new ensembles: In Order To Survive, which started as a sextet but then became a quartet with Rob Brown, pianist Cooper-Moore and drummer Susie Ibarra (In Order To Survive in 1993, Compassion Seizes Bed-Stuy in 1995, The Peach Orchard in 1997 and New Communities Of Sound in 1999) and The Little Huey Creative Music Orchestra, a big band of varying size and personnel (Flowers Grow In My Room in 1994, Mayor Of Punkville in 1999, Raincoat In The River in 2001, Spontaneous in 2002 and For Percy Heath in 2005). These were later joined by the William Parker Quartet with trumpeter Lewis Barnes, Rob Brown and Hamid Drake (New Communities Of Sound in 1999, O´Neals Porch in 2000, Sound Unity in 2004, William Parker Quartet in 2007 and Petit Oiseau in 2007) and a quintet with the addition of vocalist Leena Conquest (Raining On The Moon in 2001 and Corn Meal Dance in 2007), as well as many other more ad hoc groups. Parker´s special projects have featured the music of Duke Ellington,Curtis Mayfield and Fats Waller, among others. He has also released solo bass works (Halana in 1993, Testimony in 1994, At Somewhere There in 2008 and Solo Bass in 2010) and performed as a duo with a number of other bassist, including Giorgio Dini, Mark Helias, Peter Kowald, Joëlle Léandre and Alan Silva.
Parker is a prolific composer and has composed everything from operas, oratorios, ballets and film scores to soliloquies for solo instruments. To date, he has released over 40 albums under his own leadership.
Parker has taught at Bennington College, New York University, The New England Conservatory of Music, Cal Arts, the New School for Music and Contemporary Music and The Rotterdam Conservatory of Music. He has also taught music workshops in cities throughout the world, from Berlin, Paris and Tokyo to the Lower East Side of New York City.
Parker is a theorist and the author of several books, including Who Owns Music? in 2007 and Conversations in 2011. In addition, he has published three volumes of poetry: Music Is, Document Humanum and The Shadow People.
...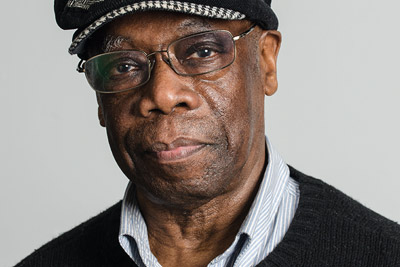 Andrew Cyrille (b. 1939) was born in Brooklyn, New York, into a family with Haitian parents. After graduating from high school, he began studying at St. John´s University with science as his major. However, he was already playing jazz in the evenings and soon switched to the Juilliard School of Music. During his studies at Juilliard and the Hartnett School of Music (1961-64), Cyrille played both with a number of well-established jazz musicians, such as saxophonists Coleman Hawkins and Illinois Jacquet and pianist Mary Lou Williams, and with representatives of modern jazz like saxophonists Bill Barron and Rahsaan Roland Kirk, trumpeter Kenny Dorham and vibraphonist Walt Dickerson as well as with the Nigerian master drummer Babatunde Olatunji. Cyrille is considered one of the most creative and versatile percussionists in modern jazz, equally at home in a modern mainstream setting as with avant-garde music.
Cyrille first began making a name for himself with his 1961 recordings with Coleman Hawkins (The Hawk Relaxes), Walt Dickerson (This Is Walt Dickerson!) and bassist Ahmed Abdul-Malik (The Music Of Ahmed Abdul-Malik). His collaborations with Dickerson in particular continued into the 1980s, resulting in such other classic recordings as Relativity and To My Queen in 1962, Jazz Impressions Of "Lawrence Of Arabia" in 1963, Unity in 1964, Tell Us Only The Beautiful Things and Peace in 1975, and Dickerson´s final recording as a leader, Life Rays, in 1982.
However, Cyrille may still be best known for his membership in the Cecil Taylor Unit, which lasted for over a decade (1964-75), during which he established his position as one of the leading percussionists in freely improvised jazz. Cyrille´s close to ten recordings with Cecil Taylor began with two legendary sessions (Unit Structures and Conquistador!, both in 1966) for Blue Note Records and also included Cecil Taylor´s recording with the Jazz Composer´s Orchestra ("Communications No. 11, Part 1 and Part 2", The Jazz Composers´ Orchestra) in 1968, Nuits De La Fondation Maeght, Volumes 1-3, in 1969 as well as Akisakila and Spring Of Two Blue-J´s in 1973.
Since the 1970s, Cyrille has led or co-led a number of ensembles, including Maono (with trumpeter Ted Daniel, saxophonist David S. Ware, pianist Donald Smith and bassist Nick DiGeronimo et. al.), The Group (with trumpeter Ahmed Abdullah, saxophonist Marion Brown, violinist Billy Bang and bassists Sirone and Fred Hopkins), the percussion quartet Pieces Of Time (with Kenny Clarke, Milford Graves and Famoudou Don Moye) and Trio 3 (with saxophonist Oliver Lake and bassist Reggie Workman). He has released more than 30 recordings as a leader or co-leader, ranging from two solo recordings (What About? in 1969 and The Loop in 1978) and a number of duo recordings (beginning with his duo with fellow drummer Milford Graves, Dialogue Of The Drums, in 1974 and continuing with his duos with saxophonists Anthony Braxton, Peter Brötzmann, Jimmy Lyons and Greg Osby, pianist Irène Schweizer, synthesizer player Richard Teitelbaum, bassist Peter Kowald and drummers Michael Carvin and Vladimir Tarasov, among others) to recordings with larger ensembles. His first recordings as a group leader were with Maono, including Celebration (with Daniel, Ware, Smith, synthesizer player Romulus Franceschini, bassist Stafford James, percussionist Alphonse Cimber, vocalist Jeanne Lee and poet Elouise Loftin) in 1975, Junction (with Daniel, Ware, and Lisle Atkinson) in 1976 and Metamusicians´ Stomp (with Daniel, Ware and DiGeronimo) in 1978. These were followed by Nuba (with Jimmy Lyons and Jeanne Lee) in 1979, Special People (with Daniel, Ware and DiGeronimo) in 1980, The Navigator (with Daniel, pianist Sonelius Smith and DiGeronimo) in 1982, My Friend Louis (with trumpeter Hannibal Marvin Peterson, Oliver Lake, pianist Adegoke Steve Colson and Reggie Workman) in 1991, X Man (with flutist James Newton, guitarist Alix "Tit" Pascal and bassist Anthony Cox) in 1993, Ode To The Living Tree (with Oliver Lake, David Murray, Adegoke Steve Colson, bassist Fred Hopkins and percussionist Mor Thiam) in 1994, and Good To Go, With A Tribute To Bu (with James Newton and Lisle Atkinson) in 1995.
During the 1980s, Cyrille recorded a particularly important series of albums with clarinetist John Carter (Castles Of Ghana, Dance Of The Love Ghosts and Fields and Shadows On A Wall) and several albums with pianist Muhal Richard Abrams (Mama And Daddy, Blues Forever, Rejoicing With The Light, Colors In Thirty-third and The Hearing Suite). In the past five decades, he has also recorded with Juhani Aaltonen (Strings Revisited, TUM CD 003, and Reflections, TUM CD 007), Geri Allen, Billy Bang, A. Spencer Barefield, Carla Bley, Charles Brackeen, Bobby Bradford, Marion Brown, Dave Burrell, Adegoke Steve Colson, Marilyn Crispell, Richard Davis, Charlie Haden, Kip Hanrahan, Sir Roland Hanna, Leroy Jenkins, Oliver Lake, John Lindberg, Jimmy Lyons, Graham Moncur, III, Lawrence "Butch" Morris, David Murray, Paul Plimley, Hugh Ragin, Roswell Rudd, Archie Shepp, Lonnie Liston Smith, Horace Tapscott, John Tchicai (Witch´s Scream, TUM CD 014), Mal Waldron and Reggie Workman, among others.
Currently, Cyrille leads the Haitian Fascination ensemble (Route De Frères, with Hamiet Bluiett, Alix Pascal, Lisle Atkinson and the late Frisher Augustin, TUM CD 027) and is a member of Trio 3, the CDE Trio (with saxophonist Marty Ehrlich and bassist Mark Dresser), the Roswell Rudd/Archie Shepp Group, the Mary Lou Williams Collective, the Soren Kjaergaard, Ben Street & Andrew Cyrille Trio and a number of other ensembles. He also performs as a duo with Anthony Braxton and with Greg Osby (Low Blue Flame, TUM CD 016).
Cyrille has been involved in jazz education since the early 1970s and is currently a faculty member of the New School for Jazz and Contemporary Music operating as part of the New School University in New York City.