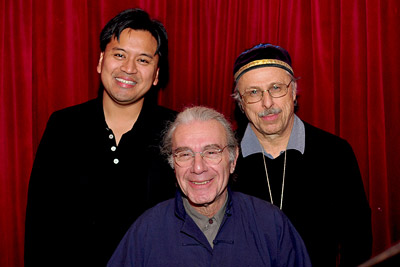 TALES OF THE UNFORESEEN

The 3dom Factor with Jon Irabagon and Joe Fonda has become a great vehicle both for my own playing and also for my compositions. All three of us have large musical vocabularies and this enables us to utilize the "From Ragtime To No Time" concept coined by the great American drummer Beaver Harris. Joe and I have played together since the inception of the FAB Trio more than ten years ago, Jon and I for the past six years and even this trio for almost five years by now. As a result, we have developed a kind of ESP among us. Studio sessions, where the musicians get together to record that one time, can sometimes achieve the magic, as well as being fun, but playing with a band that´s been together for a while and is on the same page musically makes for a very creative and fulfilling experience.
The basic approach for this recording was to play freely. Nothing was planned: no charts, no specific concepts - just play. Having finished a weeklong tour around the Northeast right before going into the studio, we were ready to just improvise. However, to relax a bit in the studio, we also played a few of the compositions in our repertoire and used two of them for the CD, thereby straying a bit from the original concept. At the end of our two days in the studio, there was so much material that the biggest problems were deciding what not to use and how to edit the music in such a way that would preserve its energy, flow and tension. Personally, I really enjoy this part of the process, which includes mixing and, when necessary, editing in order to enhance the music and the concept. In this case, I put the CD together as if it were a suite with different movements.
When thinking of a title for this recording, I wanted to find another word to describe "improvisation." A friend came up with "unforeseen" and, with the idea of telling little stories, it became Tales Of The Unforeseen.
Improvising freely without any specific form or structure to follow, makes it absolutely necessary, first, to listen very intently and feel the other players and, second, to put your ego on hold so that you can respond immediately to whomever has the creative energy. That person is the "bandleader" for those moments. When the energy is waning, someone else will initiate an area for improvising, so, the other members of the band will have to recognize that creative energy immediately and go there with the player assuming the lead. If there is a musical conflict, it can work positively for the music, but when it doesn´t, one must realize that, and give it up to the one whose creative energy has taken over. You must not get caught up in your own ego.
The music is the whole and the musicians are the parts that make up the whole. Like in the saying: "the whole (music) is greater than the sum of its parts (musicians)," or something to that effect.
That´s about all I care to say about the music on this recording as all was spontaneously improvised and what happened happened. I hope that that those who listen to this music have as much fun doing so as we did playing it.
Enjoy!
New York City, June 12, 2015
Barry Altschul

...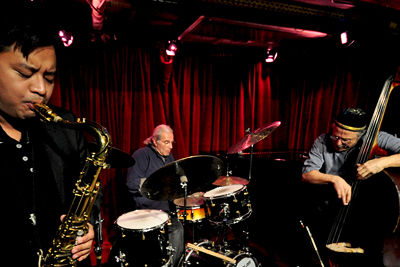 BARRY ALTSCHUL´S 3DOM FACTOR
Sometimes there is a kind of destiny in a name. I have always thought of Barry Altschul as "old school," which is close enough to the German language origin of his last name, alte Schule, and therefore also close enough to what a Scot like me would pronounce "auld scuil." And being a Scot of a certain age, I have a rather particular, and not necessarily obvious, understanding of the term. To be "old school" is to do things right, be punctilious, dismissive of aery theory or revisionism, hard to a degree, single-minded and not simply for the moment, aware that freedom is earned and comes with responsibility. What it doesn´t mean is old-fashioned or conservative, or just old. You can be "old school" at 17 if you put your heart into it, and some do.
I was 17, just about, when I first saw Barry Altschul play. I was supposed to be learning French but spent my days trying to conjugate with a half-English girl whose Parisian father worked in broadcasting. He fixed me a pass to a concert at the Maison de l´ORTF by a group called Circle. I´d heard Chick Corea and Dave Holland with Miles Davis and I´d heard about Anthony Braxton the way one hears about a coming weather event, but the man who caught my attention that day was the drummer. Circle rapidly and perhaps inevitably became a fractious group, a coalition of creative personalities too individual to remain together for long, but it was Altschul who seemed to give it its coherence and its collective identity, playing in a style that combined elements of bop attack (but minus the "bombs") with the flowing, corporeal swing of Papa Jo Jones (an influence Altschul reassuringly confirms) and elements of that hard-to-define quantity known as "freedom."
It was Gene Krupa who first made the drummer a "high-priced guy," as he said himself. First he, later Kenny Clarke, Art Blakey and Max Roach, put the drummer at the centre of the music, a centrality often rationalised as "showmanship," as if there might or must be some non-musical significance to what they did. The "high price" was mostly figurative. Few of these guys got rich.To be fair, the recording technology of the time and the hyperacousis of record producers and engineers who always seemed to want the drums in another room, or preferably on another record altogether, did the music little favours. Barry Altschul had his brushes (so to speak) with both these factors. There was, for the longest time, a residual suspicion of drummer-led groups, unless justified by a showy front man, and as he has explained, he had some skirmishes through the cubicle glass with men who wanted to "engineer" his distinctive and powerful sound, which as he confirms is the outward realisation of the musician´s soul, out of existence. Even on his marvellous and still underrated Soul Note recordings of the late 1970s to mid-1980s, For Stu, Irina and That´s Nice, as well as his seminal Muse albums You Can´t Name Your Own Tune and Another Time/Another Place from a few years earlier, Altschul is not yet a three-dimensional presence in the music but presented as part of the "rhythm section," a heresy long and exclusively perpetuated by the music industry.
He seemed to disappear from view for a long time, though this can be an illusion perpetuated by the belief, sincerely held in some quarters, that a musician is his discography. Altschul says that he regards a record as a document of a particular encounter with the "unforeseen," as he defines improvisation in the title to this recording. But it is clear that the documentation lies somewhere between the casually dogmatic realism of the average audio-verité improv disc and the highly fashioned artefacts that came out of pop music. Unusually, even now, for a "jazz" musician, Altschul regards the studio as one of the performers and takes an active and lively interest in shaping the raw material of the original recording and making something with it that is greater than the sum of the elements, while preserving the integrity of real-time solos and interactions. In this regard, he comes out of the same lineage as Teo Macero´s collagiste approach to Miles Davis recordings but also out of a musical culture that yielded Pet Sounds and The Beatles (aka, The White Album)in which the studio, far from being a second-order enterprise restricted to mere documentation, became a genuinely creative tool.
Altschul is "old school" not least in his devotion to the line and the group´s meditations here on Thelonious Monk´s "Ask Me Now" and Annette Peacock´s "Miracles" stand out as wonderfully condensed expressions of his core values. The most concentrated locus for those is, naturally, the solo improvised "A Drummer´s Tale," whose Chaucerian narrative - earthy, high-flown, playful and earnest by turns - sets up the closing improvisation that bookends the set. Bill Evans used to insist that his players signed up to him for a minimum of three years, convinced that real creative relationships could not be forged in much less time. Circumstance dictated that Evans rarely enjoyed that luxury. This is Altschul´s second recording for TUM with The 3dom Factor and it already sounds like an established group, with a distinct language-set and a level of communication that allows the players to work in strict parallel on occasion, rather than in the "dialogue" or "conversation" that some, inexplicably, regard as the sine qua non of improvisation. Try having a "conversation" where everyone speaks at once; it´s not "conversational" at all in the usual sense, but it can be exhilarating, as more than one movie director has shown and as jazz musicians have shown for decades.
Altschul has chosen his playing partners with rare skill and imagination, as he always did. Joe Fonda is unmistakably "old school." He inhabits the same values as the leader here, but brings with them his own utterly unique and instantly recognisable bass style, which seems to compress and transform as many venerable models as Altschul´s does from the percussion section. Which would lead the unwary to think that Jon Irabagon, from a younger generation, might be here to provide some "new school" revisionism and maybe more elastic lungs and legs. The truth, evident from the previous album and from the unrolling explications of "The Tale Begins," is that the saxophonist is "old school," too. On tenor, he is strikingly reminiscent of Chu Berry or Paul Gonsalves; not a copyist, but someone who takes the example and brings it into the present day. Fonda does something with the Wilbur Ware style but weds it to his own brilliant structural sense.
This is very special music, and not only because it represents the consolidation of what inevitably looks like a comeback recording career. Altschul´s relative absence from the credits and from the release schedules has been a sorrow and a puzzle to those who admire his work. It is tempting, with any creative artist, to read silence as bruised resignation, but one senses listening to Barry Altschul at 72 that the time has been spent absorbing more and more music, rendering it down, testing it in the existential moment (which is defined simply as any event whose outcome is unknowable or unforeseeable). Our culture, once so desperately committed to the new that our synapses were blunted by the expectation of novelty, has again begun to circle back and pay attention to careers that started showily or prominently and then seemed to occlude. There is a danger of fetishism or legend-manufacture, but Altschul´s "absence" (however that word is interpreted) was largely an illusion, since he continued to spread his wisdom as a teacher, and continued to perform, albeit below the media radar. Far from absent, he was paying attention, and has come back into prominence in the strongest form of his career. Newly energised, but still "old school."
St. Mary´s, Dalsmirren, Southend, May 3, 2015
Brian Morton

...
As the Tale Begins (Barry Altschul, Jon Irabagon and Joe Fonda) is a continuous trio improvisation.
A Tale of Monk: Ask Me Now (Thelonious Monk) presents a classic composition by Thelonious Monk, whom Barry Altschul used to see as a teenager in the South Bronx when Monk was visiting pianist Elmo Hope or others living in the neighborhood. Altschul still considers Monk one of the greatest composers of all time. "Ask Me Now" was first recorded by the Thelonious Monk Quintet for Blue Note Records in 1951.
The Tale Continues (Barry Altschul, Jon Irabagon and Joe Fonda) is a segment of a continuous trio improvisation.
Annette´s Tale of Miracles (Annette Peacock) features one of Annette Peacock´s compositions that Altschul remembers playing with Paul Bley and Peacock already in the late 1960s. Paul Bley often performed Peacock´s compositions with his trio, which included Altschul during the late 1960s and sporadically thereafter. Peacock was also featured in certain of Bley´s groups, such as the Bley/Peacock Synthesizer Show, that included Altschul on drums.
A Drummer´s Tale (Barry Altschul) is a solo drum improvisation.
And the Tale Ends
(Barry Altschul, Jon Irabagon and Joe Fonda) combines two segments of a continuous trio improvisation.