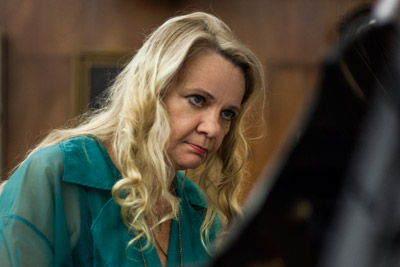 AROUND AGAIN
While I was attending the Sibelius Academy in the 1970s, majoring in classical piano and composition, I also took part in voluntary studies at the Jazz Studio founded by composer and pianist Heikki Sarmanto. The Jazz Studio was a modest precursor to the Sibelius Academy´s current Jazz Music Department and it was there that I first encountered Carla Bley´s music, with Heikki giving me sheet music for a number of compositions written by her, which were a rare thing in Finland at the time. These included "Closer," "Ictus," "Intermission Music," "Vashkar," "Doctor," "Gloria" and "Start," among others. Having just begun to study jazz improvisation, I could not really get much out of them. They felt to me more like modern classical music, and trying to improvise to them felt strange and difficult.
A few years later, having heard Carla´s compositions being interpreted by Paul Bley, for example, on his wonderful solo album Open, To Love and on trio recordings such as Closer with Steve Swallow and Barry Altschul, the content and excellence of those compositions was revealed to me! Masterful, space-providing compositions into which one could inject powerful emotions through interpretation - exactly what was and is important to me. They provide gratifying material for a performer and give an opportunity to bring one´s "own voice" into the music. Around the same time, Paul Bley became my absolute favorite pianist, which he remains to this day.
I greatly admire Carla Bley as an artist - her wealth of ideas as a composer and arranger, the talent to write entirely her own kind of music for large orchestras (such as her extended compositions A Genuine Tong Funeral and Escalator Over the Hill as well asvariousrecordings by Charlie Haden´s Liberation Music Orchestra and by her own ensembles). I also admire how, through her own strength and independence, she has had such a remarkable career in a time when women were not yet appreciated as "great artists" in the world of improvised music - at least not in Europe and perhaps even less so in the macho world of American jazz.
The suggestion to record our own interpretations of this music originally came from Ulf Krokfors. As a result, I have now had the opportunity to record some examples of the broad-ranging work of this composer I so admire. In keeping with Carla Bley´s versatility, the music on this recording covers emotions that range from one extreme to another.
It was a particular pleasure to have the legendary Barry Altschul join Ulf and myself as the drummer of this trio. He knows so well how to interpret Carla Bley´s music in the piano trio context, as he was the longstanding drummer of the Paul Bley Trio and participated in the first recordings of a number of the compositions featured on this recording, including "Closer," "Batterie," "Ida Lupino," "And Now, The Queen" and "Start," which all come from the 1965 album Closer, one of the most important recordings of all time to me personally. You can hear in Barry´s playing how he follows the melody and also plays excerpts of it on his drums, as the true masters do. Always listening. His presence, his playing and his advice, for example concerning tempos, on some of these compositions gave us a particular feeling of security that we were on the right track in trying to do justice to these compositions with our trio interpretations. It was a great honor to play with Barry.
Tervakoski, March 5, 2018
Iro Haarla
...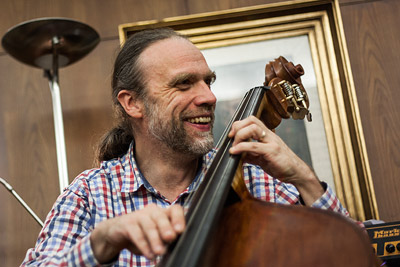 For me, playing in a trio format is the most rewarding and also the most challenging way of playing improvised music. On the one hand, there is room for self-expression and, on the other hand, you have the time to listen to what your collaborators are up to. You have to find a balance between your own input and listening and giving space to your bandmates. One thing you cannot do is to start accompanying somebody else.
The idea for this recording came to me when listening, after a long pause, to some of the early recordings by the Paul Bley Trio, with many of the compositions by Carla Bley or Annette Peacock. I told Iro that it could be fun to play some of those compositions with a trio although I had no concrete idea for the drummer at the time.
Iro and I tend to focus on melodic playing, and this can be a problem for drummers, who, for the most part, do not think in a linear fashion (which is not said to put down drummers by any means!). Still, the fact remains that, for Iro and myself to feel comfortable playing this kind of music, we need a melodic drummer. And did we ever find one in the magnificent Barry Altschul! Though Barry and I had only played together once before (during a joint performance and recording by the Juhani Aaltonen Trio and the FAB Trio in 2007), I could immediately sense that here was a man who understood the music perfectly. After a couple of run-throughs of the songs, I felt that we were completely on the same page musically. We then played a concert at the Laulumiehet restaurant in Helsinki and were ready for the studio the following day.
What makes Barry Altschul extraordinary? The word already used above, melody, again comes to mind. Even though Barry plays an instrument labeled under percussion, he manages to find a way of playing that has a strong melodic quality. Barry treats every drum and cymbal in his drum set as a separate instrument. He always contributes a melodic line with his drums in addition to keeping the pulse pushing us, the spark under us glowing.
Tervakoski, March 5, 2018
Ulf Krokfors
...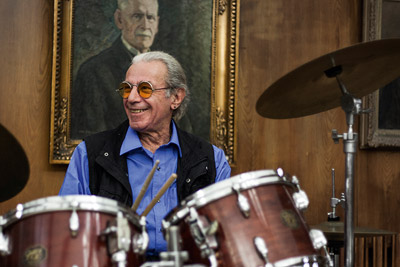 I first encountered Carla Bley´s music in 1964 when Paul Bley asked me to join his trio. All of a sudden, I was involved with very creative and innovative musicians like Carla and Paul Bley, Gary and Annette Peacock, Steve Swallow, Paul Motian, Dave Izenson, and the musicians involved in the October Revolution in Jazz that same year.
Paul was playing very free during that period. I was coming from a Bop place and what interested me was that, while Paul, Gary, Steve et.al. had extensive experience playing time and changes (with Art Blakey, Sonny Rollins, Charles Mingus, Art Farmer, Bill Evans, Stan Getz, etc. etc. etc.), Paul Bley and friends heard something else. I considered this to be part of the jazz continuum, but very free - breaking the accepted rules of music (for example, not putting in bar lines when writing a composition, which made for a freer way of expression).
Paul was only playing Carla´s music at the time (except for a couple of Ornette´s compositions). I instinctually and immediately understood what to play for Carla´s music. There was form, melody, rhythm and many ways to approach the improvisation. If you closely check out the compositional aspects of some of Carla´s music, you will find that her music is part of the Jazz or Great American Songbook tradition. Much of that music is written with AABA or ABA form, but she compresses the form and, if it is based on a standard like "All The Things You Are" (which she sometimes does), you find that, instead of using a 32-bar form (8-8-8-8), she compresses it to 16 bars (4-4-4-4). It can be played as phrases, as speed or motion, in time or as a spontaneous flow of consciousness. When performing her music, you find that it is not only interesting and creatively challenging to play but also a lot of fun.
When asked to do this project with the wonderful team of Iro and Ulf, as we started to rehearse, I noticed that after 50 years of not playing this music, my memory still was to play the music the way I played it with Paul. Paul´s approach was, of course, different from Iro´s, in attack and in rhythmic and melodic approach to the notes and spaces. As Iro has her own valid approach, I tried to help make this music her own by following her lead and not have her following mine. Iro has a great understanding of Carla´s music and it was a wonderful experience for me to revisit this music with her and Ulf.
New York City, March 12, 2018
Barry Altschul
...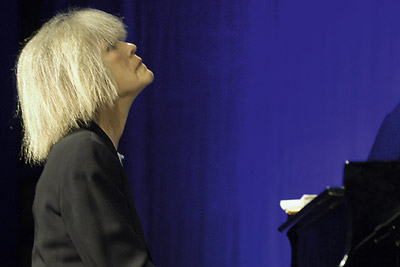 THE MUSIC OF CARLA BLEY
The whimsy and mystery of Carla Bley´s music continues to recreate itself, and to astound me. I first became interested in it as a college student, through her monumental and unprecedented 1971 release Escalator Over the Hill. Everything about that outrageous "chronotransduction" fascinated me, from Paul Haines´s indecipherable libretto to Bley´s masterful wrangling of five stylistically divergent ensembles that included a total of more than three-dozen musicians. There was simply nothing like it - nor like her, as a composer, arranger, bandleader and performer - and I was enthralled and delighted. Only later did I come to know her earlier compositions, the most enduring of which are represented here, on TUM Records´ new release Around Again - The Music of Carla Bley.
These are miniature pieces, most of them just a page of written music, or less. They have surprisingly resilient characters. I think of them as different parts of Bley´s personality: humorous, nervous, curious, jumpy, dreamy, ironic, playful, determined. Yet, they are also flexible enough to invite interpretation by other very different kinds of musical personalities, a quality that has been recognized by other musicians since the moment the ink dried on her first works. From Paul Bley´s 1957 recording of [Carla Borg´s] "O Plus One," to the George Russell Sextet´s 1960 recording of her "Bent Eagle," to the legendary Paul Bley Trio recordings of her music in the 1960s, and up to the present release (which replicates the instrumentation of the Paul Bley Trio, with piano, bass and drums), these works have been discovered and rediscovered, worked and reworked, by musicians worldwide.
The trio formed by pianist Iro Haarla, bassist Ulf Krokfors and drummer Barry Altschul are the latest to join the venerable ranks of Bley interpreters. Their beautiful, thoughtful recording honors a composer they obviously respect, while bringing their own unique musical personalities into the recording studio. They intuitively recognize both the intensity and the levity of the musical ideas embedded in Bley´s haiku-like pieces.
Bley once wrote of her compositional beginnings:
"My first effort, a page of manuscript paper absolutely covered with little black dots (without stems), was criticized by my father for having too many notes. So I erased most of them (and added a few stems). From that point on I always tried to leave a lot of space."
That space has allowed for a lot of magical things to happen. Bley started composing during the 1950s, at a fertile and transitional moment in American musical history. Bebop, Beat poetry, chance and indeterminacy, action painting - all of these new forms of creative expression emphasized what scholar Daniel Belgrad has called "the culture of spontaneity," and scholar John Litweiler has called "the freedom principle." As the concept of freedom began to take root in many forms of contemporary music, composers and performers alike reexamined the relationship between notation and performance, charts and improvisation. Bley´s own early musical upbringing emphasized reading notated music more than improvisation, and she developed a fascination with notes on paper. Composed mostly between 1958 and the mid-1960s, the works on this recording represent, perhaps, an ambivalence about musical notation. Bley seems to have put down on the page no more and no less than she needed to make her compositional point.
"And Now, The Queen," perfectly demonstrates this strategy: The notated composition is just four bars long, in constantly changing meters - 5/4, 7/4, 6/4 and 5/4 - with a repeat sign and two mid-phrase fermatas. The piece suggests the key of G-flat major, with a few tonal surprises. In a mere four bars, Bley gives the musicians rich kernels of music to explore and exploit: fluidity of time, scarcity of harmonic content, the falling triplet motive, unexpected cadences, the three repeated hits. Like a haiku, its strength is in its ability to provide maximum meaning with minimum content; like a Zen koan, it can be endlessly contemplated. The second chorus of "And Now, The Queen" consists of a drum solo, allowing Altschul to demonstrate his deeply melodic ears. (It is worth noting that Altschul first recorded with Paul Bley on the latter´s 1965 album Touching, which included Carla Bley´s composition "Start;" that same year Altschul played on Paul Bley´s album Closer, which included seven compositions by Carla Bley, including five recorded here: "Ida Lupino," "Start," "Closer," "Batterie" and "And Now, The Queen"). Altschul´s fifty-plus years of contemplating and connecting to Carla Bley´s music shine through in his playing.
"And Now, The Queen" falls into a category of Bley´s musical personality I think of as her lyrical, song-like side. Other pieces on this recording with this character include the opening track "Closer," but also "Jesus Maria," "Útviklingssang" and, perhaps her most well-known (and most recorded) composition besides Escalator Over the Hill, "Ida Lupino." Haarla´s treatment of "Ida Lupino" takes its time, lingering sensuously on the well-known melody, and the interplay between Haarla and Krokfors is uncannily haunting, perhaps recalling the special (and six-decade-long) relationship between Carla Bley and bassist Steve Swallow. A sensitive and understated pianist, Haarla´s playing on this recording also sometimes seems to be channeling the airiness of Paul Bley´s early recordings, or even the sparseness and delicacy of Carla Bley´s own playing. This quality shines especially bright in Haarla´s interpretation of "Closer," a particularly elliptical and un-jazz-like composition, which also provided the title for the Paul Bley Trio´s 1965 ESP recording (mentioned above).
Bley´s more upbeat, angular voice includes "Around Again," "Batterie" and "King Korn." These pieces play with both temporal and harmonic idiosyncrasies, which no doubt enhance the performers´ pleasure in arranging and playing them. Many of these brief pieces sound improvisatory, as if they were made up on the spot, yet, they are carefully planned and organized compositions, no matter what their length. The trio´s formal treatment of Bley´s pieces are mostly traditional: head, solos, head. This strategy allows for the musicians to highlight the qualities of Bley´s melodies, motives, harmonies and textures, while allowing themselves maximal improvisatory freedom. Krokfors´ bass solo on "Batterie," for example, seems to enjoy exploring the angular, lurching pacing and contour of Bley´s composition; all three play expertly with the quirky and asymmetrical rhythmic phrasing of "King Korn."
Several of these pieces have traveled through Carla Bley´s own work for decades. One of her most successful early tunes, "Jesus Maria" (1961), which closes this CD, was recorded by clarinetist Jimmy Giuffre almost immediately after she wrote it, and she later turned it into a virtuosic orchestration for The Carla Bley Big Band´s recording Musique Mecanique in 1978; "Jesus Maria" also appears in an extended arrangement on her Carla´s Christmas Carols album in 2009. (Probably her first published work, "Jesus Maria" appeared in a volume of Christmas songs called A Wreath of Carols in 1966.) The trio´s interpretation of "Jesus Maria" is as patient and unhurried as its interpretation of "Ida Lupino." In a more subtle way, the opening of "Vashkar" (1963) makes a prominent appearance at the beginning of "Rawulpindi Blues," one of the most powerful songs culminating the last section of Escalator Over the Hill. The five-note opening phrase of "Vashkar," outlining a B-minor scale, appears to be what gave shape and motion to the syllabic singing of the words "Rawulpindi Blues." "Intermission Music" became a lamentful interlude in the Gary Burton Quartet´s 1968 recording of A Genuine Tong Funeral, an album-length concept album composed, arranged and conducted by Bley. Here "Intermission Music" represents Bley´s fondness for a good waltz.
"Vashkar" and "Olhos De Gato" are somewhere between Bley´s ballad-like writing and her edgy, rhythmic pieces. I love the trio´s arrangement of "Olhos De Gato," with the opening drum solo, followed by the piano playing sparse harmonies and the bass taking the contemplative melody. This delicate arrangement of "Vashkar" could not be more different from the extroverted version of it included on the Tony Williams Lifetime debut album Emergency! of 1969. This contrast - between the reserve and transparency of Haarla, Krokfors and Altschul, and the electrified fusion of the trio led by Tony Williams - provides a perfect demonstration of the longevity and malleability of Carla Bley´s music.
Sixty (!) years ago last August (2017), Paul Bley made the first recording of music by this prolific composer, who, by the way, continues to be breathtakingly active, and staunchly independent. Despite her many decades on the scene, her music remains fresh and appealing: timeless, in a way. Her unique musical language does not seem connected to a particular time and/or place the way, for instance, cool jazz or fusion or Impressionism or western swing or disco (or whatever!) might. The timelessness of her music allows for ongoing re-imaginings of it. Every new performance and recording allows us to hear that work in original, sometimes unimagined ways. With this new recording, the Haarla, Krokfors and Altschul trio have made a stunning new contribution to Carla Bley´s loveable oeuvre.
Santa Cruz, California, December, 2017
Amy C. Beal
(Author of Carla Bley, 2011, published as part of the American Composers series by the University of Illinois Press)
...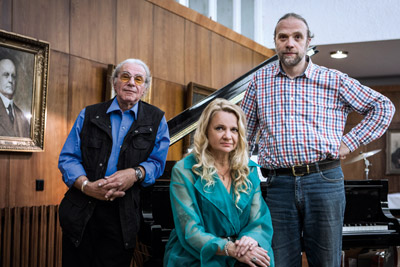 THE MUSIC
All compositions on this recording are by Carla Bley.
Closer wasfirst recorded by the Paul Bley Trio in 1965 on at least three occasions (on an unreleased recording for Columbia in May, with bassist Steve Swallow and drummer Barry Altschul; on Touching, a recording in Copenhagen in November, with bassist Kent Carter and Barry Altschul; and on Closer, a recording in New York City in December, with Steve Swallow and Barry Altschul). Paul Bley returned to the composition a number of times (Open, To Love, a solo piano recording, in 1972; Fragments, with saxophonist John Surman, guitarist Bill Frisell and drummer Paul Motian, in 1986; and Homage To Carla, a solo piano recording, in 1992). CarlaBley herself recorded "Closer" in 1966 as a member of Jazz Realities (Jazz Realities, with trumpeter Michael Mantler, soprano saxophonist Steve Lacy, Kent Carter and drummer Aldo Romano).
Vashkar was first recorded by Paul Bley with the Paul Bley Trio in 1963 (Footloose!, with Steve Swallow and drummer Pete La Roca) and a number of times thereafter (Bley/NHOP, with bassist Niels Henning Ørsted Pedersen, in 1973; Jaco, with bassist Jaco Pastorius, guitarist Pat Metheny and drummer Bruce Ditmas, in 1974; Live, with bassist Jesper Lundgaard, in 1986; Paul Bley Plays Carla Bley, with bassist Marc Johnson and drummer Jeff Williams, in 1991; and Homage To Carla in 1992). Carla Bley herself recorded the composition in 2012 with saxophonist Andy Sheppard and Steve Swallow (Trios). It has also been recorded by The Tony Williams Lifetime (Emergency! in 1969), the Gary Burton / Steve Swallow Duo (Hotel Hello in 1974) and vocalist Susan Abbuehl (Ida Lupino in 1999), among others.
Batterie was the opening track of the Paul Bley Quintet´s 1965 recording consisting entirely of Carla Bley´s compositions (Barrage, with saxophonist Marshall Allen, trumpeter Dewey Johnson, bassist Eddie Gomez and drummer Milford Graves). A live recording of the composition by the Paul Bley Trio (Steve Swallow and Barry Altschul) exists from the Newport Jazz Festival in July 1965, and Paul Bley recorded it again in December 1965 (Closer), in 1974 (Jaco) and in 1987 (Notes, with Paul Motian). The Jazz Realities album included a version under the title "Walking Batterie Woman."
Ida Lupino is likely to be Carla Bley´ most frequently recorded composition with about 50 recordings by a broad range of artists. Carla Bley copyrighted the composition in 1963 and it appears to have been first recorded by Paul Bley in 1964 although this recording was only released on Paul Bley´s Improvising Artists Inc. label in 1975 (Turning Point, with saxophonist John Gilmore, bassist Gary Peacock and Paul Motian). The Steve Kuhn Trio recorded its version in 1966 (Three Waves, with Steve Swallow and Pete La Roca) as did the Paul Bley Trio (Ramblin´, with bassist Mark Levinson and Barry Altschul). In 1967, Swedish vocalist Monica Zetterlund recorded a version with a Swedish text ("Brandvaktens sång" on Monica Zetterlund).
Carla Bley herself included "Ida Lupino" on her 1976 album with her ten-piece orchestra (Dinner Music). Paul Bley recorded it again several times over the years, including on Open, To Love (1972), Live (1986), Right Time, Right Place with vibraphonist Gary Burton (1990), and Paul Bley Plays Carla Bley (1991). It has also been recorded by saxophonists Roberto Ottaviani, Michel Portal and Gebhard Ullman, pianists Irene Schweizer and Aki Takase, guitarists Mary Halvorson and John Scofield, bassist Charlie Haden and arranger Mike Gibbs, among many others.
Around Again was first recorded by Paul Bley with the Paul Bley Trio in 1962 (Footloose!) and again in 1964 (Turning Point and Barrage), 1985 (Hot, with John Scofield, Steve Swallow and Barry Altschul), 1991 (Paul Bley Plays Carla Bley) and 1992 (Homage To Carla). More recent recordings include those by saxophonist Mark Taylor (After Hours in 2002), pianist Fredi Luescher (Dear C: The Music of Carla Bley in 2002) and cornetist Kirk Knuffke (Five in 2013)
Olhos De Gato was first recorded by trumpeter Enrico Rava in 1972 (Il Giro Del Giorno In 80 Mondi, with guitarist Bruce Johnson, bassist Marcello Melis and drummer Alan "Chip" White). Paul Bley has recorded the composition a number of times (Bley/NHOP in 1973, Paul Bley Plays Carla Bley in 1991 and Homage To Carla in 1992) as has Gary Burton (The New Quartet in 1973 and Quartet Live in 2007). In 1990, the two also included it on their duo recording (Right Time, Right Place).
Intermission Music formed a part of Carla Bley´s first extended composition "A Genuine Tong Funeral - Dark Opera Without Words," which was recorded by the Gary Burton Quartet (with guitarist Larry Coryell, Steve Swallow and drummer Bobby Moses) together with an orchestra made up of Carla Bley on piano and organ as well as conducting together with Michael Mantler, Steve Lacy, tenor saxophonist Leandro "Gato" Barbieri, trombonist Jimmy Knepper and tuba player Howard Johnson. On the recording, "Intermission Music" was performed by the Gary Burton Quartet alone under the full title "Interlude: Lament - Intermission Music" following the first two segments and preceding the three further segments of the album-long composition performed by the full ensemble. Gary Burton recorded "Intermission Music" again with the Gary Burton Quintet in 1975 (Dreams So Real - Music Of Carla Bley). It has also been recorded by pianist Massabumi Kikuchi (Attached in 1989) and bassist Mark Dresser (Eye´ll Be Seeing You) in 1998.
King Korn was originally composed by Carla Bley for saxophonist Sonny Rollins although he apparently never played it. Instead, it became one of the many compositions that Paul Bley used as a springboard for improvisation by his trio. It was first recorded by Paul Bley with the Paul Bley Trio in 1963 (Footloose!) and with a quartet in 1964 (Turning Point). Paul Bley also included the composition on his experimental album that featured synthesizers and an electric piano (Scorpio, with bassist Dave Holland and Barry Altschul, in 1972) and returned to it again on Homage To Carla in 1992. Carla Bley herself featured the composition with her ten-piece orchestra (European Tour 1977) and on a recording by her duo with Steve Swallow (Are We There Yet? in 1998). Barry Altschul included "King Korn" on his highly acclaimed album You Can´t Name Your Own Tune in 1977. Other recordings have been made by saxophonists Glen Hall and Ken Vandermark, pianists Jochen Bohnes, Arrigo Cappelletti, Uwe Oberg, Marcin Wasilewski and Chris Wiesendanger, and the Brazz Brothers, among others.
And Now, The Queen was included on both the Paul Bley Quintet´s (Barrage in 1964) and the Paul Bley Trio´s (Closer in 1965) recordings for ESP Records. In 1966, it was also recorded by the Mike Osborne/John Surman Quartet. Paul Bley made several additional recordings of the composition (Alone Again in 1974, Solo Piano in 1988, Paul Bley Plays Carla Bley in 1991 and Homage To Carla in 1992). Carla Bley herself included "And Now, The Queen" in the touring program of her ten-piece orchestra in 1977 (European Tour 1977). Guitarist Nels Cline (The Nels Cline Singers: Initiate in 2009) and cornetist Kirk Knuffke (Like A Tree in 2011), among others, have recorded the composition more recently.
Útviklingssang could easily be passed as a Scandinavian folk song in keeping with Carla Bley´s ancestral roots in Sweden. The title of the composition can be translated as "Development Song" and was inspired by a sign Bley saw at an environmental protest rally in Oslo. It was first recorded by Carla Bley in 1980 (Social Studies) and again by the Carla Bley/Steve Swallow Duo in 1988 (Duets), by Carla Bley´s eight-piece band in 1999 (4x4) and by her trio with Andy Sheppard and Steve Swallow in 2012 (Trios). Other recordings include those made by the Astral Project, pianist Arturo O´Farrill, guitarist Rudiger Krause and the Charlie Haden Liberation Music Orchestra (Time/Life, with Carla Bley´s arrangements, in 2015).
Start is another early composition first recorded by the Paul Bley Trio (Touching and Closer, both in 1965). It has also been recorded by vibraphonist Bobby Naughton, among others.
Jesus Maria is one of the earliest compositions by Carla Bley. In 1961, it was recorded by the Jimmy Giuffe Trio (with clarinetist Jimmy Giuffre, Paul Bley and Steve Swallow) and was featured by the group during its European tour with multiple live recordings surviving. Later recordings have been made by the Gary Burton Quintet (Dreams So Real in 1975), saxophonist Håkon Kornstad and pianist Havard Wiik (Eight Songs We Like in 2003), and trombonist Samuel Blader (Spring Rain in 2014), among others. Carla Bley herself included the composition on Musique Mecanique in 1978 and again on Carla´s Christmas Carols in 2008.