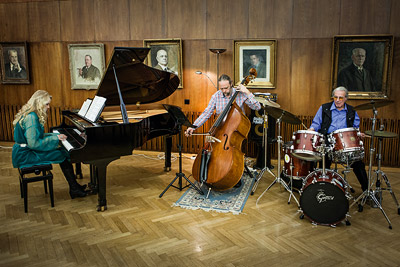 Iro Haarla (b. 1956) studied piano at the Sibelius Academy in Helsinki with Izumi Tateno and also studied piano and improvisation with Heikki Sarmanto, composition with Einar Englund and arrangement with Kari Tikka and Eero Koivistoinen (in 1974-79). Her early jazz influences included Thelonious Monk, Bill Evans and especially Paul Bley.
In the late 1970s, Haarla began her collaboration with composer and drummer Edward Vesala, which continued until his death in 1999. Haarla´s musical collaborations with Vesala included participating in a number of recordings by Vesala in the late 1970s and early 1980s (Neitsytmatka in 1979, Mau Mau in 1982, Bad Luck, Good Luck in 1983 and Kullervo in 1985). During this period, she worked in Vesala´s group with many leading improvisers of the time, such as trumpeter Tomasz Stanko, saxophonists Juhani Aaltonen, Jan Garbarek, Charlie Mariano and Tomasz Szukalski, guitarist Terje Rypdal and bassists J.F. Jenny-Clark and Reggie Workman. Haarla was also a founding member of Vesala´s Sound & Fury ensemble comprised of many of the leading improvisers in Finland at the time (Lumi in 1986, Ode To The Death Of Jazz in 1989, Invisible Storm in 1991 and Nordic Gallery in 1993-94). She also participated in various other projects with Vesala over two decades, including music for several plays and movies. With Vesala, Haarla played piano, various synthesizers and other keyboards as well as harp. She also co-composed or arranged the music for Sound & Fury and all other projects of Vesala during this period.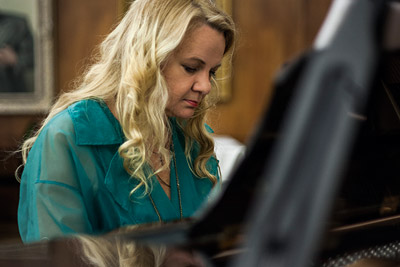 In addition to working with Vesala, Haarla performed and recorded in a number of smaller groups with various musicians close to Vesala, including saxophonists Tapani Rinne (RinneRadio in 1989) and Pepa Päivinen (Saxigon in 1997) as well as guitarist Jimi Sumén (Paintbrush, Rock Penstemon in 1991).
In the new millennium, Haarla has increasingly led her own groups and performed her own compositions. She has also performed as a solo pianist. In addition, she has continued her collaborations with former members of Sound & Fury, including Pepa Päivinen, with whom she published the much-lauded duo album Yarra Yarra in 2001, and Tapani Rinne (Nectic in 2002), most recently, in an electro-acoustic trio, iXt, with Rinne on clarinet, Haarla on piano and an alternating third member on electronics. She has also been a member of saxophonist Esa Pietilä´s 4 Streams (with Pietilä, Ulf Krokfors and drummer Markku Ounaskari), saxophonist Jorma Tapio´s Rolling Thunder (Live In Japan, with Tapio, Haarla, Krokfors and drummer Tom Nekljudow, in 2002), bassist Antti Hytti and saxophonist Jone Takamäki´s Otná Eahket quartet and saxophonist/flutist Sakari Kukko´s Valo Quartet (Valo, with Kukko, Haarla, Krokfors and drummer Mika Kallio, in 2013), among many other groups, and collaborated with pianist Christian Wallumrød and percussionist Terje Isungset (Iceman Is in 2001), among many others. In 2006, she was a featured soloist with Juhani Aaltonen on Raoul Björkenheim´s recording with the UMO Jazz Orchestra (The Sky Is Ruby, TUM CD 017). She was also a member of TUMO, a large improvising ensemble, on its recordings with composer and trumpeter Wadada Leo Smith (Occupy the World, TUM CD 037-2) and composer and trumpeter Henrik Otto Donner (And It Happened… - The Music of Henrik Otto Donner, featuring Juhani Aaltonen and vocalist Johanna Iivanainen, TUM CD 039) in 2012.
Perhaps most important for Haarla´s career in recent years has been her partnership with Ulf Krokfors. In addition to performing as a duo (Heart of a Bird, TUM CD 004, in 2003) and together in various groups led by others, Haarla and Krokfors have co-led a nine-member ensemble, Loco Motife, which received the Emma Award for the Best Finnish Jazz Recording of the Year in 2005 for its album Penguin Beguine (TUM CD 011 in 2004). Krokfors is also featured in Haarla´s Finnish-Norwegian quintet, which includes saxophonist Trygve Seim, trumpeter Mathias Eick and drummer Jon Christensen from Norway, and has recorded three well-received albums for ECM Records (Northbound in 2004, Vespers in 2010 and Ante Lucem, with trumpeter Hayden Powell, Trygve Seim, Ulf Krokfors and Mika Kallio, in 2012) and has also toured extensively both in Europe and in North America. The group´s second recording, Vespers, received the Emma Award for the Best Finnish Jazz Recording of the Year in 2011. In addition, Krokfors is a founding member of the Iro Haarla Quintet (with Haarla, Krokfors, trumpeter Verneri Pohjola, saxophonist Kari Heinilä and drummer Reino Laine) and the Iro Haarla Sextet, which was first introduced at the Pori Jazz Festival in July 2009 (Kolibri, TUM CD 035, with Haarla, Krokfors, Heinilä, Pohjola, trombonist Jari Hongisto and Markku Ounaskari, in 2013). Since 2015, Haarla has led the Iro Haarla Trio with Krokfors and Ounaskari.
Both Haarla and Krokfors are also members of the Juhani Aaltonen Quartet,which has received wide acclaim (Conclusions, TUM CD 021, in 2008 and, with bassist Ville Herrala and percussionist Tatu Rönkkö added, To Future Memories - The Music of Antti Hytti, TUM CD 036, in 2010). Haarla´s collaborations with Aaltonen started in various groups with Edward Vesala in the late 1970s and the 1980s and the three of them even briefly formed a trio that performed at the Pori Jazz Festival in 1983. In addition to their work together in the Juhani Aaltonen Quartet, Aaltonen and Haarla have also released a duo album comprised of Haarla´s compositions (Kirkastus, TUM CD 045, in 2015).
Haarla´s work as a composer has included a number of orchestral works. One of her compositions was performed by the UMO Jazz Orchestra with Tomasz Stanko as the featured soloist in a concert broadcast by the European Broadcasting Union (EBU) in 2002. At the Tampere Jazz Happening in 2006 and again in Helsinki in 2007, UMO dedicated an entire concert to her compositions, with latter concert being broadcast by EBU. In 2015, UMO performed a number of Haarla´s compositions, including two new commissions, in a series of concerts under the heading "UMO Plays Music of Iro Haarla and Edward Vesala" as part of UMO´s 40th Anniversary celebration. Other recent compositions include five works for a string quartet and piano or harp, which premiered in Helsinki in 2008, and "Ante Lucem - Before Dawn…," a four-part composition for a jazz quintet and a symphony orchestra, premiered by the Iro Haarla Quintet with NorrlandsOperans Symfoniorkester (with conductor Jukka Iisakkila) at the Umeå Jazz Festival in Sweden in 2012 and released as a contemporaneous recording (Ante Lucem). She has also arranged Tapani Rinne´s compositions for Pori Sinfonietta and the Pori Big Band in 2011 (Luhtahuitti) and previously unreleased Edward Vesala compositions and some of her own compositions for the new Sound & Fury ensemble that features several members of Vesala´s original Sound & Fury (Pulsacion in 2013 and Thundering of Dawn in 2017).
Haarla has also arranged and recorded popular music, including for a recording by the singer-songwriter Matti Johannes Koivu (Toisen maailman nimi in 2011).
In 2006, Haarla received the Finnish Jazz Federation´s Yrjö Award as the Jazz Musician of the Year.
...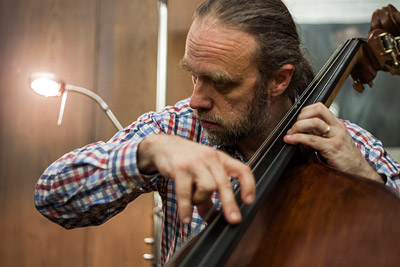 Ulf Krokfors´s (b. 1966) first instrument was the trumpet, which he played from the age of 12 until he switched to the double bass around the age of 19. While in high school, Krokfors came to the attention of composer and trumpeter Henrik Otto Donner, who had moved to Krokfors´ hometown of Tammisaari in the early 1980s. Donner soon took Krokfors and another young local musician, saxophonist Rasmus Korsström, under his wing. As a result, Donner and Krokfors formed a relationship that lasted until Donner´s passing in 2013. In 1985, both Krokfors and Korsström made their professional debut with the Otto Donner Quintet, which also included pianist Seppo Kantonen and drummer Reino Laine. Krokfors and Korsström were also members of the Free For All ensemble, when Donner returned to active performing with this group in 1999 (Free For All in 1999 and Live At Five Corners, TUM Box 001, in 1999-2002). Even after Free For All disbanded, Krokfors continued to participate in various projects with Donner (Juhani Aaltonen & Henrik Otto Donner with the Avanti! Chamber Orchestra: Strings Revisited, TUM CD 003, in 2002).
After moving to Helsinki in the late 1980s, Krokfors quickly made his mark as a member of drummer Edward Vesala´s Sound & Fury ensemble, which he joined in 1988 (Afrikan Tähdet and Ode to the Death of Jazz, both in 1989) and guitarist Raoul Björkenheim´s Krakatau from 1988 until 1999 (Volition, with saxophonist Jone Takamäki, Björkenheim, Krokfors and drummer Alf Forsman, in 1991; Matinale, with Takamäki, Björkenheim, Krokfors and drummer Ippe Kätkä, in 1993; and Primal Mind, with Krakatau and the UMO Jazz Orchestra, in 1991). Other important early collaborators included pianists Jarmo Savolainen (John´s Sons in 1996, Times Like These in 2002 and Song For Trio in 2006), Samuli Mikkonen (Korpea kuunnellessa in 1998 and 7 Henkeä in 2002) and Seppo Kantonen (Klang in 2000) as well as organist Jukka Gustavson (Moments in 2000). During this period, Krokfors became one of the most in-demand bass players in Finland.
Early in the new millennium, Krokfors and Tom Nekljudow were the moving forces behind the formation of the Juhani Aaltonen Trio having succeeded in convincing Juhani Aaltonen to join forces with them in this new group after all three had participated in a recording and a few performances by the 12-member Suhkan Uhka ensemble led by saxophonist Jone Takamäki and bassist Antti Hytti (Suhka, TUM CD 001, in 2002). The Juhani Aaltonen Trio soon attained both critical and popular success and is considered one of the most important groups in the history of Finnish improvised music (Mother Tongue, TUM CD 002, in 2002 and Illusion of a Ballad, TUM CD 013, in 2005). Krokfors is also a founding member of the Juhani Aaltonen Quartet, another group essential for Finnish and European improvised music (Conclusions, TUM CD 021, in 2008 and To Future Memories, TUM CD 036, in 2010).
Krokfors has frequently performed and recorded with various quartets of saxophonist/flutist Sakari Kukko (Virret in 2001, Joulu in 2003 and Valo in 2013). Other collaborators have included saxophonists Kari Heinilä (Lill´Lisa in 1999) and Esa Pietilä (Direct in 2002 and Travel Of Fulica Altra in 2007), vocalist Mirja Mäkelä (Secret Playground in 1999), guitarist Peter Engberg (Tori in 2000), drummer André Sumelius (Kaira in 2002), pianist Tonu Naissoo (You Stepped Out Of A Dream in 2005) and pianist Kari Ikonen (The Helsinski Suite in 2010). As a member of TUMO, Krokfors participated in a 2-CD recording of composer and trumpeter Wadada Leo Smith´s music for a large ensemble (Occupy the World, TUM CD 037-2, in 2012).
In the past two decades, Krokfors has increasingly collaborated with Iro Haarla in ensembles ranging from a duo (Heart of a Bird, with Rasmus Korsström on four tracks, TUM CD 004, in 2003) to the nine-member Loco Motife (Penguin Beguine, TUM CD 011, in 2004). He is also featured on Haarla´s recordings with her Finnish-Norwegian quintet (Northbound in 2004, Vespers in 2010 and Ante Lucem in 2012) and is a founding member of both her Finnish quintet and sextet (Kolibri, TUM CD 035, in 2013). Haarla and Krokfors were also both members of Jorma Tapio´s Rolling Thunder (Live in Japan in 2002) and Sakari Kukko´s Valo Quartet.
In recent years, Krokfors has increasingly focused on his own compositions, which have been featured on recordings by Suhkan Uhka and the Juhani Aaltonen Trio and Quartet. In 2008, Krokfors published his first solo bass recording with eight of his own compositions and one composition by Iro Haarla (The Incense of All Our Prayers).
Krokfors has participated in a number of projects outside of the realm of jazz, with several of them including Henrik Otto Donner as the producer (Dave Lindholm & Otto Donner: More Than 123, TUM-A CD 001, in 2010; Calle and Dave Lindholm: The Blue CD, TUM-A CD 002, in 2012; Jukka Orma: Öisin olemme samanlaisia, TUM-A CD 003, in 2012; and Jim Pembroke: If the Rain Comes, TUM-A CD 007, in 2014). Krokfors has also performed and recorded with singer-songwriters Matti Johannes Koivu (Toisen maailman nimi in 2011) and Sami Kukka (Meidän laulu in 2016).
In 2015, Krokfors received the Finnish Jazz Federation´s Yrjö Award as the Jazz Musician of the Year.
...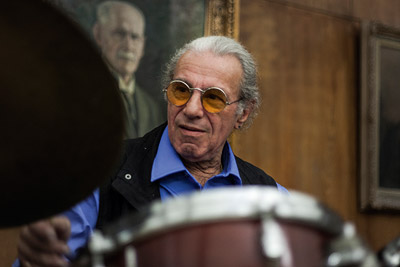 Barry Altschul (b. 1943) grew up in the South Bronx in New York City. He began playing the drums at the age of 11 after having earlier played the piano and the clarinet.
As a teenager, Altschul was a member of a doo-wop group, first called the Students and then the Diplomats,which had a minor East Coast hit and toured opposite some of the top acts of the time, including Little Anthony and Frankie Lymon, even performing on some popular TV dance shows of the time such as the Dick Clark Show. However, under pressure to commit to a long-term contract, Altschul chose to focus on the drums instead.
In the late 1950s and the early 1960s, Altschul was involved in the local hard bop scene playing in jam sessions in the Bronx and other New York City boroughs with his contemporaries, including saxophonists Dave Liebman and Frank Mitchell, pianists George Cables and Jimmy Hunter and many others. He studied drums with Charli Persip and Sam Ulano and composition with Lee Konitz.
One of Altschul´s first public performances as a drummer was with pianist Larry Willis and bassist Walter Booker in a neighborhood lounge. However, his first "proper" gig was with the Paul Bley Trio (with bassist David Izenson) in what was the inauguration of Slugs´, the (in)famous East Village bar, as a jazz club in 1964. This one-off gig resulted in Altschul working regularly with pianist Paul Bleyfor the remainder of the 1960s and sporadically also during the next three decades. Other than for his participation in the first recordingof the Jazz Composer´s Orchestra (Communication) in April 1965, Altschul´s earliest recordings were also with Bley. These included Touching (with bassist Kent Carter) and Closer (with bassist Steve Swallow) in 1965, Ramblin´, Blood and In Haarlem (all with bassist Mark Levinson) in 1966, Ballads (with bassist Mark Levinson) and Virtuosi (with bassist Gary Peacock) in 1967 as well as a number of others that followed since.
Altschul´s work with Paul Bley drew the attention of other musicians active on New York City´s bourgeoning free jazz scene of the 1960s and resulted in tours and/or recordings with such notables as soprano saxophonist Steve Lacy and trombonist Roswell Rudd as well as bassists Gary Peacock, Alan Silva and Steve Swallow. His familiarity with the tradition also led to performances with the likes of saxophonists Sonny Criss, Johnny Griffin, Lee Konitz, Art Pepper and Tony Scott, pianist Hampton Hawes and vocalist Babs Gonzalez, among many others.
At the very end of the 1960s and beginning of the 1970s, Altschul was a member of pianist Chick Corea´s trio with bassist Dave Holland and then participated in the important cooperative group Circle after saxophonist Anthony Braxton joined Corea, Holland and Altschul. He also soon joined saxophonist Sam Rivers, with whom he had already performed in New York City during the October Revolution in Jazz in 1964, in a new trioalso including Dave Holland, and the Anthony Braxton Quartet (with trumpeter Kenny Wheeler or trombonist George Lewis and Dave Holland). These three ground-breaking groups solidified his reputation as one of the most creative drummers on the contemporary scene.
During this period, Altschul also participated in some of the most important modern jazz recordings of the 1970s, including The Song of Singing (1970) and A.R.C. (1971) by Chick Corea, Dave Holland and Altschul; Circulus (1970), Circling In (1970) and Paris Concert (1971) by Circle; Conference of the Birds (1972) by the Dave Holland Quartet (with Holland, Braxton and Rivers); Hues (1973), The Quest (1976) and Paragon (1977) by the Sam Rivers Trio; Sizzle (1975) by the Sam Rivers Quintet; Complete Braxton (1971), Five Pieces 1975 and The Montreux/Berlin Concerts (1975) by the Anthony Braxton Quartet; Creative Orchestra Music 1976 by Anthony Braxton´s large ensemble; Scorpio (1972) and Japan Suite (1976) by the Paul Bley Trio; Drum Ode (1974) by Dave Liebman; Flexible Flyer (1975) by Roswell Rudd; Coon Bid´ness (1975) by saxophonist Julius Hemphill and Spiral (1975) by pianist Andrew Hill.
In addition, Altschul led his own freebop groups, with such luminaries as pianists Muhal Richard Abrams and Anthony Davis, trombonists Ray Anderson and George Lewis as well as bassist Mark Helias, to name a few. Altschul also began recording as a leader, with his first two recordings for Muse Records, You Can´t Name Your Own Tune (with Sam Rivers, George Lewis, Muhal Richard Abrams and Dave Holland) from 1977 and Another Time/Another Place (with saxophonist Arthur Blythe, Ray Anderson, Anthony Davis, cellist Abdul Wadud and bassist Brian Smith) from 1978, being among the key modern jazz recordings of the late 1970s. These were followed by Somewhere Else in 1979 and Brahma in 1980 by the Barry Altschul Trio (with Ray Anderson and Mark Helias), For Stu (with Ray Anderson, Anthony Davis and bassist Rick Rozie) in 1979, Irina (with trumpeter Enrico Rava, saxophonist John Surman and Mark Helias) in 1983 and That´s Nice (with saxophonist Sean Bergin, trombonist Glenn Ferris, pianist Mike Melillo and bassist Andy McKee) in 1985.
During a 10-year sojourn in Paris, France, in the late 1980s and early 1990s, Altschul was chosen to be the first foreign Artistic Director of Orchestre Regional De Jazz De Lorraine, a 20-piece French regional big band based in Nancy, that, during this time, performed music written by Altschul and arranged by Coleridge-Taylor Perkinson. During this period, Altschul also toured Africa, the Middle East and Eastern Europe as a cultural ambassador for the USIS and recorded for a number of European record labels, including sessions led by saxophonists Claudio Fasoli, André Jaume and Dave Liebman, pianists Paul Bley, Kenny Drew, Franco D´Andrea, Denis Levaillant and Simon Nabotov, bassists John Lindberg and Niels-Henning Ørsted-Pedersen and vocalist Tiziana Ghiglioni. Overall, Altschul has participated in more than 160 recordings during his career.
Returning to the United States in 1993, Altschul took a teaching position at Sarah Lawrence College for a period of 10 years and, although he soon began to perform in a few clubs where he also curated the music program, was largely invisible to the broader jazz audience. In 2003, bassist Adam Lane invited Altschul to participate in a recording (Fo(u)r Being(s)) that also featured trumpeter Paul Smoker and saxophonist John Tchicai and led to a small tour that served to get Altschul more interested in live performance again.
Around this time, Altschul also joined forces with violinist Billy Bang and bassist Joe Fonda to form the FAB Trio, a collective group that became his first regular performing vehicle in the United States after a break of two decades, and went on to tour worldwide and record five highly acclaimed albums (Transforming the Space in 2003; Live At the Iron Works, Vancouver in 2004; History Of Jazz In Reverse, TUM CD 028, in 2005; Live In Amsterdam in 2008 and Live At the Sunset - A Night In Paris in 2008).
In the past decade, Altschul has also been a part of Roswell Rudd´s Trombone Tribe (with trombonists Roswell Rudd, Deborah Weisz and Steve Swell as well as tubist Bob Stewart and bassist Henry Grimes) and The Swell-Ullman 4 (with Steve Swell, saxophonist Gebhard Ullman and bassist Hilliard Greene; Desert Songs And Other Landscapes in 2004and Live In Montreal in 2008) and has led several groups of his own that have included the likes of Uri Caine, Dave Douglas, Hilliard Greene, Hayes Greenfield, Mark Helias, Roswell Rudd, John Tchicai and many others. In 2007, he reunited with Sam Rivers and Dave Holland for a recorded performance by the Sam Rivers Trio (Reunion: Live In New York).
Altschul first performed with saxophonist Jon Irabagon on their 2010 recording with bassist Peter Bendler (Foxy). Since that time, Altschul and Irabagon have also performed together in The 3dom Factor, a trio with Joe Fonda (The 3dom Factor, TUM CD 032, in 2012; Tales of the Unforeseen, TUM CD 044, in 2014; and Live In Krakow in 2016), and in another trio with Mark Helias (It Takes All Kinds in 2013).