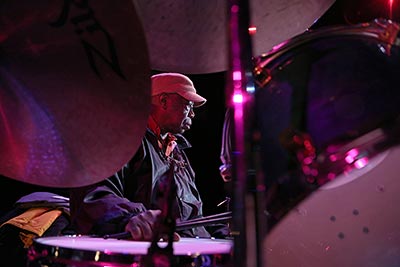 Andrew Cyrille (b. 1939) was born in Brooklyn, New York, into a family with Haitian parents. At age 11, Cyrille began to learn drumming at St. Peter Claver grammar school´s drum and bugle corps in Brooklyn. After graduating from high school, he began studying at St. John´s University with science as his major. However, he was already playing jazz in the evenings having been mentored in the art of drumming by the great Philly Joe Jones circa 1958. Cyrille soon switched to the Juilliard School of Music.
During his studies at Juilliard and the Hartnett School of Music (1961-64), Cyrille played both with a number of well-established jazz musicians, such as saxophonists Coleman Hawkins and Illinois Jacquet and pianist Mary Lou Williams, and with younger representatives of modern jazz like saxophonists Bill Barron and Rahsaan Roland Kirk, trumpeter Kenny Dorham and vibraphonist Walt Dickerson as well as with the Nigerian master drummer Babatunde Olatunji. Cyrille is considered one of the most creative and versatile percussionists in modern jazz, equally at home in a modern mainstream setting as with more avant-garde music.
Cyrille first began making a name for himself with his 1961 recordings with Coleman Hawkins (The Hawk Relaxes), Walt Dickerson (This Is Walt Dickerson!) and bassist Ahmed Abdul-Malik (The Music Of Ahmed Abdul-Malik). His collaborations with Dickerson in particular continued into the 1980s, resulting in such other classic recordings as Relativity and To My Queen in 1962, Jazz Impressions Of "Lawrence Of Arabia" in 1963, Unity in 1964, Tell Us Only The Beautiful Things and Peace in 1975, and Dickerson´s final recording as a leader, Life Rays, in 1982.
However, Cyrille may still be best known for his membership in the Cecil Taylor Unit, which lasted for over a decade (1964-75), during which he established his position as one of the leading percussionists in freely improvised music. Cyrille´s close to 10 recordings with Cecil Taylor began with two legendary sessions (Unit Structures and Conquistador!, both in 1966) for Blue Note Records and also included Cecil Taylor´s recording with the Jazz Composer´s Orchestra ("Communications No. 11, Part 1 and Part 2", The Jazz Composer´s Orchestra) in 1968, Nuits De La Fondation Maeght, Volumes 1-3, in 1969 as well as Akisakila and Spring Of Two Blue-J´s in 1973.
Since the 1970s, Cyrille has led or co-led a number of ensembles, including Maono (with trumpeter Ted Daniel, saxophonist David S. Ware, pianist Donald Smith and bassist Nick DiGeronimo et. al.), The Group (with trumpeter Ahmed Abdullah, saxophonist Marion Brown, violinist Billy Bang and bassists Sirone and Fred Hopkins; Live in 1986) and the percussion quartet Pieces Of Time (with Kenny Clarke, Milford Graves and Famoudou Don Moye; Pieces Of Time in 1983).
Cyrille has released more than 30 recordings as a leader or co-leader, ranging from two solo recordings (What About? in 1969 and The Loop in 1978) and a number of duo recordings beginning with his legendary duo with fellow drummer Milford Graves (Dialogue Of The Drums in 1974) and continuing over the years with his duos with saxophonists Anthony Braxton, Peter Brötzmann, Mikko Innanen (Song For A New Decade, TUM CD 042-2, in 2010/12), Jimmy Lyons, Bill McHenry and Greg Osby (Low Blue Flame, TUM CD 016, in 2005), pianists Armando Battiston and Irène Schweizer, synthesizer player Richard Teitelbaum, bassist Peter Kowald and drummers Michael Carvin and Vladimir Tarasov, among others, to recordings with small groups and larger ensembles.
Cyrille´s first recordings as a group leader were with Maono, including Celebration (with Daniel, Ware, Smith, synthesizer player Romulus Franceschini, bassist Stafford James, percussionist Alphonse Cimber, vocalist Jeanne Lee and poet Elouise Loftin) in 1975, Junction (with Daniel, Ware, and Lisle Atkinson) in 1976 and Metamusicians´ Stomp (with Daniel, Ware and DiGeronimo) in 1978. These were followed by Nuba (with Jimmy Lyons and Jeanne Lee) in 1979, Special People (with Daniel, Ware and DiGeronimo) in 1980, The Navigator (with Daniel, pianist Sonelius Smith and DiGeronimo) in 1982, My Friend Louis (with trumpeter Hannibal Marvin Peterson, saxophonist Oliver Lake, pianist Adegoke Steve Colson and bassist Reggie Workman) in 1991, X Man (with flutist James Newton, guitarist Alix "Tit" Pascal and bassist Anthony Cox) in 1993, Ode To The Living Tree (with saxophonists Oliver Lake and David Murray, Adegoke Steve Colson, bassist Fred Hopkins and percussionist Mor Thiam) in 1994, and Good To Go, With A Tribute To Bu (with James Newton and Lisle Atkinson) in 1995.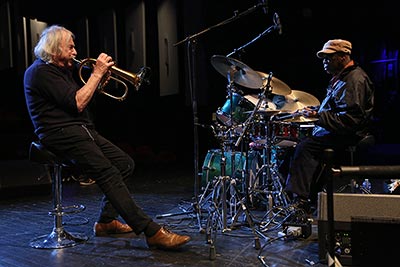 During the 1980s, Cyrille recorded a particularly important series of albums with clarinetist John Carter (Castles Of Ghana, Dance Of The Love Ghosts and Fields and Shadows On A Wall) and several albums with pianist Muhal Richard Abrams (Mama And Daddy, Blues Forever, Rejoicing With The Light, Colors In Thirty-third and The Hearing Suite). In the past five decades, he has also recorded with Juhani Aaltonen (Strings Revisited, TUM CD 003, and Reflections, TUM CD 007, both in 2002), Geri Allen, Billy Bang (A Tribute to Stuff Smith, notable for being the last studio session of Sun Ra), A. Spencer Barefield, Carla Bley, Charles Brackeen, Bobby Bradford, Marion Brown, Dave Burrell, Adegoke Steve Colson, Marilyn Crispell, Richard Davis, Dave Douglas, Charlie Haden, Kip Hanrahan, Sir Roland Hanna, Leroy Jenkins, Oliver Lake, John Lindberg, Jimmy Lyons, Mark Masters, Grachan Moncur, III, Lawrence "Butch" Morris, David Murray, Aruan Ortiz, Ivo Perelman, Paul Plimley, Hugh Ragin, Roswell Rudd, Archie Shepp, Lonnie Liston Smith, Steve Swell, Horace Tapscott, John Tchicai (Witch´s Scream, TUM CD 014, in 2004), Mal Waldron and Reggie Workman, among many others.
In 1992, Oliver Lake, Reggie Workman and Cyrille founded Trio 3, a cooperative group that has over time become one of the main performing vehicles for all three of its members, recording more than 10 albums with several of the later ones also featuring a visiting pianist (Live In Willisau in 1997; Encounter in 1999; Open Ideas in 2001; Time Being in 2005; What´s Nine - Live At The Sunset in 2007; Berne Concert, with Irène Schweizer, in 2007; At This Time, with Geri Allen, in 2008; Celebrating Mary Lou Williams, with Allen, in 2010; Refraction - Breakin´ Glass, with Jason Moran, in 2012; Wiring, with Vijay Iyer, in 2013; and Visiting Texture in 2016).
In the new millennium, Cyrille has led the Haitian Fascination, an ensemble that pays homage to his Haitian roots (Route De Frères, with baritone saxophonist Hamiet Bluiett, Alix Pascal, Lisle Atkinson and Frisner Augustin on vocals and percussion, TUM CD 027, in 2005) and co-led the CDE Trio (with saxophonist Marty Ehrlich and bassist Mark Dresser), the Mary Lou Williams Collective (Zodiac Suite: Revisited, with Geri Allen, Buster Williams and Billy Hart, in 2000-2003) and the Soren Kjaergaard, Ben Street & Andrew Cyrille Trio (Optics in 2007, Open Opus in 2008 and Femklang in 2012), among a number of other ensembles. He was also a member of the Roswell Rudd/Archie Shepp Group (Live In New York, with Shepp, Rudd, Grachan Moncur III, Reggie Workman and poet Amiri Baraka, in 2000).
Cyrille´s most recent recordings as a leader have included Duology (with Ted Daniel and clarinetist Michael Marcus) in 2011, The Declaration Of Musical Independence (with Richard Teitelbaum, guitarist Bill Frisell and bassist Ben Street) in 2014, Lebroba (with trumpeter Wadada Leo Smith and Bill Frisell) in 2017 and The News (with pianist David Virelles, Bill Frisell and Ben Street) in 2019.
Cyrille has been involved in jazz education since the early 1970s. From 1971-1973, he was artist in residence and instructor at Antioch College, Ohio, and also taught at the Graham Windham Home for Children in New York. Cyrille is currently a faculty member of the New School for Jazz and Contemporary Music operating as part of the New School University in New York City.
Cyrille has been recognized with several awards and prizes over the years, including the Guggenheim Fellowship in Composition in 1999, three National Endowment for the Arts grants, two Meet the Composer/AT&T-Rockefeller Foundation grants, an Arts International Award to perform with his quintet in Accra, Ghana and West Africa, and two American Society of Composers, Authors, and Publishers (ASCAP) awards for meritorious achievement in percussion composition. In 2019, he received the first Jazz Laureate Award in Montclair, New Jersey, and the Lifetime Achievement Award by Arts for Art, Inc. at the Vision Festival in New York City. In 2020, Cyrille received the Doris Duke Artist Award.
...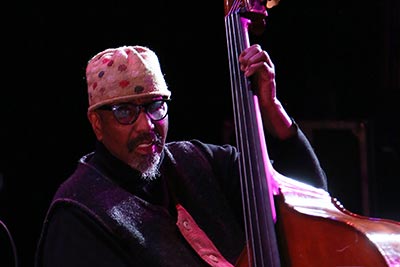 William Parker (b. 1952) is a composer, improviser, multi-instrumentalist, writer and poet born in the Bronx in New York City. His first instrument was the trumpet, followed by the trombone and cello. Parker studied the double bass with Richard Davis, Jimmy Garrison, Wilbur Ware and Paul West. He also plays the shakuhachi, double reeds, tuba, donso ngoni and gembri.
Parker entered the music scene during New York´s loft jazz era in the early 1970s, performing at Artist House, Studio Rivbea, Studio WE, Hilly´s on The Bowery, the Salt and Pepper club and The Baby Grand, among others. His particularly memorable early appearances include a performance with pianist Cecil Taylor´s big band at Carnegie Hall in 1974 and with trumpeter Don Cherry at the Five Spot in 1975.
Parker quickly became a much sought-after bassist playing primarily with fellow improvisers, such as Rashied Ali, Donald Ayler, Roger Baird, Rashid Bakr, Billy Bang, Karl Berger, Charles Brackeen, Dave Burrell, Daniel Carter, Denis Charles, Ellen Christi, Marilyn Crispell, Bill Dixon, Zusaan Kali Fasteau, Milford Graves, Günter Hampel, Billy Higgins, Wayne Horvitz, Khan Jamal, Peter Kuhn, Jeanne Lee, Bill Lowe, Frank Lowe, Jimmy Lyons, Raphe Malik, Jemeel Moondoc, Lawrence "Butch" Morris, Sunny Murray, Alan Silva, Sonny Simmons, Charles Tyler, Henry Warner, Arthur Williams and Frank Wright, as well as with traditionalists, such as Walter Bishop, Sr. and Maxine Sullivan.
Parker´s early collaborations with the dancer and choreographer Patricia Nicholson created a large repertoire of composed music for ensembles ranging from solo works to big band projects. Some of this previously unreleased music by Parker´s early groups, such as the Music Ensemble, Centering Music/Dance Ensemble, Centering Big Band and The Aumie Orchestra, has been made available in two recent collections (Through Acceptance Of The Mystery Peace, recorded in 1974-76, and Centering - Unreleased Early Recordings 1976-1987). While continuing their artistic collaborations, Nicholson and Parker have also been central forces behind the annual New York Vision Festival, which began in 1996 as a successor to the Sound Unity Festival that Parker had initiated with fellow bassist Peter Kowald in 1984.
Parker first recorded with saxophonist Frank Lowe (Black Beings and The Loweski in 1973 and Out Loud in 1974), thereby beginning a recording career that now includes approximately 500 releases.
Parker became internationally recognized when playing in the Cecil Taylor Unit from 1980 through 1991 (Calling It The Eight in 1981, Winged Serpent (Sliding Quadrants) in 1984, Olu Iwa in 1986, Live In Bologna, Live In Vienna and Tzotzil Mummers Tzotzil in 1987, Alms-Tiergarten (Spree) in 1988, In Florescence and Looking in 1989 and 2 Ts For A Lovely T, Celebrated Blazons and CT: Dance Project in 1990).
Parker´s other key collaborators have included violinist Billy Bang (Black Man´s Blues and New York Collage in 1977, Changing Seasons in 1980, The Fire From Within in 1984, Live At Carlos I in 1986, Scrapbook in 2002 and Medicine Buddha in 2009), saxophonist Jemeel Moondoc (First Feeding in 1977, The Evening Of The Blue Men in 1979, New York Live!, The Intrepid/Live In Poland and Konstanze´s Delight in 1981, Nostalgia In Times Square in 1985, New World Pygmies in 1998, Live In Paris in 1999, New World Pygmies, Vol. 2 in 2000 and Live At Glenn Miller Café Vol I in 2002), saxophonist David S. Ware (more than 20 recordings from Passage to India in 1988 to Live At Jazz Festival Saarfelden in 2011), pianist Matthew Shipp (more than 20 recordings starting with Points in 1990), saxophonist Charles Gayle (Touchin´ On Trane in 1991, Raining Fire, Translations, Blue Shadows, More Live and Consecration in 1993, Kingdom Come in 1994 and Daily Bread in 1995), trumpeter Roy Campbell (New Kingdom in 1991, Communion in 1994, Ancestral Homeland in 1998, Ethnic Stew And Brew in 2000 and Tribute To Albert Ayler in 2008), saxophonist Rob Brown (Breath Rhyme in 1989, High Wire in 1993, Round The Bend in 2002, The Big Picture in 2004 and Crown Trunk Root Funk in 2008), guitarist Joe Morris (Illuminate in 1993, Elsewhere in 1996, Invisible Weave in 1997 and Altitude in 2012) and drummer Hamid Drake, one of Parker´s most frequent collaborators in the past two decades (First Communion and Piercing The Veil in 2000, The Last Dances in 2002, Evolving Silence Vol.1 and Vol.2 and Summer Snow in 2005 and Blissful in 2007), among many others.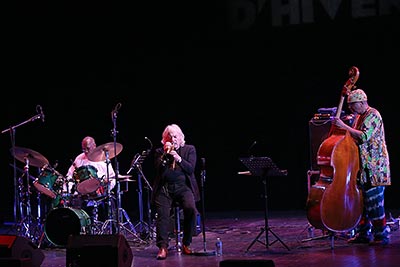 Parker has participated in a number of collective groups, including the Melodic Art-Tet (with trumpeter Ahmed Abdullah, saxophonist Charles Brackeen, drummer Roger Blank and percussionist Tony Waters; Melodic Art-Tet in 1974), Trio Hurricane (with saxophonist Glenn Spearman and drummer Paul Murphy; Suite of Winds in 1986, Vision Volume One in 1997 and Live At Fire In The Valley in 1997), Collective 4tet (with trombonist Jeff Hoyer, pianist Mark Hennen and percussionist Heinz Geisser; The Ropedancer in 1994, Live At Crescent in 1997, Synopsis and Moving Along in 2002, and In Transition in 2008), Other Dimensions In Music (with trumpeter Roy Campbell, saxophonist Daniel Carter and drummer Rashid Bakr; Other Dimensions In Music in 1989, Now!, Vision Volume One and Time Is Of The Essence Is Beyond Time in 1997, Live At The Sunset in 2006 and Kaiso Stories in 2010), Die Like A Dog Quartet (with trumpeter Toshinori Kondo, saxophonist Peter Brötzmann and drummer Hamid Drake; Die Like A Dog in 1993, Close Up in 1994, Little Birds Have Fast Hearts No. 1 and No. 2 in 1997, From Valley to Valley in 1998 and Aoyama Crows in 1999) and Farmers By Nature (with pianist Craig Taborn and drummer Gerald Cleaver; Farmers By Nature in 2008, Out Of This World´s Distortions in 2010 and Love And Ghosts in 2011), among others.
Parker has also performed with a number of musicians and groups coming from the Association for the Advancement of Creative Musicians (AACM), including Muhal Richard Abrams, Fred Anderson, Anthony Braxton, Ernest Dawkins, Douglas Ewart, Roscoe Mitchell, Henry Threadgill, Wadada Leo Smith, Phillip Wilson and members of the Art Ensemble of Chicago.
In addition to his work with artists in the United States, Parker has developed strong relationships with musicians active in the European improvised music scene, including in particular Peter Brötzmann and Peter Kowald and also Derek Bailey, Conny Bauer, Hannes Bauer, Han Bennink, Raoul Björkenheim, Frode Gjerstad, Franz Hautzinger, Mikko Innanen (Song For A New Decade, TUM CD 042-2, in 2010), Paul Nilssen-Love, Louis Moholo-Moholo, Tony Oxley, Evan Parker, Ivo Perelman, Barre Philips, Louis Sclavis, Spring Heel Jack, Tomasz Stanko, John Tchicai and Tiziano Tononi, among others.
In the early 1990s, Parker began leading two new ensembles: In Order To Survive, which started as a sextet but then became a quartet with Rob Brown, pianist Cooper-Moore and drummer Susie Ibarra (In Order To Survive in 1993, Compassion Seizes Bed-Stuy in 1995, The Peach Orchard in 1997, New Communities Of Sound in 1999 and Live/Shapeshifter in 2017) and The Little Huey Creative Music Orchestra, a big band of varying size and personnel (Flowers Grow In My Room in 1994, Mayor Of Punkville in 1999, Raincoat In The River in 2001, Spontaneous in 2002 and For Percy Heath in 2005). These were joined a bit later by the William Parker Quartet with trumpeter Lewis Barnes, Rob Brown and Hamid Drake (New Communities Of Sound in 1999, O´Neal´s Porch in 2000, Sound Unity in 2004, Wood Flute Songs in 2006, William Parker Quartet and Petit Oiseau in 2007, Live In Wroclaw in 2012 and Meditation/Resurrection in 2016) and a quintet with the addition of vocalist Leena Conquest (Raining On The Moon in 2001 and Corn Meal Dance in 2007), as well as many other more ad hoc groups. His current projects also include Stan´s Hat Flapping In The Wind (with Lisa Sokolov and Cooper-Moore) and the Cosmic Mountain Quartet (with Kidd Jordan, Cooper-Moore and Hamid Drake).
Parker´s special projects have featured the music of Duke Ellington,Curtis Mayfield and Fats Waller, among others. He has also released solo bass works (Halana in 1993, Testimony in 1994, Lifting The Sanctions in 1997, At Somewhere There in 2008, Crumbling In The Shadows Is Fraulein Miller´s Stale Cake in 2010 and Conversations in 2011) and performed as a duo with a number of other bassists, including Giorgio Dini, Mark Helias, Peter Kowald, Joëlle Léandre, Stefano Scodanibbio and Alan Silva.
Parker is a prolific composer and has composed everything from operas, oratorios, ballets and film scores to soliloquies for solo instruments. To date, he has released well over 50 albums under his own leadership.
Parker has taught at Bennington College, New York University, The New England Conservatory of Music, Cal Arts, the New School for Music and Contemporary Music and The Rotterdam Conservatory of Music. He has also taught music workshops in cities throughout the world, from Berlin, Paris and Tokyo to the Lower East Side of New York City.
Parker is a theorist and the author of several books, including Who Owns Music? in 2007, Conversations in 2011, Conversations II in 2015, Scrapbook - Notes And Blueprints in 2015 and Conversations III in 2019. In addition, he has published volumes of poetry, including Music Is, Document Humanum and The Shadow People.
...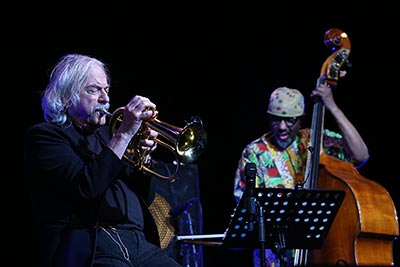 Enrico Rava (b. 1939) was born in Trieste, Italy, but grew up in Turin, Italy, where he moved with his family in 1943. Rava began playing the trombone in Dixieland bands when he was 15 but switched to the trumpet at 18 after hearing Miles Davis perform in Turin. In addition to Miles Davis, his early influences included trumpeter Chet Baker.
Soon Rava was getting asked to participate in local jam sessions and, in 1963, the Argentine saxophonist Gato Barbieri, who was then living in Rome, convinced Rava to join him there. Members of Barbieri´s Italian quintet honed their skills at a nightly gig that lasted for nine months at Meo Patacca, a popular restaurant in Trastevere owned by the expatriate American character actor Remington Olmsted.
Rava´s first recordings came from this period with Gato Barbieri (music for a film by director Giuliano Montaldo, Una Bella Grinta, with Barbieri, Rava, pianist Franco D´Andrea, bassist Giovanni Tommaso and drummer Bruno Biriaco, in 1965; released as part of Two Pictures in 1990), pianist Giorgio Gaslini (with trumpeters Don Cherry and Rava, saxophonists Gato Barbieri, Gianni Bedori and Steve Lacy, bassists Kent Carter and Jean-Francois Jenny-Clark and drummers Aldo Romano and Franco Tonani; Nuovi Sentimenti (New Feelings) Suite in 1966) and soprano saxophonist Steve Lacy (with Lacy, Rava, Carter and Romano; Sortie in 1966).
After Barbieri moved to Paris, Rava joined Steve Lacy's quartet, which led to extended stays in London, South America and eventually New York. While the group was stranded in Buenos Aires, Argentina, in 1966, they recorded a live album, The Forest And The Zoo (with Lacy, Rava, bassist Johnny Dyani and drummer Louis T. Moholo), that was released by ESP Records in New York City the following year.
A month after moving to New York City in 1967, Rava became a member of the jazz-rock group Gas Mask that recorded its only album, Their First Album, under the production of Teo Macero. He also soon played with many of the musicians then active on the New York improvised music scene, such as Carla Bley, Lee Konitz, Jeanne Lee, Paul Motian and Roswell Rudd.
In 1968-71, Rava participated in the recording of Escalator Over The Hill by Carla Bley and Paul Haynes as a member of the Jazz Composer´s Orchestra. Another important recording with the Jazz Composer´s Orchestra was Numatik Swing Band by Roswell Rudd in 1973. In New York City, Rava also participated in the recording of Angel by Günter Hampel And His Galaxie Dream Band in 1972, Terra Nova by saxophonist Robin Kenyatta in 1973, African Space Program by pianist Abdullah Ibrahim (then known as Dollar Brand) in 1973, two albums by Roswell Rudd (Inside Job and Blown Bone, both in 1976), two albums by drummer Bruce Ditmas (Yellow in 1976 and Aeray Dust in 1977) and two albums by bassist Marcello Melis (The New Village On The Left in 1976 and Free To Dance in 1978), among others.
Although making New York City his home for a decade, Rava traveled back and fourth between the United States and Europe and, particularly while waiting for his green card in Europe in 1968/69, began making records in Europe with increasing frequency, including Stereo Konitz by Lee Konitz (with Konitz, Rava, Franco D´Andrea, Giovanni Tommaso and drummer Gege Munari) in Rome in 1968, European Echoes by Manfred Schoof and a 16-member orchestra in Bremen in 1969, Roba by Steve Lacy Gang in Rome in 1969, Messageby Giorgio Gaslini Double in Milan in 1973,Pearls and Jahrmarkt / Local Fair by Globe Unity Orchestra in Baden-Baden in 1975 and Jazz A Confronto 26 by bassist Stafford James´ quartet in Rome in 1975.
Rava´s first albums as a leader were with the Enrico Rava Quartet: Il Giro Del Giorno In 80 Mundi, with guitarist/bassist Bruce Johnson, Marcello Melis and drummer Chip White, in 1972 and Katcharpari Rava,with guitarist John Abercrombie, Bruce Johnson and Chip White, in 1973. Much the same personnel also participated in the recording of Bruce Johnson´s Sea Serpent in 1973. These recordings were soon followed by Pupa O Crisalide and Quotation Marks, both recorded with different groups in New York City, Buenos Aires and Rome in 1973/74, and Jazz A Confronto 14, with saxophonist Massimo Urbani, bassist Calvin Hill and drummer Nestor Astarita, recorded in Rome in 1974.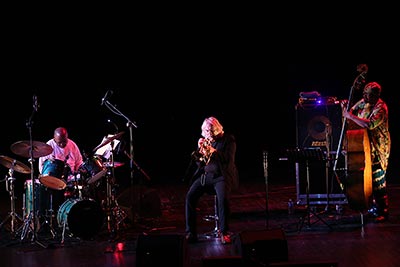 Soon after these early sessions as a leader, Rava recorded his first album for ECM Records (The Pilgrim And The Stars, with John Abercrombie, bassist Palle Danielsson and drummer Jon Christensen, in 1975) and thus began a relationship that still continues today. This was followed by The Plot, with the same personnel, in 1976; Enrico Rava Quartet, with Roswell Rudd, Jean-Francois Jenny-Clark and Aldo Romano, in 1978; Ah!, with Franco D´Andrea, Giovanni Tommaso and Bruce Ditmas, in 1979; Opening Night, with D´Andrea, bassist Furio Di Castri and Romano, in 1981; and Volver, with co-leader Dino Saluzzi on the bandoneon, guitarist Harry Pepl, Di Castri and Ditmas, in 1986. Following these releases, Rava then recorded for various other labels for nearly two decades.
In particular, Rava recorded a series of albums for Soul Note / Black Saint both as a leader (Flat Feet, with Urbani, D´Andrea, bassist Mark Helias and drummer Barry Altschul,in 1983; Andanata, with saxophonist Pietro Tonolo, D´Andrea, Tommaso and Ditmas, in 1983; Rava String Band, with guitarist Augusto Mancinelli, Tommaso, drummer Tony Oxley, percussionist Nana Vasconcelos and a string quartet, in 1984; and Secrets, with pianist John Taylor, Mancinelli, Di Castri and Ditmas, in 1986) and as a sideman (Irina with Barry Altschul in 1983, Winged Serpent (Sliding Quadrants) with Cecil Taylor in 1984, Give It Up with Jimmy Lyons in 1985, Little Red Moon with Archie Shepp in 1985 and I´ll Be Around with vocalist Tiziana Ghiglioni and pianist Mal Waldron in 1989).
Rava continued to record as a leader for various Italian and other European labels, including Animals, with Mancinelli, di Castri and drummer Mauro Beggio, in 1987; Toucan, with arranger Giochi Proibiti, in 1988; What A Day!!!, with pianist Stefano Battaglia, guitarist Riccardo Bianchi, bassist Marco Micheli and drummer Roberto Gatto, in the late 1980s; Chanson, with accordionist Richard Galliano, pianist Rita Marcotulli and bassist Enzo Pietropaoli, in 1990; Bella, with pianist Enrico Pieranunzi, Pietropaoli and Gatto, in 1990; Tribute To Mingus, with saxophonist Francois Jeanneau, pianist Herve Sellin, bassist Francois Mechali and drummer Andrea Ceccarelli, in 1991; Electric Five, with saxophonist Gianluigi Trovesi, guitarists Roberto Cecchetto and Domenico Caliri, bassist Giovanni Maier and drummer U.T. Gandhi (Umberto Trombetta), in 1994; Noir, with saxophonist Stefano di Battista, Cecchetto, Calibri, Maier and Gandhi, in 1996; Icon, with saxophonist Claudio Fasoli and Franco D'Andrea, in 1996; Ragazzi Selvaggi, with Cecchetto, Maier, Trombetta and Orchestra Del Teatro Sociale Di Rovigo, in 1996; Certi Angoli Segreti, with trombonist Gianluca Petrella, tubist Rudy Migliari, clarinetist Mauro Negri, saxophonist Emanuele Cisi, pianist Stefano Bollani, Cecchetto, Calibri, Maier and Gandhi, in 1998; Omaggio A Lucio Battisti, with Bollani, Cecchetto, Pietropaoli and Gatto, in 1999; Iseojazz, with Petrella, Bollani, bassist Rosario Bonaccorso and Gandhi, in 2001; Smiling In Hollywood, with the Mario Rusca Trio and strings, in 2001; Renaissance, with Bollani, Bonaccorso and Gatto, in 2002; Happiness Is…, with the Enrico Rava Jazzpar 2002 Sextet including Petrella, Bollani, John Abercrombie, bassist Jesper Bodilsen and drummer Morten Lund, in 2002; and Full Of Life, with saxophonist Javier Girotto, bassist Ares Tavolazzi and drummer Fabrizio Sferra, in 2002.
In the new millennium, Rava again started recording for ECM beginning with Easy Living (with Petrella, Bollani, Bonaccorso and Gatto) in 2003 and followed by Tati, with Bollani and drummer Paul Motian, in 2004; The Words And The Days, with Petrella, pianist Andrea Pozza, Bonaccorso and Gatto, in 2005; The Third Man, with Bollani, in 2006; New York Days, with saxophonist Mark Turner, Bollani, bassist Larry Grenadier and Motian, in 2008; Tribe, with Petrella, pianist Giovanni Guidi, guitarist Giacomo Ancillotti, bassist Gabriele Evangelista and Sferra, in 2010; Rava On The Dance Floor, with Parco della Musica Jazz Lab, in 2011; Wild Dance, with Petrella, guitarist Francesco Diodati, Evangelista and drummer Enrico Morello, in 2015; Roma by the Enrico Rava - Joe Lovano Quintet, with Rava, Lovano, Guidi, bassist Dezron Douglas and drummer Gerald Cleaver, in 2018; and Edizione Speciale, with saxophonist Francesco Bearzatti, Diodati, Guidi, Evangelista and Morello, scheduled for release in 2021.
In addition to his own projects, Rava has participated in a number of collaborative groups, such as Quatre (with Franco D´Andrea, bassist Miroslav Vitous and drummer Daniel Humair; Quatre in 1989, Earthcake in 1991 and Schaffhauser Jazz-Festival in 1993), Rava-Ullmann-Willers-Lillich-Schauble (with saxophonist Gebhard Ullmann, guitarist Andreas Willers, bassist Martin Lillich and drummer Niko Schauble; Rava-Ullmann-Willers-Lillich-Schauble in 1989), the Konitz/Rava Quartet (with Konitz, Bonaccorso and drummer Massimo Manzi; L´Age Mür in 1997), ), the Europeans with bassist Eberhard Weber and percussionist Reto Weber,the Enrico Rava & Michael Flügel Quartet (with pianist Michael Flügel, saxophonist Frank Lauber, bassist Dietmar Fuhr and drummer Dejan Terzic; Live At Birdland Neuburg in 1999), the Tommaso-Rava Quartet (with Tommasso, Bollani and Gatto; La Dolce Vita in 1999), Rava-Basso-Bollani-Tavolazzi-Manzi (with saxophonist Gianni Basso, Bollani, Tavolazzi and Manzi; Flashback in 2001) and Rava-Herbert-Guidi (with Giovanni Guidi and Matthew Herbert on samples/electronics; For Mario (Live) in 2020). In 2001, Gato Barbieri and Rava, with Stefano Bollani and Aldo Romano, undertook the "Complete Reunion" Tour and, that same year and also at later times, guitarist Pat Metheny has joined Rava for festival performances in Italy. In 2003, Phil Woods, Lee Konitz and Rava shared the stage at Umbria Jazz Festival for a concert and recording (Big Encounter At Umbria 2003, Vol 1: Play Rava).
Over the years, Rava has often performed in a duo with different pianists, including Enrico Pieranunzi (Nausicaa in 1993), Franco D´Andrea (For Bix And Pops in 1994), Stefano Bollani (Rava Plays Rava in 1999, Montreal Diary/B in 2001 and Third Man in 2006), Ran Blake (Duo En Noir in 1999) and Renato Sellani (Radio Days in 2000 and Le Cose Intutili in 2001).
Rava has also demonstrated his love for opera through a number of recordings, including Rava L´opera Va in 1993, Carmen in 1995 and Italian Ballads in 1996, and has recorded a series of albums dedicated to some of the legendary trumpeters of the past, including Bix Beiderbecke, Louis Armstrong, Chet Baker and Miles Davis (with Franco D´Andrea, For Bix And Pops in 1994; with trumpeter Paolo Fresu, Bollani, Pietropaoli and Gatto, Shades of Chet in 1999; and, with Fresu, Bollani, Pietropaoli and Gatto, Montreal Diary/A - Plays Miles Davis in 2001).
While increasingly focusing on his own projects after his return to Europa in 1978, Rava still continued to work with many other leading European improvisers, including concerts and recordings with a number of large ensembles, such as Laboratorio Della Quernica (Laboratorio Della Quernica in 1978), ICP Orchestra (Live Soncino in 1979), Globe Unity Orchestra (Compositions in 1979), Andrea Centazzo Mitteleuropa Orchestra (Live in 1980), George Gruntz Concert Jazz Band (Happening Now! in 1987), European Trumpet Summit (European Trumpet Summit in 1993/4), Karl Berger Orchestra (No Man Is An Island in 1996), European Jazz Ensemble (At The Philharmonic Cologne in 1989 and 20th Anniversary Tour in 1996), Italian Instabile Orchestra (Italian Instabile Orchestra in 1997, Previsioni Del Tempo - Forecast in 1998 and Litania Sibilante in 2000) and Orchestra National De Jazz (Sequences in 1999).
Although Rava met Cecil Taylor already in the late 1960s in New York City, the two only performed together for the first time almost two decades later. Rava was a member of Taylor´s Orchestra Of Two Continents and participated in its recording of Winged Serpent (Sliding Quadrants) in Milan in 1984. This large ensemble included members of the Cecil Taylor Unit at the time (Jimmy Lyons, Frank Wright, Karen Borca, William Parker and Rashid Bakr) and also some of the leading European avant-gardists, such as Tomasz Stanko, John Tchicai and Günter Hampel, and the recording was followed by a European tour. In 1988, Rava was a member of Cecil Taylor European Orchestra with several more European players, including Rava, Stanko and Hampel together with trombonists Hannes Bauer, Christian Radovan and Wolter Wierbos, French hornist Martin Mayes, saxophonists Peter van Bergen, Peter Brötzmann, Hans Koch, Evan Parker and Louis Sclavis, cellist Tristan Honsinger, bassist Peter Kowald and drummer Han Bennink as well as William Parker from Taylor´s group at the time (Alms-Tiergarten (Spree)).
Besides his own projects, Rava has also continued to participate in recordings and other projects led by members of his own groups and by many others, including a veritable Who´s Who of Italian jazz musicians, as well as Francois Cotinaud (Pyramides in 1992), Marc Ducret (Gris in 1990), Sigi Finkel (Voyer, Voyer in 1990), Matthew Herbert (The State Between Us in 2019), Jean-Michel Pilc (Big One and Sweet Sue, both in 1993) and Barney Wilen (Le Grand Cirque in 1992 and Passione in 1995). Altogether, Rava is credited for participation in more than 200 recordings with more than 50 of those as a leader or co-leader. Throughout Rava´s career, his recordings and other projects have often brought together Italian, other European and American musicians in new creative settings.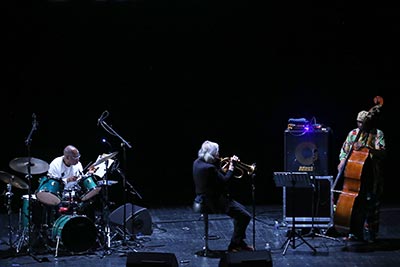 Enrico Rava is likely to be the most internationally acknowledged Italian jazz musician and one of the best known in all of Europe. Over the past two decades, Rava has been recognized for his contributions a number of times. In 2019, he was awarded the Honor of Knight of the Order of Merit of the Republic of Italy. In 2005, he was appointed Doctor in Music Honoris Causa at the Berklee School of Music in Boston, Massachusetts. In 2002, he was named Chevalier des Arts et des Lettres by the French Ministry of Culture and also received the prestigious "JazzPar" prize in Copenhagen, Denmark, that same year.