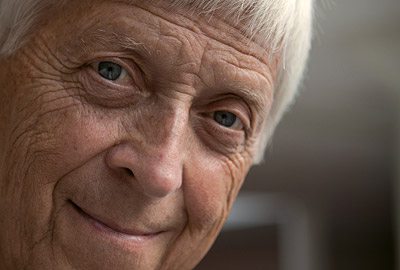 Juhani Aaltonen has been such an integral part of my music for nearly five decades that it is almost impossible for me to imagine my career as a musician or as a composer without his involvement.
Although Juhani has performed as the principal soloist of many of my orchestral works, I have always left a lot of room for him to improvise in even if the music surrounding his contribution has been composed/arranged. Even more importantly, when we play together as a duo or in a small group, improvisation - free flow of ideas and continuous dialogue - has always been the most essential element of our music. That is the language that we have shared going back to the very first times when we played together in the 1960s.
I have long believed that the music exists independently of us; we just tap into this reservoir when performing and/or composing. I certainly feel that this is the case with Juhani and myself. It is as if the music flows from some mystical source outside of our shared consciousness; what comes out continuously surprises even us. Also, we frequently seem to be able to read each others´ minds. So much so that it is sometimes difficult to know where a particular musical idea comes from, who initiates it. It also does not matter. In particular, when we perform together as a duo, I often feel that we do so almost as one.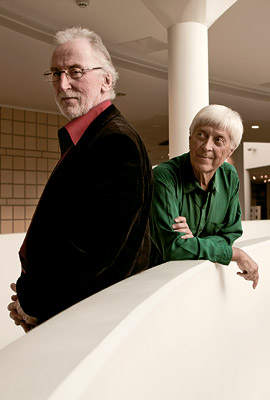 These recording sessions were very much a reflection of our shared past and collective experiences. We made a conscious decision to leave as much space for improvisation as possible even when using my compositions as a launching pad. For this reason, we mostly selected compositions from the early 1970s, a particularly creative period during which we together explored new musical avenues focusing on collective improvisation with compositions only providing a framework for the music. Juhani and I had not played many of these compositions for quite some time - or, in a few cases, ever - and did not want to spend much time rehearsing them either, lest the music lose its freshness. Listening to the end result now, I feel that we succeeded in preserving that freshness.
Although we had gotten together in Helsinki to choose some material for these sessions and to play together in anticipation of them, we travelled to Nilento Studio in Gothenburg without any clear pre-conceived notions of how the music was going to turn out. However, once we began to play, the music flowed so effortlessly that it almost seemed to create itself. The compositions that we chose in the end - whether my own or the two standards included - were just the starting point providing the initial melodic content for our explorations. Otherwise, our interpretations of the pre-existing compositions and the five totally spontaneous duo improvisations included on this double-CD were equally free and unencumbered by over-analysis.

Most of the performances included here were first takes, and whenever we did more than one, the new takes invariably took on an entirely different character from those that had preceded them. No take sounded the same as the others.

We sincerely hope that you enjoy these conversations between - or should I say reminiscences of - two old comrades.
Helsinki, October 31, 2011
Heikki Sarmanto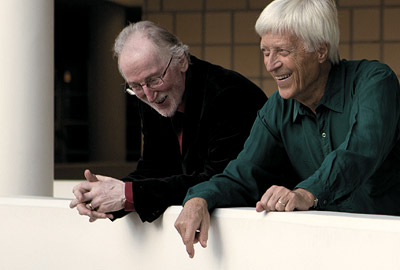 ---
CD-1
When I Was With You (Heikki Sarmanto)
was originally composed to a poem by Gopal Sukhu, an American poet and renowned translator of Chinese poetry, whom Sarmanto befriended around 1972 when they were both students in Boston. The poem had been written by its young author following a particularly heart-wrenching separation. A vocal version of the song was included on Sarmanto´s duo album with vocalist Pamela Kilpeläinen (When I Was With You in 2006).
So Much Happened… (Juhani Aaltonen and Heikki Sarmanto) is a duo improvisation.
What We Cannot Imagine (Heikki Sarmanto)
was composed by Heikki Sarmanto in Boston in the early 1970s. It was part of a series of independent compositions that derived their inspiration and titles from a series of surrealistic poems, "Persons of Prognostication", by the American poet and translator Rika Lesser. Aaltonen´s compositions to the poems received their only performance in Boston that same year by the Heikki Sarmanto Trio (with bassist John Voight and drummer Billy Elgart) together with vocalists Carla Bee and Maija Hapuoja. Sarmanto describes the poems as a series of surrealistic visions. Accordingly, Sarmanto´s compositions were also intended as abstract vehicles for improvisation, free of fixed tonality, but with occasional, even romantic, themes emerging. Although Sarmanto had composed the series with Juhani Aaltonen in mind, Aaltonen had returned from Boston to Finland by that time and these compositions were never performed or even seen by him. Shortly before the recording sessions that resulted in Conversations, Sarmanto was moving from one apartment to another in Helsinki and found the original music while packing. As a result, three compositions from the series were used in the sessions.
…It Happened Today (Juhani Aaltonen and Heikki Sarmanto) is a duo improvisation.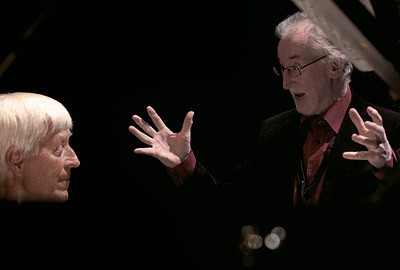 Le Petit Soldat (Heikki Sarmanto)
was composed in Boston around 1970 and was often performed live by Sarmanto´s Serious Music Ensemble both in Boston and later also in Finland. "Le Petit Soldat" was originally composed to an anti-war poem by American poet Diana Glass. A vocal version of the composition was included on Like A Fragonard, a 1971 recording by the Serious Music Ensemble.
Just Like A Dream
(Juhani Aaltonen and Heikki Sarmanto) is a duo improvisation.
You And The Night And The Music
(Arthur Schwartz - Howard Dietz)
was composed for the Broadway show
Revenge With Music
in 1934. Although the show only had two short runs before closing for good, the song has lived on as a popular standard. In 1935, both the
Richard Himber Orchestra
and the
Leo Reisman Orchestra
had minor hits with it. That same year, it was also recorded by
Patrick et son Orchestre
(with guitarist Django Reinhardt and vocalist Maurice Chaillou) in Paris. However, it was a recording by the
Tommy Dorsey Orchestra
in 1950 that introduced the song to a broader jazz audience. Many other recordings have followed, including by the
Stan Kenton Orchestra
(with vocalist Chris Connor in 1953) and by trumpeters Chet Baker and Red Rodney, saxophonists Jimmy Giuffre and Phil Woods, clarinetist Buddy DeFranco, pianists Bill Evans, Hampton Hawes and George Shearing, guitarists Kenny Burrell, Grant Green and Tal Farlow, drummer Shelly Manne and vocalists Helen Merrill, Jackie Paris and Frank Sinatra.
Evening Prayer
(Heikki Sarmanto)
was composed to a poem by one of Finland´s most celebrated poets of all time, Eino Leino (1876-1926). "Evening Prayer" (Iltarukous) was originally included on
Moment Musical
, a 1978 album of 12 compositions to Leino´s poems that were originally composed by Sarmanto to coincide with the 100th anniversary of Leino´s birth. On the original recording, which was selected as the record of the year by the Finnish Broadcasting Company (YLE) in 1978, the song was performed by vocalist Maija Hapuoja, together with a jazz group (including Sarmanto, Aaltonen, bassist Tapani Tamminen and drummer Matti Koskiala) and a chamber orchestra.
---
CD-2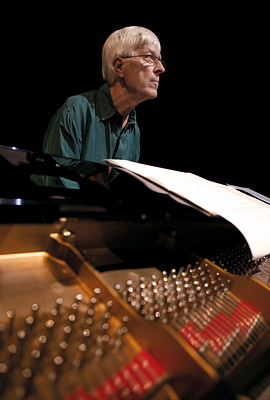 From Nothing
(Heikki Sarmanto)
is another composition from Sarmanto´s series that was based upon Rika Lesser´s "Persons of Prognostication". Like "What We Cannot Imagine" and "No Work Bound Me", it was composed by Sarmanto as an abstract vehicle for improvisation, leaving a lot of room for the musicians, and had not been previously performed by Aaltonen and Sarmanto.
No Work Bound Me
(Heikki Sarmanto)
is the third composition included on this recording from Sarmanto´s series that was based upon Rika Lesser´s "Persons of Prognostication".
Free Souls
(Juhani Aaltonen and Heikki Sarmanto) is a duo improvisation.
The Sea In The Moonlight
(Heikki Sarmanto)
is another composition by Sarmanto to a poem of the same name by Eino Leino (
Meri kuutamolla
). Like "Evening Prayer", it was originally included on
Moment Musical
, Sarmanto´s 1978 album. The composition was selected for
Conversations
in part because the poem is one of Aaltonen´s favorites out of the many poems to which Sarmanto has composed music over the years. In fact, Sarmanto feels that on this recording Aaltonen is "playing the poem", reflecting its somber and even dark tone.
War Trane
(Heikki Sarmanto)
is another composition from the 1970s. According to Sarmanto, it can be seen to combine two things shared by Aaltonen and Sarmanto: their experiences during the Second World War as so-called "war children", who were sent to safety in Sweden towards the end of the war like a total of about 70,000 Finnish children, which gave the composition its contextual starting point; and their love for the music of the late John Coltrane, which originally provided some of the musical language for it. A big band arrangement of the composition has been performed by the
UMO Jazz Orchestra
but it has not been previously recorded.
Peace Talk
(Juhani Aaltonen and Heikki Sarmanto) is a duo improvisation.
Alone Together
(Arthur Schwartz - Howard Dietz)
was first introduced in the 1932 Broadway show Flying Colors, which also included such memorable songs as "A Shine On Your Shoes", "Smokin´ Reefers" and "Louisiana Hayride". Although the show was not a success, "Alone Together" has lived on as part of the American songbook. The song was recorded in late-1932 by the Leo Reisman Orchestra and became a popular hit. Artie Shaw was the first jazz artist to record it in 1939. Since then, it has been recorded by the Jimmy Lunceford Orchestra (with vocalist Carmen Miranda in 1944) and by many others, including trumpeters Chet Baker, Miles Davis, Art Farmer and Dizzy Gillespie, trombonist J.J. Johnson, saxophonists Benny Carter, Steve Lacy and Sonny Rollins, pianists Ahmad Jamal and Oscar Peterson, guitarist Wes Montgomery as well as vocalists Chris Connor, Ella Fitzgerald, Peggy Lee, Carmen McRae and Helen Merrill.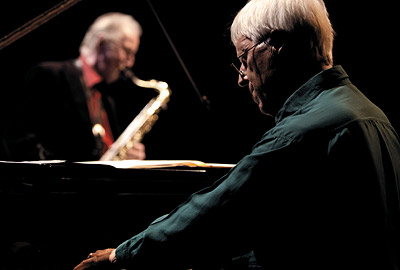 Evening Haze (Heikki Sarmanto)
uses a song composed by Sarmanto in 1975 to the poem "Summer Night" (Kesäyö) by one of Finland´s most beloved poets, Aaro Hellaakoski (1893-1952). However, rather than playing the song, Aaltonen and Sarmanto only chose a fragment - some intervals - from it as a starting point for their improvisation. Other than for this and the general mood taken from "Summer Night", this performance is a spontaneous improvisation.