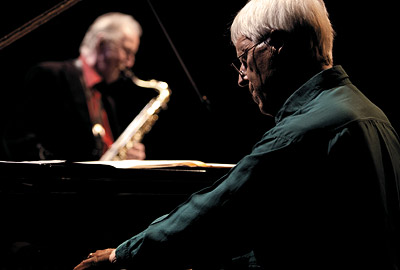 The close musical relationship between Juhani Aaltonen and Heikki Sarmanto has now lasted almost five decades. This is rare, of course, in any professional or artistic relationship. Within the realm of jazz and improvised music, it is not easy to think of any two individuals with such a long-lasting and still ongoing collaboration. The only other such relationships that this writer can think of also involve Aaltonen or Sarmanto, namely Aaltonen´s partnership with trumpeter and composer Henrik Otto Donner, which actually started a year or two earlier than the one between Aaltonen and Sarmanto but has been more intermittent, and Sarmanto´s relationship with his younger brother, bassist Pekka Sarmanto.
In fact, we could well be celebrating the 50th anniversary of the musical collaboration between Aaltonen and Sarmanto with the release of this recording had things turned out a bit differently. Already in late-1961, there was a plan to start a new group including Aaltonen and Sarmanto as well as saxophonist/flutist Esa Pethman, bassist Kari Hynninen, drummer Anssi Pethman and vocalist Carola. Even a publicity photo was taken of the group clearly ready to travel, but for some reason that neither Aaltonen nor Sarmanto can recall, the group never played or even rehearsed together. Instead, Carola became the vocalist of the Esa Pethman Quartet, with Sarmanto at the piano but no Aaltonen in sight.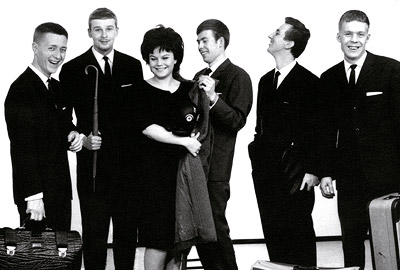 A publicity photograph of the "band that never was" in 1961; (L-to-R): Heikki Sarmanto, Kari Hynninen, Carola, Esa Pethman, Juhani Aaltonen and Anssi Pethman.
The consensus seems to be that Aaltonen and Sarmanto first played together in 1964 when producer Jaakko Jahnukainen asked Sarmanto to tape a studio performance with a small jazz group for Tesvision, the first television channel in Finland. Sarmanto, in turn, asked Aaltonen, then still playing the alto saxophone, to join his quartet for the gig (also with Pekka Sarmanto on bass and Matti Koskiala on drums). By that time, both had already played with many of the same fellow musicians, including Esa Pethman and Henrik Otto Donner, and were certainly known to each other, but the rehearsals for this television performance, one of the very first by a jazz group in the history of Finnish television, are believed to be the first time they actually played together. As a result of this performance, Aaltonen and Sarmanto began to play together regularly and, therefore, it marked the starting point of a unique musical partnership that has continued to this day.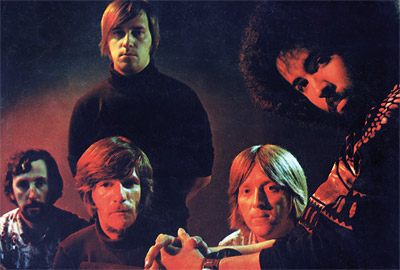 Serious Music Ensemble in 1971; (L-to-R): Juhani Aaltonen, Lance Gunderson, Pekka Sarmanto (back), Heikki Sarmanto and Craig Herndon (Counterbalance).

Although Sarmanto was born and raised in Helsinki, the capital of Finland, and Aaltonen grew up in Inkeroinen, a small factory town in central Finland, they have shared a passion for improvised music from very early on, with both starting by listening to every American jazz record they could get their hands on, then establishing bands with their teenaged friends and finally developing an insatiable appetite for learning more about jazz and improvisation as young musicians. Soon after Aaltonen had moved to Helsinki to study at the Sibelius Academy and quite possibly even before they ever met, Aaltonen and Sarmanto both attended a famous concert by the late John Coltrane at Helsinki´s Kulttuuritalo in November 1961, with saxophonist/flutist Eric Dolphy, pianist McCoy Tyner, bassist Reggie Workman and drummer Elvin Jones; Coltrane also visited Helsinki, with McCoy Tyner, Jimmy Garrison and Elvin Jones, in November 1962, with Aaltonen and Sarmanto again in attendance. Like many others who attended particularly the first of these two concerts, Aaltonen and Sarmanto remember it as a shock and an eye-opener. Although they were both familiar with John Coltrane´s recordings and Aaltonen in particular had already given a very close listen to Coltrane´s album Giant Steps, the intensity of the 1961 concert and the performances by Coltrane and Dolphy made a huge impression on them. This concert left a strong desire in each to search for new ways of expression in music, a search that still continues. In discussions, Aaltonen and Sarmanto have, however, always emphasized that it was not so much the technical facility or style of playing - although surely impressive with a 20-minute version of "My Favorite Things" and other classics included in the program - but the power and spirituality of the music that impressed them the most. Throughout their careers, Aaltonen and Sarmanto have both returned to John Coltrane´s music for inspiration with Aaltonen occasionally even performing his compositions and Sarmanto having dedicated two major compositions to him, including "War Trane" that is featured on this recording.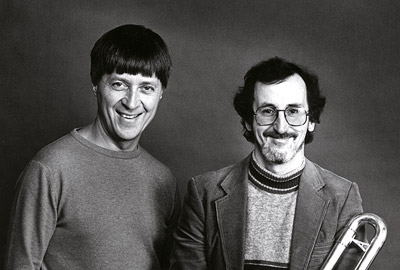 Heikki Sarmanto and Juhani Aaltonen in 1990 (Pan Fantasy).
Having both chosen freely improvised music as their principal means for expression, Aaltonen and Sarmanto frequently crossed paths in the formative years of the late 1960s and early 1970s, as they became charter members in the small inner circle of like-minded musicians that were together learning the language of "free" or "avant-garde" jazz on the Helsinki scene. Not only did Aaltonen play in most of Sarmanto´s early groups, including the Serious Music Ensemble, but the two also collaborated, together and separately, with other young Finnish jazz musicians, such as Henrik Otto Donner, Teppo Hauta-aho, Eero Koivistoinen, Reino Laine, Mike Koskinen, Seppo Paakkunainen, Esa Pethman, Pekka Pöyry, Esko Rosnell, Ilpo Saastamoinen, Tapani Tamminen and Edward Vesala. They also participated in the increasing co-operation with other Nordic jazz musicians playing together, for example, in the Nordic All Stars, a true supergroup that performed at various festivals and did a number of radio broadcasts in the early 1970s with the likes of Jon Christensen, Palle Danielsson, Jan Garbarek, Palle Mikkelborg, Terje Rypdal and Eje Thelin also in its ranks. In the mid-1970s, Aaltonen and Sarmanto were also both among the founding members of the New Music Orchestra (UMO) that is now known as the UMO Jazz Orchestra.
Although Juhani Aaltonen´s career has been characterized by his close co-operation with a number of leading Finnish jazz composers, none of those relationships has been as close and productive as that with Sarmanto, with the two having played together for virtually their entire careers. Aaltonen and Sarmanto have performed together countless times and have joined forces on 30 or so recordings - so far.
Therefore, it is not surprising that the closeness and length of their relationship reflects not only on their music but elsewhere as well. For example, sitting down for a cup of coffee or a meal with Aaltonen and Sarmanto can be something of a surreal experience. It is almost like doing so with the proverbial old couple that completes each others´ sentences. They have shared so many experiences over the years that the stories keep coming and almost invariably they are both familiar with any particular story that the other one is about to launch into. After only a few sentences or even just a few words, the story becomes a dialog, with one supplementing the other and adding more flavor and color to it, whether the story concerns the escapades of a fellow musician who passed on a long time ago or something that happened to Aaltonen and Sarmanto when travelling together just recently.
Juhani Aaltonen has often said that words have become unnecessary in his musical communication with Sarmanto. The two know each other so well that they communicate using their instruments rather than words. From this very closeness came the basic approach to this recording session. Rather than performing a suite of new compositions by Heikki Sarmanto, as they have done so many times in the past 40 years, the decision was to focus on free improvisation that they have both increasingly returned to and perhaps enjoy more than ever during this latest stage in their careers.
Aaltonen has also emphasized that free improvisation is his true calling and his real means for expression, his "mother tongue", but the same is also true of Sarmanto. Although he has written extensive scores, whether for orchestral compositions, a requiem or even an opera, frequently involving large numbers of musician in a symphony orchestra, a jazz ensemble, a choir and as soloists, Sarmanto feels deep down that he still is an improviser. Therefore, particularly in their duo performances, Aaltonen and Sarmanto frequently return to their roots and engage in free-flowing improvisation. It actually seems to come as a great relief to Sarmanto that, when playing as a duo with Aaltonen, he can focus on that aspect of his musicianship rather than shouldering the responsibility of writing and arranging new music.
So, the decision was to either record spontaneous duo improvisations or to use older compositions by Sarmanto and also some standards that would be particularly well suited for free improvisation. In the case of Sarmanto´s compositions and the two standards that were selected in the end, melodies are nevertheless soon recognizable and even the spontaneous improvisations quickly produce melodic elements that could easily have been pre-composed - although they were not. This simply arises from the love of melody that Aaltonen and Sarmanto have always shared. They are both, as Aaltonen has put it, "incurable romantics", who immediately latch onto a strong melody when they encounter it - whether though improvisation or otherwise. Most certainly, free improvisation does not, in their case, mean lack of melody or total abstraction.
All performances during these recording sessions were equally spontaneous and, as is now typical for Aaltonen and Sarmanto, began with little or no advance planning or even discussion. Just like in a dinner conversation, also in a musical performance, the two complete each others´ sentences, or musical thoughts. It was simply a matter of "Let´s play" and then the music followed. Whoever began to play first set the tone for that particular tune and then the other one responded, with the rest becoming clear along the way in a constant dialogue.
Aaltonen sometimes talks about his saxophone playing as "chatting" (or "jutustelu" in Finnish), using the saxophone to tell stories or to have a dialogue with another musician or musicians. There is no other musician that Aaltonen would be more comfortable having a "chat" with than Sarmanto. Hence also the name for the album, "Conversations". It is just a fancier word for a good long chat.
Helsinki, October 31, 2011
Petri Haussila
---


JUHANI AALTONEN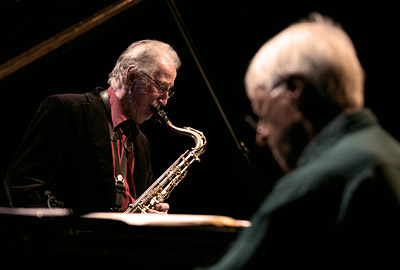 Juhani Aaltonen (b.1935) is a key member of the first generation of Finnish jazz musicians who established Finnish modern jazz as having its own, distinctive voice. Rather than just copying American jazz musicians, these players brought something new and particularly Finnish into their own musical expression.
Other than a few performances in his early teens singing popular couplets and playing the guitar, Aaltonen first performed in public in the mid-1950s in Inkeroinen, his hometown in central Finland. His first instrument was the tenor saxophone, which he had purchased on a whim at the age of 18 and on which he was totally self-taught. A couple of years later, the tenor was replaced by the baritone saxophone, with the flute added still a bit later, when he joined a group of local jazz enthusiasts led by Heikki Rosendahl, a trumpeter influenced by Clifford Brown and Miles Davis who had already received some national attention in Finland. The Heikki Rosendahl Sextet played, in addition to the then obligatory dance music, jazz influenced in particular by the music of Gerry Mulligan and other West Coast players popular at the time and by Sweden´s legendary baritone saxophonist Lars Gullin.
In 1961, Aaltonen began his studies at the Sibelius Academy in Helsinki with the flute as his major but, after one year, dropped out to begin his professional career as a full-time free-lance musician. For the first few years, he played in various dance bands backing vocalists such as Annikki Tähti, Anneli Sari and Kai Lind but, beginning in 1966, he focused on his career of 35 years as a highly sought-after studio musician while otherwise devoting his time to more experimental music.
Following his move to Helsinki, Aaltonen had come under the influence of Eric Dolphy, whom he saw perform with John Coltrane in Helsinki in 1961, and briefly switched to the alto saxophone as his principal instrument. During the first half of the 1960s, Aaltonen then played both the alto and the tenor saxophone with the latter finally taking over as his main instrument in the late-1960s. Thereafter, Aaltonen would occasionally double on the alto and also the soprano saxophone but became known particularly for his tenor saxophone and flute playing.
In the early part of his career, it was typical for Aaltonen to shun away from personal attention and to prefer to work in groups led by others. Already in the early- to mid-1960s, Aaltonen began his long-standing co-operation with three key figures in Finnish modern jazz who were all highly regarded both as instrumentalists and composers: trumpeter Henrik Otto Donner, pianist Heikki Sarmanto and drummer Edward Vesala. In addition to these key collaborators, Aaltonen also participated in a number of ground-breaking groups and recordings by fellow saxophonists Esa Pethman, Eero Koivistoinen and Seppo Paakkunainen, trumpeter Mike Koskinen and guitarist Ilpo Saastamoinen. All of these musicians were members of the new generation that emerged in the 1960s and, often together, tested the boundaries of jazz and, in many cases, also the increasingly experimental rock music. For example, Aaltonen performed with Soulset (an early soul-influenced fusion jazz ensemble led by Seppo Paakkunainen and Edward Vesala) and was one of the founding members of the progressive rock group Tasavallan Presidentti (originally with vocalist/organist Frank Robson, guitarist Jukka Tolonen, bassist Måns Groundstrœm and drummer Vesa Aaltonen) playing on its first eponymous album in 1969 before leaving to "pursue other interests", with saxophonist Pekka Pöyry taking his place. In 2000-08, Aaltonen again performed and recorded with Tasavallan Presidentti, more or less in its original line-up.
In the fall of 1970, Aaltonen attended the Berklee College of Music in Boston, where he studied with Herb Pomeroy and others, but had to abandon his studies after only one term. Following his return to Finland, Aaltonen continued to collaborate with Donner, Sarmanto and Vesala, among others. Increasing international co-operation was also typical of this time. In the late 1960s and early 1970s, Juhani Aaltonen, Seppo Paakkunainen, Heikki Sarmanto, Edward Vesala and other leading Finnish modernists were frequent participants in Nordic and European jazz meets and all-star groups. For example, in the early 1970s, Aaltonen was a regular member of the Nordic All Stars led by trumpeter Palle Mikkelborg and also including the likes of saxophonists Jan Garbarek, Seppo Paakkunainen and Jesper Thilo, trumpeters Allan Botchinsky and Bertil Lövgren, trombonists Eje Thelin and Olle Holmqvist, guitarist Terje Rypdal, pianist Heikki Sarmanto, bassist Palle Danielsson and drummer Jon Christensen, among many others in ever changing combinations (From Europe With Jazz in 1971). In the early 1980s, Aaltonen also participated in The Scandinavian Jazzensemble with trumpeters Mikkelborg and Benny Rosenfeldt, trombonists Thelin and Albert Mangelsdorff, saxophonists Aaltonen, John Pål Inderberg and Bernt Rosengren, pianist Dag Arnesen, guitarist Janne Schaffer, bassists Danielsson and Niels-Henning Ørsted Pedersen, drummer Christensen and others as well as guest conductors, including Carla Bley in 1980 and Gil Evans in 1981 (Nattjazz 20 År, released in 1992). In many cases, these international workshops and tours led to longer term relationships, such as Vesala´s membership in Jan Garbarek´s trio in the early 1970s (Triptykon in 1972) and his collaborations with Tomasz Stanko over the years as well as Vesala´s and Aaltonen´s collaborations with the Norwegian bassist Arild Andersen.
Despite his busy career as a studio musician and his role as the principal soloist of many large orchestral works, Aaltonen was - and is - particularly fond of free improvisation. Some of the most memorable early moments involving Finnish jazz musicians playing within that genre featured him in a prominent role, including his trio recording with Arild Andersen and Edward Vesala (Nana in 1970) and a recording of the German-Finnish Jazz Workshop, with saxophonists Aaltonen and Peter Brötzmann, bassist Peter Kowald and Edward Vesala (Hot Lotta in 1973). Although more structured, the early small-group recordings with Heikki Sarmanto (Flowers In The Water in 1969 as well as Counterbalance and Like A Fragonard, both in 1971) also relied heavily on free improvisation. However, just like Vesala, Aaltonen soon moved forward from the more extreme expressions of "freedom", with the free improvisation becoming a tool rather than a goal in itself.
As part of his co-operation with Edward Vesala that began in the mid-1960s and continued intensely for two decades, Aaltonen participated as a key soloist in a number of recordings and concerts organized by Vesala beginning with the small groups of the late 1960s and early 1970s and reaching a high point with the larger ensembles of the late 1970s and early 1980s. During a three-year period towards the end of the 1970s, Aaltonen was also a member of the Arild Andersen Quartet, touring extensively and recording two well-received albums with the group (Shimri in 1977 and Green Shading Into Blue in 1978).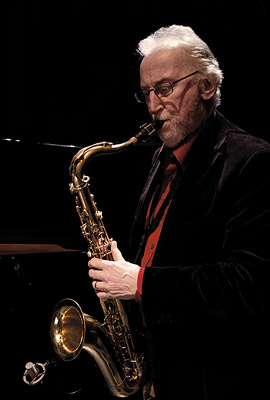 Aaltonen was also one of the founding members of the New Music Orchestra (UMO) (now known as the UMO Jazz Orchestra) in 1975 and has recorded a number of albums with the big band (A Good Time Was Had By All in 1976, Thad Jones-Mel Lewis & Umo in 1977, Umophilos in 1979, Ultima Thule in 1983, Sea Suite in 1983, Bad Luck, Good Luck in 1983, Plays The Music Of Koivistoinen & Linkola in 1985, Kalevala Fantasy in 1986, Dalens ande (The Spirit Of The Valley) in 1991 and The Sky Is Ruby in 2006). His membership in UMO continued until 1986 when he left after receiving a 15-year artist´s grant from the Finnish State. After leaving UMO, Aaltonen continued to lead his own quartets (with pianist Olli Ahvenlahti, Pekka Sarmanto and Reino Laine) and trios (with Heikki Virtanen and Reino Laine) but these groups performed rarely and went unrecorded.
During the 1980s, Aaltonen also continued to collaborate with Donner, Sarmanto and Vesala as well as pianist Jukka Linkola and vocalist Maija Hapuoja, among others. In addition to smaller groups, Aaltonen performed as a soloist of a number of larger works, including several of Heikki Sarmanto´s orchestral compositions, Jukka Linkola´s "Crossings (Music for Tenor Saxophone and Orchestra)" with the Helsinki Philharmonic Orchestra in 1983, Edward Vesala´s "Kullervo" with a large ensemble and a narrator in 1985 as well as Henrik Otto Donner´s orchestral suite "Dalens ande (The Spirit Of The Valley)" with the UMO Jazz Orchestra in 1991.
During the 1990s, Aaltonen continued to enjoy a particularly close co-operation with Heikki Sarmanto, comprising a number of concert tours and recordings of extended works, such as an eight-part suite for flutes and keyboards called "Pan Fantasy" in 1990 and another series of compositions for flute and piano called "Silver Spell" in 1996. Aaltonen has also been the principal jazz soloist of many of Sarmanto´s large orchestral and choral compositions beginning with the New York premier of "New Hope Jazz Mass" in 1978 and continuing with the "Suomi Symphony" in 1983, "Kalevala Fantasy" in 1986, "Hearts" in 1994, "Perfect Harmony" in 1996 and the "Winter War Requiem" in 2009. In total, Aaltonen has recorded 30 or so albums with Sarmanto playing a central role as a soloist in virtually all of them.
Although Juhani Aaltonen´s role in various projects by Donner, Sarmanto, Vesala and others has been essential and Aaltonen has been one of the central figures in Finnish modern jazz for almost five decades, his output as a leader was, until the past decade, relatively limited. His recordings as a leader consisted of three recordings produced by Edward Vesala in the 1970s and early 1980s (Etiquette, with guitarist Hasse Walli, bassist Pekka Sarmanto, Edward Vesala et.al., in 1974; Springbird, with guitarist Pekka Rechardt, pianist/harpist Iro Haarla, bassists Antti Hytti and Teppo Hauta-aho, Edward Vesala et.al. together with the drummers of the National Ballet Of Senegal, in 1979; and Prana, with bassist Reggie Workman and Edward Vesala, in 1981) as well as various projects with Henrik Otto Donner (Strings, with pianist Esko Linnavalli, guitarist Rune Gustavsson, bassist Ilkka Willman, drummer Esko Rosnell, percussionist Sabu Martinez et.al., in 1976; and Strings Revisited, TUM CD 003, with Reggie Workman, drummer Andrew Cyrille and Avanti! Chamber Orchestra, in 2002) and Heikki Sarmanto (Pan Fantasy and Distant Dreams, two duo recordings with Sarmanto, in 1990; Silver Spell, a duo recording with Sarmanto, in 1996; Déjà Vu, with Sarmanto, trumpeter Art Farmer, bassist Pekka Sarmanto, drummer Jukka-Pekka Uotila and percussionist Tapio Aaltonen, in 2000; and Rise, a duo recording with Sarmanto, in 2002).
During the 1980s, Aaltonen experienced a spiritual awakening that led to a new phase in his career. Aaltonen increasingly began to perform in churches and religious events - often as a solo artist. He also began publishing religious recordings, containing both hymn-based improvisations and free improvisation.
For much of the late 1980s and the 1990s, Juhani Aaltonen rarely performed outside of religious circles other than for his various projects with Heikki Sarmanto. This changed in 2001 when he founded the Juhani Aaltonen Trio with bassist Ulf Krokfors and drummer Tom Nekljudow. The Juhani Aaltonen Trio quickly established its position as one the most important modern jazz groups to come out of Finland and performed at a number of European jazz festivals. Both of its recordings (Mother Tongue, TUM CD 002, in 2002 and Illusion Of A Ballad, TUM CD 013, in 2004/5) were well received by critics and audiences alike.
In 2007, Juhani Aaltonen began collaborating with Iro Haarla, Ulf Krokfors and Reino Laine in a new quartet that mostly performs compositions by its members. This quartet and its first recording (Conclusions, TUM CD 021) have also received considerable critical acclaim. For its performance at TUMfest11 in January 2011 and for a yet-to-be-released recording of Antti Hytti´s compositions, Aaltonen expanded the basic quartet to a sextet.
Aaltonen has also in recent years performed in a trio with two great masters of modern jazz, Reggie Workman and Andrew Cyrille. Aaltonen´s relationship with Reggie Workman in particular goes back to the early 1980s when they both participated in various projects by Edward Vesala. Under Aaltonen´s name, they also made a long out-of-print live recording with Vesala on drums (Prana in 1981). The trio with Workman and Cyrille has made a recording of its own (Reflections, TUM CD 007, in 2002) and was also featured with Avanti! Chamber Orchestra on a recording of Henrik Otto Donner´s compositions (Strings Revisited, TUM CD 003, in 2002). In addition to performances in Finland, the trio performed at St. Peter´s Church in New York City during the Sculptured Sounds Music Festival organized by Reggie Workman in 2006/7.
A third regular performing vehicle for Aaltonen in the past decade has been Nordic Trinity, a co-operative group with guitarist Mikko Iivanainen and drummer Klaus Suonsaari, which has released three albums (Wonders Never Cease in 2005, Eternal Echoes in 2007 and Plays The Music Of Edward Vesala in 2010). In 2006, Aaltonen and Iro Haarla were featured as soloists on guitarist Raoul Björkenheim´s recording with the UMO Jazz Orchestra (Sky Is Ruby, TUM CD 017).
Over the last five decades, Aaltonen has received a number of accolades for his career and music, including the Finnish Jazz Federation´s Yrjö Award as the jazz musician of the year already in 1968. In 2009, the Finnish National Arts Council awarded Aaltonen the Finnish State Price for Music for his lifetime of achievement. Aaltonen was only the second jazz musician to receive this prestigious annual award.
Juhani Aaltonen´s recordings have also received considerable critical acclaim, with each of Etiquette (1974), Strings (1976) and Mother Tongue (2003) having been chosen the jazz record of the year in Finland.
---


HEIKKI SARMANTO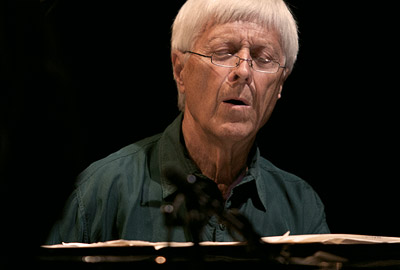 Heikki Sarmanto (b.1939) has been a leading figure in Finnish jazz as a pianist and bandleader since the mid-1960s and has been internationally acclaimed for his symphonic, orchestral and jazz ensemble works as a composer.
Sarmanto comes from a musical family and singing religious and other songs in polyphonic parts under the leadership of his mother was a common pastime when he was a child. All three of Sarmanto´s brothers played instruments, with his eldest brother, Auvo, playing the piano professionally for some 20 years and his younger brother, Pekka, becoming one of Finland´s leading jazz bass players with a professional career beginning in 1964 and still continuing today.
Sarmanto´s first musical instrument was the alto horn in the late-1940s, when he and his two older brothers, Auvo on the tuba and Matti on the cornet, joined for a year or two Suomi-Pojat, a brass band that performed patriotic songs under the leadership of music pedagogue and composer Kalervo Hämäläinen. With Suomi-Pojat, Sarmanto learned the basics of music theory and also to read music. Soon, he began taking piano lessons and, by the mid-1950s, he was playing jazz piano with his older brothers and other students at Helsinki´s Norssi, the school they all attended. Even Sarmanto´s music teacher at Norssi, composer Olavi Pesonen, contributed to his growing interest in jazz by playing a newly-released album by the Modern Jazz Quartet (Django in 1956) at the school´s music club, a particularly memorable event for Sarmanto who later dedicated one of his compositions to John Lewis, the pianist and musical director of the Modern Jazz Quartet. Sarmanto himself began composing already in the age of 15. One of Sarmanto´s early groups with his schoolmates at Norssi won the Finnish championship for teenaged jazz groups in 1957.
Early on, Sarmanto´s older brothers, whose record collection was quite advanced for the time including recordings by the likes of Clifford Brown, Miles Davis, Dizzy Gillespie, Charlie Parker, Bud Powell and Sonny Rollins, were his musical role models. By the age of 17 or 18, Sarmanto was already playing professional gigs in various dance bands around Helsinki, including a group backing up strippers at Helsinki´s famous Espilä restaurant, which featured exotic dancers from the Lido of Paris. As a jazz pianist, he was particularly influenced by Bud Powell and Bill Evans as well as Lennie Tristano, who made a great impression on Sarmanto when performing in Helsinki in 1961.
In the early 1960s, Sarmanto studied at the Sibelius Academy with Joonas Kokkonen and Osmo Lindeman as his composition teachers and Martti Paavola as his piano teacher. In 1961, he won a prize in the prestigious International Competition of Jazz Composition in Minneapolis, Minnesota.
In 1961, Sarmanto also became a member of the Esa Pethman Quartet (with saxophonist/flutist Esa Pethman, bassist Matti Bergström and drummer Anssi Pethman) that was soon joined by Carola Standertskjöld as its vocalist. Known as the Esa Pethman Quartet featuring Carola, the group played at night clubs and open-air dance floors all across Finland. Although they mostly performed Finnish tangos, Latin music and popular songs of the day, occasionally - either in the beginning or at the very end of the gig - there was an opportunity to play some jazz, mostly standards, as well. In 1962 and in 1963, the group even made extensive tours of Czechoslovakia and Poland, respectively, making it one of the first Western European jazz groups to tour behind the Iron Curtain. Although the Esa Pethman Quartet and Carola parted ways in 1964 as her career as a popular singer was taking off, Carola and Sarmanto occasionally continued to perform together. In 1966, Carola and the Heikki Sarmanto Trio (with bassist Tapani Tamminen and drummer Reino Laine) made both a studio and a live recording for the Finnish Broadcasting Company (YLE) that was only recently released (Carola And Heikki Sarmanto Trio).
During this period, Sarmanto began to make a name for himself on the Helsinki jazz scene although he still continued to play dance music with various popular singers ranging from Olavi Virta, the legendary master of the Finnish tango, to the then just emerging Katri Helena. He also participated in two of the most important early recordings of Finnish modern jazz, Christian Schwindt´s For Friends And Relatives (with trumpeter Henrik Otto Donner, saxophonist Erik Dannholm, bassist Tapani Tamminen and drummer Christian Schwindt in 1965) and Esa Pethman´s The Modern Sound Of Finland (with Esa Pethman, trumpeter Heikki Rosendahl, bassists Heikki Annala and Tapani Tamminen, drummer Anssi Pethman et. al. in 1964-66). Soon after these sessions, Sarmanto decided to devote himself fully to contemporary jazz.
Sarmanto was the first Finnish jazz musician to receive a scholarship to Berklee College of Music in Boston, which he attended in 1968-72, with occasional visits even after that period. At Berklee, he studied composition with Herb Pomeroy and Charlie Mariano, among others, and privately piano with Margaret Chaloff.
In 1969, Sarmanto released his first album as a leader (Flowers In The Water, with trumpeter Bertil Lövgren, saxophonists Aaltonen and Esa Pethman, bassist Teppo Hauta-aho and drummer Matti Koskiala), which was taken from a live recording at the University of Jyväskylä during the Jyväskylä Arts Festival, an annual cultural event at which Sarmanto often performed in the late 1960s and early 1970s when in Finland for the summers.
Back in Boston, Sarmanto took Aaltonen, guitarist Lance Gunderson, bassist George Mraz and drummer Craig Herndon to a studio in December 1970 to record an album that would be released only 38 years later (Boston Date). This quartet, with Pekka Sarmanto replacing George Mraz, became known as the Serious Music Ensemble and recorded Sarmanto´s following two albums in Finland (Counterbalance and Like A Fragonard, with vocalist Maija Hapuoja added for the latter, both in 1971). These two recordings established Sarmanto´s reputation both as an original jazz pianist and a highly individualistic composer incorporating elements of improvised jazz, folk and even rock into his music.
Like A Fragonard also included some of Sarmanto´s first compositions featuring modern poetry and launched a series of highly successful recordings with vocalist Maija Hapuoja, including Onnen Aika in 1973, Open Ear in 1975, Syksy ja muita lauluja (also vocalist Harri Saksala et. al.) in 1976, Moment Musical (also vocalist Tapani Kansa) in 1978, The Voice in 1980, Kuutamo metsässä in 1983, Man With A Sax (also poet Robert Shure as narrator) in 1986, Salakuljetettu ikoni in 1989 and The Touch Of Your Voice in 2002/3. Other vocalists performing and recording Sarmanto´s compositions to modern poetry have included Jeannine Otis (Magic Song in 1980), Taina Lehto (Scene From A Trance in 1987), Tapani Kansa (Betonimylläri in 1987), Helen Merrill (Carrousel, with a jazz big band and strings arranged and conducted by Torrie Zito, in 1996), Essi Wuorela (Hellyys in 1996), Karen Parks (Nocturne in 1996), Claudya de Oliveira (Horizons - A lua luará, with the Juarez Moreira Trio, in 2003) and Pamela Kilpeläinen (When I Was With You in 2006). Poetry has always been a major source of inspiration for Sarmanto´s compositions for vocalists as well as many of his larger orchestral and choral works. Over the years, Sarmanto has used in his music poems by some of his favorite Finnish poets, including Aaro Hellaakoski, Eino Leino, Pentti Saarikoski and Lauri Viita, as well as a number of American poets, including Aina Swan Cutler, Gregory Allan Freelon, Diana Glass, Rika Lesser, Kim Rich, Robert Shure and Gopal Sukhu.
Following Like A Fragonard, Sarmanto recorded his first album with a big band (Everything Is It, with the Heikki Sarmanto Big Band featuring opera singer Taru Valjakka as vocalist, in 1972). This was soon followed by other big band recordings, including his participation in The Winners, a collection of compositions entered in the Pori Jazz Festival Composition Contest in 1973, and Our Latin Friends, the first album of the New Music Orchestra (UMO) in 1975. Following these early big band recordings, Sarmanto has composed a number of large orchestral works that often combine an improvising jazz group with an orchestra, strings, vocalists and sometimes also a choir. Some of his most important large works include "New Hope Jazz Mass", a work for a mixed choir, jazz ensemble and soprano, which received its premier in connection with the opening of St. Peter´s Church in New York City in May 1978 (New Hope Jazz Mass in 1978); "Suomi (A Symphonic Poem For Orchestra)", which was premiered by the Heikki Sarmanto Quartet and the New York Pops Orchestra at the Carnegie Hall in New York City in 1988 (Suomi in 1983); "Hearts", a suite for a symphony orchestra and jazz ensemble (Hearts in 1995); "Perfect Harmony", a large work for soloists, mixed choir and jazz ensemble in collaboration with librettist Gregory Allan Freelon and featuring New York´s Opera Ebony, which premiered at the Savonlinna Opera Festival in Finland in 1996 (Perfect Harmony in 1996); "Manon", an opera commissioned by the Finnish National Opera, which received its premier in Estonia in 2008; and "Talvisota - Requiem for the Fallen of the Winter War", a requiem commissioned to commemorate the 70th anniversary of the Winter War between Finland and the Soviet Union, which was premiered by the Händel Choir and a jazz ensemble at the Tampere Cathedral in 2009. Sarmanto has also composed a number of choral works, including two suites for a choir and a jazz ensemble, "Northern Lights" and "New England Images", which were premiered with the Finnish Chamber Choir (Northern Pictures, New England Images in 1988) and "The Song Of Extinct Birds", which was premiered with the Tapiola Choir and a jazz ensemble (The Song Of Extinct Birds in 2004). In the 1980s, Sarmanto was chosen by Sonny Rollins, whom Sarmanto had befriended when they played together in the early 1970s, to arrange and conduct his "Saxophone Concerto", which premiered and was televised in Tokyo in 1986.
Despite his many large orchestral works, Sarmanto´s true passion continues to be free improvisation. Throughout the years, he has continued to record with smaller groups, including his duo recordings with Aaltonen (Pan Fantasy and Distant Dreams in 1990, Silver Spell in 1996, Rise in 1997 and Live At Steiner School in 2009), a duo recording with his brother Pekka Sarmanto (Song For My Brother in 1982), a small group recording with Aaltonen and flugelhornist Art Farmer (Déjà vu in 1987) and a number of other small group recordings since then (including Felix The Great in 1988, The Traveler in 1990, Tales Of Max in 1991, Surreal Romance in 2006 and Moonflower in 2007).
Sarmanto was one of the founders of the New Music Orchestra (UMO) in 1975 and, although he was a member of the orchestra only briefly, has often composed music for UMO, including for some of its recordings (Our Latin Friends in 1975, Kalevala Fantasy in 1986 and Transit People in 2001). In 1998-2000, Sarmanto returned to UMO as its artistic director. In the 1970s, Sarmanto also headed the Jazz Studio of the Sibelius Academy, the only university-level music academy in Finland, that later developed into its Jazz Music Department.
Heikki Sarmanto has received a number of awards, commissions and other acknowledgements for his career and music. In 1970, he received the Finnish Jazz Federation´s Yrjö Award as the jazz musician of the year and the following year he won top prizes at the Montreux Jazz Festival both in the piano and the jazz combo categories. In 2010, Sarmanto received the Pro Finlandia medal for his lifetime of artistic achievement.