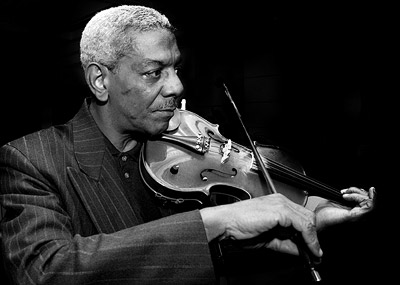 The FAB Trio´s "History of Jazz in Reverse" is a pithy commentary about our obsession with placing jazz in a historical context, a performance that has a bittersweet aftertaste since Billy Bang passed on April 11, 2011. The piece opens with a mingling of the ancient and the abstract, as the violinist plays melodies that impart centuries of hurt while Joe Fonda and Barry Altschul freely improvise. A groove is lurched upon in the primordial swirl of colors; streamlined at first, it becomes increasingly fundamental both in pulse and cadence. Intriguingly, Bang´s playing does not lose its initial plaintive quality; if anything, Fonda and Altschul´s old-school timekeeping simply shades Bang´s playing, coaxing soulful materials through the millennia into modernity. Even though the piece has a stylistic modulation that can be heard as moving back through the decades, there is also a movement of age-old emotional essences into the present.
Therein lies the irony: "History of Jazz in Reverse" is not the jazz analogue of a trick film, where a sunflower closes up and slithers back into the dirt; rather, it is a representation of the multiple, even contrary forces that currently propel the jazz narrative - or its devolution, depending on your vantage point. Delving into the past is not at odds with innovation, and new forms or sub-genres are not necessarily progressive. Increasingly, one-word skeleton keys like "swing" and "freedom" open fewer and fewer doors to the passions and ideas driving present-day jazz creativity. While this reflects a healthy reaction against doctrine and catalyzes artistic diversity, it also points out the antiquation of the roots-and-branches tree model of jazz history that prevailed through much of the 20th century, becoming the template for jazz neo-conservatism in the United States. In fact, jazz has two separate histories since the death of John Coltrane in 1967. One history is essentially corporate; mapping the music through the convulsions of the recording industry, the rise of the festival cartel, and the winnowing of a truly independent press yields one list of artists whose current relevance is arguable. The other history is populist; a litany of those not anointed by the powers that be, grave injustices in many cases, this list is brimming with names far more crucial to jazz´s ongoing aesthetic health.
It would be inaccurate to say these histories are strictly parallel. They have intersected from time to time, usually when an erstwhile lieutenant of industry thinks he can commandeer the machine and create market viability for the art. One such instance was Anthony Braxton´s tenure with Arista during the 1970s, a phenomenon witnessed firsthand by Altschul, then a member of the composer/multi-instrumentalist´s quartet. Yet, these rare, short-lived episodes are inconsequential to the arc of an underground jazz narrative that uses artists´ international travel and the networks and communities of musicians resulting from that travel as its lenses. Such a historical narrative is non-hierarchal, a schemata of musicians passing through nodal points that can be called meetings, collaborations or even bands for a period of hours, days or weeks, before they move on to the next nodal point. If anything, this underground jazz narrative resembles a processing chip rather than a tree.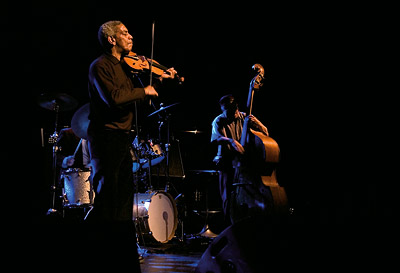 Subsequently, every jazz ensemble is an expression of its members´ travels. Certainly, the FAB Trio can be considered this way. By the time of this recording, Altschul, Bang and Fonda had, between them, spent a century on the road. It is instructive to revisit their respective paths, if only to reveal that the most widely circulated factoids about them render incomplete pictures of their artistic evolution. Frequently, Altschul´s biography is anchored in the 1970s, when his signature kit sound - and his rapport with bassist Dave Holland - was an enormous asset to such decade-shaping ensembles as Circle, the Anthony Braxton Quartet and the Sam Rivers Trio (the tear-stained "For Bea" is a dedication to the multi-instrumentalist´s life-long muse). By 1970, however, Altschul had already been a member of the Jazz Composers Guild for several years (and played on the Jazz Composer´s Orchestra´s first album, Communications); he had worked, recorded and traveled extensively with Paul Bley; and he had spent years gigging in Europe with everyone from Babs Gonzalez to Irene Schweizer. Another little-known period began in the mid 1980s when, after a series of excellent albums under his leadership, Altschul seemingly dropped off the radar for about a decade; while he was living in Paris as an active grandpapa, he nevertheless continued to lead his own band with players including Sean Bergin and Graham Haynes, as well as working with African, Asian and European musicians. Even though he lived in New York from 1993 to 2005, Altschul kept a relatively low profile as a performer, instead concentrating on teaching at Sarah Lawrence College. It is only in the past few years that Altschul has been "back" - not only playing with this trio, but with a quartet co-led by Gebhard Ullmann and Steve Swell, the reunited Sam Rivers Trio, and other groups.
Billy Bang entered the New York jazz underground in the early 1970s, studying with Leroy Jenkins and working with William Parker, who was a member of Bang´s early Survival Ensemble, and Frank Lowe, with whom Bang played until shortly before the saxophonist´s death in 2003. Despite their current stature, Bang and his colleagues were then in the wilderness, generally ignored by the press and without recording opportunities. In 1977, however, Bang started his pivotal nine-year tenure with the String Trio of New York, an ensemble that looms large in the promulgation of chamber jazz. At the same time, he began recording as a leader for small labels that garnered him press and touring opportunities in Europe. Like many artists in the late '70s and early '80s seeking work in the United States, Bang dabbled in funk-infused avant-crossover music, leading Forbidden Planet and working with Ronald Shannon Jackson´s Decoding Society and Bill Laswell´s Material. Even though the '80s and early '90s saw a seemingly perpetually moving Bang enjoy a decade-long association with Sun Ra and work with luminaries like Don Cherry and James Blood Ulmer - as well as recording a steady stream of albums with his own group for various European labels - Bang´s work in the United States dwindled to the point that he moved to Berlin in 1996. Since returning to New York in 2000, Bang´s profile in the United States was elevated by recordings inspired by his combat experience in Viet Nam, and a well-documented collaboration with Kahil El´Zabar.
Fonda also matriculated through the New York jazz scene when loft jazz had ebbed, no wave proved to be just a boomlet, and the neo-cons ruled from their fortress on San Juan Hill. Fonda was a participant in two essential movements within the New York scene by the end of 1980s: an eclecticism that incorporated idioms outside entrenched jazz parameters; and the reinvention of iconic repertoire. He was a member of the Mosaic Sextet, whose members included two of the most influential exponents of the Downtown scene - Dave Douglas and Mark Feldman. Given the frequent turnovers and generally brief life spans of bands at that time, it is remarkable that the Mosaic Sextet also included two musicians who remain at the core of Fonda´s activities - Michael Jefry Stevens and Harvey Sorgen. Together, they comprise 6/10s or 3/4s of the long-lived Fonda/Stevens Group, depending upon the line-up. In 1993, Fonda began a decade-long collaboration with Anthony Braxton. Not only was Fonda integral to the ensembles that articulated the first species of the composer´s Ghost Trance Musics, he was on board for a wide swath of Braxton´s more ambitious endeavors, spanning from his opera Trillium R to the multi-instrumentalist´s Charlie Parker project. Additionally, Braxton and Fonda recorded as co-equals (Duets, 1995) and Braxton made a rare sideman appearance on a Fonda recording (From The Source, 1996), an album also distinguished by tap dancer Brenda Bufalino. Despite a slew of various one-offs and short-lived bands, the Fonda/Stevens Group and his work with Braxton gave Fonda complementary, long-term venues for honing his art.
The FAB Trio was therefore not just the interlacing of three distinctive voices in jazz, but three contrasting narratives of jazz´s past four decades. All eight performances on this album retell these narratives from slightly different perspectives; and even with just violin, bass and drums, the FAB Trio was able to wring a full spectrum of colors from their materials. They were particularly adept at the permutation of themes employing the pentatonic scales that are at the heart of both African and Asian traditional music, which crop up throughout the album, beginning with the solemn opening musings of "Homeward Bound". Each time, the trio´s development of these themes freely crisscrossed cultural frontiers, approximating the delicacy of a Japanese cherry blossom one moment, and the unstoppable force of the Mississippi the next. This is integral to something the FAB Trio did better than most jazz ensembles: they represented the music as a synthesis of global folk traditions and the art of improvisation. That´s why the inclusion of "One for Don Cherry" is so fitting. Cherry understood that every folk tradition has elements that are common to all; not just the generalities of rhythm and pitch, but projections of life celebrated through ritual, the act of remembrance being central. Don Cherry, Bea Rivers, New Orleans: remembrance is a main thematic thread of this recording, as is the celebratory energy of pieces like "Chan Chan". The spirit of this album confirms that the FAB Trio´s music was not a backwards history of jazz, but one where past is a prologue.
April 2011
Bill Shoemaker
---
Homeward Bound
(Barry Altschul, Billy Bang and Joe Fonda)
is a collective improvisation and also a good representation of the approach that the FAB Trio used in starting most of its live performances. Typically, a concert would begin with Bang playing some long tones and Fonda and Altschul joining in based upon the feeling created, with the song and the energy then building and opening up and going wherever the band wanted it to go at that particular moment.
Implications (Barry Altschul, Billy Bang and Joe Fonda)
is a sound exploration using the textural and timbral possibilities offered by the trio. It later moves into what the trio´s members would call the FAB funk feel.
For Bea (Barry Altschul, Billy Bang and Joe Fonda)
is an improvised ballad. It is dedicated to Beatrice Rivers, the spouse and partner of Sam Rivers from their early years together in Boston until her passing just a few days before this recording. Word of Bea Rivers´ death only reached the members of the FAB Trio in the studio and they immediately decided to play a collective improvisation in her memory as they had all known her. Altschul and Bang in particular had been close to both Bea and Sam Rivers.
From Here to There (Barry Altschul, Billy Bang and Joe Fonda)
is a collective improvisation that begins with one of Altschul´s powerful and creative drum solos, which then leads to an up-tempo rhythm that Altschul is a master at playing. As Fonda says: "It is fast, I mean very fast; hold on my friends".
Chan Chan (Compay Segundo)
is a tune that Bang brought to the FAB Trio and also performed with his own group. The song became known to the broader audiences as the first song to be heard on Buena Vista Social Club, the popular documentary film and album that introduced international audiences to the traditional forms of Cuban music and some of its performers. The FAB Trio often played "Chan Chan" as an encore. In their performance, you can hear the Latin music that both Bang and Altschul grew up with in the Bronx. A very different version of "Chan Chan", featuring two Latin percussionists, was also included on the Billy Bang Group´s recording Prayer for Peace (TUM CD 018).
History of Jazz in Reverse (Barry Altschul, Billy Bang and Joe Fonda)
begins with the FAB Trio´s collective improvisation, exploring once again the trio´s sound and textural possibilities. The song then moves into a deep swinging groove that exemplifies their connection to and relationship with the tradition of the music we call "Jazz".
One for Don Cherry (Billy Bang)
is a Billy Bang composition dedicated to someone he deeply loved, Don Cherry.
From the Waters of New Orleans (Barry Altschul, Billy Bang and Joe Fonda)
is a dedication to the culture of one of America´s greatest cities and the struggle of its people to survive and to rebuild after the waters rose too high and the levies broke.