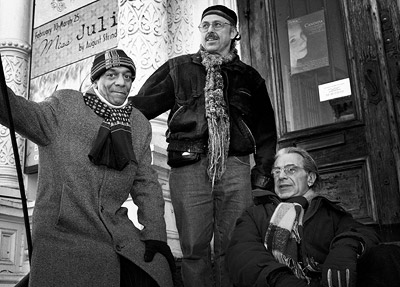 From the first time Billy, Barry and I got together to rehearse for a gig I had booked, a certain sense of joy and pleasure in playing music together was present. This joy and pleasure always weaved its way through the FAB Trio´s music.
In late November and early December 2005, the FAB Trio was going to do a tour of 11 gigs in Europe and we knew that the group was going to be tight following those performances. Therefore, right before the tour, we booked a studio in New York City for a date only a few days after we would be back. That turned out to be a great idea. The tour was successful, all three of us were having a good time playing together and the atmosphere in the studio was both relaxed and focused. The decision was to play the music "live in studio", just like we had played on tour, so this recording is a true representation of the FAB Trio at its peak. We were all very happy with the recording and Billy in particular felt that it included some of his best violin playing in the studio. Sadly, he passed away just as the recording was being prepared for release, but at least we have his music to celebrate his life and art.

Billy was a true individual, a man with a unique musical voice, a brilliant mind, a passion and love for life as well as humanity that came through every note, every sound, every texture that he played, and through all of the mannerisms by which he carried himself and lived his life. We will greatly miss his music, his spirit that touched us all so deeply and that he shared so generously with all of us.
Billy would work magic as he walked though life. I witnessed it many times and would stand back just enough so as not to get in his way as I watched, with a smile of joy on my face, it all unfold in front of my eyes. As I reflect and think back and remember Billy Bang, I am once again smiling with joy.
Thank you, Bang!
New York City, April 12, 2011

Joe Fonda
---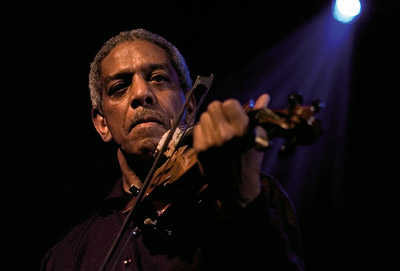 Billy Bang (1947-2011) was born William Walker in Mobile, Alabama, and moved with his mother to New York City when still an infant. As a young child in the 1950s, Bang heard the music of the Puerto Rican and Afro-Cuban communities of Spanish Harlem, and soon began playing percussion. In junior high school in the Bronx, he took up the violin and performed as part of the school band. He later attended Stockbridge, a Massachusetts prep school, under a full scholarship. There he met and began playing with a fellow student, folk singer Arlo Guthrie. While back at home during his first summer vacation from Stockbridge, a friend nicknamed him Billy Bang after a Bronx-based TV personality. Despite his initial protests, the name stuck. After two years at Stockbridge, Bang returned to the Bronx, where he attended a public high school. After dropping out of high school, Bang was drafted into the army and sent to Vietnam, an experience that profoundly affected his life.
Returning home and radicalized, Bang became active in the anti-war movement, and by the late 1960s, decided to pursue a professional career in music. He returned to the violin as his principal means of expression in the early 1970s, having been impressed by the violin playing of Ornette Coleman and Leroy Jenkins and inspired by the liberating energy of the still strong free jazz movement. Attending Queens College in New York, and studying privately with Leroy Jenkins, Bang became a key participant in New York´s dynamic "loft jazz" scene of the 1970s.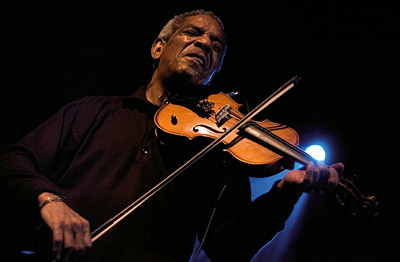 In addition to forming his own group, The Survival Ensemble, Bang also worked in the groups of many of his contemporaries, including saxophonists Frank Lowe and David Murray and bassist William Parker, as well as the legendary Sam Rivers, one of the central figures of the "loft jazz" movement. Bang began to reach an international audience in 1977 with the String Trio of New York (which he co-founded with guitarist James Emery and bassist John Lindberg), remaining with the cooperative ensemble for nine years. Bang´s solo concert recording Distinction Without a Difference from 1979 was also important in gaining him both critical acclaim and a broader audience particularly in Europe.
During these same years, Bang continued to tour and record with his own groups, as well as genre-busting ensembles like drummer Ronald Shannon Jackson´s Decoding Society and bassist Bill Laswell´s Material (alongside guitar giant Sonny Sharrock). Bang even briefly led his own funk-oriented band, Forbidden Planet.
During the 1980s, Bang continued to work and collaborate with other leading improvisers, such as trumpeter Don Cherry, pianist Marilyn Crispell, David Murray and guitarist James Blood Ulmer. In 1982, he also began a ten-year association with the incomparable Sun Ra, concluding with a 1992 quartet recording, A Tribute to Stuff Smith, which was dedicated to the father of the jazz violin.
In 1990, Bang became a member of the Solomonic Quartet with trumpeter Ahmed Abdullah. More recently, Bang also collaborated with Abdullah in various other projects, including the Ebonic Tones (Tara´s Song, TUM CD 009) and the Diaspora ensemble.
After relocating to Berlin, where he lived from 1996 until 2000, Bang criss-crossed the Atlantic frequently, performing all over Europe and doing five tours through the South and Midwest in United States with percussionist Abbey Rader, three of which featured Frank Lowe. Bang also began a regular working relationship with percussionist Kahil El´Zabar, performing with him both as a duo and sometimes as a trio with Malachi Favors Maghostut on bass.
In the late 1990s, Bang began his cooperation with Canada´s Justin Time Records, for which he recorded Bang On in 1997 and The Big Bang Theory in 1999. His two subsequent recordings, Vietnam: The Aftermath from 2001 and Vietnam: Reflections from 2004, evoked and confronted the memories of his Vietnam experiences and showcased his considerable compositional skills. Bang also released a live recording featuring Frank Lowe (Above and Beyond: An Evening in Grand Rapids) in 2007 and a studio recording by the Billy Bang Group (Prayer for Peace, TUM CD 018) in 2010. Having returned to New York in 2000, Bang continued his busy schedule, touring in Europe, Japan and the United States with his own groups and with the likes of Hamiet Bluiett, Kahil El´Zabar, David Murray, the late Frank Lowe, Sonicphonics and the FAB Trio, among many others, until cancer forced him to cut down on public performances. He passed away on April 11, 2011.
With some 20 albums released under his own leadership and many more by various cooperative endeavors, including five highly acclaimed albums with the String Trio of New York and five with the FAB Trio, Billy Bang was one of the undisputed leaders and also one of the more prolific members of his generation of progressive musicians focusing on improvised music. His hard-edged tone, soulful sense of traditional swing and evocatively expressive style were also featured on numerous albums by other top names in a variety of genres, from the blistering funk of Bootsy Collins and the harmolodic groove of The Decoding Society to the intergalactic uproar of the Sun Ra Arkestra.
---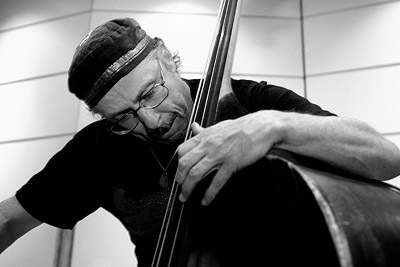 Joe Fonda (b.1954) was born in Amsterdam, upstate New York, and played guitar and bass guitar in his youth. At Berklee College of Music (1973-75), he studied composition and arranging while also focusing on the double bass as his main instrument.
After Berklee, Fonda was based in the New Haven, Connecticut area. An important influence during this period was trumpeter Wadada Leo Smith, with whom Fonda played from 1978 until he moved to New York City in 1985. Fonda participated in two important recordings under Smith´s leadership, Procession of the Great Ancestry by a small group including saxophonist John Powell, vibraphonist Bobby Naughton, guitarist Louis Myers, bassist Mchaka Uba and percussionist Kahil El´Zabar in 1981 and The Sky Cries the Blues by the Creative Improvisors Orchestra in 1983. During this period, Fonda also recorded his first album as a leader (Looking for the Lake, with saxophonists Cliff White and Tim Moran and drummer Claire Arenius, in 1980).
In addition to music, Fonda has had a long-standing involvement in dance projects and cross-cultural performances. From 1982 to 1986, he was the bassist and dancer with the Sonomama Dance Company. He was also the bassist of the American Tap Dance Orchestra in New York City, directed by world renowned tap dancer Brenda Bufalino. An independent producer since 1978, Fonda is the founding director of Kaleidoscope Arts, an interdisciplinary performance ensemble.
Soon after moving to New York, Fonda participated in the collaborative group Mosaic Sextet (with trumpeter Dave Douglas, violinist Mark Feldman, bassoonist Michael Rabinowitz, pianist Michael Jefry Stevens and drummer Harvey Sorgen) that both increased his prominence on the New York scene and also served as a basis for some key relationships that still continue today. The group´s album, Today, This Moment, from three sessions in 1988-90 (reissued as part of a two-CD collection Mosaic Sextet) is still considered one of the major releases of its time.
Fonda is particularly well known for his collaboration with Anthony Braxton between 1993 and 2003 and was Braxton´s bassist of choice during this period. Among other projects, he was a member of the Anthony Braxton Quartet, Sextet, Octet, Ninetet and Tentet. Fonda´s recordings with Braxton range from a duo collaboration (10 Compositions (Duet), 1995) to participation in large orchestral works. His tenure with Braxton resulted in a total of more than 20 recordings starting with the Charlie Parker Project (with saxophonist Ari Brown, trumpeter Paul Smoker, pianist Misha Mengelberg and drummers Han Bennink and Pheeroan AkLaaf) and the Piano Quartet (with saxophonist Marty Ehrlich, drummer Pheeroan AkLaaf and Braxton himself on the piano). In addition to those and various other small groups, he performed with the 38-piece Tri-Centric Orchestra under the direction of Braxton, and was the bassist for the premiere performance in 1996 of Braxton´s opera, Trillium R: Shala Fears for the Poor. In 1996, Braxton also appeared on Fonda´s From the Source recording (with trumpeter Herb Robertson, tap dancer Brenda Bufalino, vocalist Vickie Dodd and percussionist Grisha Alexiev) that served as a blueprint for the group From the Source that Fonda continues to lead.
In 1992, Fonda co-founded the Fonda-Stevens Group with Michael Jefry Stevens (also Herb Robertson and Harvey Sorgen). The group has already released ten recordings, toured extensively and performed at major international jazz festivals. In addition, Fonda has recorded and toured with the FAB Trio, From the Source, The NU Band (with saxophonist Mark Whitecage, trumpeter Roy Campbell and drummer Lou Grassi), Bottoms Out (with tubist Joe Daley, saxophonists Claire Daly and Gebhard Ullmann, Michael Rabinowitz and drummer Gerry Hemingway) and Conference Call (Gebhard Ullman, Michael Jefry Stevens and drummer George Schuller) as well as a number of other collaborative groups.
Fonda´s most recent projects include Off Road Quartet, which is comprised of four musicians from four different countries (guzheng player Xu Fengia from Beijing, China; violinist Carlos Zingaro from Lisbon, Portugal; drummer Lucas Niggle from Zurich, Switzerland; and Fonda himself from the United States), Trio GENERATIONS (with Michael Jefry Stevens and drummer Emil Gross) and Eastern Boundary Quartet (with saxophonist Mihaly Borbely and drummer Balazs Babyi from Hungary as well as Michael Jefry Stevens).
In the past three decades, Fonda has also performed and/or recorded with such other world renowned artists as trumpeter Bill Dixon, trombonists Curtis Fuller and Slide Hampton, saxophonists Bill Barron, Marion Brown, Lou Donaldson, Ken McIntyre and Archie Shepp, clarinetist Perry Robinson, pianists Kenny Barron, Carla Bley and Randy Weston, vibraphonist Teddy Charles and drummer Chico Hamilton among many others.
---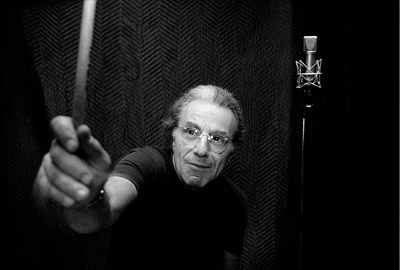 Barry Altschul (b.1943) grew up in the South Bronx in New York City. He began playing the drums at the age of 11 after having earlier played the piano and the clarinet. As a teenager, he became involved in the local hard bop scene playing in jam sessions with his contemporaries, including saxophonists David Liebman and Frank Mitchell, pianists George Cables and Jimmy Hunter and many others. He has studied drums with Charli Persip and Sam Ulano and composition with Lee Konitz.
One of Altschul´s first public performances was as a teenager with pianist Larry Willis and bassist Walter Booker in a neighborhood lounge. However, his first "proper" gig was with the Paul Bley Trio (with bassist David Izenson) in what was the inauguration of Slugs´, the (in)famous East Village bar, as a jazz club in 1964. This one-off gig resulted in Altschul working regularly with pianist Paul Bley for the remainder of the 1960s and sporadically also in the 1970s and the 1980s. Altschul´s first recordings were also with Bley, including Closer (with bassist Steve Swallow) and Touching (with bassist Kent Carter) in 1965, Ramblin´ and Blood (with bassist Mark Levinson) in 1966 and Virtuosi (with bassist Gary Peacock) in 1967. Altschul´s work with Bley drew the attention of others active on New York´s bourgeoning free jazz scene of the 1960s and resulted in world tours and recordings with such notables as saxophonist Steve Lacy, trombonist Roswell Rudd as well as bassists Steve Swallow and Gary Peacock. His familiarity with the tradition also led to performances with the likes of saxophonists Sonny Criss, Johnny Griffin, Lee Konitz, Art Pepper and Tony Scott, pianist Hampton Hawes, vocalist Babs Gonzalez and many others. Altschul was also an active member of the Jazz Composers Guild and the Jazz Composer´s Orchestra Association.
At the very end of the 1960s and beginning of the 1970s, Altschul participated in the cooperative group Circle with Anthony Braxton, pianist Chick Corea and bassist Dave Holland. He also soon joined the Sam Rivers Trio (with Dave Holland) and the Anthony Braxton Quartet (with trumpeter Kenny Wheeler or trombonist George Lewis and Holland). These three ground-breaking groups solidified his reputation as one of the most creative drummers on the contemporary scene.
In this period, Altschul also participated in some of the most important modern jazz recordings of the 1970s, including Circulus (1970), Circling In (1970) and Paris Concert (1971) by Circle; The Song of Singing (1970) and A.R.C. (1971) by Chick Corea, Dave Holland and Altschul; Conference of the Birds (1972) by the Dave Holland Quartet (with Holland, Braxton and Rivers); Hues (1973) and The Quest (1976) by the Sam Rivers Trio; Sizzle (1975) by the Sam Rivers Quintet; Complete Braxton (1971), Five Pieces 1975 and The Montreux/Berlin Concerts (1975) by the Anthony Braxton Quartet; Creative Orchestra Music 1976 by Anthony Braxton´s large ensemble; Flexible Flyer (1975) by Roswell Rudd; Coon Bid´ness (1975) by saxophonist Julius Hemphill and Spiral (1975) by pianist Andrew Hill.
In addition, Altschul led his own free bop groups, with such luminaries as pianists Muhal Richard Abrams and Anthony Davis, trombonists Ray Anderson and George Lewis as well as bassist Mark Helias, to name a few. Altschul also began recording as a leader, with his first two recordings for Muse Records, You Can´t Name Your Own Tune (with Rivers, Lewis, Abrams and Holland) from 1977 and Another Time/Another Place (with saxophonist Arthur Blythe, Ray Anderson, Anthony Davis, cellist Abdul Wadud and bassist Brian Smith) from 1978, being among the key modern jazz recordings of the late 1970s. These were followed by Somewhere Else in 1979 and Brahma in 1980 (both with Ray Anderson and Mark Helias), For Stu (with Ray Anderson, Anthony Davis and bassist Rick Rozie) in 1979, Irina (with trumpeter Enrico Rava, saxophonist John Surman and Mark Helias) in 1983 and That´s Nice (with saxophonist Sean Bergin, trombonist Glenn Ferris, pianist Mike Melillo and bassist Andy McKee) in 1985.
During a 10-year sojourn in Paris, France in the late 1980s and early 1990s, Altschul was chosen to be the first foreign artistic director of the French regional big band of Nancy where he conducted as well as composed music for the 20-piece orchestra. During this time, he also toured Africa, the Middle East and Eastern Europe as a cultural ambassador for the USIS and recorded for a number of European record labels, including sessions led by saxophonists Claudio Fasoli, André Jaume and Dave Liebman, pianists Paul Bley, Kenny Drew, Franco D´Andrea, Denis Levaillant and Simon Nabotov, bassists John Lindberg, Niels-Henning Ørsted-Pedersen and Alan Silva and vocalist Tiziana Ghiglioni. Overall, Altschul has participated in more than 160 recordings during his career.
Returning to the United States in 1993, Altschul worked as a professor at Sarah Lawrence College and freelanced around New York. In the past decade, in addition to performing with the FAB Trio, Altschul has been a part of Roswell Rudd´s Trombone Tribe (with trombonists Roswell Rudd, Deborah Weisz and Steve Swell as well as tubist Bob Stewart and bassist Henry Grimes) and the Swell-Ullman 4 (with Steve Swell, Gebhard Ullman and bassist Hilliard Greene) and has led several groups of his own that have included the likes of Uri Caine, Dave Douglas, Hilliard Greene, Hayes Greenfield, Mark Helias, Roswell Rudd, John Tchicai and many others. In 2007, he reunited with Sam Rivers and Dave Holland for a performance by the Sam Rivers Trio.