TUM Records uses works of Finnish artists as cover art for its releases in order to visually distinguish them. The paintings used in the releases by TUM Records were chosen in collaboration with the artist himself.
Jukka Mäkelä (b.1949-) was born in Jyväskylä in Central Finland and now shares his time between his studios in Helsinki and Fiskars, a small village near the Finnish capital. He is one of the central figures in Finnish abstract art whose career has already extended over four decades. Following studies at the Finnish Institute of Industrial Arts (1967-68) and the School of Fine Arts Academy in Helsinki (1968-72), Mäkelä first exhibited at the Young Artists´ Exhibition in 1970, 1971 and 1972 and has participated in numerous solo and group shows since that time. Outside of Finland, he has participated in the Paris Biennale in 1980 and Venice Biennale in 1988, among others.
The early works of Mäkelä were characterized by constructivism and strictly constructivist composition of the 1960s. Since then, he has moved on to more spontaneous and expressive execution, which conveys his expressions of the natural environment. His subject matter has had a consistent focus on Finnish nature, particularly its autumnal and wintry seasons, albeit in an abstract rendition. Mäkelä himself has said that he finds inspiration from everything suggested by nature´s changing lights, colors and lines. Mäkelä has twice been awarded the Finnish State Prize for Art and has taught at several art schools.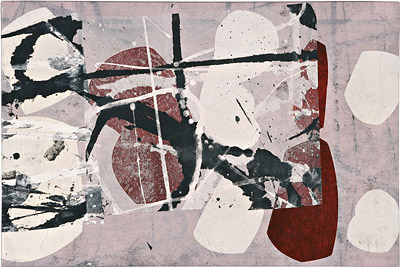 The Way of the Cross (2006)
by Jukka Mäkelä
Oil on canvas, 80 x 120 cm
TUM CD 033