Ole Kandelin (1920-47) was born in Porvoo, Finland. He moved to Helsinki, Finland, in 1937 and first worked as a commercial artist. In 1939-40, he studied at the Free Art School until being drafted into the military in 1940. Following his release from the Finnish Army after being diagnosed with tuberculosis in 1941, Kandelin returned to his studies and began participating in group exhibitions. He had his first solo exhibition in 1944.
Kandelin was a prodigy who created his first paintings when he was only 14 years of age. He also developed his own highly personal style at an early age. During the 1940s, Kandelin became one of the early ground-breakers for Finnish abstract art and moved from early cubist and surrealist influences to an increasingly abstract expression. He is said to be the first Finnish artist to move consistently toward abstract expression.
Kandelin again fell sick in 1945 and spent extended periods in sanatoriums, first in Finland and then in Sweden. He passed away in late January 1947 at the age of 26. His major breakthrough came earlier that month as a result of a solo exhibition in Stockholm, Sweden, but Kandelin was already then too ill to travel. Despite passing away at an early age, Kandelin created a wide-ranging oeuvre of paintings and is considered to have been essential in opening the way for Finnish post-WWII modernism and abstract art.
...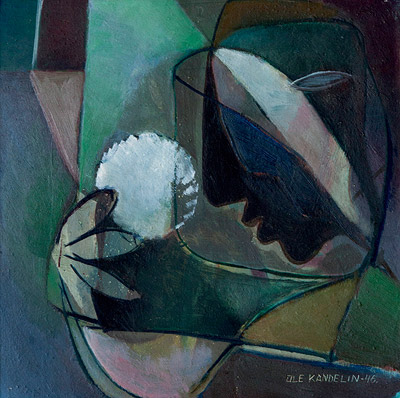 Untitled (1946)
by Ole Kandelin
Oil on canvas, 30 x 29.5 cm
TUM CD 053
...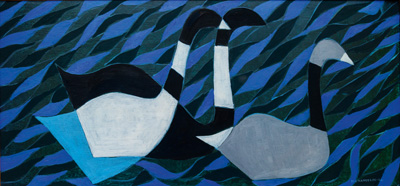 Lintuja (Birds) 1946
Oil on canvas, 33 x 70,5 cm
by Ole Kandelin
TUM CD 054