Ernst Mether-Borgström (1917-96) was born in Helsinki. He studied at the School of Industrial Arts in 1937-41 and at the School of the Finnish Academy of Fine Arts in 1945-47. He also studied in Paris.
During the 1940s and 1950s, Mether-Borgström became one of the ground-breakers for Finnish abstract art. Together with his contemporaries, such as Birger Carlstedt, Lars-Gunnar Nordström and Sam Vanni, he introduced concretism in Finland. During his career of nearly five decades, Mether-Borgström created a wide-ranging oeuvre of paintings, prints and sculptures, always staying true to the ideas of concretism or constructivism while also expanding his art with other elements.
Mether-Borgström first exhibited at the Young Artists´ Exhibition in 1941 and participated in numerous solo and group shows both in Finland and elsewhere throughout his career. Mether-Borgström´s works are included in the collections of all major museums in Finland and also those of the Museum of Modern Art in New York, the Hermitage in St. Petersburg and the National Museum in Stockholm, among others.
Mether-Borgström was awarded the Pro Finlandia Medal in 1965 and was appointed to the Academy of Finland in 1991.
The painting "To Carl Ludvig Lithander" is dedicated to Carl Ludvig Lithander (1773-1843), a well-known composer in his time who mostly composed music for the piano, but also musical plays and vocal music.

...

To Carl Ludvig Lithander (1974)
by Ernst Mether-Borgström
Oil on canvas, 22.5 x 80.5 cm
TUM CD 045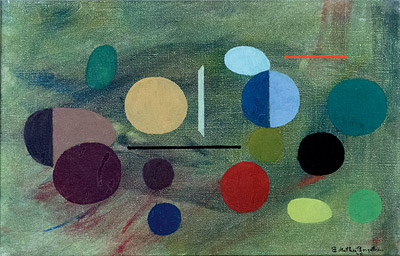 Pingoud (1978)
by Ernst Mether-Borgström
Oil on canvas, 27 x 41 cm
TUM CD 046