TUM Records uses works of Finnish artists as cover art for its releases in order to visually distinguish them. The paintings used in the releases by TUM Records were chosen in collaboration with the artist himself.
Marika Mäkelä (b. 1947) is one of the leading Finnish artists of her generation. Throughout her career, she has been known for her ability to renew her personal style of expression and to surprise the audience with new stylistic departures and novel use of materials, whether painting on canvas, paper or, as in her most recent work, wood.
After graduating from the Finnish Academy of Fine Arts (1969-73), Mäkelä quickly established her position in the forefront of the Finnish art scene both through solo exhibitions and through her participation in numerous group exhibitions starting in 1974. In addition to Finland, her work has been exhibited and is included in public collections throughout Europe and in the United States.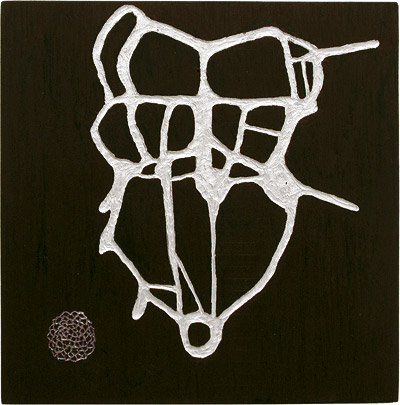 Skeleton (2006)
Oil on wood, 70 x 70 cm
by Marika Mäkelä
TUM CD 020